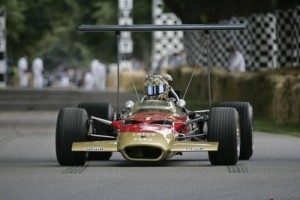 Goodwood have announced that Lotus will be taking centre stage at the 2012 Goodwood Festival of Speed.
The much-loved British brand will have the honour of the main 'Central Feature' installation outside Goodwood House and Lotus fans will get a chance to see some of their most iconic cars.

Pivotal moment in Lotus's history
This comes at a vital time for Lotus, as they are currently two years into an intense five year brand re-invigoration plan.
Designed to see Lotus re-take its rightful position among other eminent sports car manufacturers, an entire new range is in development.
2013 will see the release of the first car from the new range, the much-awaited return of the Lotus Esprit.

Celebrating anniversaries
Lotus is justly proud of its heritage as a pioneering British manufacturer of exceptional, beautiful high-performance cars, and 2012 is a bumper year for anniversaries.
Firstly, it's Lotus's 60th birthday. The inimitable engineer Colin Chapman founded Lotus in 1952, four years after he built the Mark 1 trials car, his very first, in the old stable behind his parent's London hotel.
And that's just the beginning. It's also 50 years since the iconic Lotus Elan sportscar was launched, and 40 years since Giugiario revealed the classic Lotus Esprit supercar concept.
35 years ago the ground-breaking Lotus 78 Formula 1 car competed for the first time.
In 1992 British cyclist Chris Boardman won the Olympic gold in Barcelona with the innovative Type 108 bike that Lotus developed.
Unparalleled ingenuity
From its earliest days, Lotus built its reputation on exceptional, continuous engineering innovation.
This allowed Lotus to dominate motor sport at all levels, creating the enduring legacy that is inspiring their current development today.
Formula 1 fans can expect a spectacular display of Lotus's F1 cars, which might include some of the cars that took Lotus's 13 Formula 1 World Championships.
Lotus's exhibition will also include a range of historic Indycars, saloons, sports and road cars, and a number of present and past Lotus works drivers will be appearing.
The Goodwood Festival of Speed 2012 will take place between 28 June – 1 July.
Goodwood will be revealing further information about vehicle and driver line-up and the Lotus central installation between now and June.
Keep yourself updated with the latest motoring news by liking us on facebook, following us on twitter or connecting with us on LinkedIn.
If you're interested in buying or leasing a new vehicle contact our sales team. Alternatively, visit our website where you will find new and used Lotus available for sale or on finance.
Thanks for visiting us today.

Latest posts by Andrew Kirkley
(see all)