Review Of Lotus Exige Coupe
The new Lotus Exige Coupe is a spirited, two-door speed demon that looks like your favourite toy car when you were a kid. The difference is, this one handles better, sounds better, and is much more ridiculous.
All of which are good reasons to own one. If you're still not convinced, how does a lightweight aluminium structure, 375bhp and 0-62 in 3.8 seconds sound? That's fast enough to make your passenger have kittens.
Lotus as a brand has plenty of prestige, history and respect, too. The Exige itself is one of the most important sports cars the UK has ever built, its hardcore nature winning it many fans over the years. In 2017, it remains Lotus' pride and joy.
Engines at the ready as OSV takes a closer look at what it's all about with our 2017 Lotus Exige Coupe review.
Lotus only produce memorable cars. And they're so memorable because of how they perform on the road. The new Exige rewards you like few other things in life do, emitting a glorious soundtrack and outperforming much bigger, jacked-up super cars.
The brand made it their goal to make the new Exige weigh as little as possible without being insanely dangerous. They've cut all excess fat, leaving you with a squat, lean sports that car that's agile and tremendously fast.
It feels so natural behind the wheel too, with Lotus refusing to add power-assisted steering. And because of that, you always know when your front wheels are losing grip.
The suspension suits the car to a tee as well. There is also zero body lean in bends, while a flawless control system boosts its speed.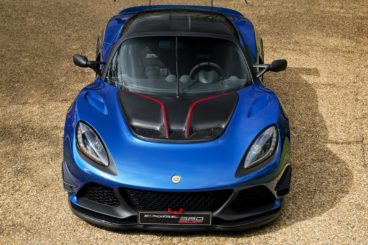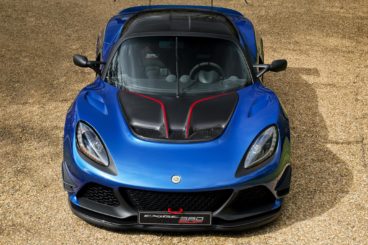 In terms of the engines, the Exige Sport 350 is powered by a 3.5-litre V6 power plant that develops up to 345bhp. That's enough to get you from a standstill to 62mph in 3.8 seconds before it maxes out at 170mph. Performance is instantly available – you've quite literally got gold at your feet.
But even though the Lotus is built for thrills and spills, it performs well at low speeds, too. It's more than just a plaything – it also makes for a comfortable cruiser.
(though it constantly lets you know that it wants to break free from its chains)
That said, the terrific noise of the engine means it's never going to allow you to cruise like a German saloon. Its low weight, though, boosts ride quality.
The Sport 380 model packs the biggest punch. It floors rivals with 375bhp, and does 0-62 in 3.6 seconds. It's ear-shatteringly loud and erupts like a volcano on startup. You've been warned!
It's fun to drive, but slow-speed steering is much more of a chore.
Lotus Exige Coupe Diesel Estate Interior, Design & Build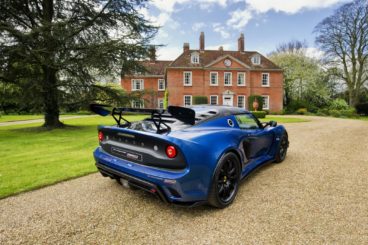 The interior is a success if Lotuses only goal was to find you somewhere to sit. To that end, it's mission accomplished.
For anyone who cares even remotely about practicality, you'll have to look elsewhere. Useful, this car ain't.
The driving position is such that most people save the extremely tall among you will find it easy to get comfortable. Access is easy, while the cabin layout is shared with the Lotus Elise. It's a simple, non-fussy affair, with only a handful of necessary controls included. The instrument binnacle is small and handy, but there are few touches of luxury. It's a car that offers no distractions from the driving experience.
It's disappointing that even air conditioning isn't included as standard. Lotus may have missed a trick in stripping the car to its absolute bare essentials, because a hot and stuffy Exige Coupe is no fun.
Worse still, it's not very well insulated. At times, you will love the heavy metal soundtrack emitted by the V6. At other times, it might give you or your passenger a headache. Combine that with the heat, and the Exige could become an uncomfortable experience.
The boot measures less than 100-litres. You'll find it behind your engine, where it's good for a few small bags only. There isn't much else in terms of storage, and you'll need to order the convenience package if you do want more places to stash your stuff.
Equipment & Safety Of The Lotus Exige Coupe
The Lotus Exige Coupe might offer incredible performance and a memorable driving experience, but it's bare bones where the standard kit is concerned. Just one look at the list of things included in the price tag and it's clear that most of your cash is going on how this bad boy drives.
Even air conditioning isn't included as standard. Leather trim and metallic paint are also consigned to the options list, as are more useful things such as cup holders (whoever heard of anyone specifying cup holders for their sports car?).
In terms of safety, it's unfortunate that Euro NCAP will probably never crash test the Exige (it just doesn't sell well enough). Worse still, the car misses out on pedestrian detection and autonomous braking. Airbags are included in the standard kit bag, while it's worth pointing out how strong the car's structure is.
Costs Of The Lotus Exige Coupe
Prices for the new car start out from £52,700 and rise to £67,900. If you prefer to lease, you can pick up a deal from as little as £1,072 + VAT per month. For more information on our leasing deals, check out our page here.
In terms of its running costs, it's hard to imagine that such a powerful sports car can return over 30mpg. But this one can. That's impressive (if not as impressive as some rivals, as we'll soon see), but the frustrating thing is that the fuel tank is only 43-litres big. That's going to be pretty inconvenient.
Emissions, meanwhile, are quoted at 236g/km of CO2. This means you'll be lumped with a hefty £2,010 first year tax bill and £450 each year after that for the first five years.
Pros and Cons Of The Lotus Exige Coupe
It's Powerful
It's impossible to put into words how powerful this car feels once it's in full flow. Let's just say it sets off like a firework.
Fast
A 0-62 time of just 3.6 seconds makes it one of the fastest cars in this sector.
Strangely Comfortable
Sports cars are famed for their stiff ride, but the Exige benefits from surprisingly good ride quality.
Massive First Year Tax Bill
April 2017 has now passed, which was the cut-off for a cheaper tax bill. We won't tell you how much it was as it might make you cry, but from now on all Lotus Exige's are subject to a first-year tax bill of just over £2,000.
Poor Interior
It's basic stuff. Kinda feels like Lotus spent all their time tweaking how it drives before realising they still had an interior to put together.
Lotus Exige Coupe vs Alfa Romeo 4C Coupe vs Audi TT RS Coupe
Let's see how the car fares against its rivals in the comparison section of our Lotus Exige Coupe review.
Lotus Exige Coupe vs Alfa Romeo 4C Coupe
The new Alfa Romeo 4C Coupe is even more squat than the Lotus. With its bug-eyed front lights and long bonnet, it looks similar to a Porsche. But what has it got that it can call its own?
Alfa Romeo has always been the affordable classically Italian sports car. The 4C Coupe has got tonnes of sex appeal, and on the road it drives like a fiery Italian who is one-moment blowing kisses to people on the street – and the next biting your head off as you put your foot down.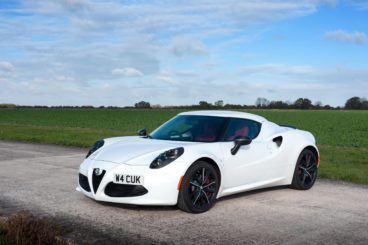 It's a formidable proposition, its driving dynamics helped by the fact that it weighs just 895kg.
It's got just the one engine, a turbocharged 1.75-litre petrol power plant that delivers 237bhp. That's enough to get it from rest to 62mph in just less than 5.0 seconds. Not bad.
Without a turbocharger, it drives pretty smoothly but there will be turbo lag once you press the accelerator.
Unfortunately, you don't get the best out of it unless you add the Racing Pack for an extra £3,000. This pack beefs the 4C Coupe up with bigger alloys, a sports exhaust and sports suspension.
However, it also serves to make the car more uncomfortable. So it depends on what your priorities are.
Running costs could have been worse, but they're saved from being totally disastrous by the car's lightweight structure. Because the engine isn't worked too hard, you Alfa Romeo say you can return up to 41.5mpg. That's definitely respectable for such a fast sports car. CO2 emissions, meanwhile, are at 157g/km of.
Like the Lotus Exige, there isn't a lot to say about the Alfa Romeo 4C Coupe's interior. It's minimal and has a very driver-focused feel. Like the Lotus, Alfa Romeo's main concern (or only concern) was having some place for you to sit. They've shamelessly covered it in tacky plastics taken from Fiat, as well as cheap switchgear. It doesn't look or feel appealing.
It certainly doesn't make good on the image you might have of an Alfa Romeo. Neither does it build on the promise suggested by the extravagant exterior.
We like the carbon-fibre finish, which gives the cabin a modicum of luxury. Apart from that, the dials are logically arranged, and leather door pulls are a nice touch.
And then there is the 110-litre boot which, while bigger than the Lotus, is still tiny. And like the Lotus, it's positioned next to the engine. So be careful if you load your frozen veggies in there. You might end up cooking a curry by mistake.
The seats are cramped, although they look fantastic. At first, your passenger will be comfortable enough. Pretty soon, though, they'll feel the squeeze. That said, this is the same issue that the Lotus has.
Price:
Lotus – £52,700 – £67,900
Alfa Romeo – £52,820
Lotus Exige Coupe vs Audi TT RS Coupe
The new Audi TT RS Coupe has four rings, four seats but just one engine. However, suffice it to say that this turbocharged 2.5-litre engine will be enough for even the wildest drivers.
It produces up to 395bhp, which is enough to propel the car from a standstill to 62mph in 3.7 seconds. That's competitive with the Exige Coupe, and because it spreads its power so widely, accelerate in gear and you'll almost take off.
The Dynamic Package Plus is worth adding if you want even more speed. It boosts top speed from 155mph to 174mph.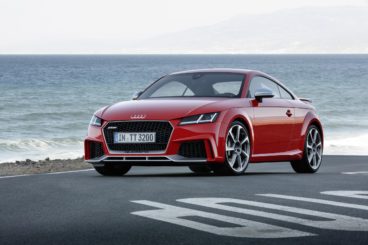 But what makes the TT RS Coupe such a hell-raiser – aside from the thumping performance that is – is the almighty noise. It's hard to imagine that such a small car can make such a glorious, characterful racket.
Thanks to the introduction of turbochargers, the TT RS Coupe doesn't need to cost a fortune to run. So despite 395bhp, Audi claim you can return up to 34.4mpg economy while emitting 187g/km of CO2.
Your yearly road tax bill, meanwhile, is £230, which seems reasonable.
And despite being an out-and-out sports car, the interior still dazzles with Audi's signature luxury. It looks just like the standard TT, with only a few flourishes setting it apart. Nappa leather sports seats have been added, along with an Alcantara steering wheel.
It's practical, too. Whereas the Exige Coupe's boot measures less than 100-litres, the TT RS Coupe measures 305. That's the same as the standard TT, and it can be extended to 712-litres by folding down the rear seats.
Price:
Audi – £50,600
Verdict Of Our 2017 Lotus Exige Coupe
Beg, borrow or steal (no, don't). Do whatever you can to own one of these bad boys that your mom tried to warn you about when you were a kid. It's leery, aggressive, moody and outrageous. It's totally impractical, but who cares about that? It's a Lexus Exige Coupe with a V6 engine!
When you lease a car with OSV there are no hidden costs, request a call back and we'll find you a finance, lease or purchasing deal designed just for you.