Review Of The Lotus Exige Roadster
Ah, the Lotus Exige Roadster. Lotus' ultimate driving machine and the stuff dreams are made of, it comes with a removable roof and a supercharged 3.5-litre V6 engine.
Which means you can get a tan while roaring along at the speed of light.
It sounds like an amazing proposition, but the burning question is: Is the outrageous Exige Roadster any better – or any different – to the Exige Coupe? Moreover, is its interior finally better than last time?
OSV finds out with our 2017 Lotus Exige Roadster review.
Overview Of The Lotus Exige Roadster
Get the Exige Roadster onto the right road, and it's absolutely fearsome: Grippy, growly and quick. However, if you take it out onto the wrong surface – the motorway or tight urban roads – and it can be a bit of a pest.
It's an especial joy to behold on weaving country lanes or its spiritual home – the race track. Here, the stage is set for pure drama. Its high-speed handling system is excellent, altering as it does exhaust noise, throttle response and the car's electronic aids.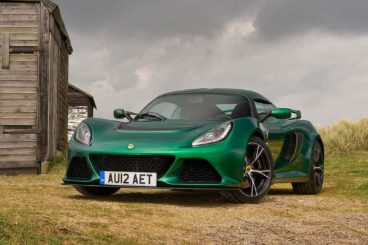 Bobbing down country lanes, the car is at its prime. But on a dual carriageway, it becomes a bit of pain, largely thanks to how blurred the mirrors become. This is caused by the vibrations. And because you're sat down so low, it can be a challenge to even see out of the car.
You can switch through driving modes, with Sport being the Exige's natural setting. Keener drivers will be addicted to it, as it raises the noise levels of the engine and sharpens the throttle response. The engine sounds amazingly ferocious and delivers its considerable power fairly predictable – which is what you want.
Even in default mode, the Exige Roadster continues to feel like an out-and-out sports car. Its steering is heavy but is nice and responsive, while the amount of feedback is surprisingly good. You always know exactly how much grip you have.
There are downsides to this. For example, the car doesn't do the best job of absorbing lumps and bumps, while at normal speeds the steering feels noticeably heavy. However, it benefits from softer suspension than the Coupe variant.
Another criticism we have is the manual 6-speed transmission, which is something of a killjoy. Whenever you try to build momentum, it seems intent on being destructive. Sometimes, the engine will hit the rev-limiter and you'll still be stuck in neutral.
But let's end with the numbers: It's storming supercharged V6 engine does 0-62 in 3.8 seconds, before maxing out at 145mph. It produces up to 345bhp and can be paired up with a standard 6-speed manual 'box, or an optional 6-speed automatic.
Lotus Exige Roadster Interior, Design & Build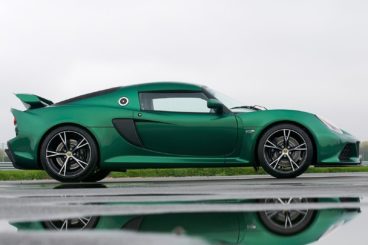 There is no denying that the Exige Roadster is a lush-looking car that you wouldn't mind taking home. But inside, it's a totally different story.
The plastics feel cheap and tacky, and there isn't much of anything. It kinda feels like a disco that, from the outside promises all kinds of high-class swanky delights with Caribbean cocktails and reggae music – but inside offers nothing except stale lager and a bored DJ from Newcastle.
A second hand-looking stereo is about as good as things get in the absence of much standard equipment. Worse still, the quality is absent. Lotus are still using their old Vauxhall column stalks, and they continue to look worn and feel fragile.
And the pull-out cup-holder? It's like something from your dad's Transit van you used to ride in when you were a kid.
Even with the roof up, the fierce engine noise still gets in. This will be a pleasure or an irritant, depending on your mood.
The best thing we can say about the interior is that its very driver focused. The pedals are well-positioned, legroom is good, and comfort is excellent.
The boot, meanwhile, measures less than 100-litres. Hmm.
Equipment & Safety Of The Lotus Exige Roadster
There isn't much to say about the standard kit of the Lotus Exige Roadster because there isn't much of it. The stuff you'd expect to be included in the list price of a £52,000 sports car is maddeningly absent. The likes of heated seats, parking sensors and air conditioning are all optional.
It isn't just optional – it's expensive, with air con alone setting you back £1,1000.
What you do get as part of your standard kit are a carpet, some air vents and sun visors. Gee, thanks. And that's pretty much it besides a token stereo that looks like Lotus picked it up from Cash Generator.
Costs Of The Lotus Exige Roadster
Prices for the new car start out from £52,900. If you prefer to lease, you can pick up a deal from as little as £1,100 + VAT per month. For more information on our leasing deals, check out our page here.
In terms of its running costs, the Exige is pretty much standard fare in this class. It can return 28mpg at best and emits around 236g/km of CO2.
It's also going to cost an arm and a leg to insure, with all Exige's sitting in insurance group 48 or higher (out of 50).
Pros and Cons of the Of The Lotus Exige Roadster
Pure Driver's Car
This is an out-and-out driver's car – nothing else. Built for the track, it's a superstar performer with a supercharged 3.5-litre 345bhp engine.
So Fast The Roof Could Fly Off
It does 0-62 in 3.8 seconds, which makes it the fastest car in this review. We reckon its rivals didn't dare go that fast – they were too worried about the roof flying off!
Spine-Tingling Noise
In Sports mode, the valves in its exhaust system open up. It's like letting the devils out of Hell. It sounds amazing!
Poor Quality Interior
It's almost as though interiors are an afterthought for Lotus. Here, they haven't even tried to put together a half-decent cabin. The plastics are cheap, the storage spaces useless, and the boot no bigger than 100-litres.
Severe Lack Of Standard Kit
Want air conditioning? That'll be an extra £1,000.
Lotus Exige Roadster vs Porsche Cayman vs Mercedes SLC vs Audi 4C Spider
Let's see how the car fares against its rivals in the comparison section of our Lotus Exige Roadster review.
Lotus Exige Roadster vs Porsche Cayman
The new Porsche Cayman is a super fast, super fly,super-duper sports car that's beautifully put together.
Its appeal starts on the road with two ludicrously quick petrol engines. A 2.0-litre 296bhp unit powers the "entry level" model, and does 0-62 in just 4.9 seconds if you add the optional automatic transmission. Otherwise, it covers the sprint in 5.1 seconds.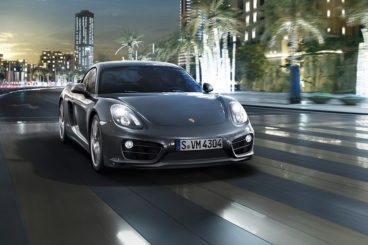 The other option is a turbocharged 2.5-litre engine that powers the Cayman S model. It produces up to 345bhp and does 0-62 in 4.4 seconds when paired up with the automatic gearbox.
So, it's blisteringly quick. But the Cayman is also one of the best cars to drive on the road at the moment. And because prices start out at close to £43,000, it's going to be hard for you to ignore.
Especially once you step inside. Where the Lotus is a total fail indoors in terms of luxury and appointment, the Porsche is win win win. It's roomy and gorgeously put together. The driving position is fantastic, the seats are supportive and comfortable, and the dashboard is well-crafted. Everything is well positioned and looks befitting of a Porsche sports car.
And despite having just two seats, it's fairly practical. Positioning the engine between the passenger compartment and rear wheels meant Porsche was able to give the Cayman two boots. Combined, they offer 405-litres of space. That's pretty impressive.
Other than that, access is a bit tricky because of the low ride height, but head and legroom is excellent.
Price:
Lotus – £52,900
Porsche – £43,000 – £51,800
Lotus Exige Roadster vs Mercedes SLC
The new Mercedes SLC looks like it would be so much fun in the sunshine, with its slick looks and folding metal roof. But it's let down by a dull driving experience.
Okay, so "dull" can be swapped with "supremely comfortable" and "relaxing." But if you're in the market for a speedy, daring roadster a-la the Lotus Exige, you might not find what you're looking for here.
However, if you're tempted by the idea of a sophisticated Mercedes drop-top, the SLC still has a lot going for it.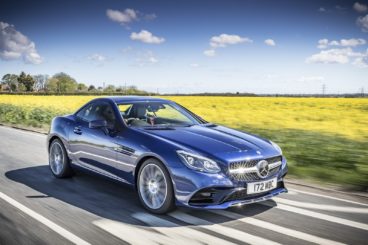 For one thing, it's quick – provided you ignore the entry level petrol model. This SLC200 is powered by an 181bhp 2.0-litre engine that does 0-62 in 7.0 seconds. The SLC300 is faster and covers the same distance in 5.8 seconds before maxing out at 155mph.
However, it's the AMG SLC 43 model that's a match for the adrenaline junkie Exige. Its twin-turbo 3.0-litre engine develops 362bhp and covers 0-62 in 4.7 seconds.
There is also the option of a diesel engine, but it's noisy, old and hardly befitting of a car like this. It's not too fast either, taking 6.6 seconds to do 0-62.
The petrol is much quieter and more refined.
Inside, the Mercedes SLC is starting to show its age, but it sports a much pleasanter interior than the Lotus. There is just so much more luxury, with Mercedes treating you to metal and leather finishes, as well as soft-touch materials.
The dashboard is smartly designed and feature plenty of top-class materials. Mercedes have also added a brand new, bigger infotainment screen. The Lotus doesn't have any kind of screen.
Like other cars in this review, the SLC has just the two seats. But while a car like this isn't really designed with practicality in mind, the SLC can boast a 335-litre boot. Fold the roof down, and that will shrink to 225-litres, which is still much bigger than the Lotus.
Overall, the interior feels roomy. Add the panoramic sunroof, and it all also feels airy and light. Perfect for blissful summer days.
Price:
Mercedes – £32,000 – £47,6500
Lotus Exige Roadster vs Alfa Romeo 4C Spider
The new Alfa Romeo 4C Spider is the suave, (somewhat) affordable Italian brand's wildest car on the road right now. It's as squat as the Lotus and arguably looks just as dangerous. Get it in yellow and, combined with its black roof and black wheels, it looks like a menacing wasp that's going to scare the neighbourhood.
To rival the Lotus, the Porsche and the Mercedes, the Alfa Romeo 4C Spider had to be fast. It hasn't let us down, its sole 1.75-litre 237bhp petrol engine doing 0-62 in 4.5 seconds before maxing out at 166mph.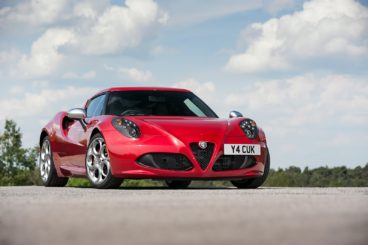 These are dizzying numbers for such a small car, and the 4C Spider drives like it has a chip on its shoulder. It sounds great too, its engine buzzing like a tribe of mosquitoes, its exhaust bellowing like a thunderstorm.
However, because power is delivered in one fell swoop, the Alfa Romeo isn't the easiest car to drive. It's not smooth, and you might find it hard to keep control at pace. Be warned, especially on rougher surfaces.
Its interior is more like the Lotus than the Mercedes or the Porsche. It's bland, sparse and uninspiring. Cheap plastics are not becoming of an Italian sports car, with Alfa Romeo clearly hoping its rasping performance and a flawless image will sell the car themselves.
And while there is some carbon-fibre inside, it will scratch quickly.
Its usability is limited, too. The boot measures 110-litres, which is on par with the Lotus. And in terms of storage spaces, all you get is a net and a leather pouch. Yup, you don't even get a reasonably-sized glove box.
Price:
Alfa Romeo – £59,900 – £67,800
Verdict Of Our 2017 Lotus Exige Roadster Review
Yeah, yeah. That might be a common complaint – from your partner. You, however, know better. Sure, Lotus haven't exactly covered themselves in glory with the interior. But they've spent more money on improving the driving experience so that it's more thrilling than any other car on this list.
If that's what you care about more than anything else, there is only one choice – the new Lotus Exige Roadster.
When you lease a car with OSV there are no hidden costs, request a call back and we'll find you a finance, lease or purchasing deal designed just for you.