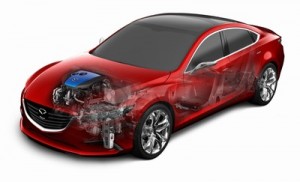 Mazda's new i-ELOOP system is a regenerative braking system that can improve fuel economy by up to 10%.
The intelligent fuel recycling system works by converting the car's kinetic energy into electricity. As the driver starts to decelerate the i-ELOOP recovers the kinetic energy. This is stored and used to power the climate control, audio system and other electronic devices.
The i-ELOOP is the first such system in the world to use a capacitor, making it highly efficient and avoiding the need for an electric motor and battery. This enables the system to avoid the common pitfalls associated with batteries. As a result, it can charge and discharge electricity quickly, and resists deterioration from prolonged use.
When used in stop-start driving conditions, the i-ELOOP gives additional fuel economy of up to 10%. Working with Mazda's exclusive 'i-stop' idling stop technology, the i-ELOOP prolongs the amount of time the engine can be shut off for.
Mazda's cutting-edge SKYACTIV technology is enhancing the efficiency of their engines, and combined with the i-ELOOP and i-stop, increasing fuel economy. This creates vehicles with enviable environmental profiles as well as exhilarating driving experiences.
The i-ELOOP will be debuted at the Tokyo Motor Show next month with the TAKERI concept car, a mid-sized saloon.
In the UK, the first Mazda sporting the full range of innovative SKYACTIV technologies will be the Mazda CX-5 compact SUV, which will be launched in Spring 2012.
Keep up to date with all the news and photos from the Tokyo Motor show by following us on twitter or liking our facebook page.
If you are looking for a new vehicle, either visit our website or contact our sales team.
Thanks for visiting us today.

Latest posts by Andrew Kirkley
(see all)