Mazda MX-5 Convertible vs MINI Convertible vs Fiat 124 Convertible: Review & Comparisons
Mazda's MX-5 is a popular convertible already and it looks amazing but will it stand up to the competition of MINI and FIAT?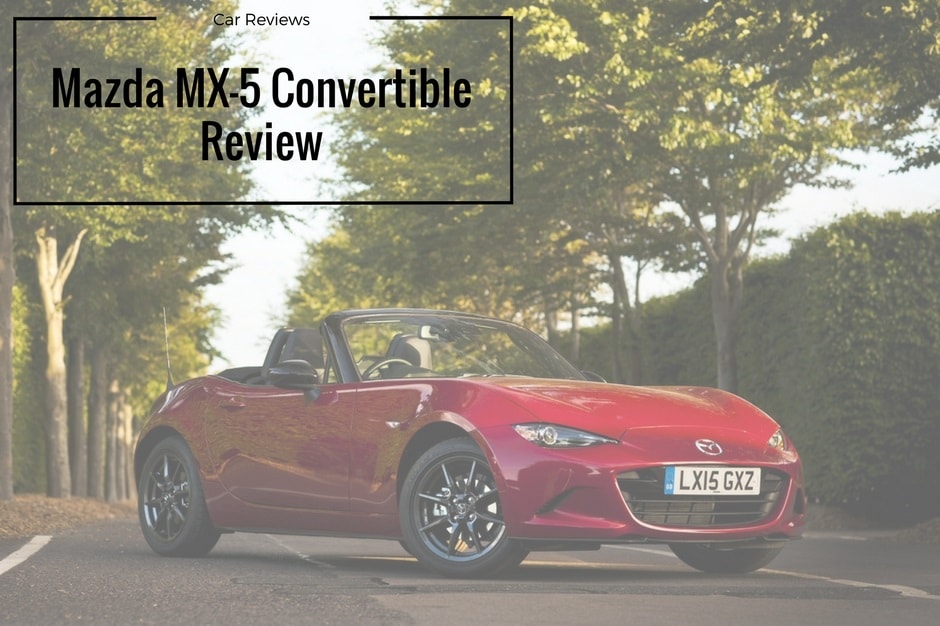 Review Of The Mazda MX-5 Convertible
Ever wanted a two-seater drop-top sports car that costs just £20,500? Cars are always more fun with the roof down. Usually, the stuff of dreams, the moderate price tag for the flamboyant Mazda MX-5 Convertible makes owning a roofless, sexed-up sports car accessible to us all. Gorgeous and more fun than a day at the beach, it's easily one of the most successful cars of its type ever.
For just over twenty grand you can cruise with the sun on your face in a car that engages you like few others. It's also dependable, usable and should be enough to reignite interest in the two-seater sports car that us Brits used to do so well.
And perhaps the best thing? It's naturally aspirated. Two words that melt in the mouth of every die-hard enthusiast.
OSV takes a closer look at what it's all about with our Mazda MX-5 Convertible review.
There isn't that much power available – just 158bhp at the most. But that doesn't even matter, because the MX-5 is so light that it doesn't need too much power. Even the 129bhp engine has enough oomph to offer a fun and engaging driving experience.
The steering is well-weighted and responsive, and it feels balanced in bends. It's still a noisy proposition, but it doesn't growl as loudly as last time. It's just as agile too, thanks to Mazda shaving off 100kg.
If you fork out for the Sportier model, you'll also get Bilstein dampers thrown in, which firm the ride up while providing more grip. It almost feels like a Porsche 718 Boxster. Almost.
As usual, there isn't the option of an automatic gearbox. Instead, you have to settle for a joyous 6-speed manual stick that's super easy and quick to shift gear.
In terms of the engines, there are two petrols to choose from. Both are naturally aspirated which, while this has a slight dampening effect on emissions and economy, makes the engine sound better.
The entry level 1.5-litre 129bhp engine is good for 0-62 in 8.3 seconds. It revs rapidly, emits a great vocal note, and should have enough performance for most buyers.
However, if you can afford a few extra grand, the 2.0-litre 158bhp petrol engine is tasty. It does 0-62 in a sprightly 7.3 seconds, and uses its power well. For such a small, light car, you can really feel that this is a meaty old engine.
Mazda MX-5 Convertible Interior, Design & Build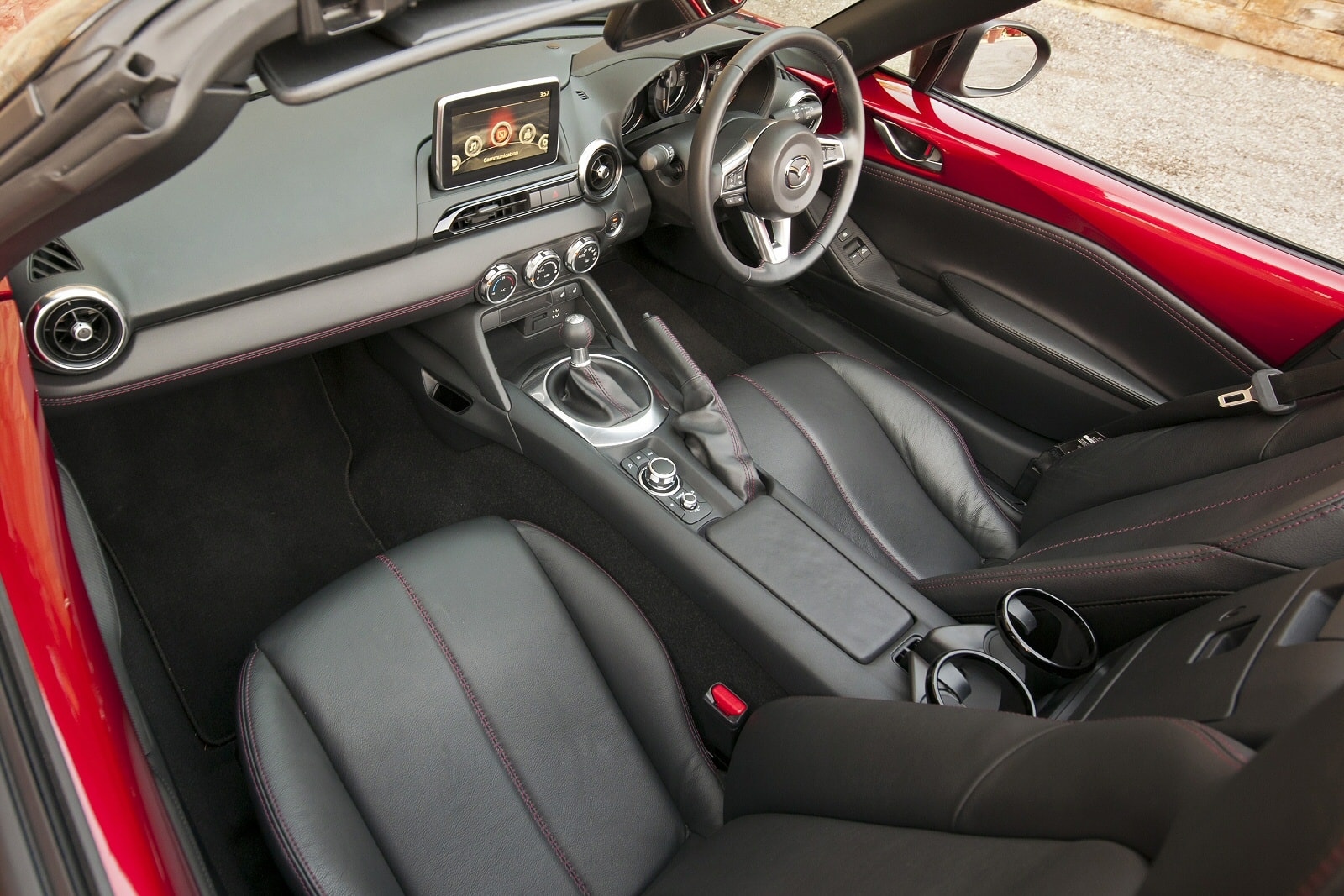 Mazda have borrowed most of this ones interior from their impressively smart Mazda 3 Hatchback. Which means you can expect a top-quality interior that's a pleasant place to be.
That said, there are differences. For example, the way you are positioned is reminiscent of a classic sports car that's ready to rock 'n' roll. You're sat low, the pedals are nearby, and the gear stick is the perfect height. In other words, you're as cocooned as you should be.
That said, the MX-5 Convertible is a small car, and taller drivers might have an issue with that. When the roof is up, they'll feel a bit squashed. Worse still, the steering wheel doesn't offer much adjustment, which will make it hard to get comfy.
That said, everyone will appreciate how swanky the dashboard is. It's so much better than previous models, with Mazda finally bringing life to the dash with better, brighter plastics. Look hard enough and you'll still spot low-rent materials, too. But it's a massive improvement overall.
In terms of how practical it is … well, what did you expect? It's a two-seater sports car. That said, it is more usable than most rivals. It's got a fair amount of interior space, the doors open wide for easy access, and the boot measures 130-litres. It's not excessively big, but there's enough room for a few weekend bags. It's also pretty deep.
Other than that, storage space is few and far between. There isn't even a glove box.
Equipment & Safety Of The Mazda MX-5 Convertible
Standard kit across the range is good. All models get a leather steering wheel, alloys, as well as LED headlights. Move up to the SE-L spec, and you get cruise and climate control, Bluetooth, and a touchscreen MZD infotainment system.
The Sport Nav model rounds the range off with a Bose stereo, sat nav and limited-slip differential which boosts grip.
An MX-5 Icon is available for a limited time only. Just 600 will be rolled out, and they come with rear parking sensors, heated leather seats and automatic lights and wipers.
Safety-wise, one or two buyers might be concerned that the MX-5 scored only 4/5 when it was crash tested by Euro NCAP. However it scored well for pedestrian protection (93%), and child and adult protection (80 and 84%).
Its safety kit is good too, and includes anti-lock brakes, airbag's, as well as electronic stability control. Blind-spot monitoring and lane-departure warning are available with its i-ACTIVSENSE pack.
Costs Of The Mazda MX-5 Convertible
Prices for the new car start out from £20,500 and rise to £24,200. If you prefer to lease, you can pick up a deal from as little as £215 + VAT per month. For more information on our leasing deals, check out our page here.
In terms of its running costs, the Mazda MX-5 benefits from SKYACTIV technology to keep running costs down. Combined with its slender frame, the lightweight Convertible can return 47.1mpg if you opt for the 1.5-litre petrol engine. Tax is just £130 a year.
The bigger 2.0-litre petrol engine averages 40.9mpg, and costs £180 a year to tax. Still not bad if your budget stretches far enough. In terms of insurance, the cheapest model sits in group 26, and the most expensive occupies group 29.
Pros and Cons of the Of The Mazda MX-5 Convertible
Affordable
With prices starting out from just £20,500, the MX-5 Convertible is one of the most affordable ways to own a classic roadster.
Fun
Two seats and a lightweight frame – the MX-5 is designed for fun on the open road.
Classy Interior
Mazda have improved the interior considerably. The plastics are brighter, the dash looks better, and there is more colour and overall quality all-round.
Low Rent Materials Here And There
The cabin is better. But look around you and you'll spot flimsy materials, too.
Tiny Boot
It measures just 130-litres, which means the MX-5 is ideal for weekend breaks – but only if you travel light.
Mazda MX-5 Convertible vs MINI Convertible vs Fiat 124 Convertible
Let's see how the car fares against its rivals in the comparison section of our Mazda MX-5 Convertible review.
Mazda MX-5 Convertible vs MINI Convertible
The new MINI Convertible can't really go wrong. All MINI had to do was take the successful formula of the MINI Hatchback, take the roof off, and make it even more fun. Which they've done.
Stylish, entertaining and affordable to drive, this is drop-top heaven for anyone who wants sunny thrills without breaking the bank first. In terms of how it drives, this convertible variant is barely any different to the Hatchback. There is just as much grip, agility and adjustability in bends.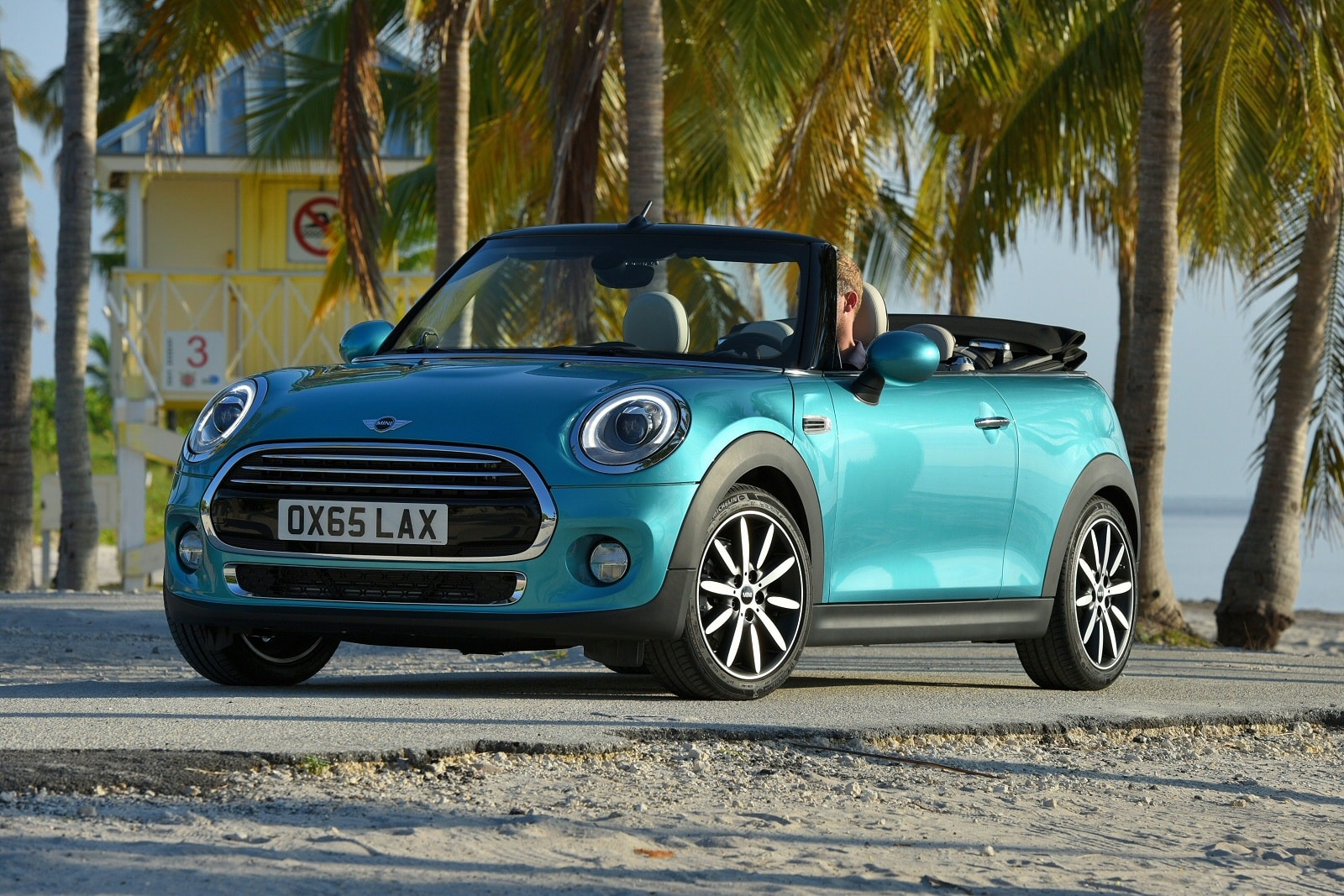 You get to flick between a trio of driving modes, starting with Green and ending with Sport. The latter is when the car really springs to life, sharpening the throttle and increasing driver involvement.
And if you want maximum thrills and spills, the Cooper S model hots things up with a sporty exhaust that crackles and fizzes.
In terms of the engines, a 1.5-litre 115bhp diesel opens the range. It does 0-62 in just less than 10.0 seconds, and while it feels noisy and coarse, it's always eager. The 1.5-litre 134bhp petrol engine is over a second quicker, and offers more refinement and power.
But it's the 2.0-litre petrol engine that powers the Cooper S where things get truly interesting. It bombs its way from rest to 62mph in just 7.2 seconds – and feels even quicker. Meanwhile, the John Cooper Works model rounds things off with its 0-62 time of 6.6 seconds.
That's a lot of speed, but running costs are good. The sole diesel engine returns as much as a 74.3mpg economy and costs nothing in road tax. The smallest petrol engine is good for 55.4mpg, and costs just £30 a year to tax. The Cooper S averages 48.7mpg, while the Cooper Works returns 43.5mpg at best.
This is the third generation MINI Convertible, and it finally looks and feels like a genuinely classy sports car inside. There is a real feeling of luxury inside here, with top quality materials everywhere.
The layout is better too, with the rev counter and speedometer now positioned right in front of you. The big circular screen is still there, but it's now reserved just for your infotainment system.
Wind noise isn't too much of an issue either, though the car could have done with a wind deflector.
Interior space is good. Two people in the back get a decent amount of head and legroom, while the boot has increased 25% in size. It now measures 215-litres when the roof is up, and 160 when you take it down. That's still far from class leading, but you can use the two rear seats for more luggage space when needed.
Price:
Mazda – £20,500 – £24,200
MINI – £19,250 – £28,900
Mazda MX-5 Convertible vs Fiat 124 Convertible
Easily one of Fiat's best ever looking models, the new Fiat 124 Convertible is a sport car in the classic mould. Classically Italian, it's suave, sexy – and fast.
There is only one engine available at the moment, a turbocharged 1.4-litre 138bhp power plant. It suits the 124 well, even if 138bhp won't exactly get you excited as you read this. It makes the most of all that power, drawing it out in the low rev range and launching the car with haste. 0-62mph is done away with in 7.5 seconds, and the car can keep going until 134mph.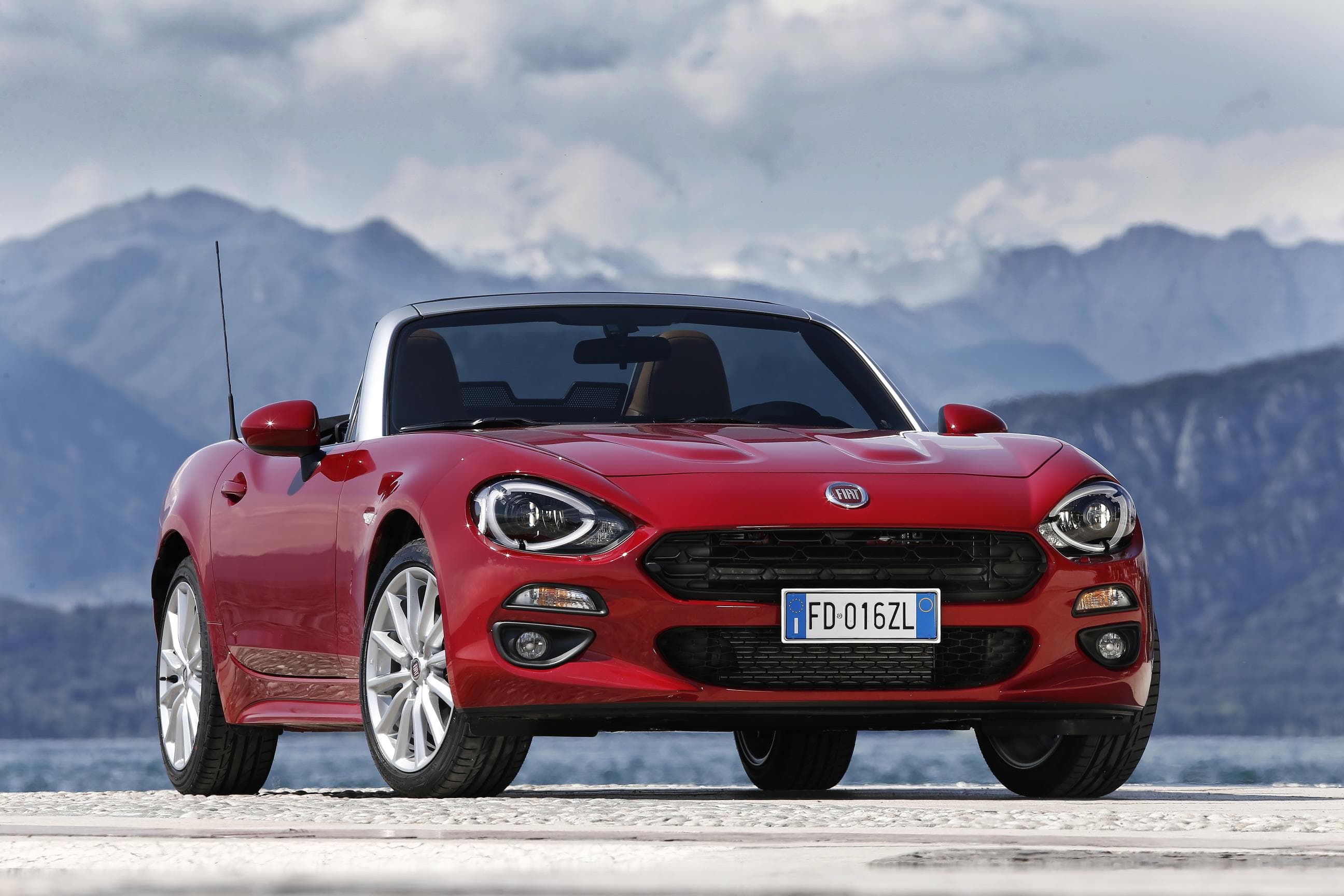 Drivability was assured the moment Fiat decided to base their Convertible on the car that's the main focus in this review – the Mazda MX-5. The steering and suspension have been modified, so you can be sure it's got it own character. But the same keen sense of fun and drama is all there.
It's just as light as the MX-5, which means good agility, nimbleness – and decent economy. Indeed, it's very reasonable returns of 44.1mpg are helped also by the fact that its 1.5-litre is turbocharged and doesn't need to be worked too hard.
Your yearly road tax bill, meanwhile, would be £145, which is on par with the Mazda. For a sports car, it's not too expensive to insure either, with the range topping model occupying group 29.
Inside, the car is as plush as its fine exterior suggests. The low seats are comfortable, the pedals are perfectly positioned, and the view is spectacular.
It is, however, a small car that's not going to fit taller drivers like a glove. They'll be able to get in, but they will feel cramped. Especially when the roof is up. Still, substitute cramped for "snug" and you're all set.
The leather-lined steering wheel is an achingly gorgeous touch, while the driver-oriented design is further enhanced by a big, imposing central rev counter that houses the instruments. Soft touch plastics abound, even if you'll find a few low rent ones here and there.
Practicality is not one of its strong suits. The boot measures just 140-litres, and comes with an awkwardly high lip. Still, it will accommodate you on weekend getaways. There is no glovebox, though, with Fiat opting for a lockable storage compartment instead. A few cup holders make up the storage space.
Price:
Fiat – £21,000 – £32,000
Verdict Of Our 2017 Mazda MX-5 Convertible Review
Whether you're convinced by the MX-5 will come down to whether you think £20,500 is worth spending on a roadster that takes a modest 7.3 seconds to do 0-62 (at best), and has a 130-litre boot – or whether you think that cash can be better used elsewhere.
On the other hand, if you're dead keen to get your hands on a classic two-seater sports car with good handling, a classy interior and drop-dead-gorgeous looks, the affordable Mazda MX-5 Convertible makes perfect sense.

Will Titterington is a freelance writer, video editor and all-round content creator based in Manchester, UK.

He believes that words can take on a transformative aspect and wants to help people make better decisions today.

His influences as a writer include Hunter S Thompson and Jack Kerouac, while among his interests outside writing are music, art, foreign films and football.

He'd one day like to own a Tesla, and still holds a candle for the Ford Capri.

Latest posts by Will Titterington (see all)