Review of the 2017 Mazda3 Hatchback
Mazda is perhaps best known in the UK for its eternally popular MX-5 sports car, but its bread and butter are reliable and attractive family cars, and that is where the 2017 Mazda3 Hatchback comes in.
An eye-catching, complex looking hatch, the 2017 Mazda3 aims to take sales from segment champions – the Ford Focus and Volkswagen Golf.
Mazda has been focusing intensively on efficiency for some time now, branding the innovations and efficiency technology in their cars 'SKYACTIV'. In their smallest car, the '2', it only offers petrol engines because it believes them to be good enough to get the job done with regard to economy. With the 2017 Mazda3 Hatchback, the range is again petrol focused and begins with the 1.5-litre 100PS unit that is capable of reaching 62mph in 10.8-seconds, but our suggestion would be to disregard this engine in favour of the 2.0-litre 120PS engine. As the bigger unit, it manages to be almost 2-seconds quicker to 62mph but miraculously achieves the same number of miles per gallon – 55.4mpg – and emits the same amount of CO2.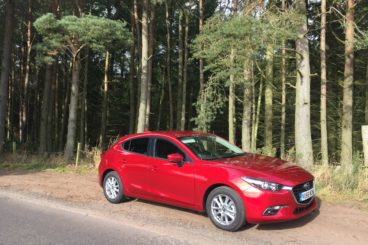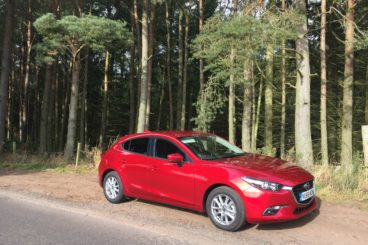 The diesel engine on offer that we'd go for is one of the more powerful and most economical options available with 150PS under the driver's right foot, and a theoretical 68.9mpg obtainable. Fleet buyers should be excited by the 1.5-litre 105PS diesel we've tested, as it is theoretically capable of 74mpg and produces just 99g/km of CO2, meaning business customers will have less tax to pay, and – if they behave themselves at least – less trips to the fuel pumps.
Mazda almost always manages to inject a little bit of fun into its cars, and though the 2017 Mazda3 isn't intended to be a sporty car, it actually manages to provide a rather enjoyable driving experience. Responsive steering and a slick-shifting manual gear change are the particular highlights of the car, and they are complemented by a supple ride and plenty of grip in the corners. Whisper it quietly, but the 2017 Mazda3 might just have a little bit of MX-5 woven into its DNA.
Interior, Design, and Build
The 2017 Mazda3 Hatchback is easily one of the most eye-catching hatch's on the market, and Mazda's family design philosophy has resulted in one handsome line-up. Mazda's 'KODO' design is meant to embody the 'soul of motion' but the Japanese motor maker could have called it anything and these cars would still look great. With creases and angles in all the right places, the 2017 Mazda3 is possibly the best-looking hatchback on the market and is unmistakably East Asian in appearance.
When compared with its exterior design, the 2017 Mazda3 Hatchback has a relatively simple design inside. The cabin is rather driver-focused and the seating looks rather thin, but it is actually very comfortable and supportive. It is a spacious car too. Smaller adults should fit in the back with little issue, but the only criticism is the roofline, it slopes down, so adults over 6ft may find longer journeys difficult.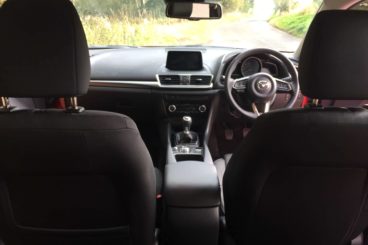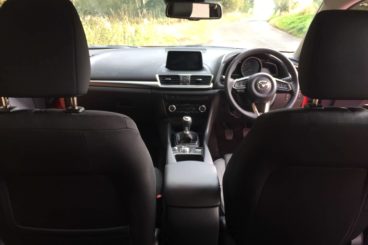 It's tricky to judge the build quality of the 2017 Mazda3 Hatchback, as everything looks top notch, but some buttons and plastics aren't quite as quality in feel as the materials found in some of its rivals. It's far from low quality, though, so expect your 2017 Mazda3 Hatchback to make a good account of itself. Near the new electronic handbrake switch in the middle, there is a button, much like you find in one of BMW's products. This helps navigate the menu on the screen protruding from the dash. It might seem like Mazda's done a copy and paste job from BMW, but, hey, we're not complaining because it works very well.
Being a Mazda, the 2017 Mazda3 Hatchback doesn't suffer from a shortage of standard equipment. Even the most basic 'SE' model gets a factory fitted kit, such as DAB radio, Bluetooth, a seven-inch colour touchscreen display, and even connectivity for apps, like Facebook and Twitter. Perhaps, more importantly, all cars get an active city braking system, designed to prevent collisions in town with pedestrians, or other cars.
Step up to higher grades like SE-L Nav – the trim we've tested – and you get extras like bi-xenon headlights and climate control. Top-spec Sport Nav trim features luxuries like front and rear parking sensors, a reversing camera, heated seats, and a fancy head-up display that indicates information, like speed and navigation directions.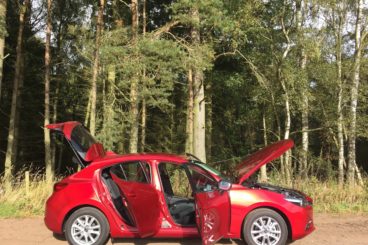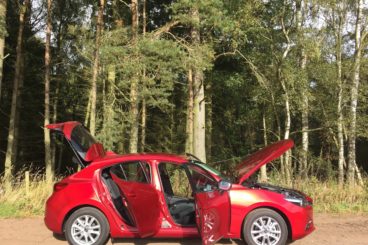 The 2017 Mazda3 Hatchback has a lot going for it with standard kit. And, in terms of load space it has 364-litres with the rear seats up. The Ford Focus manages 316-litres, and the Volkswagen Golf holds an advantage over both, with 380-litres of boot space. It's not much, but how often do we fight to fit that last bag of shopping in? In somewhat of an unusual move, Mazda has combatted this shortage of space by offering a 'Fastback' version of the 2017 Mazda3, turning it from a hatchback to a compact saloon. Opting for this model boosts rear space to 419-litres, but it'll set you back a little bit more money.
Cost, Pricing, and Leasing Rates
At the time of writing this review, Mazda is offering a £1,000 deposit contribution on all new Mazda3's, as well as 0% finance. It's a great time to pick up a deal at the dealership it seems, but be aware that your annual mileage plays a crucial role in determining your monthly costs.
Attention fleet buyers –  after some searching we found that you can get the 1.5-litre SE-L Nav trim we tested – with that 99g/km of CO2 and 70+mpg – for under £200 a month with nine months in advance. The contract was only for 8,000 miles a year, so if you do more miles, that figure will naturally go up.
We managed to find some Mazda3's with the 2.0-litre petrol engine going for around £200 a month on leasing contracts, with between six and nine months in advance. However, the annual mileage on such deals was quite low – under 10k – and so those who need to cover more distance may look at paying around £230-£250 a month.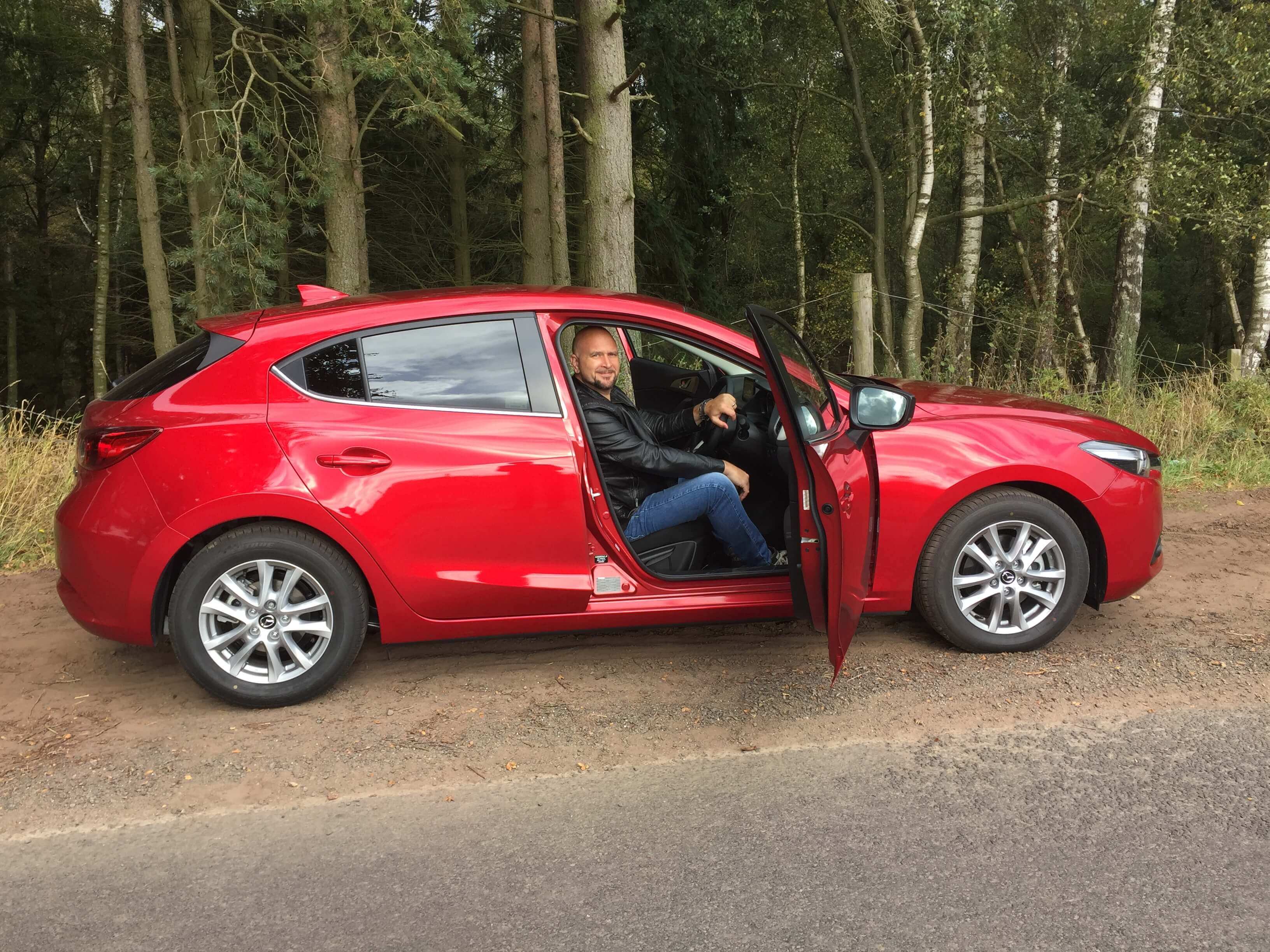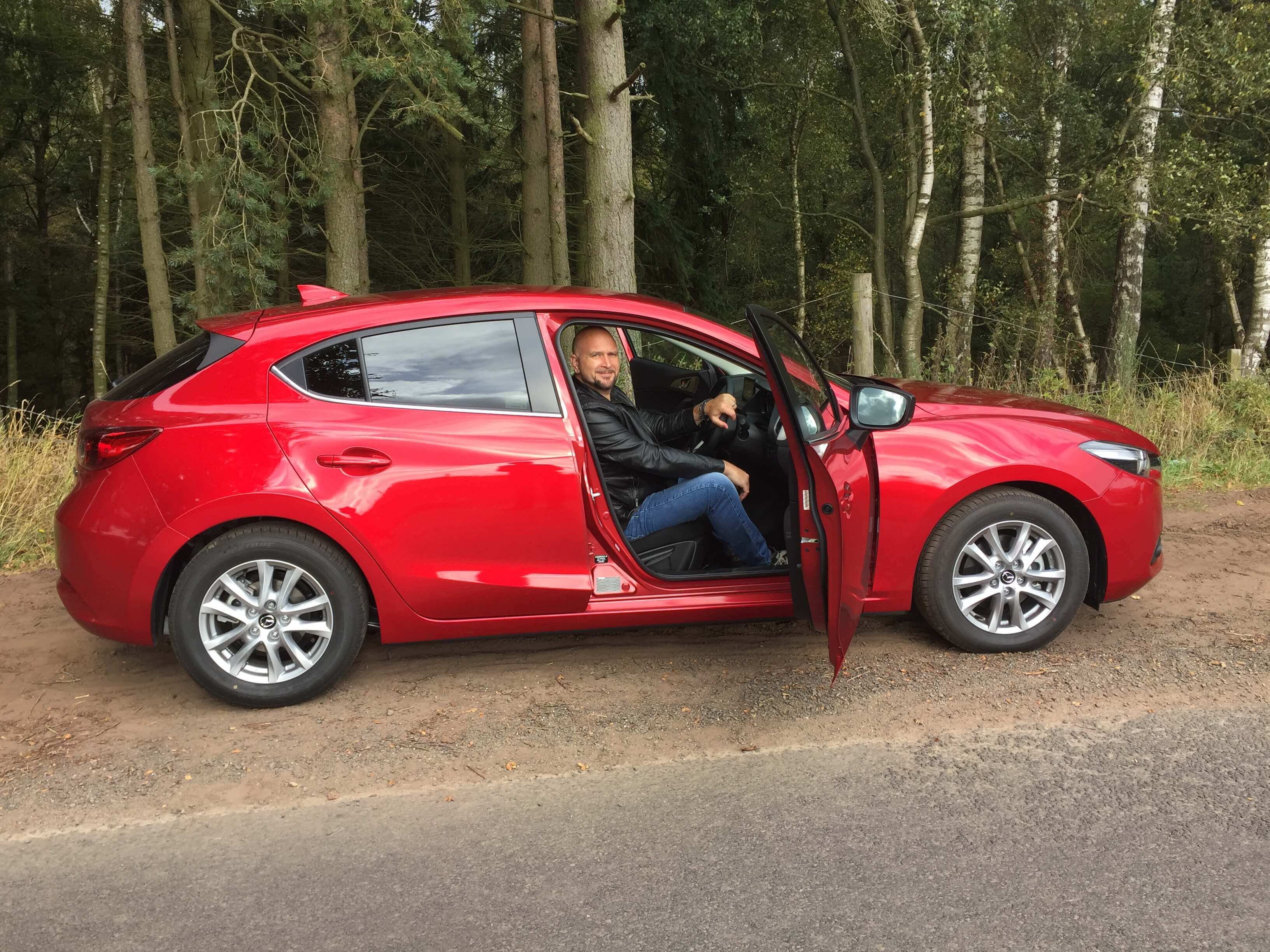 Pros and cons of the 2017 Mazda3 Hatchback
Styling
It's fairly obvious on first glance that the 2017 Mazda3 Hatchback is no ordinary hatchback. It's easily the most striking hatch in its sector, despite Ford's attempt to make the Focus look like an Aston Martin, and Volkswagen's attempts to be as neutral as possible with its Golf. The VW looks positively dull compared with the 2017 Mazda3 Hatchback.
Equipment
In typical East Asian automaker fashion, you get very strong levels of standard equipment. Unlike the German companies, the options lists are incredibly small and, instead, you're encouraged to pick the trim level that is right for you. We like this system, and so will your bank account.
Interior
With such a futuristic, edgy exterior image, it seems a shame that the interior looks like something from a slightly older Mazda. (Well, it is in many ways, as Mazda says the cabin is basically from the Mazda6). We like the driver-focused layout but dislike the overall design. It's a missed opportunity.
Load space
Not much to say here, aside from the fact that the VW Golf seems to have a little bit more space to offer, and sometimes those extra few liters are the ones that count.
Prestige
Prestige shouldn't come into it, but for many, it does. Ultimately, those worried about what the curtain-twitchers think would much rather opt for a Volkswagen Golf or a BMW 1-series, even if they might be inferior cars. I guess they've got to have something to boast about at dinner parties.
2017 Mazda3 Hatchback vs Ford Focus vs Volkswagen Golf
We like the 2017 Mazda3 Hatchback. It's a fun car for people who want a driver-focused small-to-medium family hatch. But how does it stack up to its two main antagonists?
2017 Mazda3 Hatchback vs Ford Focus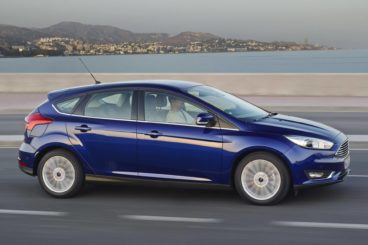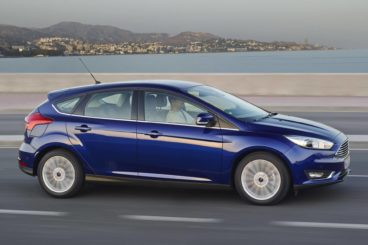 Let's rule out the hotter models right away here. Ford has two of the finest hot-hatches in the world on offer in the shape of the Focus ST and RS, but Mazda doesn't have any hot – or even warm – models in the 3 range.
With the hotter models out of the question, we can begin to look at the more mundane Ford Focus models, and it's here we find perhaps the finest engine Ford puts into any of its cars, hot or not. The 1.0-litre Ecoboost engine has won numerous awards and has been lavished with praise since its introduction, and it is easy to see why. It is quite possibly the best small petrol engine on offer today, and even the 2017 Mazda3 Hatchback's excellent offerings can't quite compete with it.
If you're looking for a petrol-powered hatchback, the Ford Focus with the Ecoboost engine might be the pick of the bunch. Its engine may be half the size of Mazda's 2.0-litre unit, but it produces slightly more power. The Focus also drives just as well as the Mazda, and it has more storage space.
The only mark against the Focus is in its boring and low-spirited interior. It feels dreary, plain, rather cheap and actually quite gloomy. It's a real black spot on what is otherwise a cracking car and gives the Mazda a point over its American alternative.
Prices:
Mazda 3: £17,595 to £24,195.
Ford Focus: £16,445 to £31,395 (including hot hatch and all-electric versions).
2017 Mazda3 Hatchback vs Volkswagen Golf
The Volkswagen Golf is an adopted British citizen. We love them, and we buy them by the lorry full every year. Drive one, and you'll see why. They are no-nonsense, well-built hatchbacks with an assured sense of quality, but the 2017 Mazda3 Hatchback poses a serious challenge to Wolfsburg's pride and joy.
For a start, the petrol engines offered by Mazda are more powerful – at least once we rule out hot hatch variants again – and they are very similar performers in terms of economy. They also feel a little bit more willing and happy than the Volkswagen Golf's, and as the Golf is a lighter car this is a bit surprising. Maybe there's a little more soul in Mazda's offering.
In terms of diesel power, it's hard to argue against the Volkswagen's 2.0-litre 'TDI' engines. Powerful and smooth, they provide more power than you might think, and are famous for being good at overtaking. That being said, the Golf just isn't as much fun to drive as the 2017 Mazda3 Hatchback. Its manual gearbox doesn't feel as good, and the car doesn't feel as inspired as you might think. It just doesn't seem to have any fun or humour instilled into its personality. It's all rather Germanic, really – a bit too serious.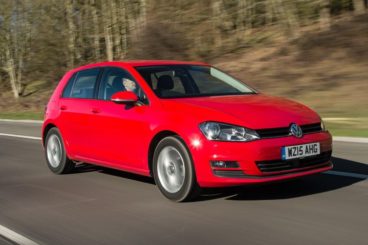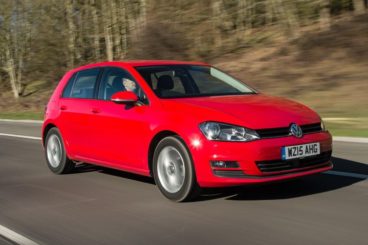 Then there's the price. The Volkswagen Golf is a much more expensive car than the 2017 Mazda3 Hatchback, partly because it has become a bit of a status symbol over the years, an entry-level piece of suburban bling. Maybe some people are paying more because they can, rather than because they should.
Prices:
Mazda 3: £17,595 to £24,195.
Volkswagen Golf: £17,625 to £35,820 (including hot hatch and hybrid versions).
With the 2017 Mazda3 Hatchback, we're looking at a car that has all the right ingredients to be the best in its class. Great diesel and petrol engines, and a lovely exterior design, yet practical and fun to drive. There's something about it that makes it more attractive than its challengers. It's got real character – and that's a rare characteristic in a field of cars churned out of factories with generic faces and a list of jobs to do. Unlike them, the 2017 Mazda3 Hatchback remembers that sometimes it's ok to have fun, too, and that's why we love it.
Looking for a price?
Fill out the form below with your details, including whether you're looking to lease or buy and we'll give you a quote within 24 hours.
When you lease a car with OSV there are no hidden costs, request a call back and we'll find you a finance, lease or purchasing deal designed just for you.