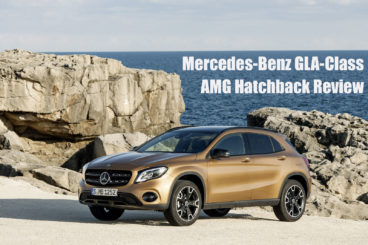 Overview of the Mercedes-Benz GLA-Class AMG Hatchback
The new Mercedes-Benz GLA-Class AMG Hatchback is based on the CLA Coupe and the A-Class hatch but is a high-performance variant of the GLA small 4×4. Although the family it joins is already quite extensive, there is still space for this one. Despite its relative high-rise body, it's actually a really fast car.
If, however, you're on the lookout for a more practical version of the A 45 AMG, you won't find it here. While this one is bigger and bulkier, it doesn't really add anything extra by way of practicality – nor is it the off-roader its aesthetics suggest.
However, it is unique and has only a handful of rivals chasing its tail. Niche, stylish and rapid, it's also impressive on the road. OSV takes a closer look at what it's all about with our Mercedes-Benz GLA-Class AMG Hatchback review.
How does the Mercedes-Benz GLA-Class AMG Hatchback perform?
The car is a good performer. It shares the same turbocharged 2.0-litre 355bhp petrol power plant as the A 45 AMG hatch and the CLA 45 AMG Coupe. It's an engine which is the most powerful four-pot unit in series production right now.
As well as all that power, the engine can also conjure up 450Nm of available torque, which is more than you'll get from the Audi R8. It's almost witchcraft. Four-wheel-drive comes as standard and 50% of torque are sent back to your rear wheels.
The 2.0-litre engine is fairly light and very quick and can cover the 0-62mph dash in 4.4 seconds before maxing out at 155mph. It comes mated to a 7-speed dual clutch automatic gearbox, which is mostly pleasing. It's just that now and then it will hesitate to choose the suitable gear when climbing steeper ascents.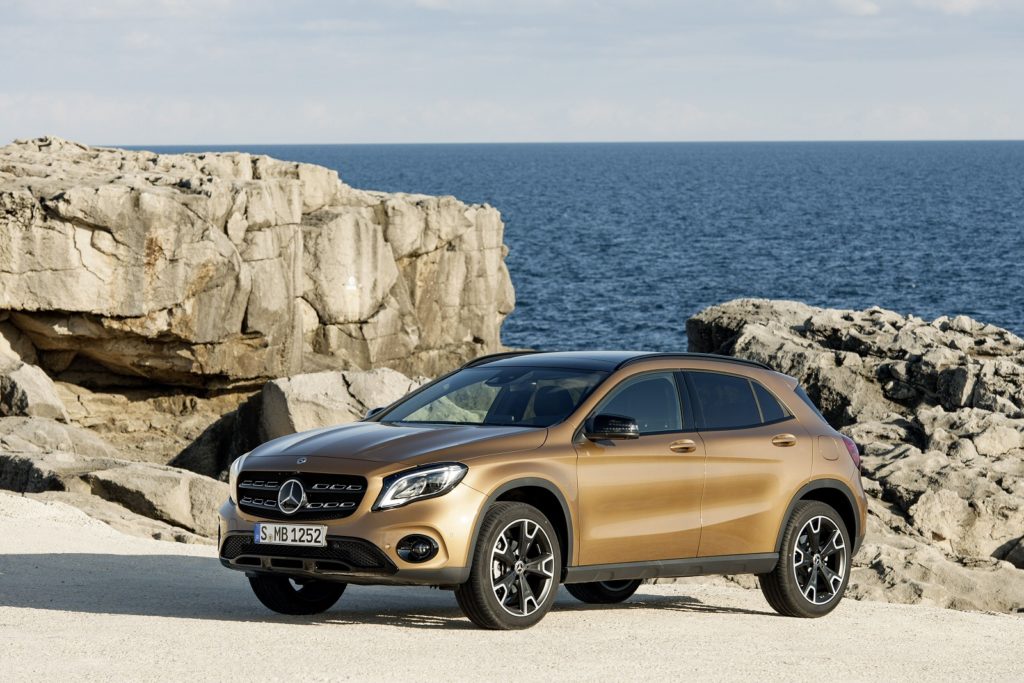 Snap up the optional sports exhaust system and you'll be accompanied by crackling engine noises that are pleasing on the ear.
In terms of agility, the car handles better than its bone-crunching power might suggest. There is plenty of grip on offer, as well as a good amount of traction. Fortunately, there is very little drama when you approach bends at speed.
It isn't however, particularly exciting to drive and there are less powerful hot hatches that are more fun and which don't even cost as much. Body roll is kept to a minimum though and overall it feels like the A 45 AMG hatch. The only real, noticeable difference is that you're seated higher up.
For extra agility, you could purchase the optional AMG Performance dampers and springs. They don't alter things massively and the car remains very stable. In case you're wondering about its off-road ability (because let's face it, it looks like a mini off-roader), it isn't all that capable. Keep it on the tarmac.
Mercedes-Benz GLA-Class AMG Hatchback interior, design & build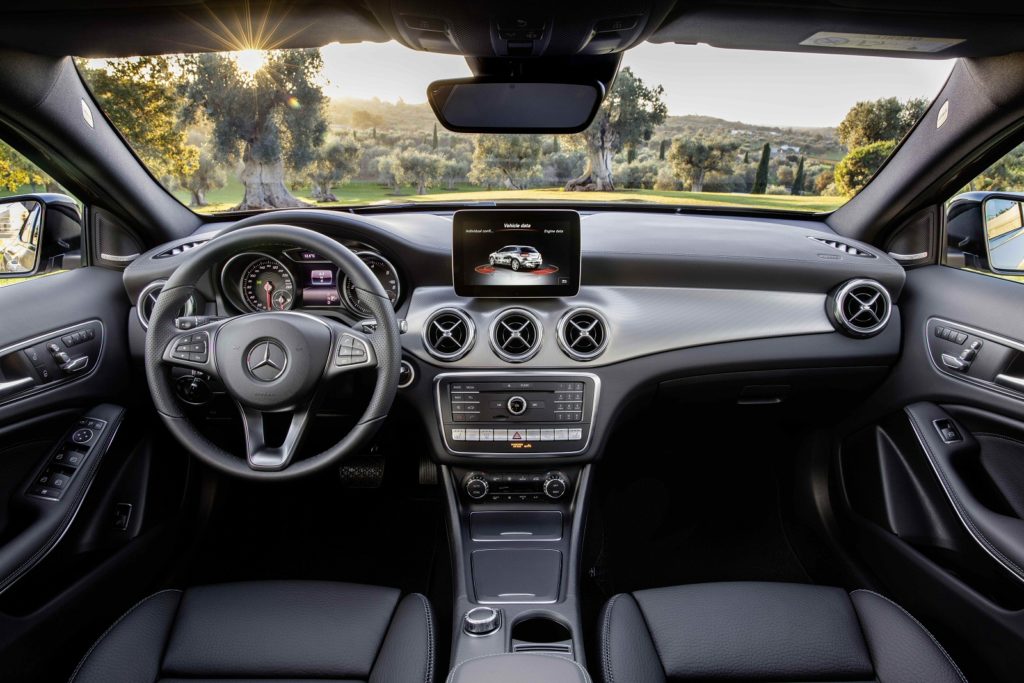 As said, this hatch does look a bit like an SUV. But it doesn't feel like an SUV and it certainly isn't an off-roader. It looks gruff but stylish – kind of like a well-groomed bearded man who knows where the comb and scissors are.
Once you've sat down in your body-hugging sports seats, you'll feel a sense of comfort straight away. Aluminium trim combines with red stitching and vibrant red seat belts to give the interior a far sportier feel than the standard GLA.
We like the flat-bottomed wheel, too. It looks racy, while the metal gear shift paddles hidden behind the wheel are easily accessible whenever you turn it.
Apart from that, the cabin doesn't look all that much different from the A-Class family. You get treated to the same instruments, layout, tablet-like display screen and centre console. One addition worth mentioning is a lap timer function in your display menus, which may or may not prove to be useful.
It's easy to get comfortable in here. The ride quality is not as firm as the A 45 AMG hatch and the electrically adjustable deep-sided seats offer maximum support. On longer journeys, though, you might find your body starts to ache. Headroom is surprisingly limited, particularly in the back and practicality, on the whole, is nothing more than decent.
The boot measures 481-litres and isn't any more usable than the standard A-Class, thanks to the fact that the roofline still isn't all that high.
The Mercedes-Benz GLA-Class AMG Hatchback specification
Standard equipment for this AMG model includes 19" five-spoke alloys, and body-hugging seats. You also get body coloured bumpers, cruise control, and an electric sunroof. More practical kit includes lumbar support, parking sensors, ISOX child seat anchor points, remote locking, satellite navigation and traction control.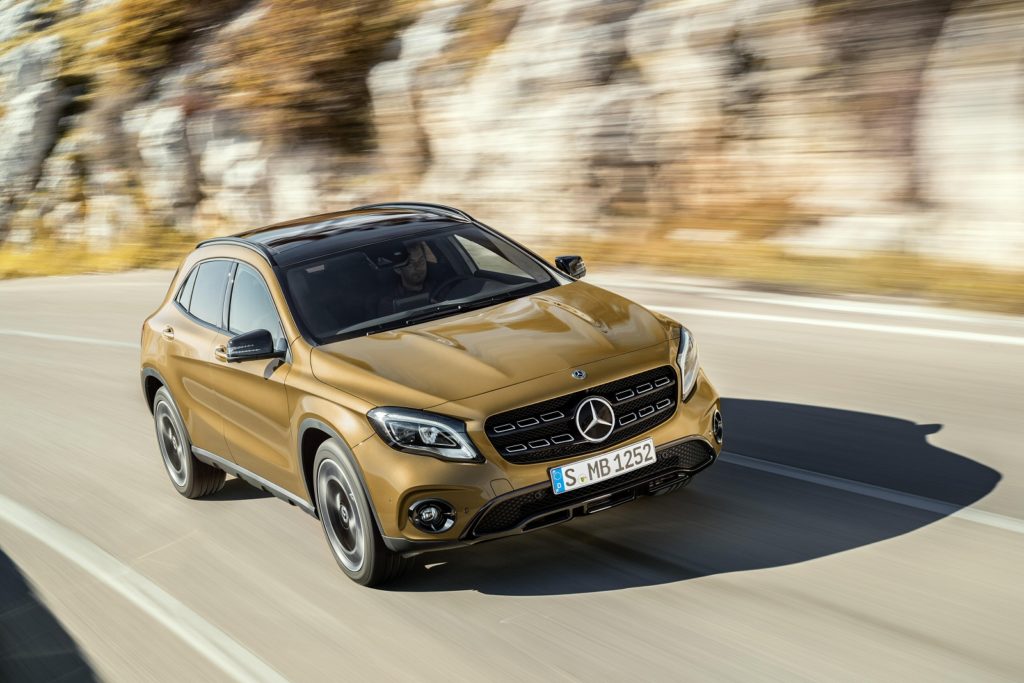 Mercedes-Benz GLA-Class AMG Hatchback: Cost, Pricing, and Leasing Rates
Prices for the new car range between £45,500 and £50,800. If you'd prefer to lease it over three years, you'd be looking at paying as little as £180+VAT per month.
Despite the huge amount of performance on offer, running costs are surprisingly reasonable. But while Mercedes claim their turbocharged 2.0-litre 355bhp petrol engine can achieve fuel economy returns of around 37.6mpg, it's likely that those numbers are closer to 30mpg in the real world. Your annual road tax bill, meanwhile, will be £210 thanks to the engine pumping out 175g/km of CO2 into our atmosphere. Efficiency is helped by the inclusion of a stop/start system which is fitted as standard.
The car is quite expensive to insure and sits in insurance groups 40 – 44, with a fairly typical three years/unlimited mileage warranty on offer. The car is expected to be very reliable, but it's too early to say whether there will be problems at high mileages.
Pros and Cons Of The Mercedes-Benz GLA-Class AMG Hatchback
It's Different
Mercedes are a bit obsessed with creating brand new niches right now and there isn't really another car like this on the market at the moment. In fact, only the Audi Q3 RS is what you'd call its direct rival. Then again, Land Rover is making plans for a Range Rover Evoque hot hatch.
Solid Engine
The turbocharged 2.0-litre petrol engine can develop 355bhp and 450Nm of torque. It's light and fast and can propel you from rest to 62mph in 4.8 seconds and has a top speed of 155mph. It's an impressive unit that's rich in performance and it suits this car perfectly.
Handles Like A Hatch
There were concerns that this bulky-looking mini SUV was going to handle like an awkward off-roader but it doesn't. It inspires confidence when you approach corners at speed and offers very little body roll. It handles like an agile hot hatch.
Bit Too Niche?
Do you like your cars really niche? If you don't, you might find that this is a niche too far and that Mercedes have finally overextended themselves.
Expensive
It could potentially cost you almost £20,000 more than the regular GLA hatch. Although it's definitely better, that's still a heck of a lot of money.
If you like your cars unique but (relatively) affordable, this one might be worth a punt.
Mercedes-Benz GLA-Class AMG Hatchback vs Audi Q3 RS vs Land Rover Range Rover Evoque
The Mercedes only really has one direct rival in the form of the Audi. Still, let's see how it measures up with the Evoque too in the comparison section of our Mercedes-Benz GLA-Class AMG Hatchback review.
Mercedes-Benz GLA-Class AMG Hatchback vs Audi Q3 RS
The Audi Q3 RS was released before the Mercedes and it had no direct rivals. It's the first Audi compact crossover to be treated to high-performance ammo from the RS range and it's pretty damn exciting.
Performance is good whichever engine you choose in the RS, although some of the engines are a tad on the slow side – compared to the AMG hatch anyway. For example, the entry-level 148bhp diesel covers the 0-62mph dash in a rather limp (but still fairly reasonable) 9.6 seconds.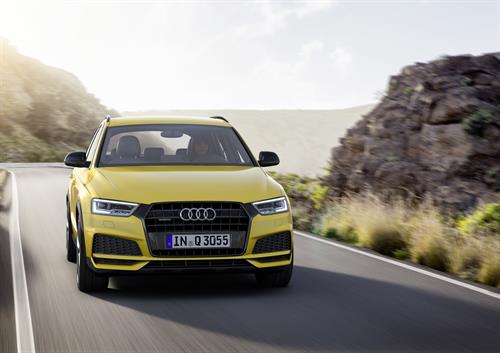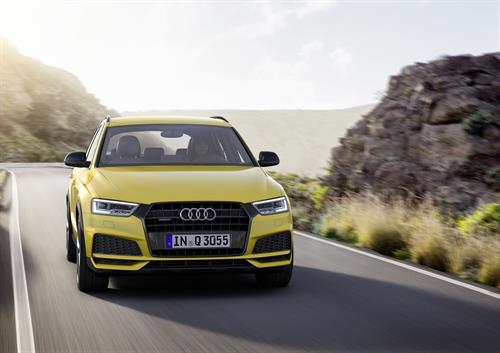 However, it's this Q3 RS which stands out head and shoulders above all the rest. The 2.5-litre five-pot petrol engine can deliver 335bhp and rockets you from rest to 62mph in 4.8 seconds. There is plenty of punch on offer at lower revs and this ensures awesome overtaking ability. It's mated to an S-Tronic automatic transmission only and handling is good. Body lean is minimal in bends and there are bags of grip.
Running costs are unsurprisingly not going to be fantastic, but they are competitive with the Mercedes. The RS range itself is on the whole crammed with fairly cheap to run engines that are good for fuel economy returns that hover around the 50mpg mark, but this Q3 RS model can only manage 32.8mpg at best.
The interior is luxurious, roomy and loaded with lots of desirable standard equipment. Just like all Audi's soft touch plastics abound, but what we especially like are the gorgeously finished stereo controls. Exterior noise is well insulated, which makes the cabin nicely refined.
One criticism would be that the Q3 RS doesn't benefit from VW Group's latest tech, which means that everything looks and feels good – but isn't cutting edge.
It isn't much bigger than the VW Golf, but it does come with a high roofline that leaves room for more interior space. Large windows also help to give the cabin an airier, brighter atmosphere. Leg and headroom are good both up front and in the back, while air conditioning cools the glovebox in what is a clever touch. The boot, meanwhile, measures an impressive 420-litres.
Price:
Mercedes – £45,000 – £50,800
Audi – £26,000 – £49,000
Mercedes-Benz GLA-Class AMG Hatchback vs Land Rover Range Rover Evoque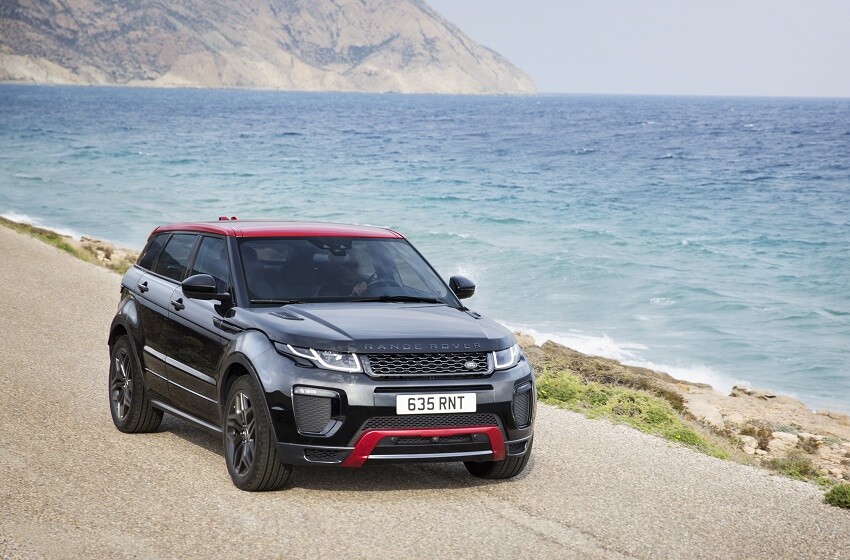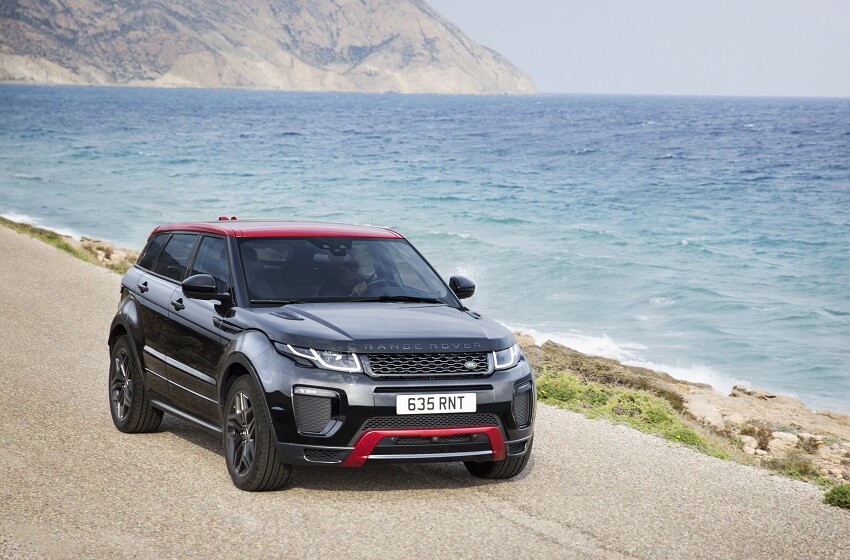 The new Land Rover Range Rover Evoque is pretty much the quintessential crossover. It looks like a stylish, meatier coupe but is a highly capable SUV.
If you were drawn to the Mercedes because it looks like it would be a capable off-roader, you might be feeling a tad disappointed now that we've told you it's about as useful off-road as a supermodel. But fear not, because the Range Rover Evoque is stylish and good off the road.
It's also really fun to drive and takes advantage of its compactness. It isn't, though, as quick as the Mercedes and its most powerful diesel engine takes up to 10.0 seconds to get from a standstill to 62mph. It does pack a punch, though, which you really notice.
For out and out pace, the 2.0-litre petrol is your best bet. It's also significantly slower than the Mercedes and takes 7.6 seconds to cover the 0-62mph sprint, but there is a lot of performance on offer here. Moreover, those numbers are not at all shameful for a car of this ilk.
You can get the car with either two-wheel or four-wheel drive. If low running costs are a priority, you should opt for the former. Indeed, you'll be able to see fuel economy returns of over 60mpg. Go for the four-wheel drive system and fuel economy is still very good. The 180bhp 2.0-litre diesel engine, for example, can achieve returns of around 57.7mpg.
The petrol, meanwhile, is more competitive with the Mercedes and achieves returns of around 36.2mpg.
The cabin is a pleasant place to be and the Range Rover Evoque feels every bit as luxurious as its bigger brother. It might be the cheapest model in the line-up, but this is not a case of the "accidental" first born losing out to its planned second sibling. Leather and metal are used to great effect, giving the interior a classy, upmarket feel.
Compared to the Mercedes and not the rest of the Range Rover lineup, the Evoque is pretty practical, too. Choosing the four-wheel-drive system means you pay more at the pumps, but you do benefit from better towing and off-road capability. You've also got a choice between a three-door and a five-door model and while the three-door looks better, the five-door is more practical. It also has a bigger boot, which measures 575-litres.
Price:
Range Rover – £30,600 – £51,000
Verdict of our Mercedes-Benz GLA-Class AMG Hatchback Review
A large part of this car's charm is its uniqueness. Some might argue that paying almost £20,000 more for this than the regular GLA is a bit much, but others will not. There is no doubting that it's a very desirable car. Stylish but rugged, different without being unorthodox, the Mercedes-Benz GLA-Class AMG Hatch rewards drivers who dare to try something new.
Want a great deal on a Mercedes-Benz?
You could be driving away with your new car in no time. Fill in your details below and one of our vehicle experts will be in touch within one working day.

Latest posts by Will Titterington
(see all)