Review Of The Mercedes-Benz GLA Class Hatchback
The new Mercedes-Benz GLA Class Hatchback is a good-looking, chunky, upmarket crossover that's got a good turn of pace, comfortable seats and a generous amount of standard kit. If you're not looking for a massively practical small SUV but just need enough space for some shopping, it's well worth a test drive.
OSV takes a closer look at what it's all about with our 2017 Mercedes-Benz GLA Class Hatchback review.
As well as lacking the practicality of a bigger hatchback (as well as some similar sized ones), a lot of the models in the GLA-Class do without four-wheel-drive. The GLA 200d, for example, is a front-wheel-drive model.
That said, if you're looking for a car to take into the mud, the wet and the snow on a regular basis, this isn't the one you should be looking at anyway.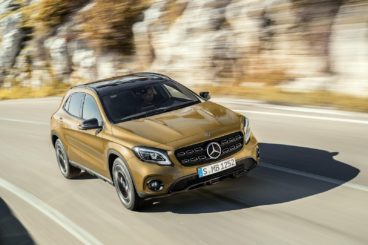 That also said, the GLA 200d can be gotten with 4MATIC four-wheel-drive for extra cost. This grippy system is standard on the GLA 250 petrol model, and it shifts power between the rear and front wheels for more composure in poor conditions. When the conditions are fine, 4MATIC sticks to front-wheel-drive, which saves fuel. As soon as it detects that grip has been lost, it sends power to the rear wheels.
In terms of how it handles, the GLA is fine if not outstanding on twisting B-roads. The suspension is soft, which keeps the driving dynamics a little flat, while the steering on the whole lacks feel. As such, it's not the most engaging car of its type.
And despite Mercedes revising the suspension setup for 2017, it still struggles with broken roads. Everyone in the car will feel it when you hit a pothole – particularly if you go for the bigger alloys.
The entry level GLA 200d diesel and mid-level GLA 220d diesel are backed by the same 2.1-litre engine. It's a bit confusing and both are noisy. Performance is what separates the two, with the 134bhp GLA 200d taking 9.9 seconds to complete the 0-62 dash, and the 175bhp GLA 220d model doing it in 7.7 seconds.
The GLA 250 petrol model is more exciting. It's powered by a turbocharged 208bhp 2.0-litre engine and can do 0-62 in around 6.0 seconds. Is it worth the extra running costs over the diesels, though? We're not so sure. It lacks drama.
The GLA 45 AMG model rounds the range off with its 376bhp and 0-62 time of less than 5.0 seconds. It's a whole lot of fun, but its ride is much firmer than the rest of the range.
Mercedes-Benz GLA Class Hatchback Interior, Design & Build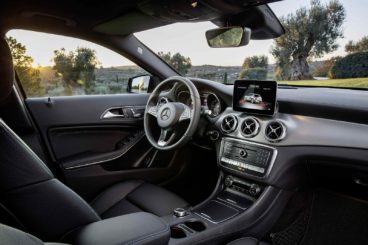 Inside, the car looks and feels solidly built. When it comes to its overall design, though, it loses out to rivals. There are also low-rent plastics that aren't too hard to find, while its rotary dial needs replacing with a newer one.
Worse still, the infotainment system looks like an afterthought. There are also too many buttons on the centre console.
On the plus side, Mercedes have added lashings of chrome, sharpened up the dashboard dials and added more soft-touch plastics. We also like the chrome air-vents, and the instrumentation is easy to read. Essentially, there are touches of real elegance in here, but there are areas where it looks as though Mercedes have simply plastered over things. And it lets the cabin down somewhat.
Insulation is good, and comfort levels are high. Practicality is good too. There is lots of interior room for four adults, with only the small side windows making people feel like there is less space. But even this can be remedied by adding a brighter coloured trim.
Access is easy, thanks to the elevated ride height and wide opening doors, there is a decent amount of storage space, and the boot measures 481-litres. That's impressive for this class. Even better, the boot has a usable shape and can be increased in capacity to 1,235-litres by folding the rear seats.
Equipment & Safety Of The Mercedes-Benz GLA Class Hatchback
There are three trims available. The SE trim gets a good amount of standard kit, including 17" alloys, a reversing camera, AppleCar Play and leather seats. The Sport model adds 18" alloys, an 8" infotainment screen, dual-zone climate control, and aluminium roof rails.
The high performance AMG model rounds things off with an AMG body kit, a better steering wheel, sports seats, and sports suspension.
Where safety is concerned, the car was awarded all five stars when crash-tested by Euro NCAP. It standard safety kit includes airbag's, a feature that warns you if you're becoming sleepy, and a bonnet which flings up to stop pedestrians from getting injured.
However, blind spot warning is frustratingly absent.
Costs Of The Mercedes-Benz GLA Class Hatchback
Prices for the new car start out from £26,200 and rise to £37,800. If you want to lease the car, you can pick up a deal from as little as £235 + VAT per month. For more information on our leasing deals, you can check out our page here.
In terms of its running costs, there's no engine that stands out for its economy. The cheapest to run is the two-wheel-drive 2.1-litre 134bhp diesel model that returns 67.3mpg. Fitting it with the automatic or the manual won't change that figure. However, the size of the wheels you specify will alter the CO2. Smaller wheels will emit 108g/km, while bigger ones will emit as much as 115g/km.
Adding four-wheel-drive to the engine will peg economy back to 57mpg.
The 1.6-litre 154bhp petrol engine that powers the GLA 200 model, meanwhile, returns 48.7mpg at best, and emits up to 138g/km with the bigger tyres.
Pros and Cons Of The Mercedes-Benz GLA Class Hatchback
Beefy Styling
Its chunky good looks are aesthetically pleasing, and they also suggest tenacity and durability.
Decent Space
It's not a large, large car by any means, but Mercedes have used its dimensions well.
Good Turn Of Pace
A 2.0-litre petrol engine can do 0-62 in 6 seconds flat, while the mid-range diesel does it in 7.7 seconds.
Diesel Clatter
The diesels will be the most popular, but their clatter isn't becoming of a Mercedes.
Dull Handling
It's not got as much handling prowess as more dynamic rivals.
Mercedes-Benz GLA Class Hatchback vs Infiniti QX30 vs Range Rover Evoque Hatchback
Let's see how the car fares against its rivals in the comparison section of our 2017 Mercedes-Benz GLA Class Hatchback review.
Mercedes-Benz GLA Class Hatchback vs Infiniti QX30
The new Infiniti QX30 is a sure-footed Hatchback that represents the alternative choice in this class. Without the same badge appeal as a Mercedes, it's trying to sell itself on the back of its dynamic styling, its sense of individuality, and its generous amount of standard kit.
It's essentially the Q30 but taller, and putting that car on stilts has actually improved its driving abilities. Where the Q30 is uninspired, the Infiniti QX30 is energetic and dynamic. It's reasonably fun overall.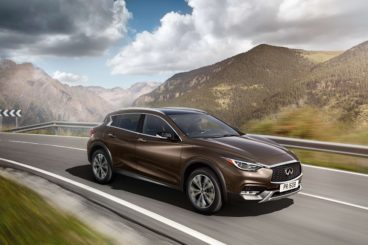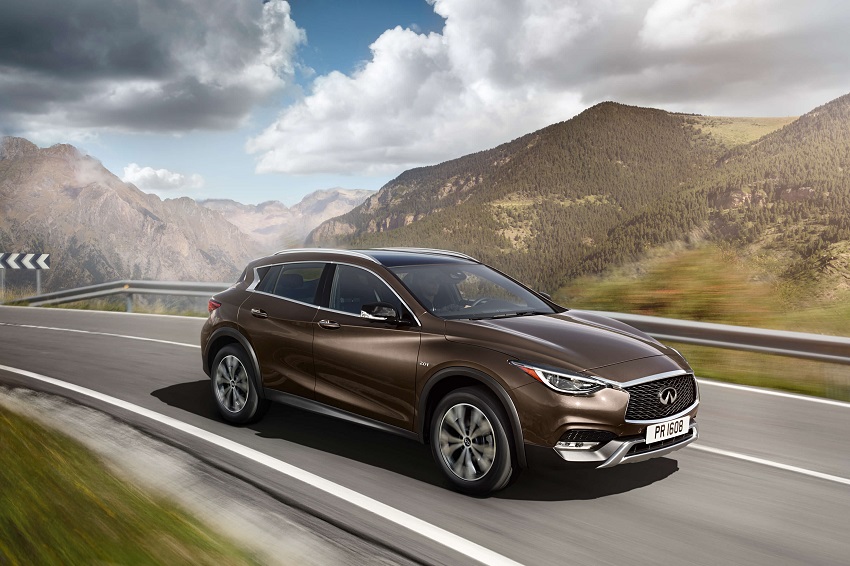 And despite being such a tall car, body lean is pleasingly minimal. There is lots of grip available from the standard four-wheel-drive system, and we would even make a case for the Infiniti being a better drive than the Mercedes.
It does have a weak point, though – its engine. There is only one available, a 2.2-litre 168bhp diesel that's coarse, industrial and not very rewarding. You need to work it hard to get the best out of it, but there's hardly the motivation to do so.
However, it pairs up well with the 7-speed auto transmission, a 'box that gets the best out of its pulling power from low-down. 0-62 is done away with in 8.5 seconds.
Running costs are good, with returns of 57.6mpg the quoted figure. It emits 128g/km of CO2, and sits in insurance group 23. That's standard for this class.
The way it looks will be a major selling point, and if Infiniti are banking on its sleek design to help them win over buyers, they're certainly backing a winner. There is no other car that looks like the QX30 Hatchback.
On the inside, it's a bit different. It seems Infiniti exhausted all their creative energy before they got to the cabin, where the design is safe and lacks character. There is no doubting the high-quality on show, from the infotainment system to the electric window controls – but we expected more design flair.
Still, everything looks and feels solid enough and the seats are comfortable and – upfront at least – heated.
In terms of how practical it is, practical is a relative term here. If this is an SUV in your eyes, you'd argue that it should be bigger and more spacious. If you see it as a Hatchback, it will be useful enough.
The boot has a luggage capacity of 430-litres, which is fifty-litres shy of the Mercedes. The boot opening is a bit awkward and won't satisfy if you see this as an SUV. That said, it's enough for day to day tasks. And if we judge it next to compact premium Hatchback's, it's just fine.
Price:
Mercedes – £26,200 – £37,800
Infiniti – £30,200 – £34,200
Mercedes-Benz GLA Class Hatchback vs Range Rover Evoque Hatchback
The new Range Rover Evoque Hatchback is eye-catchingly stylish, but there was never any question that Range Rover would put style before substance: This is a seriously competent off-roader that's also the perfect gentleman on it.
In fact, it's a whole lot of fun on the road. It's among the smallest in Land Rover's line-up, which means it's a bit more agile and easier to drive. That said, it's prepared to pitch in when the going gets tough. The brand's Terrain Response system helps to this end.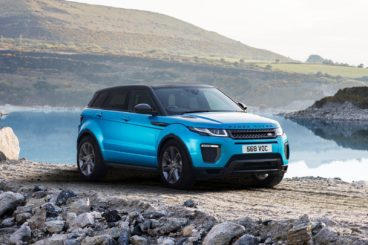 Among the engines are a pair of D4 2.0-litre diesel models. The less powerful of the two is a bit of a stroller that produces 150bhp and takes a leisurely 11.2 seconds to complete the 0-62 "dash." However, it returns excellent fuel economy and will sell well.
The bigger diesel develops 180bhp, and does 0-62 in a more attractive 7.6 seconds. It also benefits from the addition of four-wheel-drive.
The 240bhp 2.0-litre petrol engine does 0-62 in the exact same time, but requires you to whip it more to get the best out of it. Like the diesels, it can be fitted with a 9-speed automatic transmission that suits its character. It doesn't really boost acceleration any, and neither does it shift gear super fast. But it does improve fuel economy. That said, the car comes with either three or five doors, and opting for five will bump up the fuel costs.
The smallest two-wheel-drive diesel can return over 67mpg economy and emits 109g/km of CO2. The 180bhp variant returns 58.9mpg when paired up with a manual 'box and 57.7mpg when paired up with the automatic.
The petrol engine, meanwhile, returns just 36.2mpg and emits 181g/km of CO2.
Despite being smaller than the standard Range Rover, the Evoque feels and looks just as luxurious for the most part. It's also more affordable, but it still gets leather and metal inside the cabin, while a touchscreen infotainment system is standard across the range.
It's super easy for the driver to get comfortable, thanks to plenty of steering wheel and driver's seat adjustability. Visibility is aided by big door mirrors and the raised ride height. And while a small rear windscreen makes it tricky to reverse, rear and front parking sensors are standard.
There are soft touch plastics everywhere, the automatic transmissions rotary dial is composed of metal, and standard kit includes a DAB radio, a leather steering wheel and heated seats.
The boot, meanwhile, measures 575-litres for the five-door model and 550 for the three-door. The five-door has a total boot capacity of 1,445-litres with the rear seats folded down, while the three-door has 1,350.
Price:
Range Rover Evoque – £30,750 – £55,600
Verdict Of Our 2017 Mercedes-Benz GLA Class Hatchback Review
As far as compact family cars go, this one has a lot of appeal. Its premium badge aside, it boasts rugged styling, a high driving position, a raised ride height and lots of creature comforts that you and your passengers will love. For anyone who needs something a bit gruff and usable, but still wants upmarket trimmings, the new Mercedes-Benz GLA Class Hatchback is a good fit.

Latest posts by Will Titterington
(see all)