Review Of The Mercedes-Benz GLC AMG Estate
The new Mercedes-Benz GLC AMG Estate is the high-performance version of the smart, comfortable and high-tech GLC model. It's the only petrol engine in the range, and is ideal for those who want all the nice, cosy trimmings and excellent build quality of the standard model – but who would also really like a bit more power. Let's say, 362bhp?
It's safe, with the likes of collision prevention and an advanced stability program coming as standard, and with four-wheel-drive onboard it's grippy and composed in bends. Despite being such a large car, it handles like a Hatchback – which means you don't have to work too hard reigning it in.
OSV takes a closer look at what it's all about with our 2017 Mercedes-Benz GLC AMG Estate review.
Comfort is what Mercedes excel at. And while the suspension setup of the AMG model is firmer than the diesel engines, you still benefit from a largely cosseted ride. Four-wheel-drive is standard, and it always feels engaged, while adaptive dampers help the car absorb broken roads better.
However, just like the diesel models, the high-performance AMG model can't claim to be as engaging as the likes of a BMW. This is in part down to the soft suspension setup that puts you off tackling bends with too much enthusiasm. Moreover, when you do decide to throw caution to the wind, the safety systems spring into action and put the car into lockdown.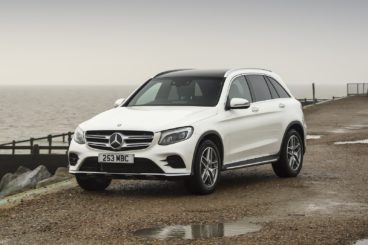 For example, its stability control system cuts power at will. A proper driver's car? Hardly.
But then again, that was – and rarely is where Mercedes are concerned – never the point. The GLC AMG Estate is a comfortable, refined and relaxed cruiser.
That said, it gets a meaty engine. Power comes from a 3.0-litre twin-turbocharged V6 that produces up to 362bhp, and which can thrust you from 0-62 in less than 5.0 seconds. That's a whole two seconds faster than the mid-level diesel model, and it can keep going until 155mph. In a straight line on A-roads, the acceleration is exhilarating.
Like the diesels, the AMG's engine is paired up with a responsive and smooth 9-speed automatic gearbox. It's a bit different, though. For example, if you use the steering wheel paddles to change gears, it will blip the throttle.
Despite all the extra oomph available, the AMG rarely sparks into life unless it's rocketing along in a straight line. Its limitations on winding roads are there for all to see, and – as if we really need to say it again – it isn't one for the enthusiasts.
Mercedes-Benz GLC AMG Estate Interior, Design & Build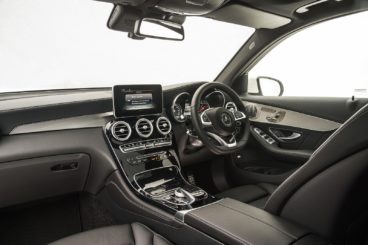 There is a lot to love about the inside of the Mercedes-Benz GLC AMG Estate. The cabin is well-built, the design is smart, and the dashboard is of a high quality. Moreover, it comes well-equipped.
Perhaps the best thing about it is its high levels of comfort. The AIRMATIC suspension certainly helps to this end, while an intelligent crosswind prevention system ensures that insulation is good. Even at high speeds, only a trickle of wind and road noise will get inside the cabin.
The sportier suspension of the AMG model will cause a few judders here and there, but we hardly think it will be a deal breaker.
The dashboard is classy. That's not a massive surprise since it's shared with the debonair C-Class Saloon. This means the switch gear is robust, the instruments are clear, and gloss-black or wood dominates the centre of the dashboard.
Overall, the cabin is plush and stylish. Our only criticism – if we can call it that – is the gear selector. Mounted on the steering column, it takes some getting used to.
In terms of how practical it is, we have few complaints. This is a large car, so access is predictably simple, and there is oodles or room on offer. Leg and headroom out back is just fine, though a middle backseat passenger will have to put up with an awkward transmission tunnel.
However, rear seat passengers benefit from air ventilation, a pair of cup holders and their own storage cubby. The boot, meanwhile, measures 550-litres, which is par for the course in this class.
Equipment & Safety Of The Mercedes-Benz GLC AMG Estate
The AMG model gets lots of the same kit you'll find in the mid-level diesel GLC, including sat-nav, a DAB radio and a reversing camera. It adds 19" AMG alloys, sport suspension, a sports bodykit, metal pedals, man-made leather upholstery, air suspension and a bespoke front grille.
Is it safe? You bet. Euro NCAP saw reason enough to award it all five stars when it crash-tested it, while its standard safety kit includes an advanced stability program, traction control, crosswind assistance tech, and a collision-prevention system.
Costs Of The Mercedes-Benz GLC AMG Estate
Prices for the new car go as high as £90,000. If you want to lease the car, you can pick up a deal from as little as £520 + VAT per month. For more information on our leasing deals, you can check out our page here.
In terms of its running costs, the GLC AMG Estate is unsurprisingly expensive. The GLC 43 AMG model returns 34mpg at best, and emits 189g/km of CO2. Meanwhile, it sits in insurance group 44 out of 50.
Since there are no depreciation values available at the moment, we can't make an accurate judgement on what the car will be worth in three years. However, Mercedes usually hold their value well.
Pros and Cons Of The Mercedes-Benz GLC AMG Estate
Full-Fat Version Of The Standard Model
The standard GLC-Class is already an excellent model. The AMG is way more expensive but adds more power, more kit, and more safety.
Quiet
Despite having over 350bhp available on tap, the engine is quiet and refined when you just want to chill.
Fantastic Interior
The seats are comfortable, the dashboard is awash with high-tech gizmos, and you get lashings of wood and gloss-black.
Expensive
It can cost as much as £90,000 to buy, and you'll be averaging less than 30mpg economy.
Bland Looks
Its exterior is hardly exciting. Totally unbecoming of a fast AMG model.
Mercedes-Benz GLC AMG Estate vs Audi SQ5 vs Jaguar F-Pace
Let's see how the car fares against its rivals in the comparison section of our 2017 Mercedes-Benz GLC AMG Estate review.
Mercedes-Benz GLC AMG Estate vs Audi SQ5
The rapid new Audi SQ5 is the high performance version of the comfortable and spacious Q5 family. Where they prefer to cruise, it prefers to wreak havoc with tarmac.
It's now powered by a 3.0-litre V6 petrol engine that develops 349bhp. That allows the Audi SQ5 to sprint from rest to 62mph in 5.4 seconds and comes with an 8-speed TipTronic automatic gearbox.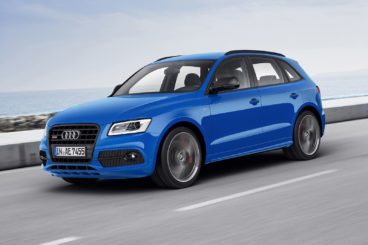 There has been a few grumblings among SQ5 fans that the introduction of said gearbox will negatively impact performance. True, the new Audi SQ5 isn't as jet-heeled as the outgoing, lightning-quick diesel model. Nor is it as economical.
However, this is all that's available now, with Audi promising that a hot-hatch TDI diesel is on the way. Moreover, this petrol model is some 90kg lighter, which helps with agility.
In terms of how it drives, the SQ5 is quick, fairly easy going, and relatively good fun. It doesn't lean much in bends despite its firmer suspension over the standard models, and its steering is precise. However, it lacks feel – but boasts sportier handling and plenty of grip.
And despite being racier than the standard models, it's still refined and comfortable.
As said, it's not as economical as the diesel model it replaces – despite being slower. It returns 34mpg at best. It's expensive to insure too, and sits in group 42 out of 50.
As ever with an Audi, the interior is a highlight. It's been around since 2008 and its cabin hasn't changed much, but it still manages to look modern. Its design is elegant, build quality is good, and it comes with plenty of standard kit. This includes Nappa-leather seats, a ten-speaker stereo, and the brand's Virtual Cockpit.
It also comes with an 8.3" display that's easy to get the hang of. It's a lot better than the standard Audi Q5's 7" infotainment screen that sits awkwardly above the dashboard.
In terms of how practical it is, it might be a driving enthusiasts car, but it's also a people's car. In other words, it will accommodate all who get inside it. The clever ergonomic touches are just great, leg and head room is good all-round, with the only person losing out being the middle passenger in the rear (awkward transmission tunnel).
The boot, meanwhile, measures 550-litres with all seats in the correct place. You can slide the rear seats forward to increase that to 610, or fold each one individually for even more room. Maximum load capacity is 1,550-litres.
Price:
Mercedes –
Audi – £38,000 – £51,200
Mercedes-Benz GLC AMG Estate vs Jaguar F-Pace
The new Jaguar F-Pace is destined to become a massive hit. It's one of the most handsome cars on the road, and it's smooth, powerful and super quiet.
For the purpose of this review, we're focusing on its supercharged F-Pace S model. Its V6 3.0-litre petrol engine offers blistering performance while emitting a bellowing exhaust note that makes you feel as though you're on the track.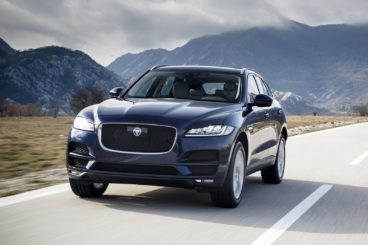 As soon as you want to chill and relax, it simmers down. Then, when you want to tear strips off the tarmac again, it's ready to hit boiling point.
It costs the same as the equivalent diesel model in the Jaguar F-Pace range, but its economy of 31.7mpg at best is a downside. Four-wheel-drive is standard, but it only comes into play if needed. Otherwise, this is very much a real-wheel-drive car (which also helps to prevent fuel economy from being even worse).
It's comfortable off-road, too. It's hardly a battle-worn warrior in the vein of a Land Rover Discovery Sport, but a host of electronic gizmos boost your confidence if you ever get caught in tougher conditions.
Despite being a big, bold SUV, it's also great fun to drive on tarmac, where it can do 0-62 in almost 5.0 seconds. Its steering deserves particular praise; it's super communicative, and always lets you know how much grip you've got.
Inside, the car feels upmarket. The cabin is awash with luxury and smart features, including a comfortable, eight-way adjustable driver's seat, the brand's modern InControl infotainment system, standard Wi-Fi, Apple CarPlay compatibility, sports seats and perforated leather for extra comfort. It also comes with a powerful eleven-speaker Meridian sound system.
Complimenting all of that is a good amount of practicality. The Jaguar F-Pace accommodates you and your passengers like a £53,000 car should. Our only complaint is that it doesn't feel as though it will stand up to everyday family life on the road.
It's easy to access, thanks to wide-opening doors and a raised ride height, while the two upfront will have lots of space. Rear seated passengers are also taken good care of, although adding the optional panoramic sunroof will eat into headroom.
The boot, meanwhile, measures 650-litres which can be extended to 1,740 by folding the rear seats. The boot comes with a large opening and a usable shape.
Price:
Jaguar – £53,000
Verdict Of Our 2017 Mercedes-Benz GLC AMG Estate Review
It's essentially the standard GLC model but with more everything – more power, more pace, more tech and more security. It's also got bigger bills and a higher price tag, of course.
However, you get what you pay for. Is the new Mercedes-Benz GLC AMG Estate worth 90,000 big ones? With strong-as-an-ox performance, a 650-litre boot, a glistening interior and more safety features than the White House, you bet it is.

Latest posts by Will Titterington
(see all)