Review Of The Mercedes-Benz SL Class Convertible
Ah, a new Mercedes-Benz SL Class Convertible. It's what life was made for when you just want to cruise without a care in the world with your partner. This one looks like a two-seater drop-top in the classic mould: It's lean, elegant, and supremely comfortable.
Without two extra seats in the rear, Mercedes have been able to focus on giving you and your passenger more attention. Easily the most luxurious car in its sector, Mercedes have toughened up it's engine selection so that it's even more of a relaxed cruiser this time around. All four engines are now brimming with power, while the AMG models throw a scintillating engine and exhaust note into the mix.
OSV takes a closer look at what it's all about with our 2017 Mercedes-Benz SL Class Convertible review.
There was a time when an entry-level SL model felt underpowered. Not anymore. The SL400 that sits at the bottom of the range benefits from a twin-turbocharged petrol engine that can launch it from a standstill to 62mph in less than 5.0 seconds. It sounds fantastic, and can almost match the more powerful SL500 model, which does 0-62 in 4.3 seconds.
Third in line is the SL63 AMG which, despite costing considerably more than the SL500, doesn't offer much more pace. It does 0-62 in 4.1 seconds, and like all SL's, it maxes out at 155mph.
That said, you're paying the extra cash for the way the SL63 AMG feels, drives and sounds. It's like a totally different animal. And unless you're super sensitive with the throttle, you'll find that it's way too easy to spin the wheels by breaking traction. That's how wild it is.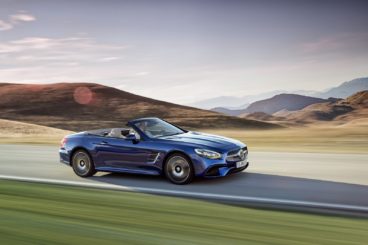 If you're careful, however, the rear wheels will be under your spell, thrusting you from rest to 62mph like a hurricane. In corners, an insensitive touch will punish you. Play it nice and delicate, and you can avoid nasty wheel spins.
Whichever model you opt for, the steering is a tad too vague for our liking. For sheer driver involvement and fun, there are better cars in this market.
The ride quality is disappointing, too. On broken surfaces, the car will judder, jitter and vibrate. This isn't something that can be altered by taking the roof down or putting it up. The reason for this? Mercedes have stiffened the suspension a bit too much. As perhaps an unintended consequence, it means that the engines rarely fulfill their potential.
Direct Select is meant to help you soften the suspension setup without losing any engine power, but it feels too much like a compromise to us.
That said, once you lower the roof, the SL-Class Convertible proves to be a confident cruiser that fizzes and pops. It can tackle winding country roads and lengthy motorway journeys with ease.
Mercedes-Benz SL Class Convertible Interior, Design & Build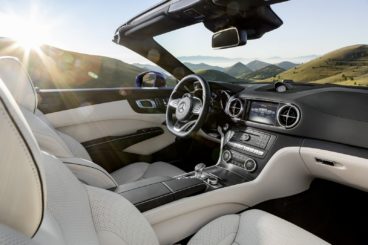 For optimum comfort, the AMG models come with a choice between sports suspension or a version of Active Body Control that's exclusive to the AMG models. However, the sports suspension setup will be too firm for most buyers, and we recommend the ABC system instead.
The driver and their passenger will benefit from high levels of comfort, while insulation is also excellent. Hardly any engine or wind noise gets into the cabin, even with the roof down.
The cabin creates a sense of grandeur, thanks to lashings of metal trim and fine leather, while the aero-inspired instruments heighten the sense of occasion. Apple CarPlay is compatible, but it's a bit disappointing that Mercedes chose not to add their new mouse-like controller. In other revised models, this controls the COMAND online infotainment system. Here, you have to make do with the swivel wheel that's beginning to look dated.
Still, you get a new colour display that integrates nicely with the dashboard.
In terms of practicality? Well, there are only two seats – which will be enough for most buyers. Without two more seats in the rear, Mercedes have been able to provide the best experience for you and your passenger. You've got a pretty much unrestricted room, a widely-adjustable driver's seat, and a super comfy passenger seat.
The boot, meanwhile, measures 350-litres when the roof is down. This roof, incidentally, takes 20 seconds to come off. Not bad.
Equipment & Safety Of The Mercedes-Benz SL Class Convertible
This is an expensive car, but Mercedes have equipped it fairly well. Both the SL400 and SL500AMG Line models get climate control, sat-nav, Apple CarPlay, and a DAB radio as standard. Active Body Control is a useful if expensive £3,000 option, while a Magic Body Sky Control glass panel costs close to £1,900. It's not necessary, but it turns the folding hard-top roof opaque.
Euro NCAP hasn't – and most likely won't – crash-tested it, but thanks to numerous onboard safety systems, we expect it to be as safe as houses. This includes lane keeping assist and a system that brakes automatically if the car senses a collision is inevitable.
Costs Of The Mercedes-Benz SL Class Convertible
Prices for the new car start out from £75,850 and rise to £175,900. For more information on our leasing deals, check out our page here.
In terms of its running costs, the SL Convertible in 2017 fares better than it ever has done. The economy has been improved by a lighter body, as well as the introduction of more efficient power plants. As a result, the SL400 is now able to return over 36mpg, and emits 175g/km of CO2.
The SL500 model, meanwhile, returns 31.4mpg, and emits 205g/km of CO2. The AMG models are unsurprisingly much more expensive to run, with the range-topping SL65 AMG model averaging 23.7mpg at best. It costs £515 a year in road tax, too.
Pros and Cons Of The Mercedes-Benz SL Class Convertible
Fast
There isn't much difference between the standard models and the AMG models in terms of how fast they all are. All models do 0-62 in 5.0 seconds or less.
Top-Notch Finish
The SL Convertible is up against some classy rivals, but it more than holds its own when it comes to fit and finish.
Big Boot
Not that anyone buys cars like these for their usability, but a 350-litre boot is a huge bonus.
Expensive
Over £75,000 as a starting price might seem like too much for some buyers.
Forgettable Looks
It looks smart enough. Compared to more ostentatious rivals, however, it looks bland and thoroughly unremarkable.
Mercedes-Benz SL Class Convertible vs Aston Martin V8 Vantage Roadster v Maserati GranCabrio Convertible
Let's see how the car fares against its rivals in the comparison section of our 2017 Mercedes-Benz SL Class Convertible review.
Mercedes-Benz SL Class Convertible vs Aston Martin V8 Vantage Roadster
The new Aston Martin V8 Vantage Roadster is just pure drama, from the way it looks to the way it drives and behaves on the road.
Fitted with a 4.7-litre V8 engine, it was never going to be anything less than dramatic. A true show-stealer and head-turner of a car, its engine develops a titanic 420bhp, which is enough to launch it from a standstill to 62mph in 4.9 seconds.
Take the roof down, and you'll be able to soak up its addictive soundtrack. Truth be told, there are fewer sounds that are this mesmeric.
In bends, the Vantage is a dream to drive. It's always compliant and willing, and will suit keener enthusiasts who crave a stiff chassis and lots of agility.
The steering is our only minor criticism with the driving experience. It could be heavier. Moreover, for as much driver involvement as possible, we would pass on the SportShift automated manual stick and go for the 6-speed manual transmission instead.
All that immense power comes at a cost, of course, and this isn't a cheap car to run. Aston Martin claim you can return as much as 25mpg, but they're being incredibly optimistic. In the real world, you'll struggle to return 20mpg, and will most likely average 15mpg. Yearly road tax? £505.
Inside, you'll find there are only two seats. We think it's a good decision of Aston Martin's to stick to the two seats, as it's meant they can focus on improving the driver experience, rather than trying to work out how to accommodate more people. As such, the cabin is free from clutter and gorgeously laid-out.
Comfort isn't great, but that's the price you pay for a stiff setup. However, some buyers might be put off by the constant vibrations – the price you pay for a drop-top. Engine noise isn't really a problem at low revs, but the higher up the rev range you go, the more intrusive it becomes.
Not that keener drivers will complain, of course.
The boot, meanwhile, measures just 144-litres. That's way smaller than the Mercedes.
Price:
Mercedes – £75,850 – £175,900
Aston Martin – £104,000
Mercedes-Benz SL Class Convertible v Maserati GranCabrio Convertible
The new Maserati GranCabrio Convertible is one of the most handsome cars ever created. It's suave and sophisticated, but don't fret – while it looks like a most charming man, it's got a bit of a temper.
Yep, on the road it's like the bad boy rebel in a suit that Mums are always warning their daughters about. Stripped of any inhibitions and allowed free reign to do as it pleases, its sensational 4.7-litre V8 engine is capable of some staggering speeds. It produces 434bhp, and can do 0-62 in 5.4 seconds.
For a muscular sports car that tips the scales at almost 2,000kg, that's impressive.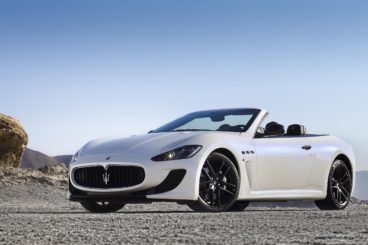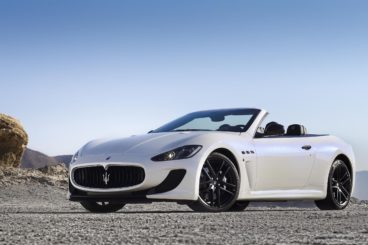 Its engine snarls and growls like all good sports cars should, while the steering is well-weighted. The Maserati GranCabrio Convertible is nicely balanced through bends, while you have a choice between a 6-speed semi-automatic transmission and a fully automatic stick.
Like both the Mercedes and the Aston Martin, the economy is expectedly poor. The Maserati can return 19mpg at best, but you'll probably be averaging 15mpg. You'll pay over £500 a year in tax, and the car sits in the highest insurance group there is.
Inside, there are fewer cars on the road today that offer a better sense of occasion. The cabin is refined, there is a generous amount of interior room on offer, while comfort is absolutely impeccable. Insulation is also excellent, regardless of whether you've got the roof up or down. This is down to the GranCabrio's excellent aerodynamics that swot away wind noise whenever possible.
It's worth bearing in mind, though, that this is a big car that won't be easy to park or saunter around the town in. It's an imposing machine that needs the space of the open road if it's to really enjoy itself.
That said, interior practicality is decent. There are four seats, with a good amount of room for four people, and the boot measures a respectable 173-litres. That's smaller than the Mercedes but bigger than the two-seater Aston Martin. When you do need more storage space, you can always use the two extra seats.
Price:
Maserati – £105,745
Verdict Of Our 2017 Mercedes-Benz SL Class Convertible
The SL is one of those timeless models that just isn't going away. Technically, it's been around since the fifties. A thoroughbred, then? You bet. Being around so long means it knows what buyers want – guile, luxury, top-notch refinement, straight-line speed and plenty of safety kit.
But it's understated looks and lack of two back seats might put some buyers off.
The new Mercedes-Benz SL Class Convertible is good, but it's not convincing.

Latest posts by Will Titterington
(see all)