Review Of The Mercedes Benz A-Class AMG Hatchback
The brand new, all-star Mercedes Benz A-Class AMG Hatchback is A++. It's got the premium badge, the hi-tech kit – and it's all neatly packaged into a (relatively) affordable family car. It's ideal if you need room for the kids but don't want to have to sacrifice performance.
With that said, its looks are polarizing. Where exec saloons are concerned, Mercedes produce some of the most handsome cars on the planet. Where vans and hatchbacks are concerned, it's a different story.
However, a Mercedes is a Mercedes.
OSV takes a closer look at what it's all about with our Mercedes Benz A-Class AMG Hatchback review.
This is the AMG version of the A-Class Hatchback, which in standard guise takes as much as 11.3 seconds to complete the 0-62mph dash.
The A45 AMG model quickens things up, and does the same distance in a pulverising 4.2 seconds.
To put that into some perspective, this means you can thrust your family along with as much speed as the Porsche 911 Carrera 4S. The difference is, this is much more affordable and family-oriented.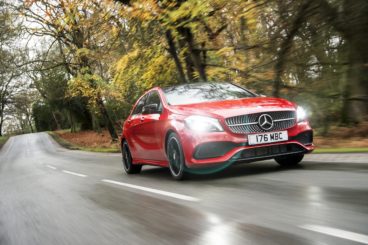 (whether you want to take grandma to the shops in this is up to you. But why not? It'd be a blast)
The way it drives is a positive. It's still not as sharp as a BMW, but it's an erstwhile performer. Its steering is direct, its suspension isn't too firm (though the larger alloys of the AMG do firm things up), and it's front wheel drive. As a consequence of front-wheel-drive, though, it's not as involving as you might like.
Torque steer is an issue, too. When you really put your foot down, you might notice that the steering wheel twitches. It's rather pronounced at times, and may be an issue for some buyers. To make the car feel better planted, you can opt for 4MATIC four-wheel-drive.
It must be said that this system is available with the AMG models, but not with all the A-Class range.
Mercedes Benz A-Class AMG Hatchback Interior, Design & Build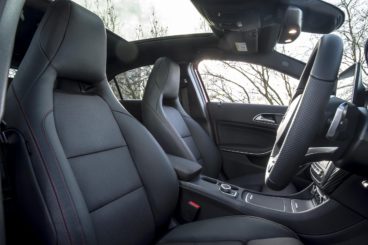 Inside, the cabin is superbly crafted and feels exactly like the premium product you expect it to be. The dashboard is well presented, with the dials and buttons nicely laid out, and the materials are of a good – though not excellent – standard.
The design is a bit contentious, as it's too conservative for our liking. Some buyers will be happy enough with it, but you expect Mercedes to push the boat out a bit more. There are certainly less glamorous rivals in this sector that have more imaginative interior designs.
Since this is a premium model, the cabin alone certainly wouldn't be enough to justify the price. And while we like how usable the infotainment system is, we don't like how poorly located and fitted it is. Despite being an AMG model, there is also evidence of low-rent plastics, too.
Still, the AMG model is classier than the standard A-Class range, with its carbon-effect trim that helps to bring it into 2017. The AMG model has a sporty feel to it too, and you sit down low. You can add 18" alloys for an even sportier feel, but these will make the ride super firm.
Getting comfortable is easy in the driver's seat, with both the wheel and the seat offering plenty of adjustability. As always with a Mercedes, the controls for the windscreen wiper and lights are to be found on the same column stalk which, as always, will take some getting used to.
Its compact shape counts against it when it comes to usability. It's more flexible than a Mercedes Saloon and will be enough for most families, but there are drawbacks. The boot is narrow and measures 340-litres, making it one of the smallest in the class. And when you want to fold the rear seats for 1,157-litre of space, you have to remove its parcel shelf.
The high boot lip doesn't help either. Access is a problem too, because the doors aren't as wide opening as anyone would like.
Equipment & Safety Of The Mercedes Benz A-Class AMG Hatchback
Standard kit for the AMG model is good, with a lot of it shared with other AMG Line cars. You get LED headlights, red trim inserts in the rear and front bumpers, as well as heated front seats. You also get sat-nav, Parking Pilot and folding door mirrors.
This is in addition to all the standard A-Class niceties, including air conditioning, a reversing camera and a 5.8" infotainment system.
Where safety is concerned, there isn't much to worry about. The car scored 5/5 when crash tested by Euro NCAP, and standard safety kit is good. It includes antilock brakes, electronic stability control, and a full complement of airbags.
Costs Of The Mercedes Benz A-Class AMG Hatchback
Prices for the new car start out from around £36,200. For more information on our leasing deals, check out our page here.
In terms of its running costs, the A-Class range as a whole doesn't fare too badly. The most frugal engine of all is the entry level diesel, which returns as much as 80.7mpg and costs nothing to tax.
The AMG model halves that figure, returning 40.9mpg at best. As a family hatchback, that might seem quite high. But all things considered – powerhouse performance and a big engine – that's not too bad at all. Moreover, provided you avoid the expensive options which can bump the list price up to £40,000 +, yearly road tax is just £140.
Want a great deal on a Mercedes?
You could be driving away with your new car in no time. Fill in your details below and one of our vehicle experts will be in touch within one working day.
Pros and Cons of the Of The Mercedes Benz A-Class AMG Hatchback
It's Fast
Fancy getting the family from rest to 62mph in 4.2 seconds? Well, now you can.
Huge Amount Of Grip
It's armed with so much grip so as to always feel safe and secure, despite its feral performance.
Stylish
You don't want another boring-looking Hatchback, do you? The new A-Class AMG is anything but boring, its sharp styling one of its best traits.
Costly
It's all about priorities. But if 40.9mpg economy sounds too steep, you might want to look elsewhere.
Steering Is A Bit Vague
Disappointingly, there isn't much feel.
Mercedes Benz A-Class AMG Hatchback vs Audi S3 vs BMW M140
Let's see how the car fares against its rivals in the comparison section of our 2017 Mercedes Benz A-Class AMG Hatchback review.
Mercedes Benz A-Class AMG Hatchback vs Audi S3
The new Audi S3 is the result of Audi's two decades' of involvement in the hot hatch sector. Compared to the Mercedes AMG, though, you might find that it's a little too conservatively styled.
And therein lies the problem for some buyers. The S3 – while performative and rapid – looks utterly unremarkable.
However, Audi has often been a bit restrained with their styling. Moreover, their fast cars are rarely designed to be out and out pleasure machines. Instead, they're often made with easy high-speed driving in mind.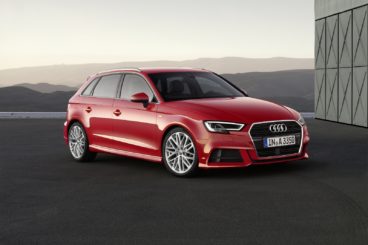 And so it is with the new Audi S3, a car that can do 0-62 in 4.6 seconds, but which lacks drama. Its turbocharged 2.0-litre four-pot TFSI petrol engine develops up to 306bhp, and is at its quickest when paired up with the automatic gearbox. Pair it up with the 6-speed manual, and it does 0-62 in a more leisurely 5.3 seconds.
Thanks to lowered and stiffened suspension, the Audi has plenty of handling prowess, but you will be in for a fairly bumpy ride. Magnetic Ride is available as a £995 option, and it does a decent job of absorbing lumps and bumps.
In terms of its running costs, the S3 excels. It can return 43.5mpg at best, while your yearly road tax bill will be just £145. For such an explosively fast hot-hatch, we'd say that's pretty good.
There are, of course caveats, and these figures apply only to the automatic model with the smaller alloys. Add the manual gearbox and bigger alloys, and economy drops to around 40mpg. Yearly road tax bill, meanwhile, rises to £185.
The car's interior is a great place to spend your time. The materials are all top-notch, the buttons and switches all feel tactile, and it has both a sporty and a family friendly personality. For example, while you get such racy touches as sports seats and a flat bottomed steering wheel, you also get masses of interior space that's capable of comfortably sitting four adults.
Insulation is just as good as a regular Audi hatchback, while the boot measures a respectable 325-litres. Moreover, rear seated passengers get their own doors, which we're sure they'll appreciate.
Price:
Mercedes – £36,000 +
Audi – £34,125 – £36,925
Mercedes Benz A-Class AMG Hatchback vs BMW M140
The new BMW M140 is BMW's offering in the premium hot hatch sector. It's had a name change, so you might not recognise it immediately. But it's ready to scorch the earth more than ever.
What helps this one to stand out is that it's still powered by a six-cylinder engine – a massive rarity in the hot hatch sector that's now mainly powered by four-pot engines. So it's really a case of getting it while you still can.
Also, the BMW M140 is one of the last rear-wheel-drive hot hatches. A rarity indeed! It's also held onto its roaring exhaust note that's capable of sending shivers down your spine each time you hear it.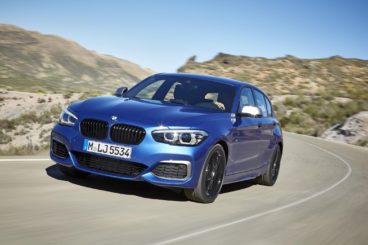 On the road, it feels alive, and while the steering feels overly light at times, it's still precise. A 3.0-litre six petrol engine powers the car, and you can get it with either 321bhp or 335bhp. That might not seem like a significant difference, but you'll notice the extra power when shifting through the gears.
0-62mph is done away with in 4.6 seconds, and the M140 Hatchback can keep going until 150mph. We like the 8-speed automatic transmission, but while its action is smooth and quick, the cheaper manual 'box suits the car's character more.
Despite retaining such a characterful, lively engine, BMW has managed to make it a bit cheaper to run. Okay, so a rise in the economy from 37.7mpg to 39.8mpg is hardly amazing, but it's an improvement all the same. Even better, it's now cheaper to tax, and emits just 163g/km of CO2.
Like the Mercedes and the Audi, the BMW's interior is top-class. The driver's seat is set down low, which gives it a sporty flavour, while the interior is designed so as to wrap around you. The materials are all upmarket, and we love the new iDrive infotainment system.
BMW have been generous with their kit this time too, and a heads-up display and sat nav are both included as standard.
Practically speaking, there isn't much to separate the BMW from the Mercedes. It packs a 360-litre boot, which is par for the course in this class, and overall its interior is easy for everyone to live with. There are enough head, leg and shoulder room for all, the ride quality is smooth, and access is easy.
Verdict Of Our 2017 Mercedes Benz A-Class AMG Hatchback
If you quite fancy a red hot hatch, you've come to the right place. One of the fastest hatchbacks's on the planet, it's a bit of a treat from Mercedes for a few reasons: It's affordable, it's rapid, it's luxurious, and it can double up as a family car whenever you need it to. The new Mercedes Benz A-Class AMG Hatchback might cost a bit more than rivals, but it's got way more desirability.
Need help finding your perfect car?
Our team of experts can help. Fill in your details below and one of our vehicle specialists will be in touch within one working day.
When you lease a car with OSV there are no hidden costs, request a call back and we'll find you a finance, lease or purchasing deal designed just for you.