Review Of The Mercedes-Benz AMG GT Coupe
With its bulging bonnet, the two-seater Mercedes-Benz AMG GT Coupe looks like a classic British sports car. It's got all the hallmarks of a sports car that we Brits love, too – earth-shaking performance, savage speed, and lots of drivability. Make no mistake, this is a real driver's car that represents an alternative to the Aston Martin's of this world.
It replaces the SLS AMG, a car with more drama than a World Cup penalty shoot-out in its own right. This new model now sits atop the Mercedes model range but actually, costs much less than the Kaiser it replaces. As such, it's now a rival for the Aston Martin V8 Vantage and the Audi R8 – as opposed to Lamborghini's and Ferrari's.
OSV takes a closer look at what it's all about with our Mercedes Benz AMG GT Coupe review.
Mercedes-Benz AMG GT Coupe On The Road
The AMG GT engine is a marvel in engineering design, a Teutonic powerhouse that eats Hatchbacks for breakfast. It's as squat as a Lotus Elise has a super low centre of gravity, and splits its power between the rear and the front wheels perfectly. As a result, it makes tackling corners with gusto seem easy. There's not a nervous twitch in sight (except maybe from your uninitiated passenger).
In 2017, the Mercedes AMG GT Coupe is much more alert and sharper than the model it replaces. Because the engine is so state-of-the-art, you can put all your trust in it wholeheartedly. It won't let you down, and offers up lots of stability and maximum grip.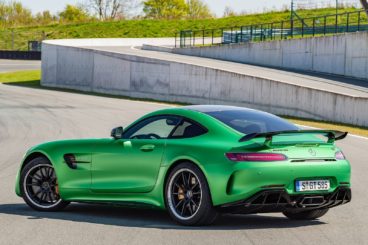 Moreover, the steering is still light enough to make sauntering around the town easily. At super high speeds, it will writhe occasionally, but it's got plenty of feel. And despite being made to thunder down the track, the AMG GT Coupe is also jolly good entertainment at everyday speeds.
There are a couple of engines avaiable, with the range kicking off with a 4.0-litre engine that powers the standard model. It bawls and barks like a fierce dog, and despite being "entry level" it's one of the best engines on the market right now.
The engine can't wait to get started, and bubbles over like lava in a Volcano once you press the starter button. Springing to life like it's just been given a shot of adrenaline, it does 0-62 in 4.0 seconds before maxing out at 189mph.
Not enough speed? Try the AMG GT S Coupe, which can launch you from rest to 62mph in 3.8 seconds, before maxing out at 193mph. Power is accessible at all times, no matter what speed you're at. On stretches of road, you really can eat Hatchback's (and "city cars") for breakfast.
The AMG GT R sits at the top of the range. It doesn't add much more speed (it's probably not even possible), but it does offer 577bhp. Made specifically for the track (although that's not to say it can't be enjoyed elsewhere), it has huge wheels and even more grip. As a bonus, it's lighter than the rest of the range.
It also gets a kind of traction control that you normally only see in Formula One cars. It's designed to help you extract even more performance out of the car, and you get to decide how much the rear wheels will spin until the system cuts in.
 Mercedes Benz AMG GT Coupe Interior, Design & Build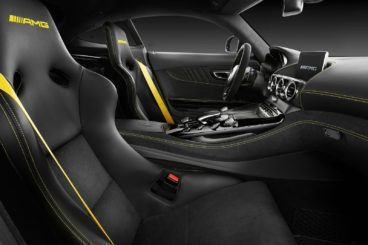 Once you step inside the car, you can see where a lot of your money is going. With that said, it misses out on a few things that are instead included on its expensive and extensive options list.
However, there is no doubt that this is an exceptional interior for a sports car. It's not perhaps the best packaged or even the most ergonomic, but it has rivals beaten for style and a sense of occasion.
It's exclusive too, with the dashboard featuring controls and dials not found in other Mercedes models. The thick-rimmed steering wheel is pure luxury, nd is begging you to destroy the tarmac with it.
There is a real sporty feel inside here too, with the driver sat down low. At the same time, the centre console is set quite high, so that you're nicely cocooned. And if you want, you can specify dark materials for a seriously racy experience.
Alternatively, you can specify high-gloss carbon, matt carbon, black diamond or chrome finishes for the dash.
To top things off, the AMG GT Coupe gets the up-to-date version of the brands' COMAND infotainment system.
With just two seats, it's never going to be the most practical of cars. Thick windscreen pillars don't help with visibility, and neither does that long bonnet. However, its compact dimensions mean parking shouldn't be too difficult.
Storage spaces are few and far between, and the ones it has are too small. A case in point being the glovebox and door pockets. The boot, though, is a massive positive. Measuring 350-litres, it's even bigger than a Ford Focus!
Equipment & Safety Of The Mercedes Benz AMG GT Coupe
Although the options list is varied and expensive, standard kit is still overall good. Included in the list price are LED lights, cruise control, SD and USC card connectivity, and electrically adjustable seats and steering column.
The list of optional extras includes different leather upholstery choices, metallic paint, and a few interior styling packages.
Euro NCAP hasn't crash-tested the car, but we don't expect safety to be a concern. Collision Prevention Assist Plus is standard, as is Attention Assist. Electronic stability control is also included, along with a reversing camera, traffic-sign recognition, and blind-spot warning.
Costs Of The Mercedes Benz AMG GT Coupe
Prices for the new car start out from £98,750 and rise to £143,250. If you prefer to lease, you can pick up a deal from as little as £1,460 + VAT per month. For more information on our leasing deals, check out our page here.
In terms of its running costs, the Mercedes Benz AMG GT Coupe compares well with it rivals – but is expensive in purely absolute terms. Its 4.0-litre petrol engine can return up to 30.4mpg, and emits 216g/km of CO2.
Go for the GT R model and economy drops to 24.8mpg, while emissions rise to 259g/km.
Yearly road tax isn't too bad, with all models costing £140 after the first year. For the first year, your exact tax bill is adjusted according to each model's emissions.
Pros And Cons Of The Mercedes Benz AMG GT Coupe
Thunderous Engine
The sole 4.0-litre petrol engine is a stormer that's well-suited to this high-performance Coupe. In standard guise, it has as much as 470bhp.
Excellent Handling
Mercedes isn't a brand known for sharp handling. The Mercedes Benz AMG GT Coupe bucks the trend with agility and precise if light steering.
Lots Of Grip
You need a car like this to feel safe, and that it does with an abundance of grip.
Light Steering
See above. The steering is accurate but overly sensitive at times. Could be frustrating.
Noisy On The Motorway
The tyres are wide and will create a racket on the motorway at speed.
Mercedes Benz AMG GT Coupe vs Aston Martin V8 Vantage vs Audi R8
Let's see how the car fares against its rivals in the comparison section of our Mercedes Benz AMG GT Coupe review.
Mercedes Benz AMG GT Coupe vs Aston Martin V8 Vantage
German or British? That's what it may come down to for some of you, as there isn't much else to separate the Mercedes from the fearsome new Aston Martin V8 Vantage.
In standard guise, a feral 4.7-litre V8 petrol unit powers it from rest to 62mph in 4.9 seconds. For more brutality, you can opt for the Vantage S, which does 0-62 in 4.6 seconds with its extra 10bhp.
Both engines are beginning to feel a little dated compared to rivals, but there is no doubt that they sound as thunderous as ever. With no turbochargers in sight, they are always on song.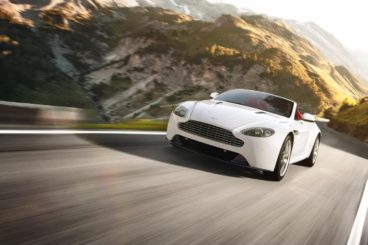 You do have to work the V8 Vantage hard to get the best out of it, but for some of you that will be all part of the fun and games. However, to safely take it to the absolute edge of its limits, you'd need to go to the race track.
What really makes the Aston Martin stand out is its manual gearbox – a rare sight in an era where all sports cars now seem to be at least all semi-automatic. That said, even the purists might prefer the semi-automatic option here, as the manual transmission is rather awkward.
Being naturally aspirated and all give the V8 Vantage a proper race car flavour, but it does mean that economy remains high. Aston Martin reckon you can return 20.5mpg. Coupled with an 80-litre fuel tank, this means you'll be making a stop every 350 miles or so.
Emissions of 321g/km of CO2, meanwhile, mean a £505 yearly tax bill.
Inside, the Aston Martin is as impeccably timeless as ever. As usual, the cabin is handcrafted. But while there are moments of real beauty – such as the stitched leather seats – the switchgear is now showing its age. Truth be told, this is an interior that needs an overhaul. It's still classy, though, and it's impressive that Aston Martin still hand-build these machines.
It's not really an everyday car, but practicality is okay for a two-seater. It's super comfortable, there is a generous amount of head, shoulder and legroom, and the compact dimensions make it easy enough to park. The boot is smaller than the Mercedes, and measures 300-litres.
Price:
Aston Martin – £95,000 – £165,000
Mercedes Benz AMG GT Coupe vs Audi R8
Out of the three cars in this review, the Audi R8 is the best everyday motor. But what does that mean for its appeal as a sports car?
One look at it and you wouldn't think it was anything other than a daredevil speedster. Its aggressive design will stand out to anyone who loves super cars like the Lamborghini Huracan. For anyone who loves the old British sports Coupe's, the Audi R8 might look a little tasteless.
It's a firecracker of a car that is powered by a massive 5.2-litre V10 petrol engine. This is hugely bigger than the old 4.2-litre power plant. You can get this unit with either 533bhp or a stonking 602bhp, the latte of which does 0-62 in an insane 3.2 seconds.
And, yes, that wasn't a typo.
And in case you don't fancy stopping, you don't need to until you reach speeds of 205mph.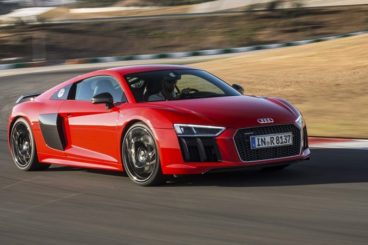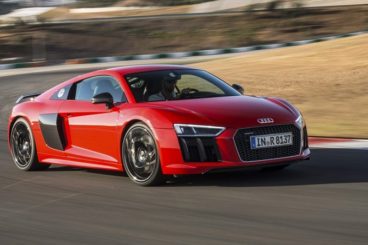 So it's fast – but it also boasts predictable handling so that you always feel in control. Four-wheel-drive is standard, and this arms the car with plenty of grip. As such, you won't even lose your nerve in bends, or in some tricky weather conditions.
At low speeds, it's fun enough. But as ever with cars like this, it bursts into life at higher speeds. Naturally, all that primal power comes at a bit of a price, and you won't return economy higher than 24.8mpg. Road tax, meanwhile, is £515 a year.
Inside, we have no fault with the sturdy build quality, r the overall luxury. The sports seats are set low, and we love how the wraparound dash cocoons you. Brushed aluminium and carbon fibre inserts are everywhere you look, while the dashboard gets the brands Virtual Cockpit system. This means a 12.3" screen takes the place of conventional dials and controls the sat nav and speedometer among other things.
As we said, the R8 Coupe is fairly usable. It's mid-engined, which means its 112-litre boot is to be found at its nose. It's got a narrow opening, is deep and should be enough for most buyers who need a super car for weekend getaways.
A small shelf behind the front seats is neat extra storage space, while you also get a few door bins and cubbies here and there.
Price:
Audi – £123,350 – £138,350
Verdict Of Our 2017 Mercedes Benz AMG GT Coupe Review
There isn't much to separate this high-performance sports Coupe from its rivals. It's Mercedes' most powerful road car, and also one of their most expensive. It's got two seats, two doors, one engine and more power on reserve than North Korea.
0-62 can be done in just 3.8 seconds, and it's glamorous inside and out. If that still isn't enough to tempt you to pick up the new Mercedes Benz AMG GT Coupe, maybe you need the GT model with its 570bhp and top speed of 193mph. Choices choices. We won't tell you how jealous we are.
When you lease a car with OSV there are no hidden costs, request a call back and we'll find you a finance, lease or purchasing deal designed just for you.