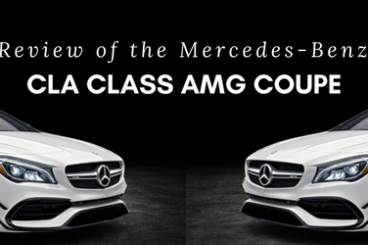 Review Of The Mercedes-Benz CLA Class AMG Coupe
If you want to pimp up your next Coupe and make it racier, the new Mercedes-Benz CLA Class AMG Coupe is an interesting proposition. It's got seriously sporty credentials, including a 0-62 time of 4.2 seconds, firmer suspension and four-wheel-drive. Performance is ballistic, and it looks the part, too.
However, it demands a hefty premium over the entry and mid-level models. Is it worth it? OSV takes a look to find out with our 2017 Mercedes Benz CLA Class AMG Coupe review.
The AMG feels sharper and sportier than most of its rivals, thanks to lots of grip and well-weighted, progressive steering. It also has good body control and benefits from 4MATIC four-wheel-drive.
That said, it can't compete with the rear-wheel-drive BMW we'll review later when it comes to nimbleness.
Ride quality is a weak point. The AMG model gets firmer suspension, and while this helps with how it handles and tackles corners, it does reduce comfort. The way it crashes into broken roads is relentless and will be annoying. It just doesn't make the car very nice to drive. The only good thing to come out of the stiff suspension is that at least the cabin is nicely insulated from road and wind noise.
Moreover, the significant surge in grip that the AMG adds reduces engagement and steering feel. So while you can be confident that you've got oodles of grip on tap, you won't always know how much at any time.  
Another criticism we have is the 7-speed automatic 'box. It's hesitant and unresponsive to switch ratios.  
Still, you get an incredible amount of performance out of this car. The 355bhp AMG model sits at the top of the CLA-Class Coupe range and does 0-62 in just 4.2 seconds. That's a whole FIVE seconds faster than the only other petrol engine in the CLA-Class's arsenal.
Mercedes-Benz CLA Class AMG Coupe Interior, Design & Build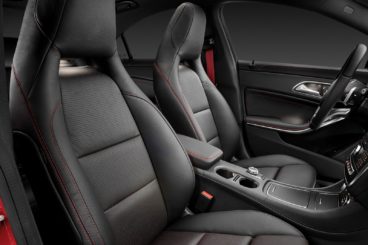 The exterior no doubt looks great. However, sharper eyed buyers will point out that it looks like a watered-down version of the CLS. It essentially does, which means Mercedes have taken the look of a bigger car and tried to make it work on a smaller one.
We think it works, and we like the exclusive Coupe touches, such as the frameless windows.
Inside, you'll be impressed by the premium feel of the car. But as we'll find out a little later, the quality of the cabin doesn't quite meet the standards set by rivals. The dash is shared with the A-Class and is smartly designed. Each model comes with a multifunction steering wheel, and a 7" tablet-style screen. It's poorly positioned high on the dash, but it's easy to use and looks good enough.
However, it won't be too long before you spot harder plastics that are unbecoming of such an expensive Coupe in and around the cabin.
Most buyers will be pleased with the sporty feel that the low-slung driving position creates. And thanks to lots of steering wheel and seat adjustment, it's really easy to get comfortable.
In terms of practicality, the Mercedes Benz CLA Class AMG Coupe fares okay. There are lots of storage spaces dotted around the cabin, and the driver and their passenger will have plenty of room.
Things are not as rosy in the back, where the sloping roofline intrudes on rear headroom. Worse still, unsuspecting taller adults might easily bang their heads on the low door frame the first few times they get inside. And while it's billed as a five-seater, anyone sat in the middle will have to put up with a wide transmission tunnel.
The boot, meanwhile, measures 470-litres, which is good for this class.
Equipment & Safety Of The Mercedes-Benz CLA Class AMG Coupe
Standard kit for the AMG model jazzes things up, and includes lower sports suspension, 18" alloys, an AMG bodykit, sports seats, AMG floor mats, and a Night Package. This package comes with headlight washers, bi-xenon headlights, tinted windows and black door mirrors.
Where safety is concerned, you needn't have any concerns. Mercedes are known for stuffing their cars with cutting-edge safety kit, and that's the case here. The AMG models get Collision Prevention Assist which preps the brakes whenever an accident is imminent, as well as lane keeping assist, a blind spot warning, a reversing camera, and a speed limiter.
Costs Of The Mercedes-Benz CLA Class AMG Coupe
Prices for the new car start out from £42,000 and rise to £45,000. If you want to lease the car, you can pick up a deal from as little as £460 + VAT per month. For more information on our leasing deals, you can check out our page here.
In terms of its running costs, the CLA AMG Coupe doesn't fare too badly at all. It can return 40.9mpg at best and emits 165g/km of CO2 at worst (if you opt for the bigger alloys). Compared to a number of cars, that might seem high. But for a 355bhp engine, we think Mercedes has done a good job at keeping costs down.
It won't be cheap to insure, though, as it occupies insurance groups 45 and 47.
Pros And Cons Of The Mercedes-Benz CLA Class AMG Coupe
Looks Great
Swooping lines, frameless windows and sharing its nose with the A-Class ensure the CLA Class AMG Coupe looks the part.
Reasonable Boot
470-litres of luggage space should be more than enough for buyers looking at a premium sports Coupe.
Safe
With a 355bhp engine in its armoury, you need a car like this to feel safe. With a safety kit longer than your arm, rest assured that the AMG Coupe is as secure as any modern day car.
Cramped Rear
Backseat passengers get a raw deal, with a sloping roof and low door frames.
Firm Ride
The AMG Coupe isn't super comfortable. If this is a priority of yours, you may have to look elsewhere.
Mercedes-Benz CLA Class AMG Coupe vs BMW 440i M Sport Gran Coupe vs Audi S5 Sportback
Let's see how the car fares against its rivals in the comparison section of our Mercedes-Benz CLA Class AMG Coupe review.
Mercedes-Benz CLA Class AMG Coupe vs BMW 440i M Sport Gran Coupe
The new BMW 440i M Sport Gran Coupe is the 4 Series' showstopper. It's raunchy, powerful but boasts all the usual BMW traits – top-notch interior, sophisticated looks and decent practicality.
While all the engines in the 4 Series are quick, none can compete with the blistering pace of the 440i M Sport model. It comes with a few sporty add-ons for more power and smoothness, such as four-wheel-drive – but it does demand a hefty premium over the entry level and mid-range models. It develops up to 312bhp, does 0-62 in 4.9 seconds, and maxes out at 155mph.
It's a heavy car that handles well, but it's not as much fun as BMW's usually are. It's balanced in bends, though, but despite all the performance and pace on offer, we'd argue that the 440i is still more of a cruiser than a ballsy sports car.
Unsurprisingly, it's not super cheap to run. However, BMW claim that it can return 41mpg economy – which is more than reasonable. That said, we wouldn't expect any M Sport driver to actually achieve that, at least not on a regular basis. It's more likely that you'll be returning around 30mpg after a few thrills and spills.
In terms of insurance, meanwhile, the car occupies group 38.
As ever with a BMW, the interior is defined by lots of top quality materials and plenty of comfort. The 18" alloys of this 440i M Sport model do make the BMW more jittery over poorer surfaces than the standard models. But ride quality is still decent.
If you prefer, you could even add 19" alloys. However, these fidget over even the tiniest of road flaws.
Interior space is just fine up front, but those in the rear will find that headroom is limited by the sloping roofline. And while BMW has billed the 4 Series as "4+1", the middle seat is useless on longer journeys, thanks to an awkward central transmission tunnel.
Access is fairly easy, thanks to the inclusion of rear doors, and the 480-litre boot benefits from large opening reminiscent of a hatchback. If you fold the rear seats, you can increase the boot to 1,300-litres.
Price:
Mercedes – £42,000 – £45,000
BMW – £33,100 – £47,300
Mercedes-Benz CLA Class AMG Coupe vs Audi S5 Sportback
The new Audi S5 Sportback is one of Audi's best ever looking cars – and that's saying something. It's something of a Jekyll and Hyde character – its beautiful design hides the amount of savage performance that's on offer.
It has almost all the elements needed to make a top-selling performance car that has enthusiastic drivers salivating over their steering wheel: Firm suspension, immense power, and strong brakes. The only thing that's missing is engaging steering.
And that's a shame because the artificial steering isn't really something you want from a car that can do 0-62 in 4.7 seconds with an engine that develops 349bhp. So while Quattro four-wheel-drive provides plenty of grip, you never really know how much you've got at anyone time. It's a guessing game, and while that sense of risk will no doubt excite some buyers, it won't excite us all.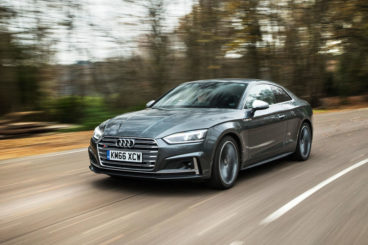 It's also a bit of a shame that you don't get to choose your own gearbox, with the car offering just the one – an 8-speed automatic. It's capable enough, but keener drivers would probably like the option of a manual.
The brand's Drive Selector is awesome as usual, allowing you to flick between three driving modes to get the feel you want. Flicking from Comfort to Automatic will make you think you've swapped cars!
As mentioned, the engine is capable of some serious speed. But true performance fans may want to wait until the new RS5 is released. With 480bhp, it promises to be an absolute monster.
In terms of its running costs, it's claimed returns of 38.2mpg economy are shy of what the Mercedes can manage. Moreover, few buyers will drive its 3.0-litre six-pot engine like saints, which means it's more likely that you'll be averaging 30mpg at absolute best. Emissions, meanwhile, are 170g/km which, under the new rules, result in a first-year tax bill of £500.
Audi don't hold back when it comes to their interiors, and here is another superbly crafted cabin. The Nappa leather sports seats provide high levels of comfort and support, the controls are easy to find and use (and feel great to the touch), while the gear selector is suitably chunky.
We don't like the fact that the infotainment screen is fixed (they usually retract in Audis), but apart from that, we have no complaints.
Front-seat space is excellent, with the driver and their passenger enjoying first-class leg and headroom. The low roofline means access to the rear is tricky, and once inside passengers might feel a bit claustrophobic.
The boot measures 480-litres, which is the merest of litres bigger than the Mercedes (ten to be exact). The rear seats can be folded individually for more space, which is a useful touch.
Price:
Audi – £49,000
Verdict Of Our 2017 Mercedes-Benz CLA Class AMG Coupe Review
Aimed at younger buyers who've got cash in their pockets and want some fun, the new Coupe is a spectacular proposition. It's sporty, fast, and looks the business. Its 3-pointed star badge is, as ever, a big attraction as well.
There are flaws, of course, such as a less-than impressive interior, a cramped rear, and a firm ride. But for rip-roaring, high-class swanky thrills and spills, the new Mercedes-Benz CLA Class AMG Coupe could prove to be too hard to resist.
When you lease a car with OSV there are no hidden costs, request a call back and we'll find you a finance, lease or purchasing deal designed just for you.