Review Of The Mercedes Benz CLA Class AMG Shooting Brake
Fast, fearsome, stylish and sporty – the new Mercedes Benz CLA Class AMG Shooting Brake in a nutshell. Hardly four words we associate with Estate cars. But has it got the substance you want?
Sure enough, family cars were never meant to raise hell. But when the AMG division of Mercedes gets their hands on an Estate car, the game changed forever. It's ferocious engine delivers 355bhp, which is enough to get you and your Harrods shopping from rest to 62 in 4.2 seconds.
Fear not, though, because the car isn't all about performance. It's also practical, well-equipped, and comes with four-wheel-drive.
OSV takes a closer look at what it's all about with our 2017 Mercedes Benz CLA Class AMG Shooting Brake review.
When we talk about Estate cars, few of us ever offer platitudes about the way they drive. But while it's easy to comment on how good the AMG Shooting Brake looks, what's also worth mentioning is how well it drives.
It's inspiring stuff. While the standard Shooting Brake offers a blandly predictable driving experience, the AMG models take things up a thousand notches. The four-wheel-drive system helps a lot (standard models are front-wheel-drive), as do the bigger alloys. The steering is sharper, jitters a lot less, and is a massive improvement on the standard model.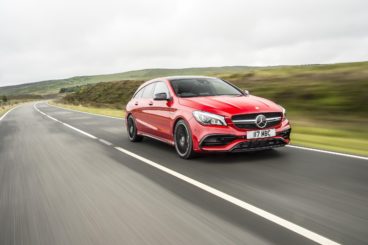 The four-wheel-drive system is worth expanding on briefly. It's known as 4MATIC, and is essentially an extension of the brand's front-wheel-drive system. It sends power to the back wheels only when it notices wheel slip. As a result, fuel economy doesn't really change significantly.
If you've got the cash and are looking seriously at this model, it's well worth the premium.
All AMG models share the same engine, a turbocharged 2.0-litre four-pot petrol engine that develops 122, 218 and 381bhp respectively. The CLA 45 AMG model tops the range and offers a dollop of blistering performance. On top of its 381bhp, it can launch you from rest to 62mph in 4.2 seconds.
In terms of transmissions, you have a choice between a 6-speed manual and a 7-speed automatic. Both are satisfactory.
Mercedes Benz CLA Class AMG Shooting Brake Interior, Design & Build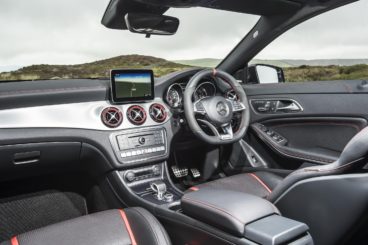 If you've ever sat inside a Mercedes A-Class or the CLA Saloon, the cabin here will be familiar to you. It boasts a top-quality finish and the same 7" touchscreen. The design and layout are smart, and nice touches include neat-looking air vents and a textured steering wheel.
Some of you will no doubt be disappointed by the presence of cheaper-looking plastics here and there, but Mercedes have by and large maintained a premium feel. However, the biggest disappointment is the infotainment system screen, which looks cheap and is – obviously – impossible to ignore. It just doesn't look like it belongs with the dash.
The AMG has a few flourishes and features that set it apart from the standard models, including a gear lever that's gorgeously detailed.
In terms of how practical the car is, in absolute terms it probably falls a bit short. Mercedes have clearly put style over substance at times. That said, compared to the standard CLA Class, it's a lot more usable.
The sloping roofline – clear evidence of style over substance – reduces rear headroom. At the same time, there is actually 40mm more rear headroom than last time. Taller passengers won't be satisfied if you tell them that, though!
Space up front is good, but on the whole there are far more spacious Estate cars on the market. The boot, meanwhile, measures 495-litres. That's decent, but it's only 25-litres bigger than the standard CLA Saloon. Again, it's all relative, though, as it's bigger than the C-Class Estate.
Equipment & Safety Of The Mercedes Benz CLA Class AMG Shooting Brake
As well as the standard kit of the standard models, such as ambient lighting, parking sensors and cruise control, the AMG models add an AMG body kit, lowered sports suspension, false leather, red brake callipers, speed-sensitive steering, and AMG alloys.
You also get AMG floor mats, which we think is a nice touch.
As ever with a Mercedes, safety is assured by a raft of safety features. All AMG models come with Collision Prevention Assist, a system that detects definite accidents and adjusts the brakes accordingly. Lane-keeping assistance is also included, as is Attention Assist and seven airbags.
Costs Of The Mercedes Benz CLA Class AMG Shooting Brake
Prices for the new car start out from around £45,000. For more information on our leasing deals, check out our page here.
In terms of its running costs, the AMG Shooting Brake is perhaps not as expensive as you might be inclined to think. It can return 40mpg economy, which is reasonable for such a high-performance engine. CO2 emissions, meanwhile, stand at 161g/km, which results in a yearly tax bill of £185.
Pros and Cons of the Of The Mercedes Benz CLA Class AMG Shooting Brake
Stylish
You'll have to look far and wide to find a slicker-looking Estate car. Hint – you won't be successful.
Fast
Ever wished an Estate could do 0-62 in 4.2 seconds? Your wish has now been fulfilled.
Big Boot
The 495-litre boot should satisfy most buyers, even if it's not class-leading.
Bumpy Ride
This AMG version has a far firmer ride than the standard Shooting Brake models, and it harms comfort.
Not Massively Practical
A sloping roofline and a far-from class-leading boot compromise its practicality.
Mercedes Benz CLA Class AMG Shooting Brake vs BMW 340i M Sport Touring vs Audi S4 Avant
Let's see how the car fares against its rivals in the comparison section of our 2017 Mercedes Benz CLA Class AMG Shooting Brake review.
Mercedes Benz CLA Class AMG Shooting Brake vs BMW 340i M Sport Touring
As much of a mouthful as the Mercedes, the new BMW 340i M Sport Touring can be just as much of a handful. Clearly, these German's are out to make the Estate sector as extravagant as possible.
You have to wonder how far BMW can push their luck in this sector, though. This 340i model sits at the top of the 3 Series Touring range, and delivers a powerhouse 322bhp. That's enough to see it race out of the traps from 0-62 in 5.1 seconds, a time that can beat a lot of sports cars into first place – except the Mercedes, of course. And it sounds every bit as thrilling as you'd hope.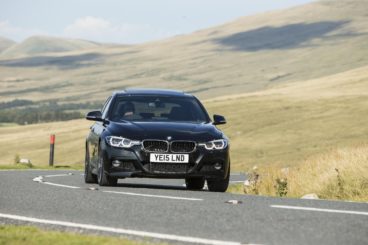 It handles well, with its steering not too heavy and always precise. There is a good amount of feedback, which ensures that you always know how much grip is available. Its driving experience on the whole just blows the Mercedes and all other rivals out of the water, thanks largely to its unique rear-wheel setup.
Added to this are strong brakes, so the car is both agile and reassuringly safe.
Less reassuring is it's very un-family friendly running costs. BMW claims the 340i M Sport can return 40.4mpg at best, but we'd wager that figure will be hard to achieve in the real world. It's more likely that you'll be looking at 30mpg on average.
Meanwhile, it emits 164g/km of CO2, which seems reasonable for such a high-performance machine.
The BMW is sturdy enough to deal with broken roads. It's surprisingly supple, with its optional driving modes helping out to this end. You can adjust its suspension until you get a setup that suits the conditions and your mood.
The dashboard is well laid-out and put together, and includes the brand's impressive iDrive infotainment control system as usual. It's easy to use and logical, and easily the best in the business right now.
Practicality-wise, not much separates the BMW from the Mercedes. Its 495-litre boot is the exact same size, and can be extended to 1,500-litres by folding down the rear seats. Other than that, space up front is decent if not excellent, with the driver benefiting from a good amount of adjustability.
Storage bins are everywhere, but we don't recommend more than two adults sitting in the rear. In fact, space is a bit cramped even for two. Access is easy, though.
Price:
Mercedes – £45,000 +
BMW – £28,100 – £45,600
Mercedes Benz CLA Class AMG Shooting Brake vs Audi S4 Avant
The new Audi S4 Avant is a thing of beauty that offers incredible bursts of speed.
Audi has got a lot of things right with this one, but what stands out is its Quattro-four-wheel-drive system. To make the S4 Avant feel safe, it had to provide a titanic amount of grip from its wide tyres – and it does. So despite all the sheer power on offer here, you're always pinned to the road.
That said, there are disappointments with the way the car handles. The steering just doesn't communicate enough, failing to tell you how much grip you have. For this reason, it's so important that the Quattro delivers in spades.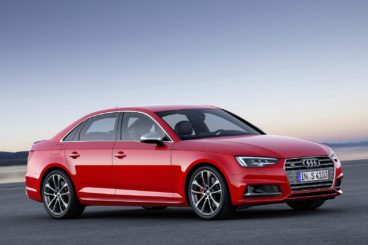 The sole engine in the range is a turbocharged 3.0-litre petrol unit that delivers 349bhp. It does 0-62 in just less than 5.0 seconds, which makes it faster than the BMW – but considerably "slower" than the Mercedes.
With that said, the S4 Avant offers pure speed but zero engagement. As such, it feels very much like a car without a soul at times. Sure, you can zoom along at pace … but where's the engagement?
The engine is state-of-the-art, so although it doesn't improve handling it does keep running costs respectable. It can return 37.7mpg at best, and emits 171g/km of CO2. For a 349bhp large car, that's good. Last year, that would have resulted in a yearly tax bill of just £140. But because of the new system, you'll now have to pay £450.
We've got to give the cabin 5/5. It's just sumptuous. One of the things Audi have done so well with this one is smooth out its ride quality. As you know, fast Audi's are usually harsh. Not this one – it feels as soft as a saloon, especially at high speed.
It does get fidgety at times, but even this can be ironed out by adding the £900 adaptive damping system.
Apart from that, the interior is marked out by top quality materials, a logical design and lots of modern kit. This includes a 7" colour display, and the £250 Virtual Cockpit.
Practicality gets 5/5, too. It's a large car that makes the most of its dimensions. Bigger than both the Mercedes and the BMW, it's able to offer you and your passenger's more interior space. There is plenty of adjustment up front for the driver, the sports seats are comfortable and padded, and two adults in the back will have ample head and legroom.
There is room for a third passenger in the back, but the transmission tunnel will frustrate. Three kids will be fine, however. And for the kids, ISOFIX child-seat mountings are standard.
Lastly, the boot measures 505-litres, which nudges it ahead of its two rivals in this review. Not by much, of course, but its smart shape, low lip and fold away hooks make it super usable.
Price:
Audi – £46,900
Verdict Of Our 2017 Mercedes Benz CLA Class AMG Shooting Brake Review
Not everyone is going to appreciate how aggressive this Estate car looks. For those who do, you'll probably appreciate its 381bhp engine, its 0-62 time of 4.2 seconds, and its meaty four-wheel-drive, too. Disappointingly, its boot only grazes the 500-litre mark, and rear headroom is limited – two major flaws for a supposed practical car.
However, if you can live with that, the new Mercedes Benz CLA Class AMG Shooting Brake could be the most thrilling large car you'll ever get to own.
When you lease a car with OSV there are no hidden costs, request a call back and we'll find you a finance, lease or purchasing deal designed just for you.