Review Of The Mercedes-Benz CLA Class Shooting Brake
The new Mercedes-Benz CLA Class Shooting Brake is breaking (sorry) new ground in the Estate car sector. It's stylish, spacious and vivacious, and comes with a cracking high-performance AMG version. However, this faintly ridiculous (if fun) machine costs almost £50,000.
For those of us who are a bit more sensible and just want a good-looking, practical, premium-badged family car but don't need to do 0-62 faster than a bullet, prices start out from £27,000 for the standard models. Moreover, the diesel engines are super affordable to run, returning over 70mpg economy.
OSV takes a closer look at what it's all about with our 2017 Mercedes-Benz CLA Class Shooting Brake review.
On the road, the CLA Class Shooting Brake is an odd one. Odd in the sense that, while Mercedes usually work ever so hard to create a car that's comfortable and rides well, they've come up short with this one. On broken roads, it will judder and fidget like it's got ants in its pants. It's not a pleasant experience, especially when you consider that pretty much all British roads are broken.
On the motorway, it's much smoother. However, the experience still isn't especially pleasant, as road and wind noise becomes a problem. There's not much you can do about it, and it's already clear five paragraphs into this review that Mercedes have tried their arms at a sporty Estate.
But is it even all that sporty?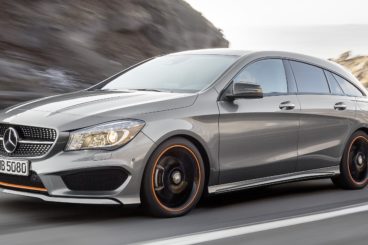 The driving experience doesn't involve you as much as we feel it should. The steering lacks feel, and the bigger alloys don't really flavour it with a more dynamic personality. As a result, we suggest that you stick to the smaller 18" alloys. So the answer is that the car doesn't really feel sporty unless you go for the expensive, high-performance AMG model.
However, most buyers will be tempted by the diesel engines. There are technically two available, but they're variations of the same 2.1-litre power plant. The smaller of the pair produces 134bhp and powers the CLA 200 CDI model, while the bigger of the pair develops 176bhp and powers the CLA 220 CDI – which is an AMG model. Both are vocal, neither are smooth and there isn't much to choose between 'em.  
The petrols make sense if you don't expect to put too many miles in. Like the diesels, there is only one petrol engine, a 1.6-litre unit that's available in two power guises. The CLA 180 model produces up to 122bhp, while the CLA 250 model delivers up to 218bhp. Again, there isn't much to choose between either of them, but they're both quieter than the diesels.
Mercedes-Benz CLA Class Shooting Brake Interior, Design & Build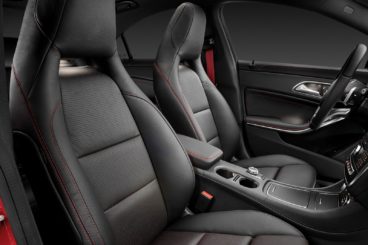 Inside, comfort and top-quality are the order of the day – although we refrain from giving the cabin a clean sweep of 5/5. For two reasons: One, there could have been more standard kit included. And two, while quality is good, it isn't quite on the same level as other Mercedes', and consequently rivals.
Indeed, you get the impression that Mercedes were operating on a restricted budget.
That said the interior is essentially the same as the one in both the Mercedes A-Class and CLA Saloon. It gets the same "floating" central screen, and the same bullseye-like vent.
In terms of how practical it is, it's more usable than the CLA Saloon. It's boot measures 495-litres, which is bigger than the saloon. But it's let down by an unorthodox shape and a small opening.
It's got more interior space than the saloon, including 40mm more headroom. But head and legroom may still be hard to come by for anyone who is taller than the average adult. However, the biggest problem is one of claustrophobia, which is caused by the swooping roofline and the small rear windows.
Space upfront, meanwhile, is absolutely fine.
Equipment & Safety Of The Mercedes-Benz CLA Class Shooting Brake
There are only two trim levels to choose from. The standard models come with a twin exhaust, alloys, a 3-spoke multifunction steering wheel, comfort suspension, as well as sports seats.
The range-topping AMG model adds unique alloys, a bodykit, stainless-steel sports pedals, and lowered sports suspension.
It's a safe car that benefits from a number of hi-tech safety features. These include attention assist, and collision prevention assist. It's disappointing that rear side airbag's are a £400 option, while lane-keeping assistance would set you back a further £700.
Costs Of The Mercedes-Benz CLA Class Shooting Brake
Prices for the new car start out from £27,000 and rise to £49,600. If you want to lease the car, you can pick up a deal from as little as £460 + VAT per month. For more information on our leasing deals, you can check out our page here.
In terms of its running costs, the entry-level CLA 200d diesel engine won't cost much at all. It can return over 70mpg on a good day (basically, when driven like a saint), and emits only 106g/km of the old CO2. That results in a yearly tax bill of just £20.
However, most buyers will naturally want a bit more power. The CLA 220d diesel returns 67.3mpg, and only emits 2g/km of CO2 more than the entry-level model.
The petrols are affordable to run, too, thanks to the addition of turbochargers. The CLA 180 model returns 51.4mpg on average, and costs £110 per year to tax. The bigger CLA 250 petrol model, meanwhile, is good for returns of 42.2mpg economy, and costs £185 in tax each year.
Pros and Cons Of The Mercedes-Benz CLA Class Shooting Brake
Stylish
Mercedes have created a stylish sporty Estate car. The design could so easily have been terrible, but the German brand got it spot on.
Big Boot
It's always a worry when a carmaker tries to sportify a practical car, but the 495-litre boot is reassuringly large and usable.
Affordable Diesels
The entry-level diesel can return as much as over 70mpg, while even the more powerful variant is good for 67.3mpg economy.
Uncomfortable Ride
Big alloys and poor insulation contribute to a decidedly uncomfortable on-the-road experience.
Limited Rear Headroom
One of the drawbacks of a sporty Estate is the swooping roofline. Here, it diminishes rear headroom.
Mercedes-Benz CLA Class Shooting Brake vs BMW 3 Series Touring v Ford Mondeo Vignale
Let's see how the car matches up against its rivals in the comparison section of our 2017 Mercedes-Benz CLA Class Shooting Brake review.
Mercedes-Benz CLA Class Shooting Brake vs BMW 3 Series Touring
The new BMW 3 Series Touring Estate boasts solid performance, good economy, and excellent build quality.
The Touring might be considerably bigger than the Saloon variant, but it's just as sharp. It rides well, handles well, and its steering isn't too heavy but always feels precise. It offers a good amount of feedback too, and is easily the most accomplished in terms of the way it drives in this class.
In terms of the engines, there is a lot to choose from. The 316d Touring diesel model kicks things off with a bang and returns excellent economy – 64.2mpg to be exact. However, the mid-range 320d Touring diesel offers the best mix of economy and performance. It returns 62.8mpg, and is significantly faster than the entry level model.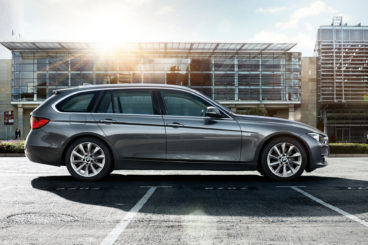 The 335d Touring model tops the diesel range. It adds four-wheel-drive, returns 50mpg, and does 0-62 in 4.9 seconds.
The petrol engines are well worth a look, despite their worse economy. The entry level 318i model returns 49.6mpg, does 0-62 in 9.2 seconds, and is a good all-rounder that makes for a reasonably affordable alternative to the diesels.
The 320i model does 0-62 almost two seconds faster, while the high-performance 340i model produces 322bhp, does 0-62 in 5.1 seconds, and sounds in fine voice. It's going to be the strict reserve of those who want some sports car action, though, and can only return 40mpg at best.
Insurance-wise, you're either going to pay a small fortune or you'll get away with an affordable deal. It just depends which model you go for. The smallest diesel engine sits in insurance group 16, while the range-topping petrol occupies group 40.
Inside, the 3 Series Touring is nicely put together. Everything feels robust and built to last, and we reckon it will still look and feel pleasant after three years of ownership. The iDrive infotainment system is all present and correct, but to unlock more functions you will need to splash out on a few optional extras.
Comfort is good for all five people who sit in the 3 Series Touring, with the BMW able to cushion you from Britain's battered roads. Opt for the more expensive Sport models and you'll also benefit from more driving modes that enhance comfort even more.
Practicality is good. Its 495-litre boot is the same size as the Mercedes, and can be extended to 1,500-litres by folding down the rear seats. It comes with a split-opening powered lid, which will prove its use whenever your hands are full.
It's easy enough for the driver to get into the right position, thanks to plenty of adjustment, while storage spaces include cubbies and bins here, there and everywhere.
Price:
BMW – £28,100 – £45,600
Mercedes-Benz CLA Class Shooting Brake vs Ford Mondeo Vignale
The new Ford Mondeo Vignale is a separate, more upmarket version of the popular Mondeo. It's more austere, quieter, and comes with more standard equipment.
It's going to be tough for the Mondeo Vignale to convince you to pick it over the Mercedes. Indeed, from the beginning , Ford have aimed it at Mondeo buyers who might want a bit more from their Saloon.
There are a few engines to choose from, including a pair of diesels, a petrol-electric hybrid, and an EcoBoost petrol. The hybrid comes with a difficult CVT automatic gearbox, while you get to choose between a PowerShift automatic and a 6-speed manual for the other engines.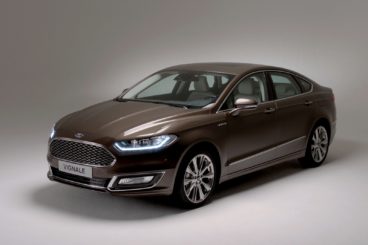 The biggest diesel is our favourite. It produces up to 207bhp, develops 450Nm of torque, and provides plenty of pulling power. It's exactly the kind of strong engine you need for a car as big as the Mondeo. However, it returns 58.9mpg at best, while the smaller 178bhp diesel engine can return 68.9mpg economy.
The sole all-petrol engine is quicker, and can do 0-62 in almost 7.0 seconds. However, it will cost more to run, and you'll be lucky if you come up with returns over 49mpg.
In terms of how it handles, Ford have been watering down all their models and the Mondeo hasn't escaped their new softly-softly approach. It's now more comfort-oriented than before, and isn't as exciting. The steering is light, and keener drivers will now probably look elsewhere.
Inside, though, we have no complaints. The cabin has an upmarket feel to it, with leather on the steering wheel, the door panels and the dashboard. Heated front seats are standard, as is a rear view camera and sat-nav.
However, there are harder plastics that are not too difficult to spot, and it's here where the Mondeo Vignale loses out to the Mercedes. Moreover, the car misses out on an electronic passenger seat, which takes another point off its score.
Still, the seats are supportive and plush. Headroom will be an issue in the rear for taller adults, while the boot measure 525-litres.
It's hard to make a case for the Ford Mondeo Vignale being a good alternative to the Mercedes. But a personalised dealer service is a major plus, as its relatively attractive running costs. For company car drivers, it also has low tax.
Price:
Ford – £31,600 +
Verdict Of Our 2017 Mercedes-Benz CLA Class Shooting Brake Review
Some might argue that this car is neither one thing nor another – but OSV would have to disagree. It's got the stylish looks nailed, the big, usable boot is all present and correct, and the most frugal diesel delivers 134bhp while returning over 70mpg.
Add the sense of prestige, the premium badge and the desirability factor, and the new Mercedes-Benz CLA Class Shooting Brake becomes a hugely attractive proposition.
When you lease a car with OSV there are no hidden costs, request a call back and we'll find you a finance, lease or purchasing deal designed just for you.