Review Of The 2017 Mercedes-Benz CLS Coupe
The new Mercedes-Benz CLS Coupe has been improved in every area for its second generation. Mercedes have refined its handsome looks, its powerful engines, and added more safety kit. As a result, it's here to cement its position as the Kaiser of the four-door Coupe niche it created.
Most of its engines are brand new, while an electric steering system has been added to boost its sense of fun behind the wheel. It loses out on the practicality of a Saloon by having just the four seats, but a generous boot will prove useful.
OSV takes a closer look at what it's all about with our 2017 Mercedes-Benz CLS Coupe review.
You're spoiled for choice when it comes to the engines. The petrol range kicks off with a 3.5-litre 350 Blue Efficiency number that delivers up to 301bhp. It does 0-62 in 6.1 seconds, and maxes out at 155mph.
A bigger V8 engine powers the 500 Blue Efficiency model. It produces a whopping 402bhp, does 0-62 in 5.2 seconds and has 600Nm of torque on tap. Both engines are nicely refined, and come mated to a 7-speed automatic transmission.
The diesel engines are solid choices, too. We like the mid-level option, a 3.0-litre six-pot 350CDI unit that produces 261bhp. It can get you from rest to 62mph in 6.2 seconds before maxing out at 155mph. With plenty of pulling power available, overtaking is a cinch.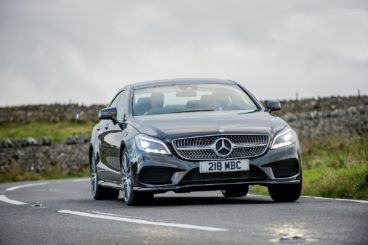 What would have been the entry-level diesel is a 2.2-litre power plant that comes with the 250 CDI model. It delivers up to 201bhp, and takes 7.5 seconds to cover the 0-62 sprint. Not so fast, but it should be more than enough for most buyers.
We say "what would have been the entry-level diesel," because a new, smaller engine has been added to the ranks. This is the CLS 220 BlueTEC model that develops 168bhp, and does 0-62 in a slow-burning 8.3 seconds. However, it's a solid engine that's worth a look. Because despite its four-pot setup, it's surprisingly refined.
In terms of how it handles, the Mercedes-Benz CLS Coupe is astute. There isn't much body roll in bends, all engines are fairly smooth and quiet, while electric steering and Airmatic suspension have improved both ride quality and the driving experience.
The steering is sharp and light, which makes it fairly easy to drive this sizeable four-door Coupe in the city. However, keener drivers might complain that the steering is a bit over-assisted, which does disconnect you from the road somewhat. Another minor complaint is that the car come becomes tail-happy in wet conditions.
As ever with a car like this, there are driving modes to choose from, starting with Comfort and ending with Sport. The suspension is much stiffer in Sport mode, while the steering responds faster.
Mercedes-Benz CLS Coupe Interior, Design & Build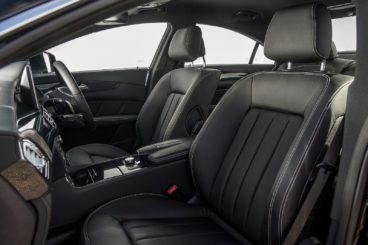 Inside, anyone who has ever stepped inside the old CLS Coupe might be struck immediately by the familiar gear change stalk and parking brake. They're both relics from last time – a time when they were both a source of frustration! It's disappointing that Mercedes haven't ditched them.
That aside, the cabin sparkles with luxury and quality. Everything feels great to touch, and we have no arguments with the build quality. The leather dashboard looks great, although we'd prefer it if there were less buttons. Still, it shouldn't be too overwhelming or confusing, and we like that Mercedes have shifted the phone and audio controls to the steering wheel.
The car's dimensions were a tad too small last time around, and it resulted in a cramped rear. The sloping roofline will still infringe on backseat headroom, but the CLS Coupe is now longer, taller and wider than last time. Plus, there are just the two seats in the rear, which boosts knee, shoulder and elbow room.
Add the comfortable and supportive seats, and most passengers will have a pleasant and relaxing journey – provided you don't keep them back there for too long.
The boot, meanwhile, measures 520-litres, which is competitive for this class.
Equipment & Safety Of The Mercedes-Benz CLS Coupe
Standard kit is good, although there are only two trims to choose from. All models come with six airbag's, 18" alloys with five spokes, electrically assisted power steering, Bi-xenon headlights, Direct Control Comfort suspension, and LED rear lights.
The standard model also gets metallic paint, as well as black leather upholstery.
The Sport trim adds AMG floor mats, an AMG three-spoke steering wheel, and sports pedals.
In terms of safety, there is nothing to worry about. Nine airbag's come as part of the standard safety kit, and they're joined by Attention Assist, Active Blind Spot, and Active Lane Keeping. The CLS Coupe also gets window bags and knee bag's.
Costs Of The Mercedes-Benz CLS Coupe
Prices for the new car start out from £48,000 and rise to £57,400. How much it rises to depends on any optional extras you add on. If you want to lease the car, you can pick up a deal from as little as £530 + VAT per month. For more information on our leasing deals, you can check out our page here.
In terms of its running costs, the entry diesel engine fares a lot better than the CLS Coupe's rivals. It can return 55mpg at best, which is more-than impressive. However, if the CLS 500 and its V8 petrol engine is something you're more interested in, economy will be down in the 35mpg region. Emissions for this engine, meanwhile, are pegged at 210g/km of CO2.
That's much higher than the CLS 220 BlueTEC diesel engine, which emits just 122g/km.
Pros And Cons Of The Mercedes-Benz CLS Coupe
Affordable To Run
Its rivals below both offer just the one engine, and without a diesel in sight they can't compete with the Mercedes' running costs overall. Moreover, the cheapest engine costs just £115 a year to tax.
Slick Looks
It can't have been easy creating a new niche and getting your first car's looks spot-on straight away. But Mercedes managed it and have refined its stylish looks for this second generation variant.
Strong Build Quality
Everything feels so good to the touch you'll want to keep touching things until your passenger tells you to stop and just drive dammit.
Vague Steering
A lack of feel means you sometimes feel disconnected from the driving experience.
Only Four Seats
Its rivals offer five, which could count against the Mercedes when it comes time to make your mind up.
Mercedes-Benz CLS Coupe vs BMW 640i Series Gran Coupe vs Audi S6 Saloon
Let's see how the car fares against its rivals in the comparison section of our 2017 Mercedes-Benz CLS Coupe review.
Mercedes-Benz CLS Coupe vs BMW 640i Series Gran Coupe
The entire BMW 6 Series Gran Coupe range is a joy to behold. For the purpose of this review, we're focusing on the meaty 640i petrol model.
It's an austere, four-door Saloon that puts performance at the heart of things. Powered by a storming 4.4-litre V8 engine, it delivers up to 444bhp, and can do 0-62 in 5.4 seconds before maxing out at 155mph.
There is a price to pay for all that blood and thunder, and BMW claim the 640i model can return 36.2mpg. That figure is a bit optimistic, and we'd ask you to take it with a pinch of salt. In the real world, it's more likely that you'll return less than 30mg. Emissions, meanwhile, are at 181g/km of CO2.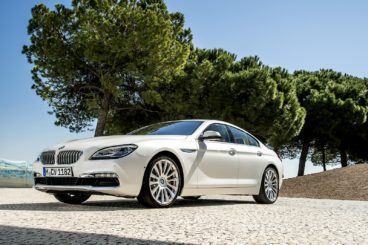 For sheer driving pleasure, this is not the BMW to go for. Indeed, to get the absolute best out of it, you would need to get your wallet out and top it up with all kinds of driving aids, such as Integral Active Steering and active roll bars. Without these accessories, the 6 Series Gran Coupe isn't all that dynamic.
Still, what can one really expect from such a large car?
You get to flick between five different driving modes, starting with ECO PRO and ending with Sport+, and true enough the Sport+ mode adds more urgent responses from the stability system, throttle, steering and transmission.
The ride is supple, while refinement is excellent. This ensures comfort inside the rather princely cabin. Over long distances, we wouldn't expect anyone to feel uncomfortable. Variable dampers are standard, and these help to cushion any potential blows meted out by Britain's battered roads.
That said, the cabin can't quite match the regal 7 Series when it comes to supreme comfort and luxury levels. You do get the brand's ConnectedDrive system, though, which offers an on-board concierge service. You can even use this to book a dinner reservation!
In terms of how practical it is, the 4+1 layout means that, unlike the Mercedes, the BMW has room for a fifth passenger. Not that this is something to gloat about. The raised centre seat restricts space anyway, and we wouldn't recommend taking a fifth person out on longer excursions. Not unless you want them to kill you afterwards.
That said, rear legroom is good. Moreover, the rear seats can be folded flat to increase boot space. This is a saving grace, because with the seats up the boot measures just 460-litres, which is significantly smaller than the Mercedes.
Price:
Mercedes – £48,000 – £57,400
BMW – £46,800 – £84,100
Mercedes-Benz CLS Coupe vs Audi S6 Saloon
The new Audi S6 Saloon is a dynamic car that drives well, boasts a typically top-quality interior from the German brand – and is super duper fast.
"Drives well," can be such an ambiguous term. Where the S6 Saloon is concerned, it means that it's highly capable and accomplished – but not much fun. Quattro four-wheel-drive bolsters its security and offers the perfect foil to the staggering amount of performance on offer, but the steering lacks feel and will be too light for most peoples' liking.
That said, you can flick through different driving settings, with the Dynamic mode adding more, well, dynamism. At the same time, it stiffens the suspension up so much that comfort is sacrificed.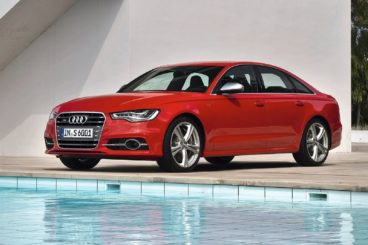 But what most buyers will be interested in is its speed. Its 4.0-litre V8 petrol engine is rapid. It has a pair of turbochargers, develops up to 444bhp, and can do 0-62 in 4.4 seconds. If you feel as though you need even more power and pace, the RS6 Saloon adds a further 108bhp.
However, those of you who care about running costs might have a hard time swallowing the 30.7mpg returned at best by the S6 – never mind the disastrous economy managed by the ever-thirsty RS6. Moreover, 30.7mpg economy is Audi's official number – the reality is that you'll probably average 25mpg. Road tax, meanwhile, is pegged at £295 per year, thanks to emissions as high as 214g/km.
Inside, the sporty S6 benefits from being based on the A6. This means you get the same high-quality materials, the same ergonomics, and the same strong build quality. The Super Sports seats distinguish it from its sibling, and they're super comfortable.
Unfortunately, the Audi S6 Saloon misses out on the brand's Virtual Cockpit, but a 7" colour screen is a good substitute. Also, the infotainment is retractable, a feature not all Audis have.
In terms of how practical it is, this high performance car gets OSV's thumbs up. It's got all the speed of a sports car, but (almost) as much usability as a fully-fledged Saloon. There are five seats, and all can offer lots of space. Leg and headroom is good, while the boot measures 530-litres.
Price:
Audi – £58,600 – £60,800
Verdict Of Our 2017 Mercedes-Benz CLS Coupe Review
Four brand spanking new engines, four doors, a three pointed star and a 520-litre boot. Sound good? If you're not interested in pure, unadulterated power, you can even pick a mid-level diesel engine, do 0-62 in around 7.0 seconds, return 55mpg economy and pay just £115 a year in road tax. The new Mercedes-Benz CLS Coupe is not a bad option at all.
When you lease a car with OSV there are no hidden costs, request a call back and we'll find you a finance, lease or purchasing deal designed just for you.