Review of the Mercedes-Benz E-Class Coupe
The new Mercedes-Benz E-Class Coupe takes everything that made the saloon variant so desirable – such as safety and an upmarket interior – and adds more style and sporty prowess.
Style is probably important to you as a coupe buyer and this is something which this E-Class delivers the goods on. But if you want your coupe to also be practical, this one isn't going to let you down. Just as at home as an everyday vehicle thanks to useable rear seats and plenty of storages spaces as it is zooming down country roads on a hot summer's day, it has broad appeal.
OSV takes a closer look at what it's all about with our Mercedes-Benz E-Class Coupe.
The coupe is a much more driver-oriented variant of the E-Class than the saloon and this evident as soon as you sit in the lowly positioned driving seat. Couple that with a wide stance, the car seems ready-made for driving enthusiasts.
The Sport model is firmer on the road than the SE model, which means you can base your choice on whether you want a comfortable cruiser or something a bit racier. There is a lot of smoothness on either model, thanks to the automatic gearbox.
However, it cannot beat the BMW 4 Series when it comes to pure entertainment.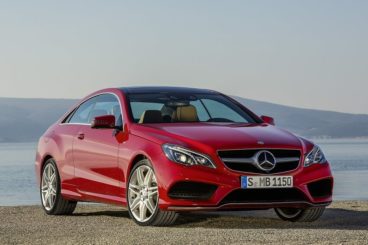 There are a pair of petrol engines and a trio of diesel units on offer. If performance is at the top of your list of priorities, we suggest that you overlook the entry-level petrol engine. The more expensive E400, though, is a bit of a Bobby Dazzler; it's responsive, flexible and rapid. Powered by a mighty turbocharged 3.0-litre V6 engine, it can get you from rest to 62mph in just 5.2 seconds.
If fuel economy is what you're basing your decision on, the E220 diesel is your best bet. It is, however, the slowest in the range and takes 8.3 seconds to get from rest to 62mph. The E350d is the fastest diesel, covering the 0-62mph sprint in 6.1 seconds.
Out of the gearboxes, the seven-speed automatic is the most impressive. It's very well suited to the car and the gear changes are usually fast and smooth.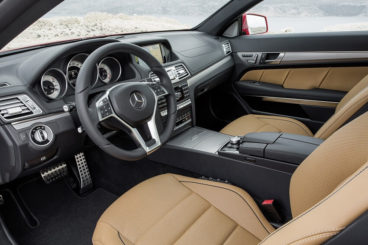 This is easily the best-looking car in the E-Class line-up. Sharp edges and a sweeping roofline give it an aggressive stance, while a bold grille confirms its sporty pretensions.
Ride quality is very good. The seats are firm but supportive and although the rear seats don't offer a massive amount of room, they are at least comfortable. Standard models have to do without adaptive suspension, which comes as standard on the pricier AMG models.
External noise is kept to a minimum, though the diesels will sound a bit hoarse in the winter when you first fire them up. After a few minutes, though, they tend to settle down.
Accessing the rear is easy, thanks to wide opening doors. The car is long, but it's still relatively easy to park, thanks also to the parking system feature which comes as standard across the range. Headroom is restricted in the back by the sloping roofline, but four adults should be able to sit in reasonable comfort.
Instead of a fifth seat are cup holders and a storage tray, while the boot measures 450-litres. It's fairly shallow, but you can fold down the rear seats for more space.
Premium cars like this are offering more standard equipment with each new release, so it's no surprise that the E-Class Coupe offers a generous amount, too. There are only two trim levels on offer, with the SE trim coming with 17" alloys, leather upholstery, heated front seats, and partial LED lights. You also get satellite navigation and a DAB digital radio.
Optional extras include Distronic Plus with Steering Assist, and a powerful Harman Kardon Logic 7 surround-sound stereo system for all you music fans.
Costs of the Mercedes-Benz E-Class Coupe
Prices for the new car start out from £38,500 and rise to £46,500. If you want to lease the car, you can pick up a deal from as little as £280+VAT per month. For more information on our leasing deals, you can check out our page here.
Although the coupe is fairly expensive to buy outright, running costs are reasonable. If you want it to hold onto as much of its original value as possible after three years, choosing one of the diesel models is a smart idea.
The E220 variant is the cheapest to run and can achieve average returns of around 60.1mpg while incurring an annual road tax bill of £110. The E250d is more powerful but will cost a bit more to run.
In terms of the petrol engines, a four-cylinder-powered E200 is good for returning fuel economy of 47.1mpg, while incurring a £130 yearly road tax bill. The E400 fares worse, and can only return 40.9mpg at best.
None of the models are cheap to run, with the entry-level variants sitting in insurance groups 40 and 41. Things just get more expensive from there.
Pros and Cons of the Mercedes-Benz E-Class Coupe
Easy To Drive
The car still trails the BMW by a significant margin when it comes to pure entertainment, and thanks to numb steering it's never thrilling. But it is better to drive than last time around and actually feels enjoyable.
Fairly Practical
Naturally, this isn't going to be as practical as the E-Class Saloon. But there are plenty of intelligent touches that boost the car's usability, including wide opening doors, a large glovebox, and a competitively-sized boot.
Excellent Fit and Finish
Let it be said that nobody should doubt Mercedes when it comes to the quality of their cabins. As always, fit and finish is excellent and build quality is as robust as you'd expect.
Lacks Agility
For a coupe, it could be a bit more agile. It doesn't score as well as the 4 Series on this front, or indeed a few other rivals.
Interior Is Missing A Bit Of Flair
The exterior is flawlessly designed, but its slick looks don't betray what is going on inside. Sure, the interior is well-appointed, but it lacks excitement.
Mercedes-Benz E-Class Coupe vs BMW 4 Series Coupe vs Audi A5 Coupe
You might have already made your mind up that you want a Mercedes, but can't decide whether you want the E-Class Saloon or Coupe. However, let's see what other choices you've got in the comparison section of our Mercedes-Benz E-Class Coupe review.
Mercedes-Benz E-Class Coupe vs BMW 4 Series Coupe
The new BMW 4 Series is – and always has been – the last word in driving fun in this sector.
Racier and more stylish than its saloon counterpart, the new 4 Series Coupe sports a lower centre of gravity, as well as a unique suspension setup. Combined with rear wheels that are set at an unusual distance apart from each other, the ingredients serve to make the 4 Series Coupe one heck of a sharp car to drive.
It's also a very quick car, with the base-level petrol model capable of doing away with the 0-62mph sprint in just 7.3 seconds. The 430i, meanwhile, completes it in 5.9 seconds. Both engines are turbocharged and come with four cylinders.
We like the six-cylinder 440i, which powers the high-performance M Sport variant. It delivers up to 326bhp and gets you from a standstill to 62mph in a matter of 5.0 seconds.
There are also a few diesel engines to choose from and in some ways, they actually make more sense than the petrol engines. They don't cost as much to run and they're also very fast. The entry level is able to get you from rest to 62mph in 7.3 seconds.
Running costs are competitive with the Mercedes. The entry-level 420i petrol might be a serious performer, but it can achieve fuel economy returns of 48.7mpg while incurring a £130 annual road tax bill. Even the six-cylinder 440 model is good for 39.2mpg, while its emissions will land you with a yearly tax bill of £205. Not too bad.
The diesel's are obviously more economical, with the cheapest capable of returning 67.3mpg.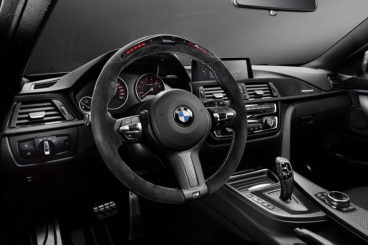 The interior is both classy and comfortable and if you opt for the optional Adaptive Suspension setup, you will benefit from a comfortable ride for the most part. The dashboard is as good and as faultless as they come, employing a very easy to use layout has aided this. It's all tastefully done and comes with BMW's highly praised iDrive control system.
This is a two-door coupe that accommodates four adults reasonably well. It's bigger than the Audi TT but roughly the same size as the Mercedes and can seat adults in the back without too much of a problem. Plenty of seat and steering wheel adjustment is on offer, while nice touches include frameless front windows. Access to the rear seats is tricky thanks to a low roofline and doors that don't open too wide. The boot measures in at 445-litres.
Price:
Mercedes – £38,500 – £46,500
BMW – £30,000 – £45,500
Mercedes-Benz E-Class Coupe vs Audi A5 Coupe
The new Audi A5 Coupe builds on the A4's already successful formula but repackages it in something even smarter.
A bit like the E-Class Coupe, the A5 is more calm and composed than exciting. We'd go as far as saying that the Mercedes is more engaging to drive by virtue of the fact that the Audi really does lack any sort of sparkle whatsoever. The whole experience is just a bit flat and it doesn't cosset you as much as the E-Class.
The steering is numb and while you have a lot of composure and grip, you get no thrills.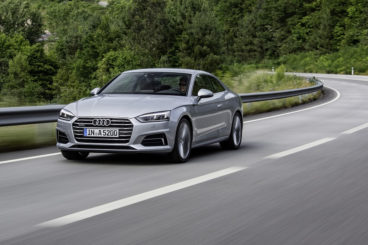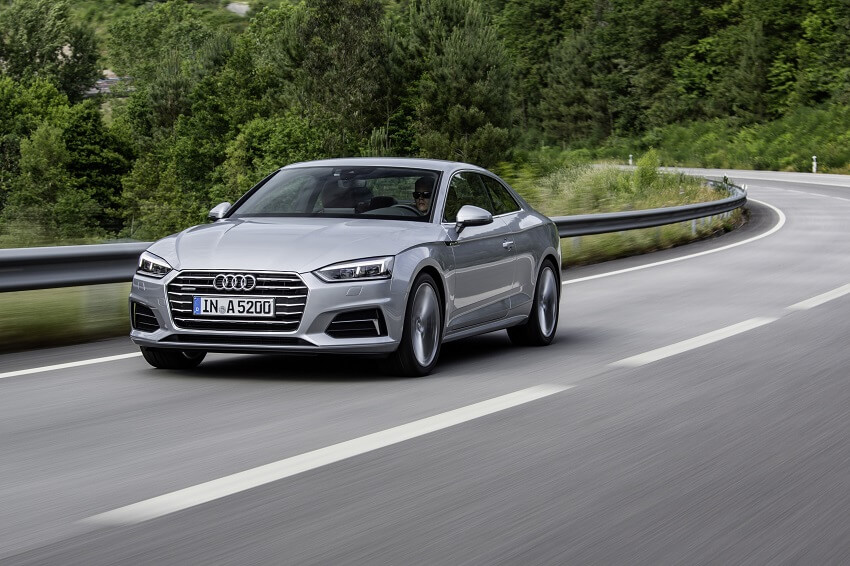 In terms of the petrol engines, a 2.0-litre 287bhp unit kicks things off and it's followed by a 249bhp unit. For more pace and performance, however, the V6 349bhp is likely to float your boat. It can cover the 0-62mph dash in 4.7 seconds.
There are a few diesel engines to choose from, too, and they come with the Quattro four-wheel drive system.
As always, the Audi A5 Coupe's interior is excellent. It's gorgeous to look at, smartly designed and comes adorned with top-quality materials. Everything is pretty much the same as it is in the A4, with lashings of aluminium and leather raising the cabin's profile.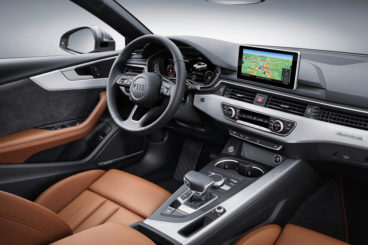 The infotainment system is user friendly as always, while standard equipment across the range is good and includes LED daytime running lights and Bluetooth connectivity.
The A5 isn't entirely impractical, but it lacks on the usability front. Audi have clearly made style their top priority, which means that accessing the rear seats is going to be a struggle. However, once they're inside two adults should be able to sit in relative comfort.
The 465-litre boot is competitive with its rivals in this class and indeed beats the BMW by 20-litres.
Price:
Audi – £34,000 – £47,000
Verdict of our Mercedes-Benz E-Class Coupe Review
If you want all the style and opulence of the E-Class Saloon, the Coupe variant packs it into a slick coupe body.
It's a tad more expensive than some of its rivals, but standard equipment is impressive while running costs are kept reasonably low. Although it might not be the sharpest to drive in this sector, the new Mercedes E-Class Coupe scores well on comfort, refinement and elegance.
Looking For The Price Of The Mercedes-Benz E-Class Coupe?
Fill out the form below with your details, and one of our highly qualified specialists will be in contact within 24 hours.
When you lease a car with OSV there are no hidden costs, request a call back and we'll find you a finance, lease or purchasing deal designed just for you.