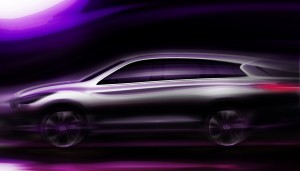 Nissan's luxury division Infiniti continues to tease us with a slow reveal of its forthcoming large JX crossover SUV.
The new car will apparently slot in above the current range topping FX SUV, pitching against the Audi Q7, BMW X5 and Range Rover Sport.
No word on engines but the five seat FX comes with a 3.7 litre V6 petrol — a version of the engine that can be found in the Nissan 370Z — and a 3.0 litre diesel, pushing out 316bhp and 235bhp respectively.  It's safe to assume these will feature.  Expect also to see the V8 5.0 litre from the top FX, coming in with 385bhp.
The JX will debut at the Pebble Beach Concours d'Elegance in the US on 18 August and should reach these shores in 2012.  Price?  More than £50,000.
For further information on this Infiniti contact our sales team.  Visit our website for new and used Infiniti for sale or available to finance.
For the latest motoring news, car reviews and test drive reports, follow us on Twitter, connect with us on Linkedin or like us on Facebook.
Thanks for visiting us.

Debbie enjoys: Spending time with her family and dogs, travelling and her work.

Debbie has had exposure to every aspect of the business, ensuring a tight ship at every stage of the process. She thrives on achieving great results, all the while being a great person to laugh and joke about with.

Latest posts by Debbie Kirkley (see all)