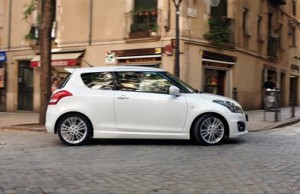 The new Suzuki Swift Sport is now the performance flagship of the Swift range.
Developed from the new 1.2 litre Suzuki Swift that was launched in the UK last year, Suzuki says the Swift Sport is a sportier, higher performance upgrade to its predecessor.
It builds on the success of the Swift range, which has sold more than 2.2 million cars across 40 countries since its release in May 2005.
Increased power, lower emissions
The Swift Sport is powered by a redesigned Euro 5-compliant M16A 1.6 litre engine that sees the car giving more power with a maximum output of 136hp, reduced CO2 emissions of 147g/km and improved fuel efficiency of 44.1mpg.
To complement the new engine, Suzuki engineered an entirely new manual transmission. The six gear system gives sporty, easeful shifting and better fuel economy.

Nimble handling
Suzuki's designers have refined the Swift Sport's existing wide track and short wheelbase to give enhanced road handling.
The lowered chassis is now more rigid and boasts a specially designed, stiffer suspension system. This ensures outstanding high-speed stability, both on a straight line and cornering.

Much improved safety
The new Swift Sport's safety improvements have resulted in the car dropping five insurance groups to Group 18, compared to the previous model.
These new safety features include seven airbags and Electronic Stability Programme as standard.
Suzuki have designed the Swift Sport using lightweight high-tensile steel for the body and shock-absorbing materials in the pillars too.

A sporty evolution
The whole design of the Swift Sport is based around the concept of reflecting the car's sporty evolution.
New aerodynamic parts grace the exterior of the Swift Sport, redirecting airflow, reducing lift and giving a low visual centre of gravity.
Other new design elements are the dynamic High-Intensity Discharge (HID) headlamps, finished in metallic grey, and the flash-like tail lights.
Inside, the Swift Sport has refreshed its look with new sports seats and a five-dial instrument cluster.

Availability
The new Suzuki Swift Sport will be available to buy in the UK from January, costing £13,500.
Keep yourself updated with the latest motoring news by liking us on facebook, following us on twitter or connecting with us on LinkedIn.
If you're interested in buying or leasing a new vehicle contact our sales team. Alternatively, visit our website where you will find new and used Suzuki's available for sale or on finance.
Thanks for visiting us today.

Andrew enjoys: Movies and travelling to new cities to explore different cultures.

Andrew has been in the motor trade for over 20 years. What he enjoys most about his job is the team spirit and the dedication of his work colleagues. He also appreciates the teams input in the improvement of the company.

Latest posts by Andrew Kirkley (see all)