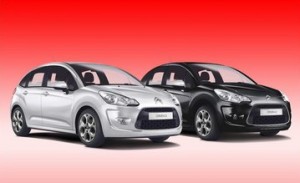 Citroen are launching two striking new additions in the new year, the C3 Black and C3 White.
2012 is evidently the year for twin black and white special editions, as Nissan have just announced their new Micra Kuro and Shiro models.
The new Citroens are graced with colours suiting their names, with the C3 Black dressed in elegant Obsidian Black and the C3 White coming in brilliant Polar White.

Stylish update to the C3 range
The two new Citroen C3s replace the 1.4i VT, refreshing the design and specifications to provide a superior experience.
Already generous trim levels are increased, with the new Citroen C3s boasting air conditioning, front fog lights and 16 inch 'Valonga' alloys as standard.
The hatchback's exterior is given a sleeker appearance thanks to a chrome insert on the lower front bumper and door handles painted to match the body colour.
Both Citroen C3s are distinctively trimmed with a white dashboard and white wing mirrors.

And that's just the extras
All this is on top of the standard specifications that the C3 Black and White carry over from the 1.4 VT.
Designed to secure the Citroen C3's position as a reliable, secure family hatchback, safety features include four airbags, ABS with Electric Brakeforce Distribution and Emergency Braking Assistance.
Everyday driving is made smoother and easier thanks to variable power steering and a Gear Efficiency Indicator.

Performance and price
The new Citroens are powered by the popular 1.4i engine, which does 47.1 mpg with CO2 emissions of 139g/km.
The Citroen C3 Black and C3 White will be available to buy in the UK from the 1st of January, perfect for anyone wanting to start the new year with a new car.
And post-Christmas wallets will be pleased to see that despite having significantly improved specifications, both new Citroens offer a £300 saving on the comparable outgoing 1.4i VT models.
The Citroen C3 White costs a mere £11,990, while the Citroen C3 Black is priced at £12,430.
Keep updated with the latest motoring news by liking us on facebook, following us on twitter or connecting with us on LinkedIn.
If you're interested in buying or leasing a new vehicle contact our sales team. Alternatively, visit our website where you will find new and used Citroen's available for sale or on finance.
Thanks for visiting us today.

Andrew enjoys: Movies and travelling to new cities to explore different cultures.

Andrew has been in the motor trade for over 20 years. What he enjoys most about his job is the team spirit and the dedication of his work colleagues. He also appreciates the teams input in the improvement of the company.

Latest posts by Andrew Kirkley (see all)