The new Peugeot 208 Hatchback outdoes its competitors in a number of areas: It has more style, insanely good efficiency, and it comes with more standard equipment. Put all these ingredients together, and you've got a trendy hatch that does much more than just get you from A to B.
What the car lacks for in sporty prowess on the road, it makes up for in terms of refinement and interior space. Its cabin is also slick and contemporary, and we get the impression that Peugeot have adopted a "money is no option" approach when kitting out the apple of their eye.
And if running costs are super important to you, it's worth knowing that the improved 208 has the most efficient internal combustion engine on the planet.
OSV takes a closer look at what it's all about with our Peugeot 208 Hatchback review.
Overview Of The Peugeot 208 Hatchback
Although the engines are impressive enough, it as to be said that the 208 hatch doesn't offer as much on the road fun as a few rivals in this class, among them the Ford Fiesta. There is a decent amount of grip on offer, and the steering is responsive, but it  lacks feel. As a consequence, it doesn't exactly inspire you with confidence as you approach bends.
The entry level 67bhp engine is noisy, and this actually makes it feel faster than it actually is. It's a fairly sluggish unit that takes 14.0 seconds to cover the 0-62mph sprint, while a more powerful 1.2-litre petrol engine does the same distance in 12.2 seconds.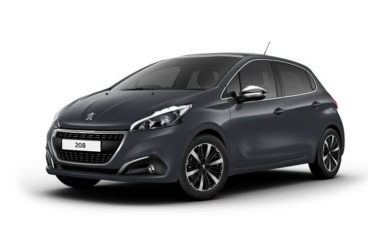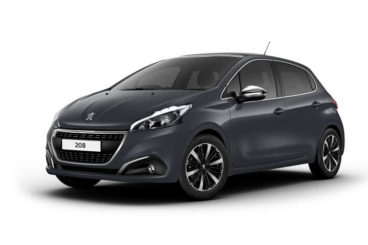 A five-speed gearbox is standard, and it's this which contributes to all that noise. Moreover, it lacks accuracy and tightness.
There is the option of an impressive 1.0-litre EcoBoost engine. It's turbocharged, which means fuel economy is good, and it can get you from rest to 62mph in a matter of 11.0 seconds.
We also like the look of the 1.2-litre PureTech petrol engine, which does 0-62mph in 9.6 seconds before maxing out at 118mph. It's refined and smooth and doesn't seem as affected by the five-speed 'box as the other engines.
For as much fun as possible, you should test drive the GTi model. This one comes with a slicker six-speed manual transmission, as well as we stiffer suspension setup that ensures less lean. It delivers up to 205bhp and can rocket you from rest to 62mph in just 6.5 seconds.
There are also a handful of diesel engines to take a look at, including an 118bhp BlueHDi variant which comes wedded to the smooth six-speed manual stick, and a slow but capable 1.6-litre engine that covers the 0-62mph distance in 13.3 seconds.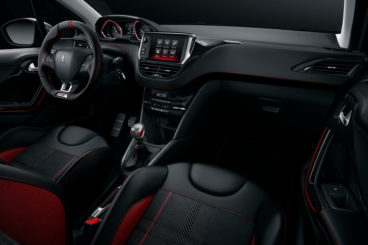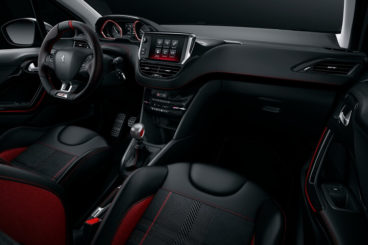 Peugeot have improved the interior so that it's better than the 207, and while it's comfortable, there are some rivals that offer more space.
It's hard not to be impressed by the exterior design. Striking and even daring, the 208 has killer looks that ensure it stands out from the crowd. The detailing is gorgeous, the lines are crisp, and the addition of LED tail-lights is highly welcome.
As mentioned, the cabin is a massive improvement on the outgoing 208, and although it can't compete with the VW Polo when it comes to build quality, the generous use of soft-touch plastics is pleasing. The stylish dash is also impressive, but if we had one minor criticism, it's that the speedometer is hidden away behind the steering wheel's rim. It  isn't readily visible.
If you want those eye-catching, sport looks, you'll need to opt for the three-door model. Doing so will compromise practicality, but if you're not planning on filling the car with a full-on family all the time, it otherwise makes a lot of sense.
The boot is the same size regardless of which model you opt for. With 285-litres of space on offer, it's one of the biggest in its class. Folding the rear seats increases the space to 1,152-litres, although they don't fold completely flat. Moreover, a lip might prove to be a bit of a nuisance.
Peugeot confused everyone last time around when their three and five door versions of the 208 came with different trim levels. Thankfully, it's all a lot clearer now.
You can get hold of the three and five door variants in Access A/C, Active, Allure and GT Line, while the five door does without the GTi, GTi Prestige and Sport trims.
And although Access A/C is the entry level model, it still gets treated to a fine amount of standard equipment, including electric front windows, LED rear lights and air conditioning. The Active trim adds a lather steering wheel and alloys, while the Allure range throws in lashings of chrome and a DAB digital radio.
The GT line, meanwhile, treats you to 17" alloys, sports suspension and sports seats.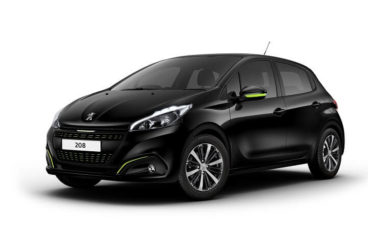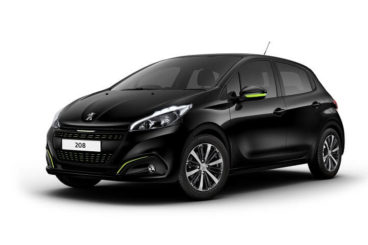 Costs Of The Peugeot 208 Hatchback
Prices for the new car start out from £12,300 and rise to just over £19,000. If you want to lease the car, you can pick up a deal starting from around £165 + VAT per month. For more information on our leasing deals, you can check out our page here.
The 1.6-litre 181bhp BlueHDi engine is one of the highlights of the range. Not only does it come with a 6-speed transmission, but it's also super economical and can achieve returns of 78.5mpg. Although it's not as cheap as the most frugal in the Ford Fiesta's range, it offers more performance.
The 75bhp variant of the 1.6-litre BlueHDi engine is the world's most efficient internal combustion on the market right now. It's good for an astonishing 94.2mpg and emits just  79g/km of CO2. These are just numbers on a piece of paper, however, and we don't expect anyone to regularly return 94.2mpg.
It's also worth mentioning that the BlueHDi engines come with stop-start technology, which saves you fuel when you're stationary.
The petrols are cheap to run, too, with the small 1.0-litre PureTech engine good for 65.7mpg, numbers you normally associate with a diesel engine.
Pros and Cons Of The Of The Peugeot 208 Hatchback
Stylish
The first thing you notice about any car is how it looks, but while some cars arrest your attention, others don't. The 208 is easily one of the most strikingly designed cars in the class. It looks dynamic and edgy and makes a change to the usual mundane hatches that populate your neighbour's driveways.
Bags Of Equipment
It's always nice when a fairly inexpensive car comes with a lot of standard kit. Even the base level is awash with goodies, such as LED rear lights, remote central locking, air conditioning and electric front windows.
Cheap To Run
All petrols are cheap to run and are less expensive to buy than the diesels. They're also economical, though it's the diesels that are the cheapest to run. The 74bhp BlueHDi unit averages fuel economy reruns of 94.2mpg, which is quite astonishing.
Not As Fun To Drive As Some Rivals
Rather sadly, the sporty looks of this car aren't matched by a sporty drive. It feels nervous on the motorway thanks to a small electrically assisted steering wheel, and is overall not as fun as, say, the Ford Fiesta.
Firm Ride
One of the things the new Peugeot 208 hatchback is not is supremely comfortable. At low speed, it feels overly firm and doesn't soak up lumps and bumps well.
Put your foot down, though, and it does begin to feel softer.
Peugeot 208 Hatchback vs. Ford Fiesta Hatchback vs. Renault Clio Hatchback
Let's see how the car fares against its rivals in the comparison section of our Peugeot 208 Hatchback review.
Peugeot 208 Hatchback vs. Ford Fiesta Hatchback
The new Ford Fiesta Hatchback is the most popular new car in the UK – and it isn't hard to see why. It's fun on the road, looks edgier than ever, and doesn't cost much to run.
You don't have to be Lewis Hamilton to appreciate how entertaining this little dynamo is. The direct steering connects you well with the road and compered to the 208 it feels almost balletic. Thanks to good visibility and a smooth ride quality, it's also really comfortable.
However, the 1.25 and 1.6-litre pair of petrol engines are now showing signs of ageing. They sound a bit hoarse as you move, and neither are quick, with the former taking almost 17.0 seconds to get you from rest to 62mph.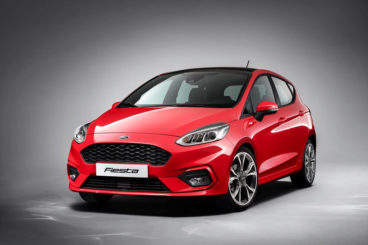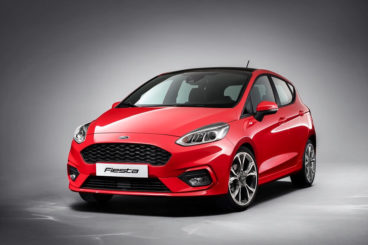 The 1.0-litre EcoBoost petrol engines are much more impressive. They are available in either 98 or 123bhp power guise, with the latter able to cover the 0-62mph sprint in just 9.4 seconds.
Only one diesel engine is available – a 1.5-litre TDCi which you can get in either 72 or 93bhp. The difference in power and pace is significant, and the latter is able to dust off the 0-62mph dash in over 3.0 seconds quicker than the former.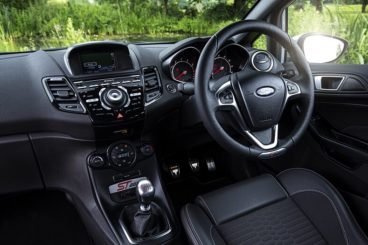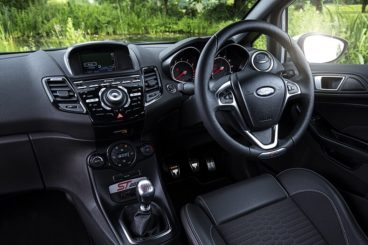 The Fiesta Hatchback is small, and as such, it isn't gonna cost the earth to run. Many of the engines are exempt from road tax, and many can achieve returns over 60mpg. The most frugal of them all is the 1.5-litre TDCi diesel, which is good for 88mpg.
The new-look exterior is bold and exciting, and so is the cabin. It's also comfortable and feels high quality. We like the sweeping dash that sports a cell phone-inspired layout and comes with a usable central mount screen, while blue needles define the dials.
The fit and finish are overall not excellent, and there are some flimsy materials here and there. However, there is also a lot of soft-touch plastic, too.
The Ford Fiesta Hatchback really doesn't major on practicality, and a small boot (290-litres) and tight rear seats disappoint slightly.
Price:
Peugeot – £12,300 – £19,000
Ford – £10,000 – £18,500
Peugeot 208 Hatchback vs. Renault Clio Hatchback
Bit of a French face-off here. The new Renault Clio Hatchback is stylish and offers a pleasant driving experience, but is it a better option than the 208?
The new Renault Clio Hatchback is first and foremost a very good-looking car. It's now a five-door that still manages to look as stylish as a three-door.
However, it's got its failings, and they mostly indoors. The dash, while certainly attractive enough to look at, just doesn't feel as solidly built as some of the car's rivals in this sector, including the Peugeot 208.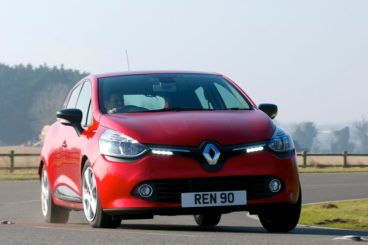 Moreover, rear space is cramped, and anyone sat in the back for lengthier journeys might struggle.
The handling comes in for criticism, too. There was once a time when Renault Clio's were great fun to drive, but this new model has matured, with the brand shifting focus to comfort and refinement.
However, with the exception of the base level 1.2-litre petrol unit, all of the engines are quiet and smooth. They don't offer much in the way of performance, but our top pick is the responsive 0.9-litre three-pot TCe 90. It's good in traffic but will struggle on the motorway.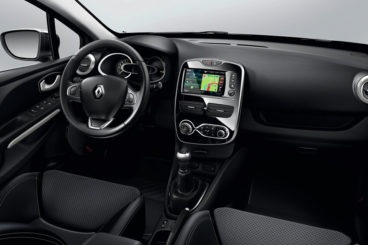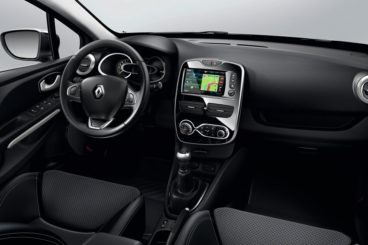 The 1.5-litre 90 bhp diesel engine is as powerful as the smallest petrol, but it's more relaxing to drive when you just want to cruise for a bit. It's also quicker out of the traps than any petrol, although the more powerful 1078bhp is a safer bet if you're planning on totting up the motorway miles.
Economy is one of the Clio's strengths. Although it's actually bigger than last time, it's managed to improve running costs significantly. This is thanks in part to the introduction of stop-start technology, which ensures that the 1.5-litre 90bhp diesel is able to average fuel economy returns of a remarkable 88.3mpg. Even the least efficient diesel will save you money at the pumps and can return 80.7mpg.
Despite the increase in size, the Clio Hatchback still isn't especially practical, and passengers will be cramped for space in the back. Access to the back is at least easy, but once you get in there, you might just want to get straight out again. A sloping roofline compromises head room, but the 300-litre boot is actually one of the biggest in this class.
Price:
Renault – £11,500 – £18,500
Verdict Of Our Peugeot 208 Hatchback Review
Going wheel to wheel with the likes of the Ford Fiesta is not easy, but the new 208 comes out looking good. Its unique styling is a crowd pleaser, while there is plenty of practicality on offer to make this car the ideal companion for everyday usage.
The new Peugeot 208 Hatchback is easy to drive, safe, and won't let you down.
Want to learn more? Click below to view the review for the competitors in this article…
Looking for a price?
You could be driving away with your new car in no time. Fill in your details below and one of our vehicle experts will be in touch within one working day.

Latest posts by Will Titterington
(see all)