Overview Of The Porsche 911 Turbo Cabriolet
The new Porsche 911 Turbo Cabriolet is fun, great to look at and responds to your mood. The ultimate happy-go-lucky sports car, it is ideal for you if you're in the mood for a high-performance convertible that could stop traffic.
Priced much lower than a monstrous supercar, the 911 Turbo convertible handles better than most of those automotive narcissuses. It's also rapid and has enough power in its tank to make you feel on top of the world each time you get out on the road. This is exactly, what a convertible should do.
OSV takes a look at what it's all about with our Porsche 911 Turbo Cabriolet review.
There aren't many – if any – cabriolets that get the endorphins going as much as this one right now. It makes you feel good about yourself. There are also not as many cabriolets that are quicker in a straight line. Powered by a devastating turbocharged 3.8-litre six-pot unit, it can gun you from rest to 62mph in just 3.2 seconds before maxing out at 197mph. Incredible.
Make use of the Launch Control function and you might laugh yourself silly in disbelief. It's an absolute riot. Capable of delivering 552bhp of sheer brutality, this coupe is fun but also deadly serious in its intent, to own the road.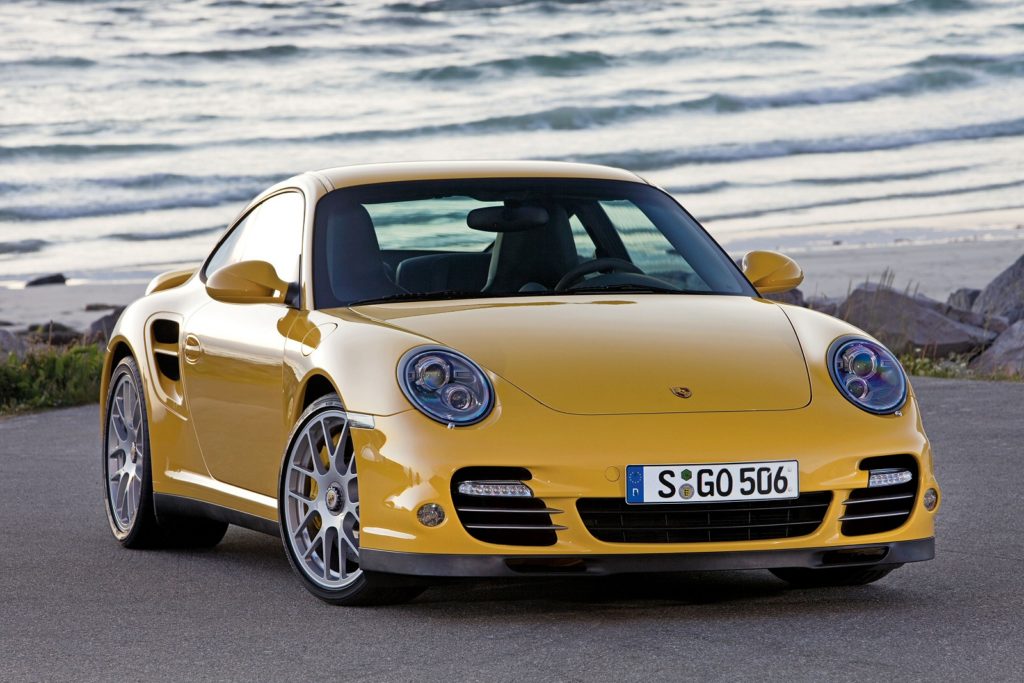 You don't have to push it to its limits to get the most out of it either. Whichever gear you're in feels like the right gear and shifting it up and down is as easy as covering the 0-100mph in 7.1 seconds. Fold the roof down when the sun is out and you'll find that it's also a really good cruiser. The ride is a bit too much on the stiff side, but we do not doubt Porsche's engineers – and neither should you. Crashing over bumps and lumps on our worst road surfaces shouldn't be too hard for it to handle. An electrically operated wind deflector, meanwhile, does a good job of reducing buffeting on the motorway.
Handling-wise, it can't hold a candle to the Carrera S. There isn't as much of a challenge; it's all just a bit too easy. Still, it's got a decent amount of agility, thanks to the four-wheel steering and active roll control.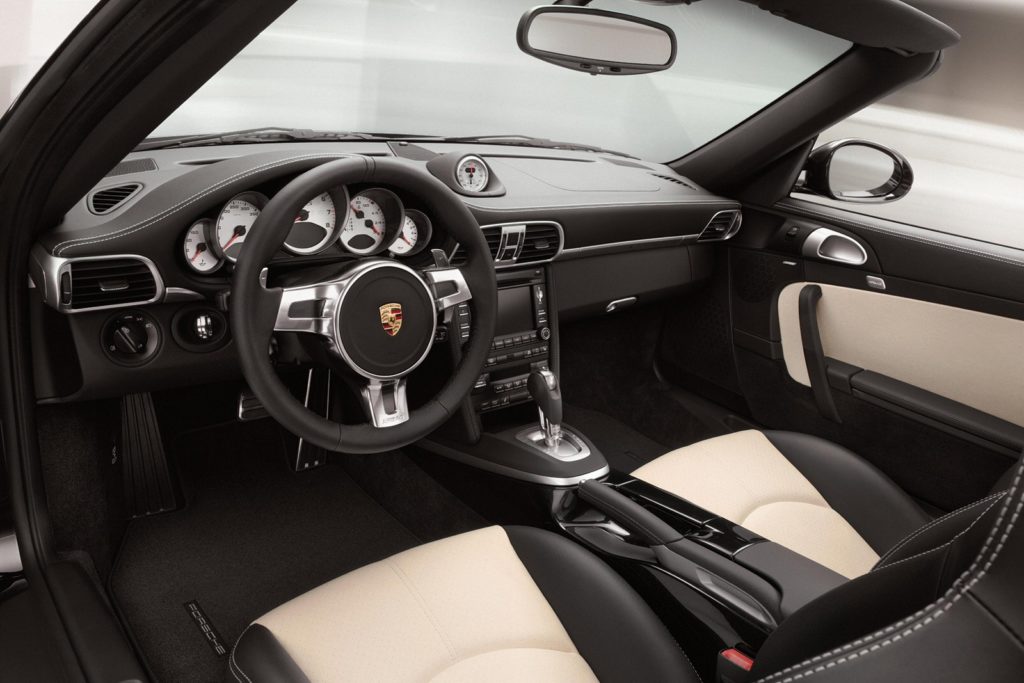 Perhaps the most noticeable difference between this 911 and the Coupe variant is in terms of the ride quality. The coupe is hands-down better at absorbing lumps and bumps. That isn't to say that the ride quality here isn't acceptable (it is), but Comfort mode isn't always going to save your bacon. Sometimes, you're just going to have to roll with the punches.
However, the cabin is a very pleasant place to be overall. The sports seats are electrically adjustable as standard and they can be moved pretty much every which way but loose. Refinement is impossible to argue with for a sports convertible with this much performance and the aforementioned raised wind deflector does a sterling job at keeping exterior noise to a minimum.
There is still a lot of road roar, though. It's persistent and you might find it a bit chiding. Dropping to lower speeds doesn't eliminate it. The cabriolet comes with a brand new colour touchscreen and navigation system which is super easy to use and which comes with any and all audio functions and connectivity tools you can think of.
Porsche have decided against dispensing with the pair of small seats in the rear, but the reality is that two children can fit in there without much complaint. After all, which kid will kick up a stink now that they're in the back of a mesmerising sports car? The upshot of this is that you can use the car for family day trips, while the school run will never be so special for your little ones.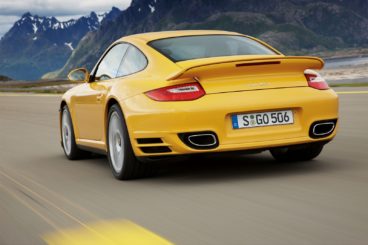 Costs Of The Porsche 911 Turbo Cabriolet
Prices start out from £136,000, which is enough to make this the priciest Porsche on the market right now. It also means you're paying a significant premium over the Carrera S drop-top.
The purchase price is offset somewhat by the lower running costs, though. Few buyers give a fig for running costs when a car is priced above £100,000, but if you've been put off cars like this in the past because of how much fuel it leaks, you'll be pleased by the official fuel economy returns of 30.4mpg.
The smaller, turbocharged engine means emissions have been improved, too and the car now emits only 216g/km of CO2. This is still enough to result in an annual road tax bill north of £400.
Pros and Cons Of The New Porsche 911 Turbo Cabriolet
Comes With A Pair Of Rear Seats
Although adults won't be able to fit in the back, a sports car convertible such as this was never designed to carry four or five of you on a day out to the seaside. But the inclusion of rear seats – something of a rarity in this sector – means any kids you have don't have to miss out, bonus!
Improved Efficiency
The car is more usable than ever before, improved running costs mean that, although it's the most expensive Porsche available, it's not going to cost as much to run as the majority of its competitors. In the long run, you benefit.
It's Rapid
Covering 62mph in 3.2 seconds with unlimited headroom and the sun beaming on your face? We like the sound of that.
Firm Ride
It's not the most comfortable car in the world and if ride quality means a lot to you, you would be better of checking out the 911 Coupe instead.
Not The Best Handler
Likewise, if you want the last word in handling, you should check out the Carrera S. The handling here isn't a massive disappointment, but it just doesn't challenge you like a 911 should.
Porsche 911 Turbo Cabriolet vs Ferrari California T Convertible vs Maserati GranCabrio Cabriolet
There are some sensational cars in this sector at this price point. Let's see how the 911 fares against two of its main rivals in the comparison section of our Porsche 911 Turbo Cabriolet review.
Porsche 911 Turbo Cabriolet vs Ferrari California T Convertible
The new Ferrari California T Convertible was designed to be a suave cruiser more than a race track hotshot – and it's all the better for it.
Like the Porsche, the new Ferrari California T Convertible is turbocharged. A 3.9-litre V8 engine, it's going to make some of you wince more than you winced when you read the news that the 911 has been fitted with a turbo.
But the car's character hasn't been diluted one iota. As always, working the engine hard bears forth some spectacular fruits and the sound is as impressive as always.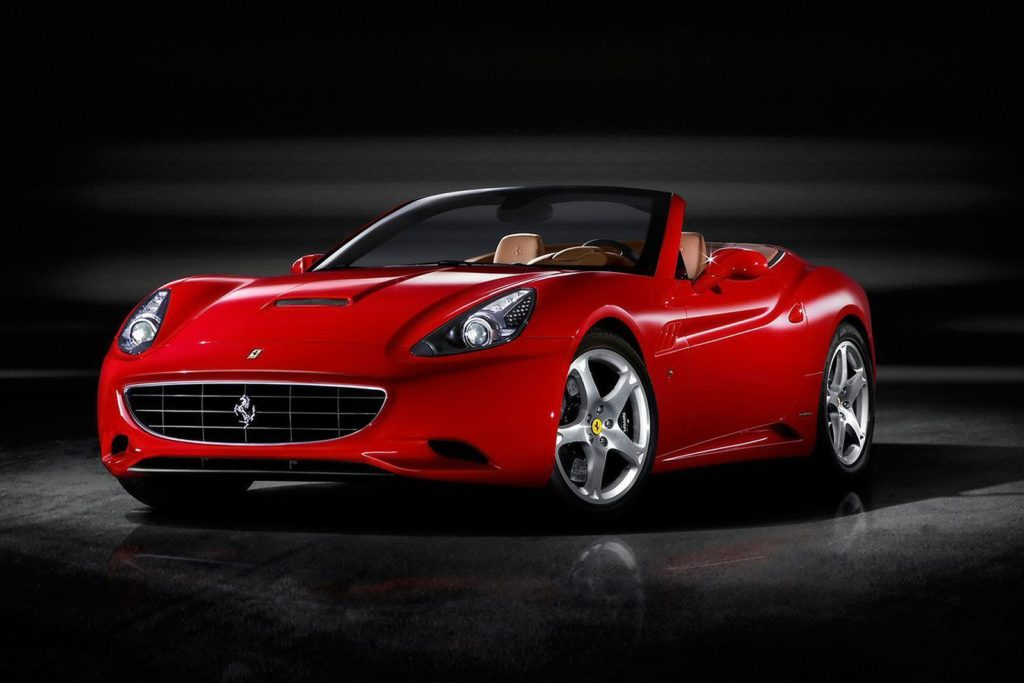 It's still a rapid car too and can gun you from rest to 62mph in just 3.6 seconds before maxing out at 196mph. Instant response from the accelerator is the order of the day, while a row of buttons has replaced the gear stick. The interesting thing is that they let you flick between automatic and manual so deftly.
The Porsche team have done a commendable job at reducing their car's running costs – and so have Ferrari. An average return of 24.1mpg is still high (and higher than what the 911 can achieve) but it's better than ever. This car will cost you more to tax than the Porsche and you will be liable for an annual tax bill of £505 per year.
The purchase price is on par with how much you'll pay for the Porsche, but it's very easy to get carried away with the list of optional extras. Before you know where you are, this car could easily exceed £200,000.
The interior is exactly what you expect from a Ferrari – utterly pristine. The race dials serve to give the cabin a sporty feel, but the satellite navigation looks a bit too plain and ordinary for our liking. Moreover, some of the controls are hard to reach. So while everything looks on point, there is a bit of an absence of usability here.
Worse still, you don't get the maximum all-star Ferrari treatment unless you snap up a number of options.
Like the 911, the California T Convertible comes with rear seats for the kids. They've even included a pair of ISOFIX mounts for good measure. Storage spaces are few and far in-between and overall the Porsche wins on the practicality front.
Price:
Porsche – £151,000
Ferrari – £155,200
Porsche 911 Turbo Cabriolet vs Maserati GranCabrio Cabriolet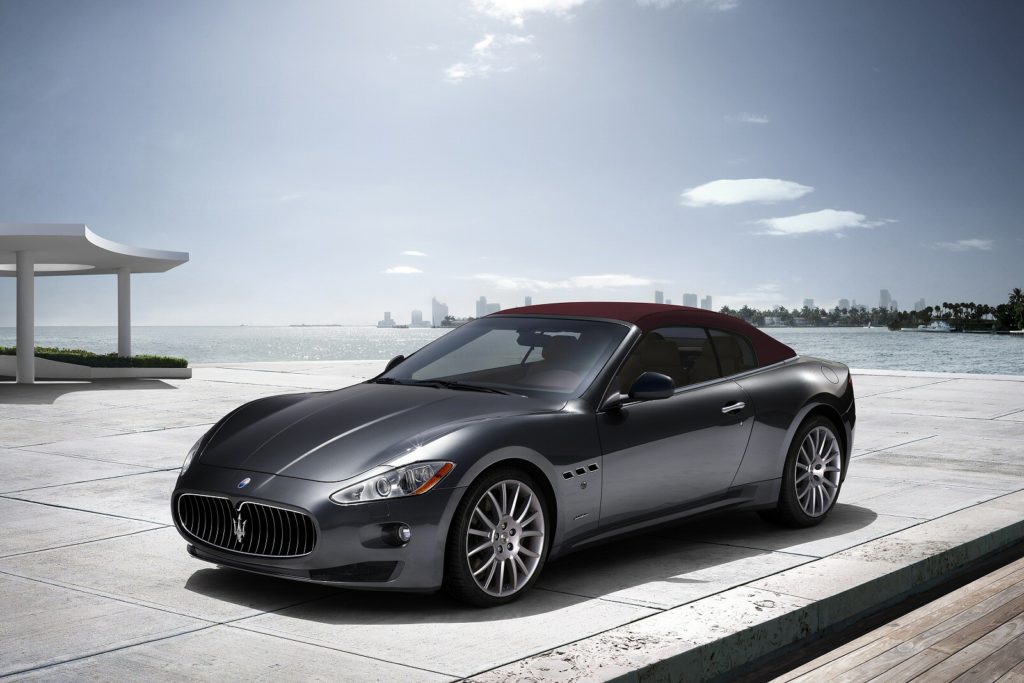 The Maserati GranCabrio Cabriolet is easily one of the most breathtakingly stylish cars on the market at the moment. Its timeless design is backed up by an engine that barks like a guardian of the underworld and there is plenty of standard equipment on offer.
The Maserati doesn't look like a heavy car, but it is a heavy car. With almost 2,000kg to haul around, you'd have to forgive its 0-62mph time of 5.4 seconds, which is considerably slower than what the 911 can manage.
But what its 4.7-litre V8 petrol engine does do is it emits the kind of incredible sound that is absent from the Porsche.
The well-weighted steering offers plenty of feedback and resists body lean well. It is, however, expensive to run, with the brand making little effort to turn the tide of high emissions and running costs. Average fuel economy returns of around 18mpg, are the best it can manage.
Refinement is very good inside the Maserati's cabin, as is space. In fact, there aren't many sports cars that offer this amount of legroom up front. Sound insulation is also good, even with the roof down.
But perhaps the biggest advantage the Maserati has over the Porsche is that two adults can fit in the pair of rear seats. So if you want to head out with a group of mates, you can do just that.
Exterior practicality is not as good, though. Being such big convertible, it's not the easiest to park. Although making room for two adults in the rear is a commendable idea, it does mean the boot is measured at only 173-litres. The paradox is that it means all four adults will have to travel without many – if any – luggage!
However, the Maserati – like the Porsche – is more about style than practicality and there really aren't many more desirable convertibles on the market than these two, right now.
Price:
Maserati – £99,000 – £126,000
Verdict of our Porsche 911 Turbo Cabriolet Review
This is not the purest 911 out there right now. There are sixteen 911 models in the stables at the moment and there are certainly one or two that are more engaging to drive than this cabriolet. But cabriolets never are the most engaging of cars. Rather, this one's strengths lie elsewhere.
For example, it's a drop-top. If it's pure, unbridled on-the-road joy on a baking hot summer's day you want, this cabriolet has got your number. Fast but also a fine cruiser, it looks the part and can also accommodate your kids or overnight bags without any hassle. Perfect for a weekend getaway, a Sunday on the track or a family day out, the new Porsche 911 Turbo Cabriolet is irresistible.
Want to learn more? Click below to view the review for the competitors in this article…
Request a call back from one of our Vehicle Experts

Latest posts by Will Titterington
(see all)