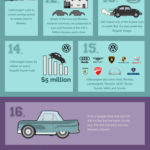 30 Crazy Facts About Volkswagen
Happy Birthday, Volkswagen! As the automaker turns 80, OSV has produced a colourful infographic with everything you need to know about the iconic company.
Although Volkswagen has been around for 80 years and have had lots of publicity since there are still many surprising facts about the company that aren't widely known.
With this in mind, OSV has published an infographic to share some of those unknown and sometimes crazy facts about Volkswagen. From its association with Nazi Germany to the iconic Beetle and the emissions scandal. Why not test your Volkswagen knowledge and see how much you really know about the company, by reading some of the most unusual facts below.
The Craziest Facts:
The Nazis and Volkswagen – The idea for the Volkswagen, 'People's car', came from Adolf Hitler. He chose Ferdinand Porsche to engineer a car that could carry 2