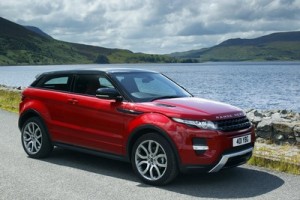 Land Rover's smallest, lightest and most efficient ever Range Rover is 4×4 magazine's 4×4 of the Year.
This brings the Range Rover Evoque's global haul of awards to 53, awarded from countries as diverse as the UK, US, France, China and Brazil.
4×4 of the Year
Apparently the 4×4 magazine's judges were unanimous about their decision, praising the Range Rover Evoque for showing where the future of 4x4s lie.
Nigel Fryatt, the magazine's editor, said that this quality alone would've made it a worthy winner of the title.
This adds to Car of the Years awards from TopGear and UK AutoExpress and What Car?'s Most Exciting Car of the Year 2011.

Land Rover's delight
Land Rover is just proud of the Range Rover Evoque's achievements, lauding the contributions of everyone involved in its development.
Since the Evoque's launch in September, Land Rover have taken over 40,000 orders for their dynamic new SUV.
John Edwards, Land Rover's global brand director, says the company is particularly pleased that many of these orders are coming from customers who are new to the brand.

Versatility and dynamism
Land Rover's determination to make the Range Rover Evoque appealing to a wide cross section of people is evident in the flexibility of options for new Evoque owners.
You can choose from three distinct themes: Pure, Prestige and Dynamic.
The Evoque Pure is closest to the Land Rover vision embodied in their LRX concept car, with a stunning, bold exterior.
Those looking for a Range Rover luxury can opt for the Evoque Prestige, which combines a muscular body with a leather-wrapped interior.
The athletic Evoque Dynamic is the range's sports-oriented performance model.
The Evoque's pricing structure reflects the range of specifications available.
Those looking to combine economy and a low-carbon footprint with Range Rover performance can purchase the two-wheel drive option for just £27,955.
Four-wheel drives start from £28,705 and extend to the top-of-the range Range Rover Evoque 2.0 litre Si4 Automatic at £38,995.
Keep yourself updated with the latest motoring news by liking us on facebook, following us on twitter or connecting with us on LinkedIn.
If you're interested in buying or leasing a new vehicle contact our sales team. Alternatively, visit our website where you will find new and used Land Rovers available to purchase, lease or on finance.
Thanks for visiting us today.

Latest posts by Andrew Kirkley
(see all)