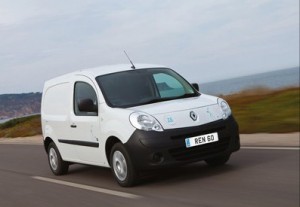 The Renault Kangoo Van Z.E. won the prestigious What Van? 2012 Van of the Year title after being on sale for only 120 hours in the UK.
The first electric van from a mainstream manufacturer, Renault hopes the Kangoo Van Z.E. is the start of an innovative journey that will consolidate Renault's position as Europe's top van brand.
What makes the Renault Kangoo Van Z.E. Van of the Year?
It was the unanimous choice of What Van? judges, with Paul Barker, the magazine's editor, raving about the van's cutting-edge developments.
He describes the Kangoo Van Z.E. as a "pioneering revelation", an electric LCV that is a serious competitor to combustion engine vehicles and one that enters the market at a realistic price point.
In the opinion of the judges, this is the van that could see this environmentally conscious, money saving technology enter the mainstream.
Renault's investment rewarded
The Renault Kangoo Van Z.E. is the result of years of work and a four billion Euro investment the French marque have made in their electric van programme.
Unsurprisingly, Renault are delighted with the accolade, hoping that it will be the first of many for the Z.E. range.
Renault have focused on affordability and performance with their development programme. As a result, they are offering a ground-breaking battery hire option, which they believe will bring the Z.E. range within the reach of more businesses.
The Kangoo Van Z.E. is able to carry the same payload and load capacity as comparable hydrocarbon-fuelled vans, a victory for Renault's engineers.
Focus on sustainability also extends beyond achieving zero emissions. As with other models in Renault's eco2 range, the Kangoo Van Z.E. is designed so that 95% of its materials can be recycled.
And this wasn't Renault's only award
The Renault Master, which won the 2011 Van of the Year, was highly commended in the Large Van category. The judges praised it for continuing to impress since winning last year's title, and its strategic position within Renault's light commercial vehicle range.
Renault also scooped the What Van? 2012 Website of the Year award for their industry-leading website.
Keep yourself updated with the latest motoring news by liking us on facebook, following us on twitter or connecting with us on LinkedIn.
If you're interested in buying or leasing a new vehicle contact our sales team. Alternatively, visit our website where you will find new and used cars and vans available for sale or on finance.
Thanks for visiting us today.

Latest posts by Andrew Kirkley
(see all)