A Massive Review of the 2017 Volkswagen Golf: Features/Prices/Comparison
British motoring journalist, Tim Barnes-Clay, tests the 2017 VW Golf to see if the German legend still deserves its awesome reputation.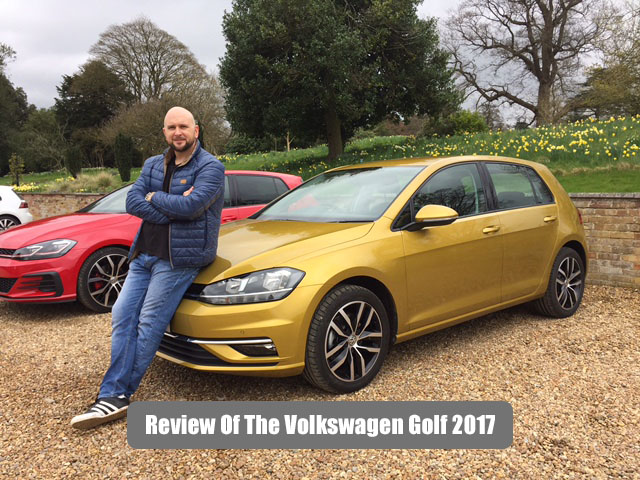 Overview of the 2017 Volkswagen Golf
43 years of history and evolution sit behind the 2017 Volkswagen Golf. It's been a car of the people since 1974 and has even become a bit of a status symbol for suburban one-uppers. The iconic hatchback is now at version 7.5. Yes, 7.5 because this latest Golf is a mid-cycle refresh of the seventh- generation car. So is it worth buying the 2017 VW Golf? What exactly has Volkswagen done to improve it? Is the new Golf any different? Let's find out.
How does the Volkswagen Golf perform?
Let's talk about engines first, because there is quite the selection of power units with the 2017 Volkswagen Golf. From a little three-cylinder 1.0-litre petrol, all the way up to potent 2.0-litre turbocharged GTi engines and the popular turbo diesel models. To talk about the all the different power plants would require another massive analysis, but power between 85PS and 310PS is available. Though we'd consider the hotter VW Golf GTI, GTD and R models almost in a separate category.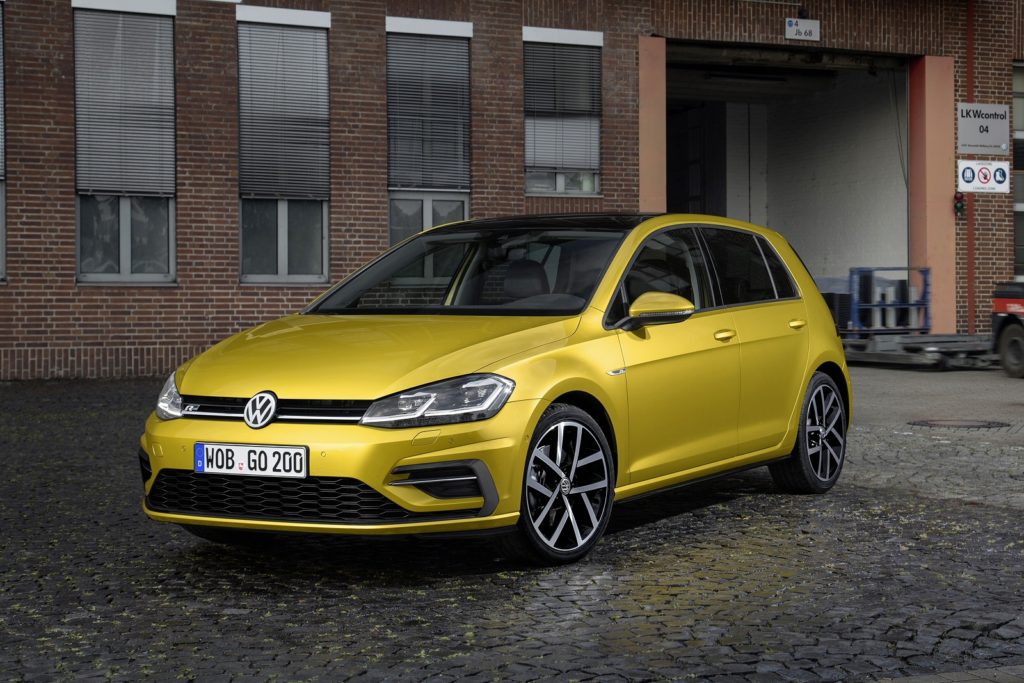 There's a brand-new engine though – a 1.5-litre turbo petrol that is replacing the old 1.4-litre. Yes, in a shocking twist in the motoring world an engine has got bigger – so much for downsizing. It's got 150PS, which is the kind of petrol clout you'd be satisfied with unless you're a real enthusiast, so it's sprightly – but still doesn't burn too much gas.
In our video, we got behind the wheel of the economical 1.6-litre turbocharged diesel engine with 115PS. It's true that doesn't sound like much power, but it doesn't feel particularly slow. This is an oil-burner for people who are likely to travel decent distances and want to reap the benefits of a potential 65mpg+. City drivers might get better runs from the little petrol engines with their chirpy delivery and short distance prowess.
There's no change to how the 2017 VW Golf drives; it's still the same as it was before, in the sense that it's like a well-fitting glove. Not too firm; not too soft; good but not spectacular steering feel and weight, and with plenty of punch from the engines. It does what you want it to do in practically every conceivable situation, which makes it enormously difficult to criticise.
Volkswagen Golf interior, design & build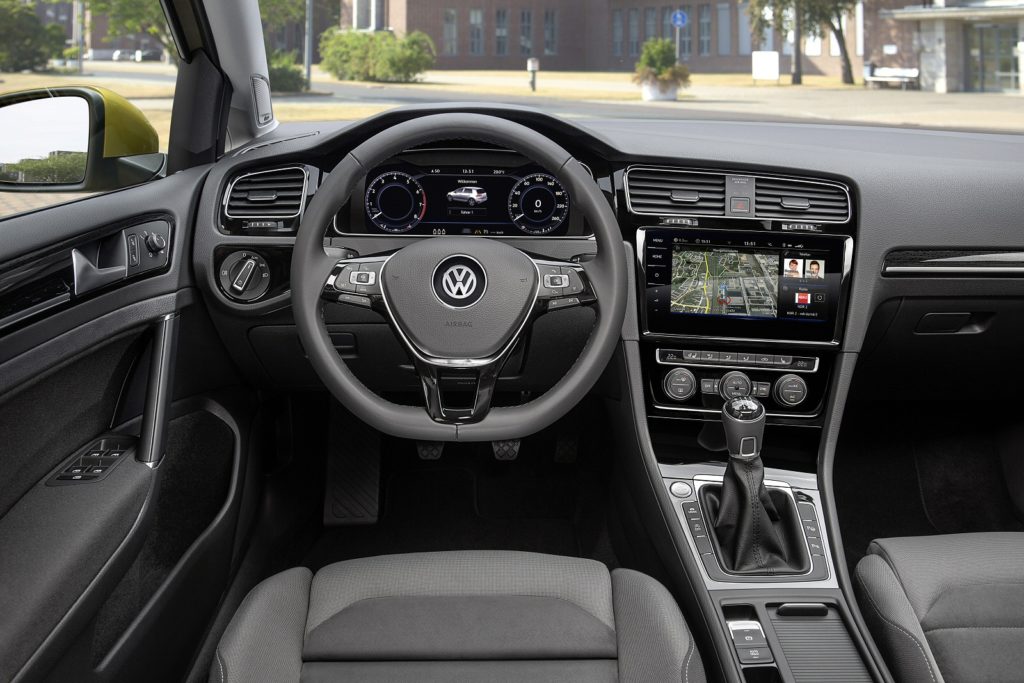 It's much easier to take a swipe at the styling of this 'new' 2017 VW Golf though. As on the outside, there's virtually no way to tell it apart from the old one. It looks the same, with not even a hint that this is a fresh model.
While that might strike some as lazy, you can't deny the VW Golf already has a strong look and clean lines with good proportions. It's just a little bit boring and the pattern in the tail lights is a bit, well, weird.
The inside of the 2017 Volkswagen Golf has changed far more. There's a new dashboard, centre console and touchscreen – more on the screen later – but aside from that, it's pretty much business as usual.
It isn't the interior paradise that some reviewers make it out to be – certainly fellow VW Group brands like Seat and Skoda do cabins just as nicely as the Golf's. But, it is excellent in quality still, and it won't offend anybody with its overall design.
When all is said and done, the biggest criticism you can level at the design of the 2017 Volkswagen Golf is that it's unexciting. It takes no risks at any point with regards to its image and that means it lacks any sort of 'stand-out' character.
The Volkswagen Golf specification
Equipment levels in the 2017 Volkswagen Golf are much the same as before, you'll want to target a mid-range model to get a decent smattering of toys, but the real diamond in the new VW Golf is the up-to-the-minute touch screen.
The 'Discover Pro' screen looks flashy, but can be a little frustrating to use, which is unusual for anything in a VW Golf; so it feels like it's been a bit overlooked. There's also gesture control technology now, but we can't work out why on earth this tech is being introduced when there are buttons on the steering wheel. Keep both hands on the wheel we say, it's safer and easier to operate.
Standard features in the entry-level 'S' model are sparse, and there's an extensive – and often expensive – options list.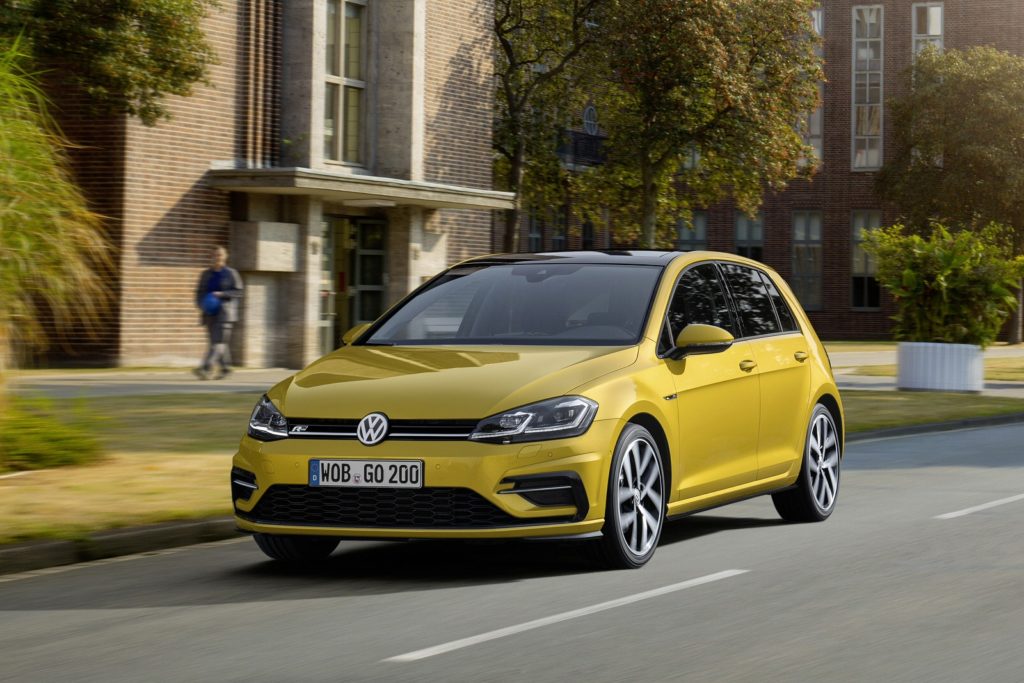 Volkswagen Golf: Cost, Pricing, and Leasing Rates
The 2017 Volkswagen Golf starts at £17,625 and can reach the giddy heights of £35,300 in its most expensive, fastest form. The GTI/GTD/R models really deserve to be treated as distinct cars, such is their level of performance.
We managed to find some good deals for business customers on the leasing side of things. With a 2017 Golf 1.6-litre TDI SE Nav for around £150 a month, with six to nine months in advance. Customers looking to lease as part of a personal contract always have to pay more. But not that much more, as it turns out. We found an identical 2017 VW Golf, with the same 1.6-litre TDI as seen in our video, for around £175 a month with the same number of months in advance. A good price for such a solid all-rounder.
Pros and cons of the 2017 Volkswagen Golf
Quality
There's a quality finish to most Volkswagen products, but it always feels like more care has been taken with the Golf. It's Volkswagen's most popular ever car, and it's become an icon of the automotive arena. It's moved into a more upmarket area now, trading blows with the BMW 1-series and Audi A3. It isn't quite on their level, but it isn't far off, either.
Selection
If you want a new 2017 Volkswagen Golf, there's bound to be something in the line-up for you. VW has everything covered from diesel efficiency to all-wheel drive 300PS hot-hatch performance.
Upmarket appeal
Over the last decade, or so, the Volkswagen Golf has become a bit of a status symbol. It's now a popular site in the suburbs and on new housing developments for people who want to show off to the neighbours.
Expensive
For what it is, it's an expensive option. Remember that Volkswagen shares its parts with Seat and Skoda, who make the Leon and Octavia respectively. Now, they aren't quite as nicely screwed together as the VW Golf, but they are a lot cheaper and made of the same stuff, too.
Lacks character
The 2017 Volkswagen Golf may well be a competent machine, but it lacks any real flair and spirit. It goes about its business efficiently and capably, and, well, that's about it.
Discover Pro touchscreen system
It looks newer, but does it really work better? It's just a bit too fiddly and cumbersome for our liking, and any gesture control system is a gimmick in our eyes.
New Volkswagen Golf vs Ford Focus vs Audi A3
These three hatchbacks sell very well indeed, and we've put them up against each other to see who comes out on top. Interestingly, Volkswagen owns Audi, so there's a lot of shared parts with the VW Golf and the Audi A3. And with the Golf seeking to creep into the upper market, it'll be interesting to see if it's worth spending more for the extra finesse of the A3.
New Volkswagen Golf vs Ford Focus
When you think about popular hatchbacks, you probably consider two cars – the Volkswagen Golf, and the Ford Focus. They almost operate in two different areas, though, as the Volkswagen Golf has thought higher of itself the older it's got. Meanwhile, the Focus has remained more of a motor for everybody. Though the Ford has a higher starting price, the 2017 Volkswagen Golf is the more expensive car because, realistically, nobody is going to buy the entry level VW Golf.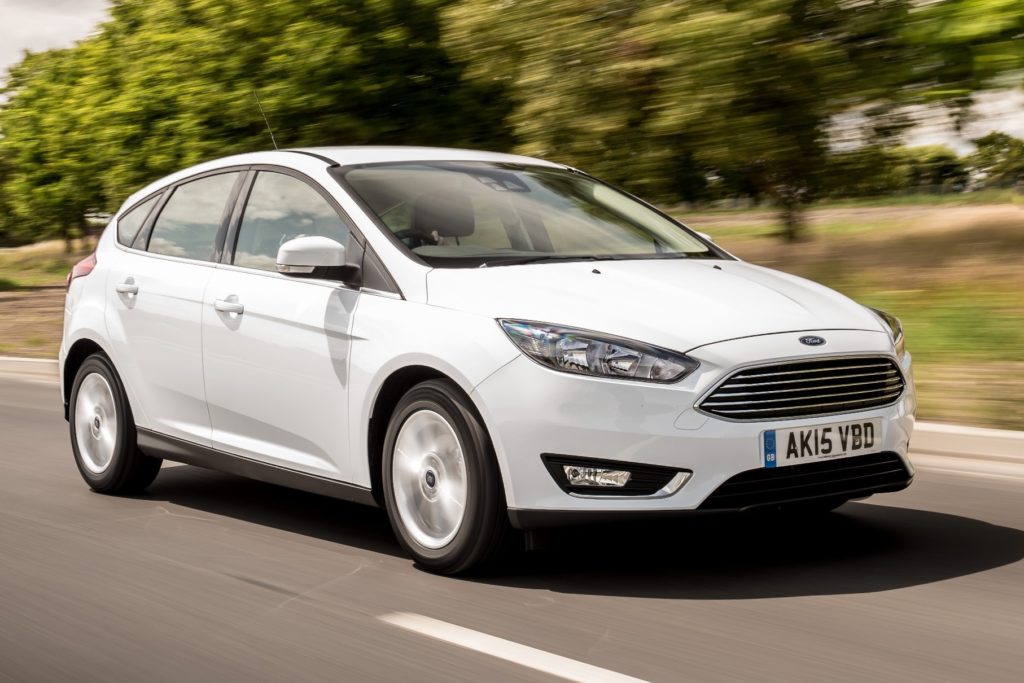 Ford has also got the best handling car in the hatchback class. Even if it can't match the VW Golf for brand pulling power or semi-luxury finishes. The Focus has an incredible ability to put a smile on your face. No matter which engine you're driving it with; it gives a great amount of steering feedback to the driver.
That being said, the Golf isn't half bad either, it's just a little softer and more laid back. It's telling that in both cars sportiest forms – the Golf R and Focus RS – you've got two of the best driver's cars on the market. These are machines that can handle high speed and high performance, so it makes sense that in their more sedate trims they can still provide an entertaining experience. The Focus edges it in terms of fun, though.
A big part of that joyous feeling is probably the fact that the Focus has more character, even though it's stolen its face from an Aston Martin. The character doesn't necessarily mean a slightly dodgy touchscreen and abundance of dark plastics, though. When it comes to interior design and overall quality, the Volkswagen comfortably dispatches the Focus, but that extra cabin quality comes at a big price.
If you can live without a posher badge and don't mind the lack of interior class, you may well want to save some cash and pick up a Focus. You're unlikely to be disappointed with the driving experience.
Prices
Volkswagen Golf – £17,625 to £35,300
Ford Focus – £19,495 to £31,765
Volkswagen Golf vs Audi A3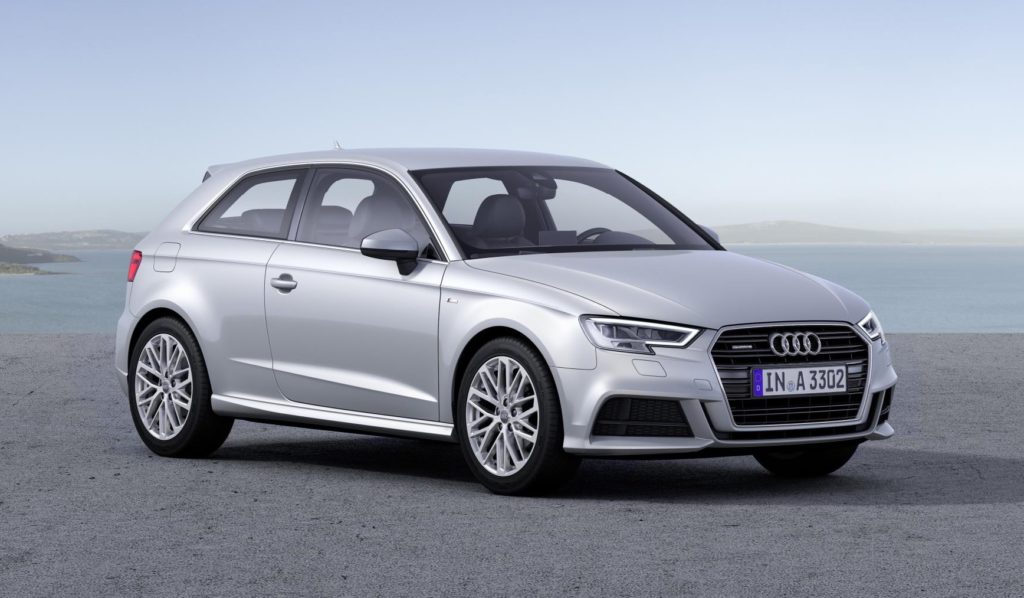 If you're in the market for a posh hatchback, the chances are you'll be looking at the Volkswagen Golf's cousin, the Audi A3. Audi produces some of the finest interior designs on the market, and every one of their products feels premium. It's just what Audi does, after all. Now that the VW Golf has been creeping up in price, you may find that making the jump to an Audi might not be so difficult.
The two cars drive very similarly, of course. They share many components and are based on the same platform. So the only real difference between how they drive is whether the Audi is equipped with the famous Quattro all-wheel drive system.
All-wheel drive is only available on the Golf R, but is offered on more 'normal' cars in the A3 range. A highlight is the 2.0-litre TDI diesel engine that produces 184PS, and it can be joined to the S-Tronic automatic. This is a very smooth gearbox, indeed. This is the engine and output used in the VW Golf 'GTD' hot hatch, but can be chosen with a more comfortable, stylish set-up in the Audi A3.
Normally, when discussing an Audi model, we'd be critical of the long list of optional extras. Audi options are famously expensive, but Volkswagen isn't much better when it comes to that sort of thing, either. So, while Audi's options are that bit more costly, you still might not be shocked if you're an existing VW Golf owner.
The Audi A3 steps it up a notch in terms of class and prestige, but only the individual can decide if it's worth paying even more for. It certainly does feel like the best a small hatchback can be, whereas the 2017 VW Golf feels like it's just stopped short of that.
Prices
Volkswagen Golf – £17,625 to £35,300
Audi A3 – £19,825 to £40,795
Verdict of the 2017 Volkswagen Golf
The 2017 Volkswagen Golf is a happy middle ground between the cheaper Ford Focus and the premium Audi A3. But should a Volkswagen Golf be this high-priced? Should you just go all out and buy the Audi A3? Well, if it was our money, we'd take the Audi A3. It's the most modern and most complete hatchback here, but then again, it should be for the price being asked for it.
If you love driving, and like the feel of a rewarding manual gearbox and bright petrol engines, the Focus might be the one for you. It works out much cheaper and is still great fun, after all. There's one other thing to consider, too. If you really like the 2017 Golf but don't like the price, the Seat Leon or Skoda Octavia are cousins of the VW Golf, and come in at a much lower price. However good the 2017 VW Golf is, the more you think about it, the harder it is to justify.
Interested?
You could be driving away with your new car in no time. Fill in your details below and one of our vehicle experts will be in touch within 48 hours to talk you through the leasing process.

Tim qualified as a journalist in 1994 and since has gone on to write for the Mirror Group's L!ve TV cable network, and has worked as a presenter, reporter and producer at ITV Central in Birmingham.

He's a member the Midland Group of Motoring Writers and is now focusing on what he loves – test driving the latest vehicle releases and writing about them.

Latest posts by Tim Barnes-Clay (see all)