The brand new BMW X5M is a muscular proposition. In every way imaginable, it's an astonishing engineering achievement. Straight-line acceleration is outstanding, the handling is sharp as a whip, and the rather pumped-up styling befits the cars' character.
If indeed you like your cars big, quick and brash, this one has plenty to offer. It is a tad on the expensive side, and will cost more than the X5 40d M Sport, but it's a large 4×4 that fares well against its rivals in its class. OSV takes a closer look at what it's all about with our BMW X5 4×4 review.
Overview Of The BMW X5 M 4×4
The car is powered by an almighty twin-turbo 4.0-litre V8 engine that can rocket you from rest to 62mph in just  4.2 seconds. This makes it one of the fastest cars in this market. It maxes out at 155mph, which is fairly standard of an 4×4 such as this, but if you could remove the electronic limiter, it's almost scary to think how fast this X5M could actually go.
The engine is paired up with an 8-speed torque converter automatic 'box, which means BMW have opted not to share the M dual-clutch transmission used in the M4 and M3. Surprising choice? Not really. It's actually a really sensible choice. Once you flatten the throttle, you'll notice the 'box drops a few ratios before gunning down the road in an incredible feat of acceleration.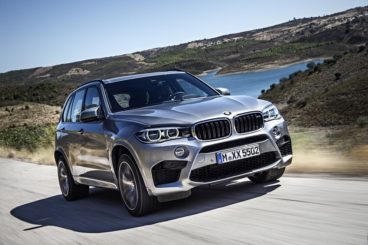 The quad exhausts emit a few very pleasant aural rasps, which you will need to wind the windows down to enjoy. And importantly you can adjust the car's behaviour by modifying the Adaptive M suspension, which is available as standard. This lets you alter the throttle response, gearbox ferocity and steering weight. Dial everything down and the car is a fine example of comfort and  civility. It's a tad flawed, though, because even prodding the throttle sends it surging forward.
This car is  heavy; there is no denying it. It's a weighty machine. But the fact that even the standard BMW X5 does a good job of hiding is bulk suggests this one will do an even better job – and it does. There is no slack  at all from the steering, and turn-ins are instant thanks to a faster ratio.
The paradox you might face as a buyer is that you may be pining for some pure, adrenaline-pumping action from your car … but do you really want it from a hefty 4×4? It's something to think about. Because this car is going to pin you to your seat if you let it.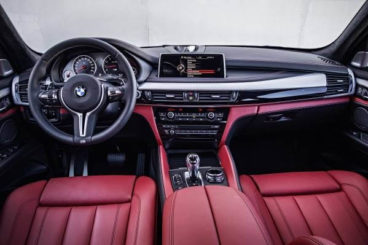 This car's predecessor's ride quality came under the microscope, and there was a lot of criticism over its ride quality. For an 4×4, it just wasn't all that comfortable. Fortunately, BMW has addressed the issue this time around. It's still no limousine, of course, but switch to Comfort setting in your Adaptive M suspension modes, and it can offer as much comfort as most bulky SUVs out on the road today.
And even if you do ramp up the firmness, the ride quality still isn't as bad as last time.
Getting the interior just right in a fast 4×4 is not easy because a brand has to cater to two demographics – those who want a comfortable, spacious cabin, and those who want a sportier flavour. BMW have done a good job at appealing to both buyers here. The cocooned driving position is the flavour of the month in a fast 4×4 right now, but there is also plenty of comfort and convenience, too.
The cabin is roomy, the M sports seats are supportive and comfortable, and the driving position is on point. Overall, the fit and finish of the interior are of high quality, with Merino leather coating most of the surfaces, including the seats. Trendy ambient night lighting and lashings of carbon-fibre trim are interior highlights.
The brand's iDrive infotainment system is the best of its type on the market today. Easy to use, great to look at, and as effective as ever, it combines with a large, clear display to pleasing effect. BMW Connect Drive is included, as is a 20GB hard drive. With Connect Drive, you get access to music streaming, live  traffic reports, and a concierge service. It's all premium stuff.
Standard equipment is about as good as you'd expect from a car at this price point, but there is an extensive list  of optional extras which can easily bump the price up significantly.
In fact, it's not uncommon for buyers to splash out around  £10,000 on extras.
However, we recommend forgoing the 21" alloys, and opting only for the extras that should really have come as standard – such as the reversing camera for £375 and the panoramic glass sunroof, which will set you back an extra £1,295.
Costs Of The BMW X5 M 4×4
The car is priced at £90,000, which is competitive. If you're thinking of leasing the car, the cheapest deal you'll be able to broker is around  £1,100 + VAT  per month.
Economy is better than last time around, but it still isn't great. BMW reckons it's possible to achieve returns of 25.4mpg, but in the real world the numbers are likelier to average around 21.2mpg.
Still, it's all about small victories, right? Just the fact that the time between stops at the pumps has been lengthened at all will be enough to make some buyers feel better.
Emissions have dropped too, but only the environment will notice much of a difference.
Pros and Cons Of The BMW X5 M 4×4
It's Rapid
Whoever heard of a large 4×4 drag racer? Well, now you've got one. This car competes with the Porsche Cayenne Turbo S and the Mercedes-Benz ML63 AMG for speed, and its 0-62mph time of 4.2 seconds nudges it ever so marginally into the lead.
It's Ferocious And Polite
BMW had a task on their hands when they decided to create a rapid 4×4. Naturally, they still had to appeal to buyers who wanted to drive in comfort from time to time. So what you have here is a performance car that can also be operated in a polite manner.
The interior is  sophisticated  and encourages etiquette, and you can adjust the suspension setup for maximum comfort.
And when you want to raise hell, you can do that, too. We're not stopping you.
Powerful
It's a grand old 4×4 that requires a lot of power to be of any proper us. We reckon  567bhp  is more than enough. It batters the output of its predecessor.
Poor Fuel Economy
We said that BMW claims it's possible to achieve fuel economy returns of 25.4mpg, and we wrote that the average figure is more likely to be around 21.2mpg. But it's likely that if you drive this like a performance car should be driven, your returns will plummet into the teens.
It's An Odd Concept
When you really sit down and have a think about it, the X5M is a bit of an  odd concept. A hell-raising large 4×4? It's a bit like trying to imagine Lemmy having a cup of tea with your mum at midnight on a Friday after a gig.
BMW X5 M 4×4 vs Porsche Cayenne vs Range Rover Sport 4×4
Let's see how the car stacks up against its rivals in the comparison section of our BMW X5 M 4×4 review.
BMW X5 M 4×4 vs. Porsche Cayenne 4×4
The new Porsche Cayenne 4×4 has all the  practicality of a 4×4 and combines it with the behaviour and looks of a sports car. Like the BMW, it isn't cheap.
Despite is size and weight, the Porsche is a fun car to drive around. The stewing is sharp, body lean is at a minimum, while four-wheel drive offers plenty of punch without taking anything away from the driving experience. You wouldn't think it was a two-tonne large 4×4 – indeed, it feels more like a sports saloon.
The numbers back the claims up. The slowest Cayenne can still complete the 0-62mph dash in a respectable 7.3 seconds, and offers tempting hints of what is to come further up the range. The Diesel S can deliver 385bhp and completes the 0-62mph sprint in 5.4 seconds, while the S E-Hybrid variant delivers 416bhp and covers the same distance in 5.9 seconds.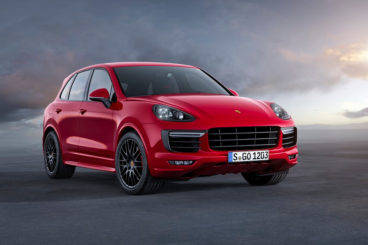 But it's really the Porsche Cayenne Turbo S that is the most direct rival to the BMW, and it can complete the 0-62mph sprint in just 4.3 seconds. With that said, the GTS is the most entertaining model in the range.
No one really expects rapid 4×4 cars to be cheap to run, but the Porsche boasts a hybrid up its sleeve. It will cost more than the entry-level diesel, but claimed returns of  83.1mpg  are impressive. It does come with a few caveats, including the limited 22 miles of range from electric power only, as well as the fact that you will need to check it into public EV charging points pretty often.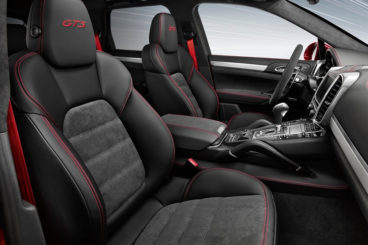 The Diesel S is the most popular model among buyers and is good for 42.8mpg, while the Turbo can only achieve fuel economy returns of  26.1mpg.
Like the BMW, the Porsche's wraparound dash has been designed to encourage you to drive faster. The leather seats are supportive and comfortable, and everything in the cabin feels well put together. The switches are beautiful, and a wealth of personalisation options are available to you. The car is, however, guilty of button clutter on the centre console, and things can easily get confusing. It isn't the ideal place if you just want to relax.
Practicality is decent. The boot measures 670-litres, and can be extended to 1,728 if you fold down the rear seats. A smooth loading lip and wide opening make it usable enough, but the rear seats can't actually be folded completely flat.
Headroom and legroom is plentiful up front and in the rear, but there is no option of a third row of seats.
Price:
BMW – £92,000
Porsche – £52,000 – £119,000
BMW X5 M 4×4 vs. Range Rover Sport 4×4
The new Range Rover Sport 4×4 might be huge, but it's still great to drive. It's also comfortable, luxurious – but won't come cheap to run.
Land Rover have done a good job at shaving some weight off this big old thing, with the addition of an aluminium chassis and body helping to this end. As a result, it can now go faster  in a straight line, and it feels a lot  more responsive.
The brand have also introduced an anti-roll system, which helps the car to retain composure through bends. Careful that you don't corner too fast, though, as it will lose grip pretty quickly.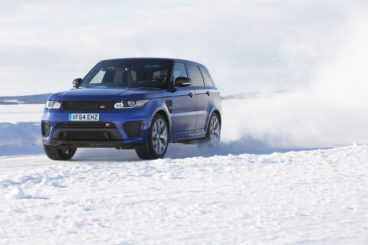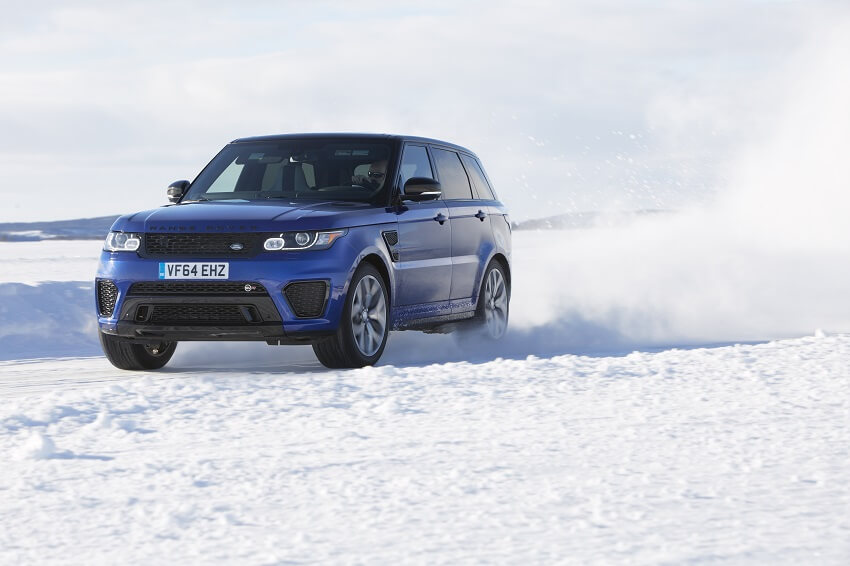 There is only  one petrol engine available, but it comes in two power guises – 503bhp and 542bhp. A monstrous 5.0-litre V8, it can complete the 0-62mph dash in  5.0 seconds in the less powerful variant and  4.7 seconds in the 542bhp variant. When you consider just how much mass this car possesses, those times are impressive.
In terms of the diesel engines, the entry level unit takes 6.8 seconds  to get from a standstill to 62mph, while a more powerful 4.4-litre engine covers the same distance in 6.5 seconds. There is also the option of a diesel hybrid which does 0-62mph in  6.4 seconds.
The petrol models will be as expensive to run as the BMW, with claimed returns of 22.1mpg. The diesels are cheaper, with the entry-level 3.0-litre plant achieving fuel economy returns of 40.4mpg. The hybrid, meanwhile, achieves average returns of 44.1mpg.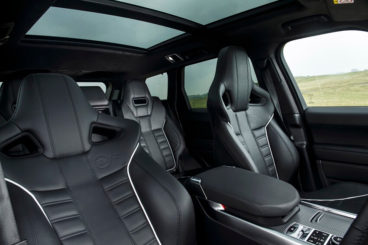 The Range Rover Sport 4×4's interior is one of its highlights. Well built, luxurious and quiet, it's also pretty comfortable to boot. The dash is covered in expensive leather, and there is much less button clutter this time around. The cabin is now as upmarket and as stylish as the BMW's.
If you opt for the range-topping SVR model, which is at the X5 M's price point, you get treated to a few notable features as part of your standard equipment. Standard kit includes sports seats up front and in the rear, an "occasional" middle seat belt, as well as an intriguing button which enhances the raspy noisy emitted by the exhausts.
The boot is huge and one of the biggest in this class. It measures 784-litres with all the seats up, but can be increased to 1,761-litres if you fold down the rear seats. Unlike the Porsche's seats, these can be folded totally flat.
Price:
Range Rover – £63,000 – £96,000
Verdict Of Our BMW X5 M 4×4 Review
This large 4×4 is trying to be a few things all at once – or perhaps even all things all at once. The thing is, it actually succeeds.
Performance, style, roomy interior, comfort and day-to-day practicality are all indisputable. And if you purists want your bulky 4×4 to perform like a sports car, that particular box has been ticked, too.
If you can afford it, you won't need to question why the BMW X5 M 4×4 exists – you'll just want to get your hands on it.
Want to learn more? Click below to view the review for the competitors in this article…
Want a great deal on a BMW?
You could be driving away with your new car in no time. Fill in your details below and one of our vehicle experts will be in touch within one working day.

Latest posts by Will Titterington
(see all)