Mercedes have really raised the stakes with the new Mercedes-Benz E-Class Estate, because this is the most stylish car of this type that they've ever rolled out. Over the past two decades, it's had its rivals in knots as they figure out how it manages to merge practicality with luxury so effortlessly. And it's just taken things up another notch.
Oozing badge appeal and prestige, the E-Class Estate would seem to have it all. But if you're on the hunt for a premium Estate that also drives like a dream, you might want to take a closer look at the BMW 5 Series Touring. Or, if you fancy something a little bit more affordable, the Skoda Superb Estate represents a decent wild card choice. OSV takes a look at all three in our Mercedes-Benz E-Class Estate review to help you make a better buying decision today. Let's take a look.
Overview Of The Mercedes-Benz E-Class Estate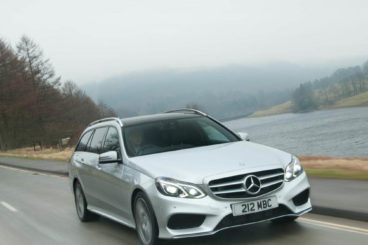 The new Estate comes with sportier suspension and a new real-wheel-rive chassis that improve body control, while the precise steering also ensures that it's comfortable to drive. Comfortable – but not all that responsive. In this sector, it almost seems as though cars can't have the best of both worlds.
The entry-level variant comes with 16" alloys and feels largely smooth. If you opt for a Sport model, you'll get 18" alloys as well as a different suspension setup that was designed to boost grip in bends and enhance body control. Sport models also come with the brand's Direct-Steer System that improves responsiveness when you're taking it easy, while the car feels better stabilised at higher speeds.
There is a handful of diesel engines on offer, and they come with either four of six pots. Opt for a six cylinder unit and your car will feel a lot smoother. Indeed, the six pots feel just right for this car. There is a solitary petrol on offer – a firecracker of a 2.0-litre unit – and while it's quick off the block, it's in no way cheap to avoid. Businesses will avoid it like a bad smell, though some individual consumers might be tempted.
If, however, you're looking for a good mix of efficiency, refinement and out and out power, our pick of the range is the E350 BlueTEC diesel.
This is a 3.0-litre 254bhp V6 power plant that can propel you from rest to 62mph in a matter of 6.6 seconds. This unit is also the only variant that is paired up with a brand new 9-speed automatic 'box. Is this a good thing? You bet. The result is a more efficient and smoother driving experience.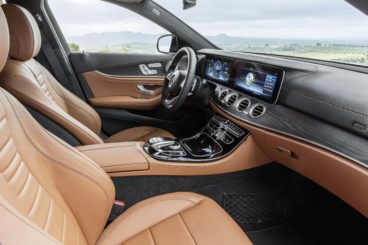 The new E-Class Estate looks stylish on the outside, but inside it needs to offer more comfort and self-assuredness than the sporty BMW so that it stands out. It's austere enough, but it isn't quite as cutting edge as its main German rival.
This is a premium Estate, though, and pretty much everything you'd expect to see in such a car is present. The base-level variant comes with a fantastic amount of standard equipment, with most items covered.
The dash is a little bit too conservative for our tastes, but some buyers will feel very much at home here. Some of the controls, though, are not exactly user friendly and may take some getting used to. The same is true of the on-screen menus on the touchscreen. Everything feels pleasingly upmarket, while the adjustable driver's seat and steering wheel make it easy to get comfortable.
The boot is positively gargantuan, though there is a caveat: Not all models come with the same sized boot. If you opt for the E220 BlueTEC, your boot will be sized at 600-litres, while the E250 can offer a vast 695-litres of space. Similarly, the amount of weight your car will be able to tow will come down to the model. Most versions are capable of towing up to 2,100kg.
Overall, this car is big and feels especially spacious up front. Back seat passengers might struggle for comfort on longer journeys, thanks to the large transmission tunnel needed to make this Estate rear-wheel-drive.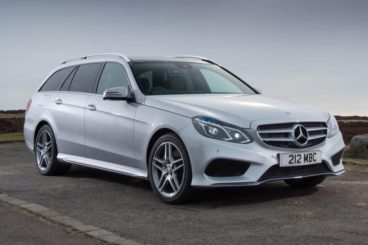 The AMG Line throws in a few extras, including 18" alloys and a sporty body kit. Two option packs are available, and investing in a full package will save you money than if you bought the extras separately. The Premium package includes a panoramic sunroof and a reversing camera, while the Premium Plus adds a better stereo system and keyless entry.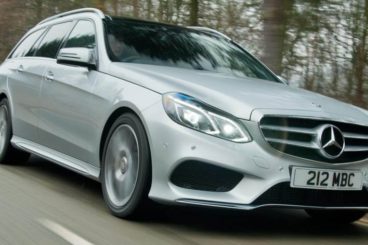 Costs Of The Mercedes-Benz E-Class Estate
Prices start out from around £36,500 and rise to almost £47,000. If you want to contract hire it over three years, you'll be looking at paying somewhere between £300 – £1,000 + VAT, which isn't exactly competitive. The list price is high, though, so these numbers are to be expected.
Most of these cars will be snapped up by companies looking for a new fleet. As such, petrol units will be more unpopular than they ever have been. Mercedes foresaw this and have included only one petrol engine in the range, a 2.0-litre unit that develops 208bhp and which can get you from rest to 62mph in 7.8 seconds. It returns 45.6mpg and will cost you £145 per year to tax.
The E220 BlueTEC diesel power plant represents better value, though. It can return 60.1mpg.
This car depreciates fairly quickly, especially compared to its rivals, while private buyers will be offered fixed-price servicing plans.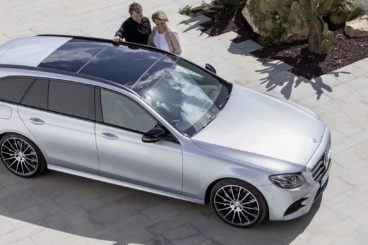 Pros And Cons Of The Mercedes-Benz E-Class Estate
Pros:
Engines Are Really Efficient
As long as you stick to the economical models and don't over-spec it, your Mercedes E-Class Estate could be really cheap to run. It might be surprising, but the engine range is dominated by efficient units that mean you won't be shelling out a fortune once you've made your purchase.
The E Class Estate has always been known for its excellent luggage space, and the new model continues this trend. The boot is definitely one of this car's strongest points. It is variable, which means that its size will depend on the model you opt for, but if you snap up the E250CDI variant, you will get almost 700-litres of boot space. If this is important to you, we can't think of a more generous car in this class.
This is a practical car, and while Mercedes have never worked hard to give it the "lifestyle branding" treatment subjected to many of its rivals over the years, a new facelift means that it's now effortlessly stylish.
Mercedes make safe cars, and this one is no exception. It's got a 5 star Euro NCAP evaluation, but it also has lots of useful features, including Attention Assist, Pre-Safe and ESP.
Cons:
You generally don't associate noise with a Mercedes, but if you buy a diesel model, you have to pair it up with a noisy four cylinder engine that is particularly throaty at low speeds. It's not exactly refined – but it is cheap to run.
Not Very Engaging Behind The Wheel
Mercedes have chosen to be conservative rather than sporty behind the wheel, and as such the driving experience lacks involvement and engagement. It's comfortable enough, but if you want it to feel even remotely sporty, you will need to ask for the optional electronic dampers and Airmatic suspension.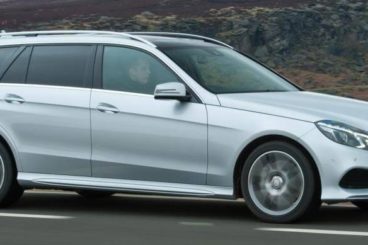 Mercedes-Benz E-Class Estate vs BMW 5-Series Touring Estate vs Skoda Superb Estate
Let's see how this Estate fares against its nearest rivals in the comparison section of our Mercedes-Benz E-Class Estate review.
Mercedes-Benz E-Class Estate vs BMW 5-Series Touring Estate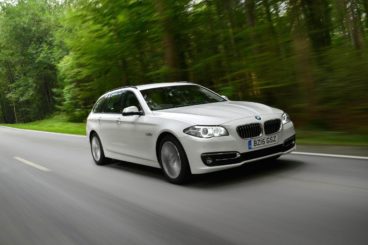 The first thing you immediately notice about the BMW 5-Series Touring Estate is its sharp, unorthodox looks. Where the Mercedes is elegant and debonair, the BMW is eye-catching in an entirely different way.
Its angled design caused a lot of controversy when it was first rolled out, and it's certainly something of an acquired taste. Some motor critics reckon it's aged well, but how you feel about its unusual looks is entirely down to personal taste.
One thing that can't be argued about is just how well the BMW drives. This is a real driving enthusiast's car. It might be an Estate, and it might have a lot of weight to carry, but there's a lot of fun to be had behind the wheel. It sets a precedent for how cars in this class should drive, and while the Mercedes went for safety and comfort, BMW went balls-out for entertainment.
Unfortunately, to get the very best out of it, you will need to modify it with a few optional extras, including Adaptive Drive.
There are plenty of engines in the 5 Series Estate range to suit everyone. The quickest diesel is the 3.0-litre unit that comes with the 535d. Capable of getting to 62mph from rest in just 5.4 seconds, it eats the Mercedes for breakfast. It isn't very frugal, though, and returns 49.6mpg. BMW have worked hard to keep running costs down on the whole, but the most efficient engine can only return 61.4mpg, which is short of the most efficient in the E-Class' line-up. The Mercedes depreciates quicker than the BMW 5 Series Touring, however.
The BMW is very fetching inside. The cabin is minimalist and well built, while the interior is spacious and comfortable. Five adults can easily sit in here and feel relaxed, while the car is on the whole quiet with only a bit of wind noise being noticeable – and this is only due to the quietness of the engines. Its 560-litres boot is a far cry from the black hole found in the Mercedes, but it does have the widest boot floor in this sector. There is also a shallow storage area underneath the boot for further items.
The BMW 5 Series Touring is easily more fun to drive and will definitely appeal to driving enthusiasts, but the E-Class Estate is a better all-rounder.
Prices:
Mercedes – £36,500 – £47,000
BMW – £33,300 – £51,000
Mercedes-Benz E-Class Estate vs Skoda Superb Estate
Like all modern day Skoda's, the Superb Estate offers plenty of comfort, reliability and represents good value for money. Sitting in a lower class than the Mercedes, it's well worth a closer look if you think you might want something a little bit more affordable without having to sacrifice practicality or overall quality.
Aside from badge appeal, one of the E-Class Estate's strongest selling points is the size of its boot.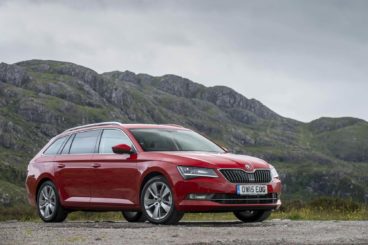 Select the right model, and you could end up with 690-litres on your hands. Select a different model, and you might only get 600-litres worth of space. The Skoda Superb Estate is a cheaper and has a boot that measures 660-litres.
There's more: If you fold the rear seats, you can extend its size to 1,950-litres which is more than the Mercedes can offer.
There are lots of practical touches inside the Superb Estate too, including an ice scraper, umbrellas, and cup-holders. There is also an iPad cradle, too. Space, on the whole, is excellent, with front seat and rear seat occupants having enough room to sit comfortably on longer journeys. The interior, on the whole, is not as classy as the Mercedes, and it's a fairly straightforward affair. Everything is clearly laid out, and the dash is simple and logical.
Skoda's tend to major on efficiency, and the Superb Estate is no different. Four wheel drive is available as an option, and this will harm your numbers if you choose to include it. Otherwise, the most frugal engine in the range is a 1.6-litre TDI 118bhp diesel that returns 70.6mpg and emits 105g/km of CO2.
Price:
Skoda – £20,000 – £36,000
Verdict Of Our Mercedes-Benz E-Class Estate Review
It's spacious, it's practical, and it's luxurious. To some buyers, this car will have it all. The boot is enormous, the behind the wheel experience comfortable, and the engines efficient. Its got its flaws – it will be difficult for five adults to sit in comfort, a flaw some of its nearest rivals don't have – and other cars in this sector are chapter and quieter. As always, though, this is a classy option.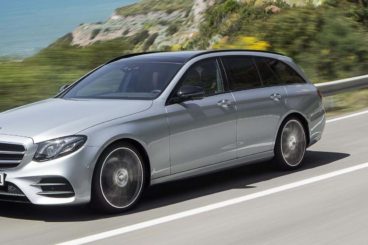 Looking for a price?
Fill out the form below with your details, including whether you're looking to lease or buy and we'll give you a quote within 24 hours.
[contact-form-7 id="32576″]

Latest posts by Will Titterington (see all)