The new open-top Porsche 911 Carrera Cabriolet gives the 911 class a different dimension. A magical convertible that gives you a chance to match the warmth of the sun caressing your face with the the thrill of driving, it's got all the equipment to be a runaway success.
The equipment in question starts with a "questionable" turbocharged 3.0-litre engine. While the idea of a turbocharged 911 might have some critics biting hard on their biros, the engine here suits the car's  character to a tee. The edge it has over its rivals is that it's more   efficient, which means you can spend a bit more time on the open road and less time at the filling stations.
Open-air thrills are, of course, provided by the convertible roof, while the car's usability means that it's also a solid everyday choice. OSV takes a closer look at what it's all about with our Porsche 911 Carrera Cabriolet review.
Overview Of The Porsche 911 Carrera Cabriolet
The smaller turbocharged engine has replaced a naturally aspirated unit, which is certainly not going to please everyone. Efficiency has been  boosted, but you won't be able to rev it to its absolute spine-tingling limit anymore. You get more power, though, and fuel consumption is  reduced.
As such, you do need to be willing to sacrifice a bit of noise if you buy this convertible. If noise is more of a priority to you than the benefits of extra power and efficiency, you might want to look elsewhere.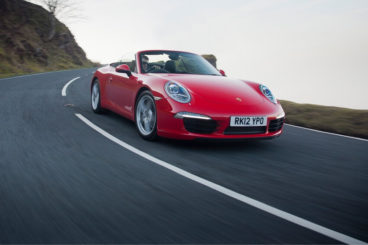 But while people might argue that a convertible sports car is not the same without a bit of exhaust bark, there is even more bite this time around to make up for it. Capable of delivering 365bhp, the car avalanches you from rest to 62mph in 4.8 seconds. The fastest model in the range, however, is the 4S, which covers the 0-62mph sprint in a matter of 4.0 seconds.
Perhaps unsurprisingly, the convertible is not as composed as the coupe. Removing the roof means you've also lost the stiff structure that kept the coupe under control. Moreover, you will feel the  bumps and lumps in our poorer road surfaces much more in this car. Comfort is not totally absent, but ride quality is  not fantastic either. There is also less grip on offer than in the coupe, while the steering lacks a bit of accuracy
However, the car comes with switchable dampers, which allows you to get as comfortable as possible in Comfort mode. Opt for the Sport mode, and you get increased focus, but you will also have to put up with stiffer damping which makes the car wobble over poor surfaces.
The engine is paired up with a classy seven-speed manual 'box. It's mechanically precise, which means that flicking through the gears is super easy. It comes with a twin disc clutch, which enhances its user friendliness.
The interior is pretty much identical to the coupes. The only real difference is the retracting roof, which takes just 13.0 seconds to lower or raise, as well as an electronic wind deflector, installed to reduce buffeting.
The cabin, then, will be familiar to you if you've sat in a recent 911. The cosseting centre console and high dashboard serve to create a really cockpit-like feel, while build quality throughout is of a high standard.
What buyers' eyes will be drawn to the most is the new  infotainment system. A 7" touchscreen, it works like a smartphone or a tablet in that you can swipe or pinch the screen to make your selections. It's really easy to use.
The sports steering wheel is also new. Featuring a narrow diameter, it looks similar to the wheel found in the 918 hyper car – which is no bad thing at all! It looks racy, but it's also very functional and makes the car really keen to switch direction. However, you might find that the GT steering wheel catches your eye even more, a wheel which is available as an optional extra.
There are four seats in the car, though the rear two are strictly for kids or luggage. The boot measures 145-litres, which further drops to 125 if you opt for the four wheel drive variant. You can add an extra 260-litres if you fold down the rear seats. Visibility is very good, and all in all the car is more practical than a number of its rivals.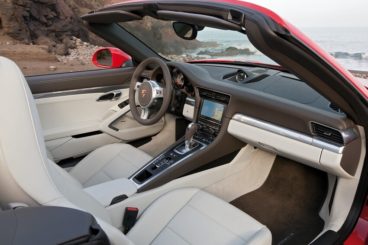 There is a decent amount of standard equipment available, including the aforementioned seven-inch infotainment system, Apple CarPlay, satellite navigation, real-time traffic info, Bluetooth connectivity, adaptive LED lighting, adaptive cruise control and lane keep assist.
Go for either the Turbo or Turbo S model, and you'll get treated to more leather in the cabin, a GT sports steering wheel, and heated sports seats.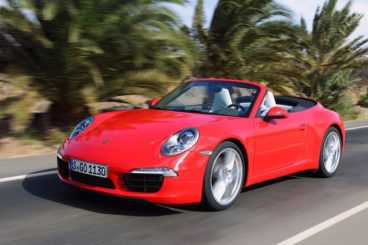 Costs Of The Porsche 911 Carrera Cabriolet
Prices for the new car start out from £76,500 and rise to £154,000 for the range-topping Turbo S.
It should come as no surprise that a performance-oriented sports convertible like this was never going to be cheap to run, but thanks to the move to smaller, turbocharged engines, it is cheaper to run than ever before.
According to Porsche themselves, you can achieve fuel economy returns of 33.2mpg from the manual 911 CC and  from the automatic 'box.
The best figures are arguably posted by the more powerful Carrera 4DK, which can achieve fairy rosy returns of 36.7mpg while emitting just 177g/km of CO2. The Turbo and Turbo S models will naturally be more  expensive to run, but 30.4mpg still isn't half bad.
As well as being smaller and coming fitted with turbochargers, all the engines also benefit from fuel-saving stop-start. Porsche has installed some aerodynamic wizardry to minimise drag, too.
All models occupy insurance group 50, which is where you will find most of its rivals, too. It's expected to lose around 50% of its value over three years, which means you will lose at least £42,000 if you snap up the base-level variant.
Pros and Cons Of The Porsche 911 Carrera Cabriolet
Has Four Seats
The advantage this car has over a lot of its rivals is that it isn't a strictly two-seater sports convertible. Instead, it has two small rear seats to go with the two larger front ones. While adults won't be able to get in the back, your kids will. This means you can drop your grinning kids off to a school in a slick new sports car – but only if they do their homework!
Open Air Thrills And Spills
If you're torn between this and the coupe, the biggest advantage this has is its open-top roof. This means infinite headroom, infinite happiness, and infinite excitement.
Surprisingly Usable
You don't really expect a sports convertible to be any use as an everyday car, but this one aspires to be just that. With four seats, a decent-sized boot and a number of clever practical touches, including a nose lifter, you don't have to worry about it letting you down when you've gotta pick the kids up before doing a spot of shopping.
The Tesco car park won't know what's hit it!
Not A Fantastic Handler 
The transition to an open-top roof  has taken away the coupe's dynamic prowess, and the Porsche 911 CC lacks that car's agility and sharp, accurate steering.
Expensive
While the base-level model isn't that expensive, it is just what it is – a base-level variant. If you want to get the absolute max out of the 911 Carrera Cabriolet, you'll have to part with over £150,000.
Porsche 911 Carrera Cabriolet vs. Mercedes SL Cabriolet vs. Jaguar F-Type Convertible
As scintillating as it is, the Porsche is not alone in its class and is pitted against some exceptional rivals. Let's see what two of its main competitors have got to offer in the comparison section of our Porsche 911 Carrera Cabriolet review.
Porsche 911 Carrera Cabriolet vs. Mercedes SL Cabriolet
The Mercedes SL Cabriolet has been around for longer than the Porsche and is indeed a real heavyweight in this class. It's large, performative and practical, and costs more than your average Mercedes.
The entry-level twin-turbocharged engine more than matches anything the Porsche can throw at it. Dusting off the 0-62mph in 4.9 seconds like it's been doing this all its life, the engine is smooth and, perhaps crucially, sounds fantastic. Lower the roof and you get to take in the crackle of the engine that's akin to listening to a campfire at night.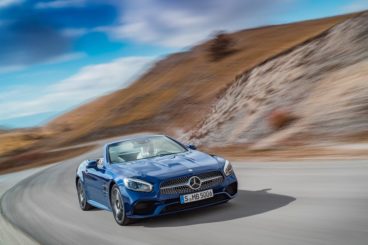 There are four SL models to choose from here, with the range-topping SL65 the only one that isn't powered by a turbocharged engine. Instead, it's backed by a fierce V12 6.0-litre unit that could easily cause a bit of seismic activity once it gets going.
Like the Porsche, the Mercedes is setup very stiffly, which means you feel every splinter, tear and crack in the roads.
There isn't much to separate the two cars, and it's a similar story with the running costs. Like Porsche, Mercedes have worked hard to make this car more efficient, with the result being some very reasonable running costs. For example, the entry-level model can achieve fuel economy returns of 36.7mpg while emitting just 175g/km of CO2.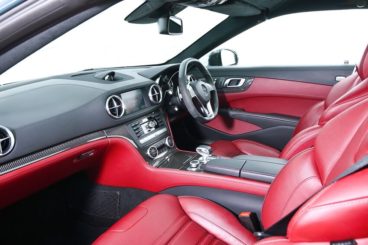 In terms of the interior, the Mercedes is a very comfortable two-seater if you go for the right model with the right setup. AMG models come with an upgraded version of the brand's Active Body Control System, which enhances ride quality. Sound insulation is good, and buffeting is kept to a minimum when you lower the roof.
The Mercedes totally annihilates the Porsche when it comes to boot space. With 504-litres of space on offer when the roof is up, there is enough room to do as much shopping as you want. Unlike the Porsche, though, the SL Convertible doesn't offer two extra rear seats for your kids.
Price:
Porsche – £76,500 – £154,000
Mercedes – £74,000 – £173,000
Porsche 911 Carrera Cabriolet  vs. Jaguar F-Type Convertible
The Jaguar F-Type Convertible is a desirable and uber-stylish hotshot that really put the cat among the pigeon upon its release.
If you're still feeling a bit jaded by the fact that Porsche have decided to suppress the 911's growly engine and exhaust notes, the Jaguar might be worth a bit more of your time. It's just as good to listen to as it is to drive, barking with all the menace of a Rottweiler on a leash while handling like a Rottweiler set loose.
There are a number of eye-watering engines to choose from, and settling for one is not going to be easy. Models include the V6, the V6 S, the V8 R, and the SVR. You'll feel like a giddy kid in Toys 'r' Us as you make your choice.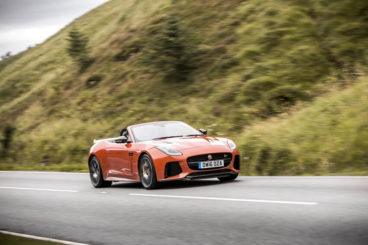 All offer thunderous performance, are great to drive, and come fitted with the untameable sports exhaust, as well as sports suspension. The entry-level model is the only one to do without adaptive dampers, which improve ride quality.                             
In terms of running costs, returns of 33.6mpg from the base-level model aren't as good as the returns achieved by the Porsche's collection of turbocharged units, and the four-wheel-drive system also hinders the fuel economy across the board.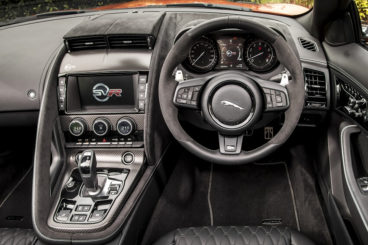 Similar to the Porsche, this Jaguar F-Type Convertible is expected to  lose half of its value after three years of ownership.
The boot is small but usable, and it doesn't change in size if the roof is up or down. The benefit of this is that you don't need to make a choice before heading out between more luggage space or freedom and the sun on your face.
Price:
Jaguar – £57,000 – £115,000
Verdict Of Our Porsche 911 Carrera Cabriolet Review
There isn't a lot to choose between the Porsche and its rivals, and your decision is probably going to come down whether you've always been in Camp Porsche – as well as whether or not you're prepared to put efficiency and performance before a rumbustious, theatrical exhaust note.
Okay, so this sports convertible lacks a bit of drama. Porsche have tamed the beast slightly and matured it. It won't work for everyone, but if you can get beyond the engineering alterations, you'll surely see that this is still one very exciting cabriolet. Astonishingly fast, great to look at, and practical, the new Porsche 911 Carrera Cabriolet hasn't "sold out" – it's just made proper, logical progress.
Want to learn more? Click below to view the review for the competitors in this article…
Looking for a price?
You could be driving away with your new car in no time. Fill in your details below and one of our vehicle experts will be in touch within one working day.

Latest posts by Will Titterington
(see all)