Review of the Skoda Octavia Hatchback
Need a car you can trust? Synonymous with value, class and even prestige, the Skoda Octavia Hatchback is one of the leading lights in its segment. A commanding car that has serious road presence, it offers plenty of interior space and doesn't cost all that much to run.
It's also superbly put together and comes with a dizzying array of trims and engines. As usual, it's staggeringly well-equipped too, with even the entry model getting a touchscreen entertainment system, air conditioning and a digital radio.
OSV takes a closer look at what it's all about with our 2017 Skoda Octavia Hatchback review.
Skoda has shaved some weight off the new Octavia, which means that its handling dexterity has been improved. Don't get too excited, though; this is still far from rivalling a BMW. It is, however, easy to drive and always feels assured.
If the driving experience is a deal breaker for you, we'd much rather point you in the direction of a SEAT Leon or the new Ford Focus.
Well-weighted steering is a positive, but buyers might wish it was more responsive. The sheer lack of feedback means you're not always sure what the wheels are doing. Moreover, body lean is a bit excessive, although it's countered by a good amount of grip.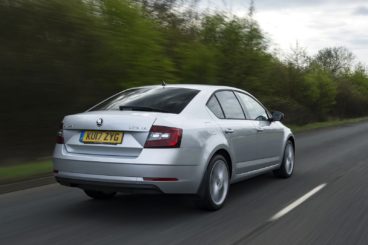 Ride comfort is excellent. Even on coarser road surfaces the ride feels smooth. Dynamic Chassis Control is an option for the bigger engines, and it allows you to soften or firm up the suspension setup.
If you avoid the entry-level model, your Skoda Octavia Hatchback benefits from a useful Driving Mode selection feature that lets you change the steering weight and throttle response at the press of a button. As such, you can tweak how it feels to suit your mood.
In terms of the engines, the small 1.0-litre TSI petrol unit is the lightest of the range, which improves the way the Octavia handles. It takes just 10.0 seconds to complete the 0-62 dash, and maxes out at 125mph. It's smooth until you work it hard, and is the ideal companion for town driving.
A 1.5-litre 148bhp TSI petrol engine is brisker, taking 7.9 seconds to get you from rest to 62mph. It's economical too, thanks to cylinder-deactivation technology. Top speed is 136mph, and it's a quiet, powerful proposition.
There are two diesel engines on offer, and both struggle with diesel clatter when you first fire them up. Once you're on the move, they settle down. Performance from both is effortless, but the 1.6-litre TDI diesel just about edges it in terms of smoothness. It does 0-62 in 10.6 seconds yet still returns as much as 74.2mpg.
The 2.0-litre TDI diesel is bigger and faster still, taking just 8.5 seconds to dispense with the 0-62 stopwatch time.
Skoda Octavia Hatchback Interior, Design & Build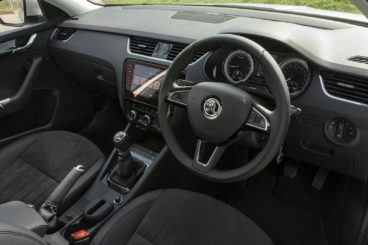 VW Group had a challenge on their hands when it came to designing the new Skoda, namely – how to make sure it doesn't come off looking and feeling better than the flagship Volkswagen Golf?
It seems that their answer lay with insulation. While the Skoda Octavia Hatchback's cabin is comfortable, well-built and great to look at, it's noisier at higher speeds.
Ride quality is also not quite as good as the VW Golf, and the Octavia will jolt when you hit a pothole.
The cabin design is decidedly low-key. So while it's on par with the Golf in terms of quality, its design is much more reserved.
Still, although imaginative design flourishes are missing, there is plenty of tech to get excited about, including an 8" Bolero infotainment system that comes with SmartGate, Android Auto, Mirror Link and Apple CarPlay connectivity.
That infotainment system big enough? You can always upgrade to a bigger 9.2" Columbus system instead.
There are soft-touch plastics here and there, we love the silver-trim on its centre console, while fit and finish are fantastic. The dash feels strong and is well laid-out. Everything is where it should be.
In terms of practicality, the Skoda Octavia sets the standards in this class. The cabin is swathed in space. Rear seat and legroom are so good you'd think you were in a much pricier car, the hefty rear doors open nice and wide for easy access, and there are handy storage spaces everywhere. These include a big air-conditioned glovebox, a useful cubby ahead of your gear lever, and positively gargantuan door bins.
The boot, meanwhile, measures an impressive 590-litres. Fold the rear seats down and you can extend it to a show-stopping 1,580-litres.
Equipment and safety of the Skoda Octavia Hatchback
Standard kit is plentiful on all models, with even entry-level models getting a USB port, a digital radio, a trip computer, Bluetooth, and that essential air conditioning.
The SE model adds electric rear windows, dual-zone climate control and a few nifty safety features, such as driver fatigue sensor, while the Green Line III trim adds fuel-saving tech, such as low-resistance tyres.
The SE Sport chucks in 17" alloys, sat nav, cruise control and LED daytime running lights, while the range-topping Laurin & Klement trim rounds things off with 18" alloys, brown suede and leather Alcantara seats and xenon headlights.
Is the Skoda Octavia Hatchback safe? You bet. It scored all five stars when crash-tested by Euro NCAP, and its safety kit includes driver fatigue warning on some models, an eCall system that alerts the emergency services if you have a collision, as well as electronic stability control and seven airbags.
Costs of the Skoda Octavia Hatchback
Prices for the new car start out from £17,195 and rise to £28,995. If you prefer to lease, you can pick up a deal from just £140 + VAT per month. For more information on our leasing deals, check out our page here.
In terms of its running costs, all models return over 50mpg. For such a big car, that's impressive. The most frugal engine of the range is the 1.6-litre TDI 108bhp diesel, which returns 72.4mpg officially. This number is only possible if you stick to the 16" alloys, however.
OSV prefers the bigger 2.0-litre TDI diesel, and it only costs a bit more to run, returning as it does 70.6mpg.
The turbocharged 1.0-litre 113bhp engine looks the best bet among the petrols. It's performative, and returns an acceptable 62mpg. The more powerful 1.5-litre TSI 148bhp petrol unit, meanwhile, is good for 57.7mpg.
Pros and Cons of the Skoda Octavia Hatchback
Handsome
Skoda's most assured looking car ever?
Spacious
The amount of interior space is dizzying. It's vast, with the Octavia setting new class-standards.
Efficient
Efficient and economical are the bywords, with even the boisterous 1.5-litre petrol engine delivering 148bhp while returning 57mpg.
More Expensive
The Octavia has improved, and the price tag has been adjusted to match that.
Unexciting Driving Experience
Perhaps it's the biggest let down is that, despite having the look and feel of a large exec saloon, it drives nothing like one.
Skoda Octavia Hatchback vs Ford Mondeo Hatchback vs Citroen DS 5 Hatchback
Let's see how the car measures up against its rivals in the comparison section of our 2017 Skoda Octavia Hatchback review.
Skoda Octavia Hatchback vs Ford Mondeo Hatchback
The new Ford Mondeo Hatchback is an austere, refined and impressively comfortable family car that's capable of giving the Skoda a serious run for its money.
Ford has made a few changes to their Mondeo. Certainly, it's never looked as commanding. It's also never been as comfortable and relaxing.
On the other hand, this drive to make the Mondeo more grown-up has meant that the brand has watered down it's driving experience. It's just not as engaging as it used to be. The steering is lighter and quicker, which has obvious advantages in the town. But it has less feedback and won't fill you with confidence as you approach bends.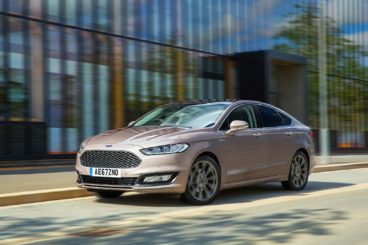 In terms of the engines, there are a couple of petrols to choose from, with the 1.5-litre EcoBoost our top pick. It can do 0-62 in almost 9.0 seconds and is affordable to run.
A 2.0-litre 178bhp diesel engine is capable of hauling the Ford Mondeo Hatchback along from rest to 62mph in 8.3 seconds, but it never feels as fast as that. Moreover, there is always the unnerving worry that it's going to stall in the town, where it never feels flexible.
If you want to go faster, a 2.0-litre 207bhp bi-turbo does 0-62 in 7.9 seconds.
When it comes to running costs, the 1.5-litre EcoBoost can return 48.7mpg economy at best, though a smaller 1.0-litre EcoBoost petrol engine is cheaper still, and can return 55.4mpg. For such a large car, that's impressive. It's not as impressive as a 1.5-litre diesel engine, which can return as much as 78.5mpg economy while emitting less than 100g/km of CO2.
Inside, the new Mondeo is better built than last time and feels more comfortable. Ford is on a mission to make the car feel and look more upmarket, and to a large degree they've succeeded. The standard of the materials used is high, refinement is excellent, while the soft-touch instrument panel and laser-cut quilted leather seats are highlights.
Is the Ford Mondeo Hatchback practical? It's bigger than last time, with our only criticism being restricted headroom for the unfortunate middle passenger. Apart from that, it's a genuinely accommodating car.
There are plenty of storage spaces here and there, room for five adults to get comfy, and a 550-litre boot. That's 22-litres bigger than last time, and it can grow to 1,466 by folding the rear seats.
Price:
Skoda – £17,195 – £28,995
Ford – £19,445 – £31,200
Skoda Octavia Hatchback vs Citroen DS 5 Hatchback
The new Citroen DS 5 Hatchback is one of Citroen's most handsome cars out on the road at the moment, and it matches its classy exterior with an equally classy cabin.
The DS 5 isn't what you could call entertaining, even if its suspension borders on the firmer side of things. Go for the 18 or 19" alloys, and the ride will become noticeably harsh. Still, Citroen has worked hard to improved the suspension setup, but air suspension is still missing.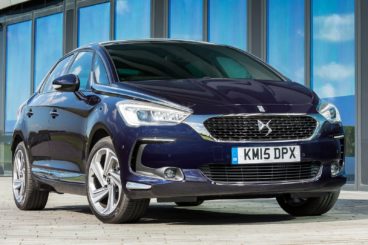 In terms of the engines, there is plenty to choose from. A 2.0-litre BlueHDi diesel is a smart choice. It develops 148bhp, does 0-62 in 10.4 seconds and can return 68.9mpg economy.
A bigger 2.0-litre BlueHDI 180 diesel model doesn't penalise you too much more at the pumps, but produces 178bhp and completes the 0-62 dash in less than 10.0 seconds.
The only petrol available is a THP 165 engine that's worth overlooking unless you really want a petrol. It returns a disappointing 47.9mpg at best, develops 163bhp and takes 10.4 seconds to do 0-62.
The hybrid will be overlooked by most buyers too, despite returning over 72mpg. It's also quick, and can cover the 0-62 gallop in 9.3 seconds, but costs more than £30,000 to buy outright.
Inside, the new Citroen DS 5 Hatchback impresses with its comfort and levels of quality. The suspension is a bit firmer than we'd like, but supportive seats help to offset that somewhat. Insulation is also good.
The dashboard is very driver focused, coming as it does with a wraparound design. There are fewer buttons than last time, which means the dash looks a lot cleaner and smarter, and while there are scratchier plastics here and there, the overall quality is high.
It's a practical car, too. Read headroom is compromised by a swooping roofline, but the driver and their passenger will be perfectly fine. Leg and elbow room is good wherever you are, while we have no complaints with cabin storage (unless we're nitpicking, in which case we'd say the glovebox should be a bit bigger)
The boot, meanwhile, measures 465-litres, which makes it by far the smallest in this class. Opt for the hybrid model, and the luggage capacity is 325-litres.
Price:
Citroen – £28,150 – £34,400
Verdict of our 2017 Skoda Octavia Hatchback review
Are Skoda's destined to be the alternative choice? If they keep improving and getting this good – no. Offering more value and more space than rivals, the Octavia has taken things up a notch. However, with all that comes with a bigger price tag. If you can stretch your budget, the trusted, practical, handsome and efficient Skoda Octavia Hatchback is a worthy choice.
When you lease a car with OSV there are no hidden costs, request a call back and we'll find you a finance, lease or purchasing deal designed just for you.