Review Of The Subaru Levorg Sport Tourer
The new Subaru Levorg Sport Tourer is arguably the brands most handsome car out on the road at the moment. It's good to drive, looks great and boasts lots of practicality. For families, it's an intriguing left-field choice.
But does it have enough to oust more familiar rivals?
There are no diesels on offer, which might put some buyers off. Instead, you get a 1.6-litre petrol engine that's paired up with a niggling CVT automatic transmission. There is also just the one trim level available, but it's stocked with more standard kit than rivals.
OSV takes a closer look at what it's all about with our 2017 Subaru Levorg Sports Tourer review.
Subaru is an evocative name for certain buyers who remember with misty eyes the days when the Impreza was the car-to-beat on late nineties rally car video games. Although the models Subaru offer these days are very different to that halcyon era, they've decided to retain some of their heritage with the Levorg.
It comes in the form of its suspension, with Subaru borrowing some components from their WRX STI rally model. On the road, they make a significant difference. For such a large car that should by nature be awkward to drive, it actually handles well in the city.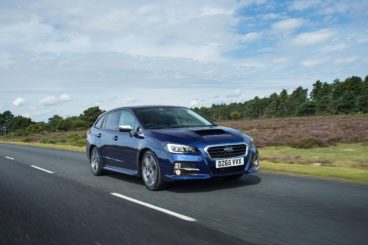 The four-wheel-drive system arms it with strong grip, and there is barely any body roll as you zoom around corners. This is impressive from a car that's not exactly sporty.
There are caveats, though. The steering is too light numb, which will undermine your confidence, while the raised driving position will be problematic for some buyers. Out in the country, the Levorg Sport Tourer is not quite as expressive as you'd like.
The turbocharged 1.6-litre petrol engine is decent, but it's a shame that it's the only choice. When you pay almost £30,000 for a car, you expect to have a selection of engines to choose from. It develops 168bhp, and can get you from rest to 62mph in an impressive 8.9 seconds, but it's let down by a jerky CVT automatic gearbox that kills its responsiveness.
Moreover, it combines with the four-wheel-drive system to bump up the cars running costs. Still, it's quieter than expected.
All in all, we think Subaru have missed a trick by not adding a diesel option. In so doing, they've cut the car off from a long list of potential buyers.
Subaru Levorg Sport Tourer Interior, Design & Build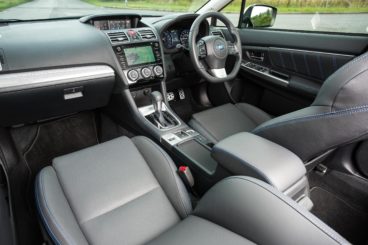 Its interior is hit and miss. On the one hand, it's comfortable, refined and quiet. On the other, its style and quality can't compete with rivals.
This is largely to be expected from a brand that's been going down a different route to the likes of Ford and Volkswagen for a while now. Whereas they put the focus on style and quality, Subaru is very much focused on functionality.
And, hey, this cabin does a job. Its layout is simple, solid and tasteful, and moreover should last a few years. Is it attractive? Not really, but it's well insulated, easy to live in and well-equipped.
That said, if you can't handle yawningly dull, grey hard plastics, you'd be better off looking elsewhere.
Stick with it, though, and you'll get an impressively practical family car. Storage space is good, and includes a big glovebox and some deep door bins, while the doors open wide for easy access. The car is set pretty low to the ground, too.
The steering wheel adjusts in and out, as well as up and down, while the front seats are eight-way adjustable. Getting comfy is easy.
The boot measures 522-litres, with extra luggage capacity coming underneath. Its square shape ensures great usability, while the lip is level. Fold the rear seats, and you can extend its size to 1,446-litres.
The Subaru Levorg makes for a good tower, and is capable of towing weight of up to 1,500kg.
Equipment & Safety Of The Subaru Levorg Sport Tourer
There is only one trim level available, and it's well stocked. Its standard kit includes aluminium pedals, a DAB radio, sat-nav, USB ports, a sport body kit, 18" alloys, a leather steering wheel, dual-zone air conditioning, eight-way adjustable leather seats, keyless entry and start, as well as rain-sensing wipers and cruise control.
There isn't much in the way of optional extras, but the list includes mats, ski rack and tow bars. Mostly practical stuff.
Is the Subaru Levorg Sport Tourer safe? It scored all five stars when crash-tested by Euro NCAP, and comes fitted with a few advanced safety features. These include Eyesight Driver assistance, as well as pre-collision braking. Each model also gets lane-keeping assistance and adaptive cruise control.
Costs Of The Subaru Levorg Sport Tourer
Prices for the new car start out from £29,995. If you prefer to lease, you can pick up a deal from £451 + VAT per month. For more information on our leasing deals, check out our page here.
In terms of its running costs, the Subaru Levorg Sport Tourer doesn't fare too well. There are no diesels available and no manual gearbox, which leaves you with a CVT auto and a 1.6-litre petrol engine that returns 38.9mpg at best. It also emits over 160g/km of CO2, which results in a yearly road tax bill of £180.
Pros and Cons Of The Subaru Levorg Sport Tourer
Standard Four-Wheel-Drive
It's a good system that provides plenty of grip.
Strong Engine
The 1.6-litre petrol engine is the only one available, but it's quick, keeps body roll to a minimum and doesn't make much noise.
Safe
It's a sturdy machine that scored 5/5 when crash tested by Euro NCAP, and it comes equipped with a good amount of safety features.
High Running Costs
The best economy you'll return is 38.9mpg – and even that's on a good day.
No Diesel Option
Engine choice is non-existent.
Subaru Levorg Sport Tourer vs Volkswagen Passat Estate vs Skoda Octavia Estate
Let's see how the car fares against its rivals in the comparison section of our 2017 Subaru Levorg Sport Tourer review.
Subaru Levorg Sport Tourer vs Volkswagen Passat Estate
The new Volkswagen Passat Estate is an assured all-rounder that's handsome, upmarket – and relaxing.
The only reason we'd be tempted not to give this austere family car 5/5 is that it gets pricey as you move up the trims – too pricey, some would argue. Moreover, some safety kit that should be standard isn't.
Apart from that, it's near-faultless. On the road, the Passat Estate has impeccable manners, where it's refined, responsive and quiet. It won't rock your socks, but if you want to relax, take it easy and feel good, this is the large family car to do it in.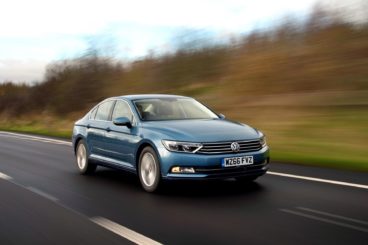 It weighs 85k less than last time, too, which means handling is better. Despite its size, it's fairly agile, and the steering is weightier.
All the engines are powerful, with the base-level 1.6-litre TDI diesel unit even giving it some welly. A 2.0-litre TDI is our top pick, though. It develops 148bhp, does 0-62 in 8.9 seconds, and returns a spectacular 69.5mpg. It overtakes safely and with confidence, and copes well at speed.
Opt for the 187bhp variant of the same engine, and you can do 0-62 in 7.9 seconds, while the four-wheel-drive 237bhp version covers the 0-62 dash in 6.3 seconds.
Four petrol engines have been added for 2017, with all four coming with a choice of a 6-speed manual or a 7-speed dual-clutch automatic transmission. If you're lusting for some speed, the 2.0-litre 217bhp engine does 0-62 in 6.9 seconds, while a 178bhp variant of the same engine does it in 7.9 seconds.
These are thirsty engines that average around 45mpg, but a smaller 1.4-litre 148bhp petrol unit can return as much as 57.6mpg economy.
A hybrid engine rounds the range off with its 114bhp electric motor that combines with a turbocharged 1.4-litre 154bhp petrol engine to get you from a standstill to 62mph in 7.6 seconds. It's a heavy car that doesn't handle as well as the petrol and diesel models, but VW claims it will return as much as 166mpg while emitting 40g/km of CO2.
Inside, the Volkswagen Passat Estate mixes luxury with practicality to good effect. It's not a visually exciting cabin by any stretch of the imagination, but the quality of the materials and build quality is second to none.
Everything is just so well put together. There are soft plastics everywhere, an 8" touchscreen looks great, while controls are nicely laid out and are of a high standard.
In terms of how practical it is, how does a 650-litre boot that extends to 1,780-litres when the rear seats are folded, a huge glove box, huge, wide-opening rear doors, and more head, leg and knee room than last time sound?
Sure, there are MPVs that offer secret storage areas and overhead cubbies, but we have no complaints here.
Price:
Subaru – £29,995
Volkswagen – £23,200 – £38,385
Subaru Levorg Sport Tourer vs Skoda Octavia Estate
The new Skoda Octavia Estate is practical, well-built and offers lots of value for your hard-earned money.
On the road, the Octavia is relaxing and quiet, but won't excite you. It's capable, there is lots of grip on offer, and it's a car that always feels safe. Moreover, it never feels out of its depth, whether it's in a hectic city, on the motorway, or in the country.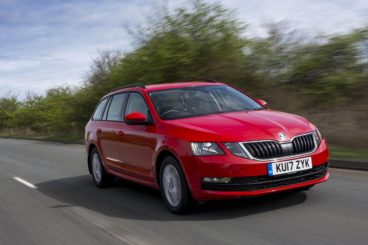 In terms of the engines, all are reasonably powerful. Take the entry-level 1.0-litre TSI petrol engine which, despite being the smallest in the range, can haul you from rest to 62mph in just 10.0 seconds flat. It's easy to drive and returns as much as 58.9mpg economy.
It's hard to argue with, but a 1.5-litre petrol engine benefits from cylinder deactivation to improve running costs further while offering more power. This 148bhp engine leaves rivals for dead with its 0-62 time of 8.0 seconds.
However, the last word in the performance stakes must go to the Skoda Octavia VRS Estate, a sporty variant of the car that does 0-62 in 6.9 seconds if you opt for the petrol version. Go for the diesel, and it develops 181bhp, and can thrust you from a standstill to 62mph in 8.0 seconds.
Rounding off the range is a pair of diesels. Capable of doing 0-62 in 10.2 seconds, a 1.6-litre TDI diesel is the cheapest to run, and can return 72.4mpg. If you want a bit more muscle, a 2.0-litre diesel develops 148bhp, does 0-62 in 8.5 seconds, and returns 65.7mpg economy.
Inside, the Skoda Octavia Estates stiffer suspension (it's stiffer than the hatchback's) doesn't diminish the car's comfort levels. This is a relaxed place to spend your time on the road. Insulation is good, although the diesels do make a noise when you put your foot down.
Also, if you pick the larger alloys, the ride quality will be bumpier.
The dash is a bit plain, but it's been designed for ease of use. The quality of the materials is good, with evidence of soft-touch plastics here and there, and standard kit for all models includes air conditioning, an 8" touchscreen, a cooled glovebox and a DAB radio.
The car is as practical as cars like this come. You are swathed in space, with five adults well accommodated. Head and legroom are in abundance, with only the middle-seated passenger having any trouble (the central transmission tunnel is an issue).
Storage cubbies are dotted around the place to help you keep it clean and tidy, while the boot measures an impressive 610-litres. There are some daddy's in this review, but despite its hefty size, the Octavia is still beaten for load capacity by the Passat. Still, you can fold the rear seats to extend it to 1,740-litres, and it comes with a handy false floor.
Price:
Skoda – £18,395 – £30,395
Verdict Of Our 2017 Subaru Levorg Sport Tourer
If you're already a loyal Subaru buyer, there isn't really a good enough reason not to invest in this one. For new customers considering a Subaru, its standard four-wheel-drive system is excellent, its solitary engine is one of the best in this class, and practicality isn't a problem.
With more engine choice and a better image, the new Subaru Levorg Sport Tourer wouldn't be so far out on the edge of the market.
Get in touch to have a chat about your new car
Give one of our helpful team a call to find your perfect vehicle.
ARE YOU INTERESTED IN GETTING A
Estate
?
Get in touch with us on 01903 538835 or request a call back. We look forward to hearing from you.