Review Of The Subaru WRX STI Saloon
Fancy a family-friendly high-performance car?
The new Subaru WRX STI Saloon is the closest thing to the iconic Impreza of the late nineties that Subaru has got in their ranks right now. It looks sharp, it's entertaining to drive, and offers four-wheel-drive grip.
If you're a big fan of the brand, it's easily the most exciting car they've released in a while.
As a bonus, it's also relatively affordable – for 300bhp, you only need to pay just over £30,000. However, like a lot of fast and furious machines of a certain ilk, this one suffers from a poor interior. It also costs a bomb to run.
OSV takes a closer look at what it's all about with our 2017 Subaru WRX STI Saloon review.
As mentioned, almost 300bhp for around £30,000 is a good deal and very hard to find elsewhere in this class. Add to that it's grippy four-wheel-drive and the Subaru pretty much has this whole market to itself.
It comes with an accurate and easy to operate 6-speed manual transmission too. It'll be a tad frustrating for some of you that the steering and clutch are undeniably heavy, but they suit the car's explosive character.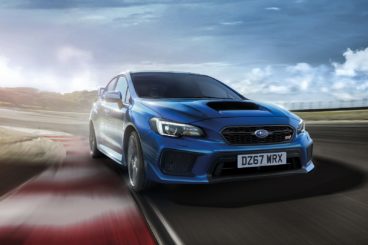 The four-wheel-drive system is excellent. It provides you with lots of grip, letting you take bends at pulsating speeds you wouldn't even consider it a lesser animal. It's grippy in wet conditions too, meaning you never need to lose your nerve.
The WRX STI Saloon is powered by a turbocharged 2.5-litre petrol engine that can motor from rest to 62mph in 5.0 seconds flat. At lower revs it does feel a bit sluggish, but once you get going, it's a proper firecracker that produces a surge of acceleration like few others at this price point.
On twisting country lanes it feels fast, and its suspension is firm enough to minimise body lean in corners. The car also comes with body-hugging seats so that you aren't thrown around the place like a rag doll.
There is only one trim available. While this negates any choice, it means that all models get the same high-performance and strong as a bear Brembo brakes. All models get a smart torque vectoring system too which lets you take bends even faster than you normally might dare.
It all adds up to a car that has been much improved on last time. Subaru listened to their customers and have shorn up the four-wheel-drive system, the suspension and the brakes. There are now few – if any – saloons as exciting as this at this price point.
Subaru WRX STI Saloon Interior, Design & Build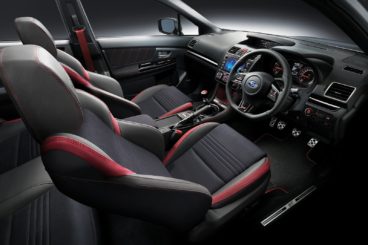 The WRX STI Saloon is very similar to a rally car, and as such it comes with an overly firm suspension. We wouldn't say that it's too hard to live with, but there are comfier cars in this sector.
The interior is its weakest area. The plastics are of average and even poor quality, although everything is logically laid out and the cabin is user-friendly. A brand new 8" infotainment screen is included in all models.
The sticking point for some buyers might be that the Subaru isn't the kind of car you'd buy if you'll be covering long distances a lot. It's a car to have some fun with at the weekend – but that really is about it.
There are some nice touches inside, such as the figure-hugging Recaro sports seats that are partly covered in suede and partly covered in leather. Moreover, the super strong four-wheel-drive system means that discomfort isn't as bad as it could have been.
Visibility is decent but not excellent. A large boot spoiler looks great but ruins your view a little, but it's a shame that parking sensors aren't available.
In terms of how practical the Subaru WRX STI Saloon is, it gets our thumbs up. Five people can squeeze inside, but four adults will get the most out of it in terms of comfort. Upfront, the driver and their passenger have plenty of room.
The boot measures an impressive 460-litres, which compares favourably to a lot of rivals. A space-saver wheel comes as standard, too.
Storage space is good – you get two handy central cubbies and a large glovebox, as well as various other cubbies here and there.
Equipment & Safety Of The Subaru WRX STI Saloon
With only one trim available, all models get the same standard kit. This includes black 19" alloys, electric windows, four exhaust pipes, tinted rear windows, LED head and tail lights, air conditioning and cruise control.
The car is safe, although Euro NCAP is still to crash test it. Its standard safety kit includes airbags, side door reinforcement beams, a tyre-pressure monitoring system, Brembo anti-lock brakes, two ISOFIX child seat mount points, four-wheel-drive, as well as whiplash-reducing seats.
Costs Of The Subaru WRX STI Saloon
Prices for the new car start out from £31,995. If you prefer to lease, you can pick up a deal from £358 + VAT per month. For more information on our leasing deals, check out our page here.
In terms of its running costs, they're almost what you'd expect from a performance car – just a bit worse. The best the WRX STI can return is 27.2mpg, which makes it significantly more expensive to run than its rivals.
Worse still, that's the official figure only. In real-world conditions, you'll be looking at returns averaging 20mpg while emitting 165g/km of CO2. Tax, meanwhile, will set you back £140 a year.
Pros and Cons Of The Subaru WRX STI Saloon
Powerful
For fans of the nineties Impreza rally car, this Subaru is the closest thing to it.
Useful
There is room for five people, the boot measures 460-litres, and the amount of standard kit is good.
A Niche Choice
If you want something a bit left field, the Subaru is the niche choice in the hot hatch sector.
Looks Dated
It's the closest thing to the nineties Impreza rally car – and it looks almost as old.
Expensive To Run
Buyers will struggle to return over 20mpg, a figure which fares awfully compared to rivals.
Subaru WRX STI Saloon vs Volkswagen Golf R vs Seat Leon Cupra
Let's see how the car fares in the comparison section of our 2017 Subaru WRX STI Saloon review.
Subaru WRX STI Saloon vs Volkswagen Golf R
The new Volkswagen Golf R is fast, fun and stylish. It's such a strong rival to the Subaru that you might have a hard time deciding between the two.
On the road, there are few cars as deliriously entertaining as this at this price point. The steering is a bit uncommunicative, but it's well-weighted, the brakes are strong and there is plenty of grip on offer.
Moreover, despite being a tad uncommunicative, the steering always feels direct and natural. Body lean is reduced thanks to the car's lowered stance, but to soften up the firm suspension you'll need to add the £800 Dynamic Chassis Control.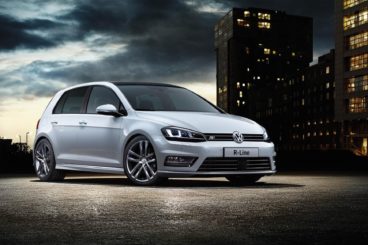 Four-wheel-drive, however, is standard.
In terms of the engines, there is only one to choose from – a turbocharged 2.0-litre petrol engine that's had its horsepower bumped up to 306bhp for 2017. It dispenses with 0-62 in just 4.6 seconds and comes paired up with a DSG auto 'box.
A lot of the time, it will feel too fast, and indeed its speeds are barely legal. Electronic stability control restricts what you can do at times, but you can switch it off whenever you want more flexibility.
In terms of running costs, adding turbochargers means that VW has been able to keep the engines size down, as well as its mpg figures. The Volkswagen Golf R is capable of returning 40.4mpg economy and emits 163g/km of CO2 with the DSG auto 'box. Opt for the manual, and those numbers drop to 37.7mpg and rise to 180g/km of CO2.
Anyone expecting the Golf R to be a bit more special and different inside will be in for a disappointment – it's pretty much the same as the standard Golf. The dashboard is tastefully done but surely too dull for a hot hatch that whizzes from rest to 62 in 4.6 seconds.
The brands latest and greatest 9" infotainment system are standard, as is a trip computer and heated seats.
Is the Volkswagen Golf R Hatch practical? It's available with either three or five doors, with the latter offering more versatility. Four adults can sit in either model in relative comfort, while leg and headroom are decent.
The car isn't short of a storage space or two, but the Golf R's 340-litre boot is smaller than the standard Golf's – a consequence of adding four-wheel-drive.
Price:
Subaru – £31,995
Volkswagen – £32,710 – £34,650
Subaru WRX STI Saloon vs SEAT Leon Cupra
The new SEAT Leon Cupra is another top-notch performer from the Spanish brand that's sharply styled, rapid and fun to be around.
SEAT are at their best when they're crafting affordable hot hatches like this, the high performance, even sexier version of the already sexy SEAT Leon. It's more expensive to run, with the most frugal model returning 42.2mpg at best. But if you want to raise Hell for just over £30,000, there aren't many better cars to do it in.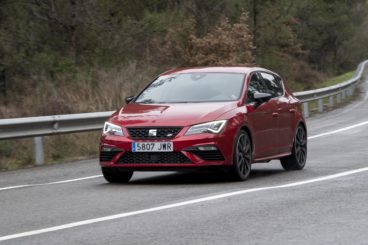 Its turbocharged 2.0-litre petrol engine is actually lifted from the VW Golf GTI. SEAT, however, have added a bit more power, topping it up to 296bhp. Cheeky. That's enough to get you from rest to 62mph in 5.6 seconds.
That's quick, though still nowhere near as quick as the VW Golf R. It's also not quite as entertaining to drive. The steering could benefit from being more direct, while the powerful brakes lack feel.
Essentially, the SEAT Leon Cupra is a very powerful car that gets its kicks from pure speed than driving dynamics.
In term of running costs, the three-door model can return 42.2mpg economy at best, while the Cupra 300 SC manual – which is the cheapest to buy – averages 40.9mpg.
All models cost £140 per year in road tax, which is par for the course.
Inside, we're going to make a convincing case for this being SEAT's best ever interior. It's super comfortable, with its adjustable suspension helping to this end, and the car has caught the VW Golf up when it comes to the quality of the materials used. It certainly knocks the spots off the Subaru.
The dashboard is gorgeously arranged, the figure-hugging sports seats add a racy flavour, and the cabin is on the whole solidly built.
Our only complaint? It lacks design flair.
In terms of how practical it is, four adults can sit in comfort, but there is room for a fifth passenger – albeit not much. And while being billed as a high-performance car, it's aimed at families. In fact, it scooped the gong for Best Family Car at Carbuyer's 2014 awards. The wide-opening does make access easy, leg and headroom are good, and the boot measures a respectable 380-litres.
However, that's miles off the Subaru.
Price:
SEAT – £30,155 – £31,805
Verdict Of Our 2017 Subaru WRX STI Saloon
Subaru knows a thing or two about fast cars, and this is their current magnum opus. It's family friendly, quick, powerful – and as expensive to run as all high-performance cars are.
If you don't mind taking a hit at the pumps, the new Subaru WRX STI Saloon is an exciting, explosive and alternative choice that will help you to stand out.
When you lease a car with OSV there are no hidden costs, request a call back and we'll find you a finance, lease or purchasing deal designed just for you.