Review Of The Suzuki Jimny Estate
The new Suzuki Jimny Estate looks like a mini off-roader. Unsurprisingly, it boasts all the qualities and attributes you'd expect of a mini off-roader – cheap to run, cheap to buy, tenacious and tough.
It's a straight-up, no-frills, no-nonsense 4×4 in the traditional mould that does without any modern driving aids.
Despite its tenacity off-road, though, it's starting to show signs of its age. As such, it's got the feel of an old man who still wants to prove he can do twelve rounds in a boxing ring. While it probably can't do twelve rounds, it does, however, come close. It's a tough cookie in poor conditions, and comes with four-wheel drive as standard.
OSV takes a closer look at what it's all about with our 2017 Suzuki Jimny review.
Fancy rocking up in Suzuki's slowest model? That's what you'll get if you invest in the Jimny, a willing companion that's saddled with an underwhelming engine. If you'll be spending most of your time on-road, it's a car that's worth overlooking in favour of more assured rivals.
Excess body lean in bends is an issue, and despite coming with four-wheel-drive, there isn't as much grip as you'd like.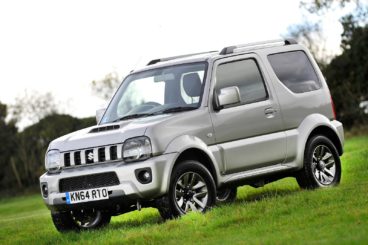 That said, its four-wheel-drive system does prove useful off-road. Combined with a low-ratio gearbox, it's able to make mince meat of extreme conditions that could embarrass much bigger SUVs. And it does this without the need for electronic driving aids and gizmos. It's very much a 4×4 in the traditional sense.
There are no diesel engines to choose from and just the one petrol, a 1.3-litre unit that develops 84bhp. On paper, that isn't much at all. In the real world? It's even less.
Opting for the automatic gearbox means the car Suzuki Jimny Estate takes a leisurely 17.2 seconds to complete the 0-62 "dash." You can stick to the manual version if you wish, and doing so means you can complete the 0-62 sprint in a much more respectable – if still unimpressive – 14.1 seconds. Top speed is 87mph, while the auto version maxes out at 84mph.
Of course, speed isn't everything, but some of you might feel that the Jimny is taking the biscuit. In the town, it's bearable, but on the motorway you might find yourself getting a tad frustrated. It's also unrefined and noisy at higher speeds. Worse still, you have to really work the car hard to get anything out of it.
Suzuki Jimny Estate Interior, Design & Build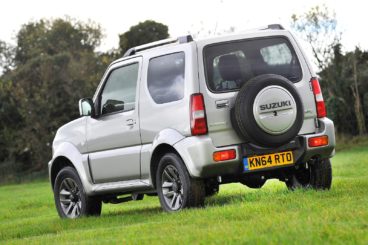 The interior is not the Jimny's strong suit. Its suspension is unbelievably rough and bouncy, and the ride quality is poor. Insulation is a problem too, with wind, road and engine noise entering the cabin without much to stop 'em.
The engine is especially problematic, primarily because it needs to be worked hard. And when you do whip it, it makes a racket.
The dashboard is showing its age as the Jimny Estate goes into its twentieth year. It's functional and simply designed, but the plastics used are cheap and hard. That said, buyers who need a rugged off-roader won't be complaining too much, as you don't need a fancy dashboard if you'll be getting your hands dirty.
The Suzuki doesn't fare too well on the usability front. It's tiny, measuring just 1,645mm in width and 3,657mm in length. It's tall at least, which means rear headroom is good. But legroom – or a lack of it – is an issue.
Still, its compact nature means it's simple enough to park, but rear parking sensors aren't standard.
The back seats are super cramped and not really suitable for adults. Kids can sit in them just fine, but they work best when folded down to extend the otherwise ludicrously minuscule 113-litre boot. Many will find this just isn't big enough, but folding the seats does increase its size to 816-litres.
Equipment & Safety Of The Suzuki Jimny Estate
Standard kit is nothing to write home about, and the Jimny is about as basic as basic does. The SZ3 model kicks things off with power steering, electric front windows, remote central locking, roof rails, steel wheels and front fog lamps. It's nice and functional but doesn't offer any creature comforts.
The SZ4 model rounds things off with a chrome-coloured trim, tinted rear glass, 15" alloys,  air conditioning, synthetic leather seats and a leather steering wheel.
A £310 Bluetooth hands-free phone kit might be a handy optional extra, but we think buyers will prioritise the £261 rear parking sensors.
Is the Suzuki Jimny safe? It hasn't been crash tested by Euro NCAP yet, and it's understandable for buyers to be concerned by its small stature and age. However, four-wheel-drive is standard on all models, while front fog lamps, driver and front-passenger airbags and emergency braking assistance are also standard.
Costs Of The Suzuki Jimny Estate
Prices for the new car start out from £12,999 and rise to £15,299. If you prefer to lease, you can pick up a deal from £217 + VAT per month. For more information on our leasing deals, check out our page here.
In terms of its running costs, the sole 1.3-litre engine is capable of returning 39.8mpg economy at best, and emits as much as 162g/km of CO2 if you opt for the manual transmission. Go for the automatic, and those numbers dip slightly. It's a thirsty engine that compares unfavourably to rivals, and what's worse is that you'll be shelling out as much as £205 a year in road tax if you pick the auto 'box.
It's cheap to insure, though, with the entry-level model occupying insurance group 7.
Pros and Cons Of The Suzuki Jimny Estate
Cute To Look At
It's friendly, inoffensive looks are hugely appealing.
It's Fun
It's an entertainer off-road and won't let you down on it, either.
Affordable
Prices start out from just under £13,000, which make it an absolute steal.
Dated Interior
It would have been nice if Suzuki had put a bit more thought into the cabin. The hard plastics don't look good, while the artificial leather is a sore point.
Expensive To Run
There is only one engine, and it won't even return 40mpg.
Suzuki Jimny Estate vs Honda CRV vs Toyota RAV4
Let's see how the car fares against its rivals in the comparison section of our 2017 Suzuki Jimny Estate review.
Suzuki Jimny Estate vs Honda CRV
The new Honda CRV is almost as good as things get in this sector. It looks impassive, is solidly built and comes packed with plenty of safety features.
One thing it isn't, though, is fun to drive. Should that be a deal breaker? It depends on who's asking, but for anyone looking for comfort other than driving accuracy, the CRV shapes up just fine on the road.
There are two-wheel and four-wheel-drive variants available, with the former feeling far more agile and nimble. The latter struggles with its extra weight, leans too much and is slow to react. It also comes with an unresponsive 9-speed automatic 'box, too.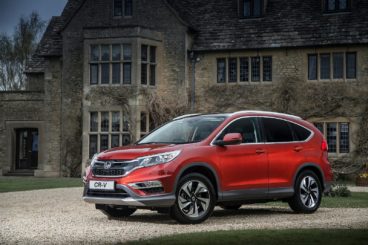 There are three engines available, with a 1.6-litre 118bhp diesel our top pick. It's not too loud when you first fire it up, and stays quiet on the move. It's the smallest engine in the range, but has enough in its tank to get you from rest to 62mph in 11.2 seconds.
The bigger diesel feels and sounds the same, but its extra power means you can complete the 0-62 dash in 9.6 seconds.
The solitary petrol engine is quieter and smoother, but it's also more expensive. It also comes with the sluggish four-wheel-drive system, which makes it difficult to recommend.
It's not exactly frugal either, and returns 39.2mpg at best. The smallest diesel, by contrast, can return as much as 64.2mpg and emits just 115g/km of CO2. The other diesel in the range adds the 9-speed automatic transmission and four-wheel-drive, and returns 55.4mpg economy.
Inside, the Honda CRV has its good and bad points. The good? It's well built, we like the swooping dashboard, and the cabin is quiet and comfortable. It even feels a bit upmarket.
The bad? Its design is dated, and a lot of the materials used are of a poor quality.
In terms of how practical it is, the Honda CRV certainly benefits from its SUV body style. There is enough leg and headroom for all, the four-wheel-drive models double up as tow cars, and there is no central transmission tunnel to irritate the middle seated passenger.
There are also plenty of storage spaces, including three cup holders and a big bin between the driver and their passengers. A light-giving panoramic sunroof is optional, while the boot measures a class-leading 589-litres. Fold Honda's rear seats flat at just one pull of the lever, and you can extend this to 1,669-litres.
Price:
Suzuki – £12,999 – £15,299
Honda – £23,760 – £37,065
Suzuki Jimny Estate vs Toyota RAV4
The new Toyota RAV4 is handsome, well-built and super practical.
There are sportier cars in this sector, but not many are as comfortable as this one. That said, anyone who has bought a RAV4 in the past will be disappointed by how different it is to drive: It used to be fun, but not anymore.
It comes with a Sport mode, but the steering remains vague. However, if you're looking for a comfy car for the family, it's got a lot of appeal.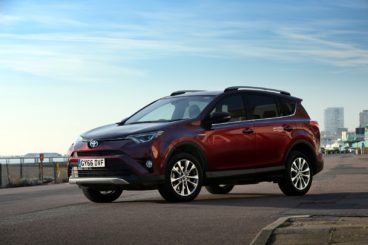 There are three engines to choose from, starting with a four-wheel-drive petrol that can do 0-62 in 10.7 seconds. Those are the numbers on paper at least, but its sluggish CVT automatic gearbox causes it to feel slower.
Next up is a more urgent two-wheel-drive 2.0-litre 141bhp diesel engine that is more efficient than its predecessor. With a 0-62 time of 9.6 seconds, it's just as quick, too.
Rounding off the selection of engines is a hybrid unit that comes with either two or four-wheel-drive (it's the only RAV4 to offer this option). It's quick, and can do 0-62 in 8.4 seconds, but its extra weight means it can't handle as well as the petrol or the diesel.
In terms of running costs, selecting a two-wheel-drive model will keep them down. The 2.0-litre two-wheel-drive diesel returns 60mpg and emits 123g/km of CO2, while the two-wheel-drive hybrid returns 57.6mpg at best.
The four-wheel-drive hybrid is good for returns of a 55.4mpg economy, while the petrol returns 43.5mpg at best.
Inside, the Toyota RAV4 makes for a pretty good companion on long distance trips. Its rear seats recline, and there is plenty of headroom for all. However, the ride is soft and potholes will present a problem.
Insulation is good, though, but you'd need to pick the petrol engine if you don't want to have to deal with intrusive engine noise.
The dash is made from robust materials that look fine, but some of the controls look dated.
Is the Toyota RAV4 practical? The windows combine with a high driving position for excellent visibility, a reversing camera makes parking a cinch, while the expanded dimensions and reclining rear seats means that all your passengers should be comfortable enough.
The boot, meanwhile, measures 547-litres. It comes with an underfloor storage area that itself offers an extra 100-litres of space, while Excel and Icon models come with a power-operated boot.
Price:
Toyota – £27,290 – £33,570
Verdict Of Our 2017 Suzuki Jimny Estate
Cute, tough and small – the Jimny is in a league of its own. It's like a super mini-crossover that's ideal for drivers who want the ruggedness of a bigger SUV, but don't want the hassle of driving or paying for one. If that sounds ideal to you, the Suzuki Jimny Estate could be the bargain of the year at £12,999.
When you lease a car with OSV there are no hidden costs, request a call back and we'll find you a finance, lease or purchasing deal designed just for you.