Want to find over whether electric cars are worth it? Explore in this review which of the most popular electric cars comes out on top...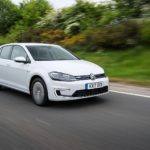 If you love the regular and super popular VW Golf but fancy making the switch to electricity, there's no reason why you couldn't love the new Volkswagen e-Golf Hatchback, too. It's got all the hallmarks of a traditional Golf - including top-notch build quality and reliability - and emits absolutely no CO2 and gets energy-saving regenerative brakes as standard.
The 2014 Skoda Octavia Scout from the results of this Top Gear test drive is a good, honest car.
This is the brand new, second-generation Skoda Octavia Scout. You're talking new Golf, new Leon, new A3, new everything, practically. This new Octavia Scout will only be offered with two diesel engines in the UK, a 2.0-litre four-pot with 147bhp, and the range-topping 2.0-litre with 181bhp and 280lb ft of torque.
The Scout is based on the Octavia Estate, and so brings with it those dynamic nuances: light, slightly numb steering, and a decent chassis that doesn't excite but doesn't disappoint. Sure, it bobs around on its springs a bit, but this isn't a car you buy to tackle the fearsome Maggots-Becketts series of corners at Silverstone. And because it's just a bit softer, it means you can coast around from muddy path to front door with barely any stresses on your spine. It's wonderfully relaxing. The [...]