Fancy a Honda Civic Hatchback? In our review, OSV takes a look at the Honda Civic Hatchback's pros, cons and compares it to …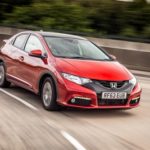 The new Honda Civic Hatchback looks a bit different to the more conventionally-styled hatchback's in this sector. It comes with an excellent track record of reliability, and makes a strong alternative to the usual suspects in this market - the Ford Focus et cetera. Over the years, the Civic has cultivated a reputation for being affordable and dependable. It's a wholesome family car you can rely on to get you guys from A to B without any hassle, and it's always been a joy to ride in. In 2016, it continued to do what it's always done best. This means that making your mind up over which hatchback to buy is going to be tricky! OSV takes a closer look at what it's all about with our Honda Civic Hatchback review.
Japanese manufacturer, Honda, saw that in order to conquer the European market they would have to embrace diesel technology – something they've been pretty passionate about ignoring for quite some time. But this is the modern era and that pig headed approach will most likely result in losing their place in the metaphorical championship – the result? Honda have become more mainstream with the Honda Civic 1.6 i-DTEC.
When you're looking for diesel power in a hatch or an estate you'll often be confronted with 2 extremes – somewhat unexciting 1.6ltr units or pricier and inefficient 2.0ltr units. The cleverness behind the 120ps 1.6ltr i-DTEC diesel engine is that you no longer have to commit to an extreme in this scale and it's available in the 9th generation Honda Civic Hatch and Tourer estate models. Yes it is possible to have decent performance and economy at the same time – that's exactly what Honda's