The Qashqai vs. the Sportage; Which is better?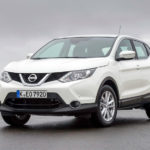 The Nissan Qashqai was one of the first cars to popularise the 'crossover' genre. The genre, along with the Qashqai, has since become a huge success. It wasn't long before the Qashqai had rivals, and strong ones at that. One of its main competitors is the Kia Sportage, the car that put the South Korean brand back on the map. While the Sportage and the Qashqai have both stolen the hearts of many, including ours, there can only be one winner. And, for me, it's the Qashqai. Let's take a look at the reasons why I think the Nissan Qashqai is better than the Kia Sportage. When I found out that the Qashqai had scored highly (or low) on its CO2 emissions, I knew we were onto a winner. The two-wheel-drive 1.5 litre diesel holds the lowest CO2 rating at just 99g/km...
The2012 Kia Sportage lowdown
The recent JD Power-What Car? Survey saw Kia Sportage emerge top in its segment, scoring five stars across all sections!
The success of this affordable five passenger 2012 Kia Sportage was attributed to the car's quality, great fuel economy and unmatched reliability.
With its low-line roof and very stylish headlights, the 2012 Kia Sportage also has safety features in abundance: active front head restraints, side-impact airbags, antilock brakes, electronic stability system and side curtain airbags for both rows of seats.
The 2012 Kia Sportage, with its amazing stylish exterior comes with a generous list of premium features, no matter which model.
There are three versions of the Sportage. The base vehicle brings with it air conditioning, power windows, locks and mirrors and 16-inch wheels. Moving up to the next models we can enjoy features like keyless start, Bluetooth, satellite radio, a USB port and steering-wheel audio and phone controls.
Top of the range [...]