For all the car news happening this week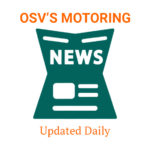 In need of a summary of the latest developments in the car world? We update this page daily to bring you the latest news and other fascinating insights, from park and ride to road signs.
The original Lamborghini Aventador was missing something don't you think? Well Kato-San, the man behind Japanese tuning shop Liberty Walk, thought so
Not many humans would look at the 691bhp, lozenge-shaped Lamborghini Aventador and conclude it needed a bit more visual bite. Renderings fresh from his computer show a £260, 000 blood-red Aventador that he'll cut, stretch, bash and rivet within an inch of its life, before presenting to the tuning world at the SEMA later this year.
First of all, you may notice that the expensively exotic carbon construction has been somewhat expanded. That's thanks to some additional bodywork screwed – yes, screwed! – on to accommodate some monster Toyo-wrapped wheels nestling snugly in the arches, thanks to a lower ride height. There are also new splitters front and rear, gaping sideskirts and a monster wing extending from the rear bumper – just like [...]