News for the week 22 July 2019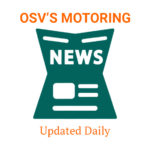 If you want to find out the latest in motoring news, you're in the right place. Updated everyday with the latest news and information in bite-sized pieces you can read while having an early-morning coffee or a snack.
Britain has some of the worst roads in the world, but damage caused to vehicles by potholes might be significantly reduced as Ford are developing technology to mitigate the effects potholes have on cars.
Ford's admirable endeavours are in response to data from the RAC who claim to have responded to over 25,000 pothole-related damages in the UK in 2015, representing a staggering increase of over 25% on the previous year.
Potholes cause an average of £300 worth of damage each time, and it is thought that the poor condition of UK and many European roads causes at least 1 out of 3 road accidents each year.
Ford are the first automotive company to respond to the issue, and have created a 1.2-mile test track that is filled with nasty potholes and other pesky road hazards that drivers constantly come across around the world. The road [...]