We look at the speed limit on the motorway and whether it has increased...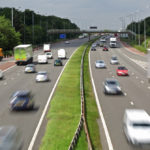 Love them or loathe them, motorways have become a big part of modern driving. Despite their intimidating look, motorways are actually hugely safe and, as long as you stick to the speed limit, there is no real reason to hate them. So what is the speed limit on the motorway? And has it increased? In this article, we look at what the speed limit is on a motorway, whether it has increased recently and tips on staying safe on the motorway...
Tips for keeping safe while driving on Country roads.