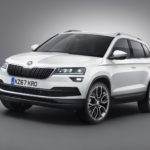 The number of SUVs in the list of the top twenty most popular vehicles has almost doubled since 2013, increasing from four to seven. However, new research by leading independent vehicle professionals, OSV Ltd, reveals that there seems to be a correlation in the growth in the number of people who think badly of the SUVs – and their drivers. Although just over a third (34%) of people said that they would consider buying an SUV in the future, more than half (54%) said that owners of these vehicles were some of the most annoying drivers on the road, a description most often used when referring to the driver of a more traditional 4x4.
If you want a unique looking car then take a look at the Kia Soul. There's plenty of choice though in this growing market
THE NEXT time someone tells you that modern cars all look alike, point them in the direction of the Kia Soul.
The new generation Kia Soul is a handsome-looking car.
The Korean compact SUV was launched in 2009 and its boxy shape immediately placed it in the "unusual" category, which it has had pretty much to itself since the Nissan Cube and Daihatsu Materia have been withdrawn from sale in Britain.
Yet it is fair to say that the Soul has not exactly set the British car market alight: in 2010, its best sales year, it sold 4,000 or so and the new car has a similarly modest target of 3,000 a year.
However, since the Soul's launch the compact SUV market [...]