We finally have an answer to the question we've all been asking...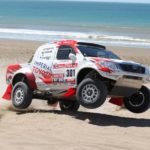 What is Brexit? What is the Electoral College? How to play Pokemon Go? How to move to Canada? How many remote control cars does it take to pull a full-sized Hilux? All burning questions, all desperate for answers. These were the the most commonly asked questions entered into Google of 2016. Okay, the last one wasn't but it's the one Toyota decided to answer in a new series of short films in which the off-roader is pitted against the "Hog Heaven" hero, Tamiya Hilux Bruiser 4X4...a remote controlled car. The Tamiya Hilux Bruiser 4X4 is a remote controlled car that was released in 1985. It has a 3 speed transmission and solid axle leaf spring suspension. It has a metal ladder frame chassis and a sleeper cab made of injection-molded ABS plastic. It even has clutch mechanisms and you can buy LEDs to make realistic lights.
The new Toyota Hilux is a handsome beast - and it lugs loads pretty well too!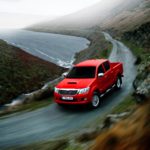 Toyota Hilux – it's a legendary name in the world of pick-up trucks. Well, the original tough guy pick-up truck is back. Originally launched way back in 1968, it's been twelve long years since the last fresh Toyota Hilux arrived, and with the pick-up market really evolving in the last year or so, the pressure is on Toyota to deliver a quality product that can go up against some improved and developed rivals. It also has to fend off predators that are yet to emerge - Mercedes-Benz and Renault both have their development teams working on pick-ups – so the legendary Toyota Hilux has to be prepared for the future too...