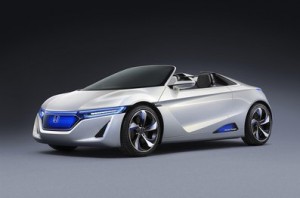 Honda is premiering the EV-STER, its new electric sports concept, at the Tokyo Motor Show this week.
Inspired by Honda's current mission to create innovate new transport solutions that are fun and exciting, the Honda EV-STER is designed to provide the thrill of becoming one with mobility.
A rear-wheel drive convertible, the Honda EV-STER is created with an eye on longer drives rather than the urban commute. It aims to satisfy the needs and pleasures of sports drivers.
And this is while maintaining the environmental performance that is such a flagship of Honda's current design. The Honda EV-STER fits into their Mobility Mix that is featuring a range of pioneering engineering solutions to current transport problems.

What sort of performance does the Honda EV-STER offer?
The lithium-ion battery gives acceleration from 0 to 60km/h in 5 seconds, and a driving range of up to 160 kilometres (roughly 99 miles) on a single charge. If a 200V outlet is used, the battery can be fully charged in under three hours.
Honda says that the concept model lets the driver adjust some of the vehicle functions, like motor output and suspension settings, to suit their needs and desires.
By using carbon materials for the body of the EV-STER, Honda have significantly reduced the car's weight, increasing the performance potential and reducing drain on battery life.
What about its style?
The Honda EV-STER's design is clearly of a piece with the company's new plug-in hybrid cruiser concept, the AC-X. The EV-STER takes the elegant and clean silver and blue colour theme of the AC-X and gives it a somewhat more muscular edge.
The front features a pleasing contrast between curves and lines, and has an arresting blue grille. Attention is drawn to the large tyres, with a modern twist on traditional sports-style spoked wheels. This emphasizes the EV-STER's low-slung, compact build.
From the rear, a slightly more futuristic influence is in evidence, as aerodynamics and design flair combine.
Inside, this space-age theme is even more prominent.
The Honda EV-STER's twin-level steering, topped with a high-tech instrument panel folding out around the driver, is likely to thrill anyone who ever dreamed of piloting one of the space craft in Star Wars.
The interior styling really does makes it look like a cockpit, enhanced by the long sleek lines and dramatic black and white elements, with the driver's seat being picked out in lime green.
Keep yourself updated with the latest news, photos and previews from the Tokyo Motor Show by liking us on facebook, following us on twitter or connecting with us on LinkedIn.
If you're interested in buying or leasing a new vehicle contact our sales team. Alternatively, visit our website where you will find new and used Honda's available for sale or on finance.
Thanks for visiting us today.

Latest posts by Andrew Kirkley
(see all)