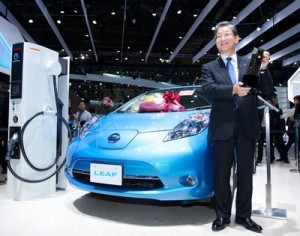 The Nissan LEAF is the first electric car to win the title, announced at this week's Tokyo Motor Show, adding to the 2011 European and World Car Of The Year awards.
Nissan's pioneering 100% electric design is the world's first affordable, mass-produced electric car, and went on sale in the UK earlier this year.
Nissan President and CEO, Carlos Ghosn says that the awards demonstrate that zero-emission cars are a competitive alternative to conventional ones.
The award hat-trick builds on Nissans enviable reputation, as the only other car to win more than one Car of the Year award was the Nissan Micra, in 1993.
What makes the Nissan LEAF Car of the Year?
For one, it is a wholly electric car that actually offers viable performance to make it a realistic option for real-world driving.
The five seater hatchback has a range of up to 109 miles, reaches a top speed of 90mph and can charge to 80% of capacity in less than thirty minutes.
This is delivered by Nissan's use of lithium-ion batteries and regenerative power, which also ensure a responsive and smooth drive.
Nissan were determined to make the LEAF competitive with traditional combustion engine powered vehicles, and so built the LEAF on a chassis that provides interior spaciousness with ample storage capacity.
With 20,000 models sold worldwide, Nissan calculate that the LEAF has reduced CO2 emissions by 7300 tons, as of November.
Even the design contributes to energy efficiency
The Nissan LEAF's appealing design, combining pared down lines with characterful bulging headlights, is the result of Nissan's 'Smart Fluidity' concept.
This links aesthetic ambitions with aerodynamic engineering, and helps provide the LEAF's range.
The LED headlights reduce weight and drag by splitting airflow, deflecting it from the wing mirrors. Plus, they only use about half the electricity of regular headlights.
And the Nissan LEAF design is full of cutting-edge technology
That the Nissan LEAF's cruise control comes with a speed limiter effectively destroys the argument of many naysayers, who believed that electric cars would never be able to travel fast enough to make them real rivals for fossil fuelled vehicles.
It also takes advantage of Nissan's remote connection technology. Drivers can use temperature control functions or control and monitor charging from their phone or computer.
The rear view camera aims to reduce the stress and difficulty of parking.
An optional extra even gives the Nissan LEAF its own solar energy cells, mounted on a rear spoiler.
Naturally, safety is not neglected. 5 airbags, ABS, EBD with brake assistance and Approaching Vehicle Sound for Pedestrians come as standard.
Keep yourself updated with the latest motoring news by liking us on facebook, following us on twitter or connecting with us on LinkedIn.
If you're interested in buying or leasing a new vehicle contact our sales team. Alternatively, visit our website where you will find new and used Nissan's available for sale or on finance.
Thanks for visiting us today.

Latest posts by Andrew Kirkley
(see all)