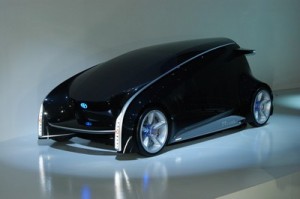 Toyota's Fun-Vii is a futuristic concept car that would've been beyond the imagination of even science fiction a few years ago.
Changing its appearance is as simple as downloading a phone app, making it the ultimately personalisable car. At a flick of a button, drivers can change the colour of their car body, putting an end to agonizing over paint choices.
The body can also display different content, reflecting what drivers are feeling and doing.
The interior is also adaptable to different moods and needs. Navigation information is seamlessly integrated with augmented reality.
The inevitable 'are we nearly there yet?' question is rendered obsolete through the car's cutting-edge 'navigation concierge'. The system gives passengers driving information through a vocal interface, leaving the driver free to concentrate on the road.
Smart technology allows sophisticated links with surroundings. Potential hazards can be identified well in advance, and it's even possible to connect with nearby friends.
Naturally Toyota's vision of increasing integration between driver and car extends to the inclusion of the latest technology for drive, control and multimedia systems. A network update function is inbuilt to make sure that the software is never out of date.
The Toyota Fun-Vii seats up to three people, and measures in at 4,020 mm long, 1,745 wide and 1,415 mm tall. Its wheelbase is 2,750 mm.
Fun-Vii stands for Fun Vehicle, interactive, internet and is one of several of Toyota's concept cars on their stand at the Tokyo Motor Show.
Other cars include the Toyota GT 86, a powerful new high-performance car building on Toyota's sports heritage, and the FCV-R and FT-EV III concepts.
Keep up to date with news, previews and photos from the Tokyo Motor show by liking us on facebook or following us on twitter.
If you're interested in buying or leasing a new vehicle contact our sales team. Alternatively, visit our website where you will find new and used Toyota's available for sale or on finance.
Thanks for visiting us.

Latest posts by Andrew Kirkley
(see all)