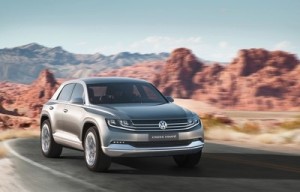 Volkswagen's new Cross Coupe reveals the company's concept for SUVs of the future. The Volkswagen Cross Coupe combines new all-wheel drive plug-in hybrid technological developments with the handling and appearance of a four-door coupe and an SUV.
Its premiere gives drivers the chance to see the first public display of Volkswagen's eagerly anticipated new 'modular transverse matrix' (MQB) modelling.
Designed by some of Volkswagen's top teams, the Cross Coupe couples the distinctive Volkswagen 'face' with brand-new design elements. These include a new grille, dramatic sloping angles at the rear, rugged bumpers and twin exhausts. It's also the first vehicle to sport the recently developed light clusters.
The combination of rear and fore electric motors with a TSI direct injection petrol engine enables strong acceleration, with 0 to 62 mph possible in seven seconds. Top speed is 125 mph, and the Cross Coupe can travel up to 40 km on electric power alone.
Further innovations in the powertrain result in a very low centre of gravity and a balanced spread of axle loading, enhancing the car's performance. This is made possible by the all-wheel drive system with the 'electric drive shaft' development. The flow of electric energy between front and rear motors replaces the standard drive shaft, freeing up room for the lithium ion battery.
The Volkswagen Cross Coupe's dimensions position it between the Golf and the Tiguan, although at 2630 mm it offers a longer wheelbase than either vehicle. Similarly, the overhangs are impressively short (855 mm at front and 860 mm at the rear).
Wide tracks of over 1,500 mm front and back emphasise the compact, dynamic look.
Off-road, the Cross Coupe can compete with classic SUVs. It has good ground clearance, and open angles of approach, 24.2 degrees in front and 32.5 behind.
Keep up to date with news, previews and photos from the Tokyo Motor Show by liking us on facebook or following us on twitter.
If you're looking to buy or lease a new vehicle in the UK contact our sales team. Alternatively, visit our website where you will find new and used Volkwagen's available for sale or on finance.
Thanks for visiting us today.

Latest posts by Andrew Kirkley
(see all)