What is the top gardening van in the UK?
Are you a gardener? Have you just started a search for the next vehicle that will help you to grow your business?
Whether you're a small domestic gardener looking after a few clients, so only need to transport smaller tools, such as a push lawnmower and general tools of the trade to a fully-fledged grounds maintenance manager looking after an estate, it's important to select the van that fits your needs.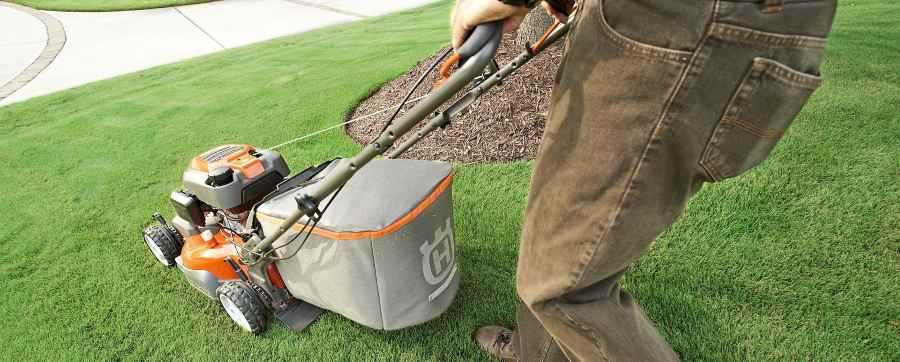 There is such a variety of vans available on the market it can be really difficult to know where to start. And that's where we come in.
Gardening can seem like an incredibly relaxing profession, in the fresh air, just you and the plants for company. It can also be a very profitable one if you provide a great service to your customers and they help you to spread the word.
Of course, one thing that can help you to build a popular business is reliability.
Choosing the right van to get you from A to B is vital when you are trying to build and maintain a reputation as a gardening service that can be depended upon. You don't want to break down and be unable to get to your customers.
As with anything, there isn't a single right answer when it comes to which van is best for your business, it depends entirely upon your specific needs.
Buying or leasing a gardening van is a big investment, so you need to make sure to choose a model that can offer you the best value for money. If you don't do this then you will find you're eating into your profits, which in turn could affect your business profitability and your pricing structure.
You need a van that can offer you the perfect blend of quality, comfort – after all if you're driving around every day from one client to the next the last thing you want is an aching back or a sore posterior – and of course performance.
What should you consider when selecting a gardening van?
When you are choosing a vehicle to use as a gardening van there are many factors you need to take into consideration, including things like fuel economy, reliability and comfort. However, the two things that you should put at the top of your list when you start your search are size and payload as these will affect the sort of work you are able to carry out, the equipment you can transport and, if your client base is domestic customers, how easy it is to park near their properties.
Size
When you first start thinking about what you need for your new business it's incredibly tempting to make the most logical move and get a very big van. However, if you don't need all that space then the decision would end up costing you more in fuel and, as mentioned before, cause problems with parking if you are working in areas where parking is at a premium.
Of course, if you go to the other extreme and look at a van that is too small then you may find issues with transporting everything you need in order to carry out your job, or even worse it will be piled into the vehicle in such a way that it's a chore actually reaching the hose or spade when it's needed.
As with many other jobs, there is no one size of van that's going to be right for every single gardener, as it's dependent on the type of work you carry out.
We would recommend you put together a list of the services you offer, and the equipment you will be transporting. Once you have this, plus any other requirements you have for your gardening van, the process of finding the right van for your gardening business can begin.
Payload
Gardening is a professional industry so you need to choose a model where the payload matches your business requirements.
So, what is a payload? Essentially this is the total amount of weight a van is legally allowed to carry – and, even more importantly, the amount it can carry safely when being driven. If you do end up exceeding the legal limit that a van can transport then you will find yourself facing fines and penalties on your licence.
The type of van you end up choosing will depend greatly on the type of gardening work you do. If, for example, you're a landscape gardener then you could well find yourself transporting decking, patio slabs and rocks on a daily basis. These weigh a lot more than spades, buckets and a push lawnmower.
It's important that you take all this into account when selecting your vehicle. If the payload is not high enough then you could find yourself in trouble when you start packing those concrete slabs in the back!

Top 5 gardening vans
Citroen Berlingo Van
We know, most often people will look at the Citroen Berlingo and think MPV. But there is also a Berlingo van and it's a nice practically sized vehicle that is perfect for the smaller business.
The fact that it's rather compact makes it ideal if you're working in the city, relatively easy to park in comparison with much larger vans.
When it comes to choosing the right Berlingo van for your needs there are 8 different configurations to choose from.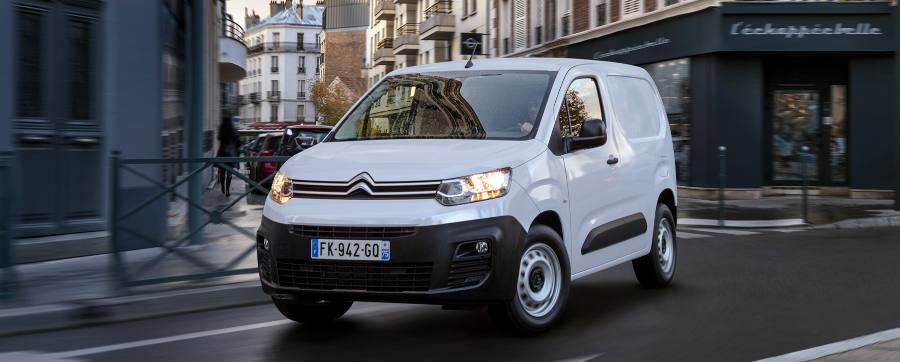 Payload ranges from 660kg in the base model Berlingo M 650 to 1,009kg in the Berlingo Van M 1000.
Of course, it's not only payload that's important when it comes to a gardening van. It's all very well if the van can carry all the heavy equipment, but can it all fit inside? The Berlingo also comes in several different heights and widths, which will make it easier to identify which of these models is the ideal one for your business or not. The smallest starts with a load length of three metres and the longest is almost three and a half metres. It's not that much, but it can make a difference.

Vauxhall Vivaro
If you're looking for fuel economy then the Vauxhall Vivaro should definitely be on your list. It can get up to an impressive 44.8 miles per gallon, which is fantastic when you're looking at how far you can travel on a single tank of diesel.
The Vivaro was first introduced in 2001, and the van is currently in its third generation, which was unveiled in 2019.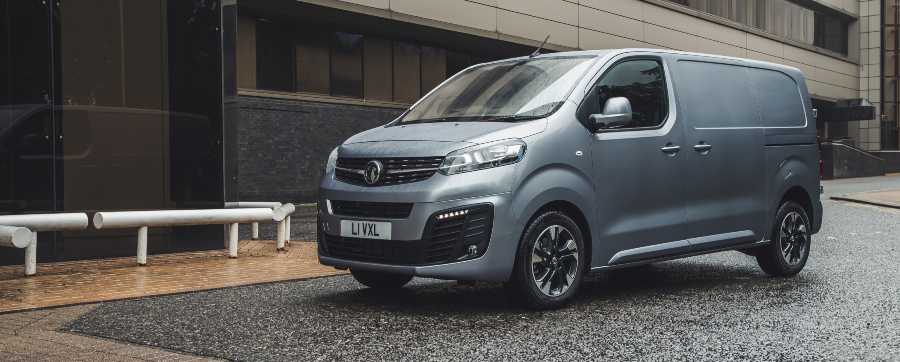 This is the ideal medium-sized van with a very generous payload of between 1,415 and 1,548 kg depending on the wheelbase length you select. The short wheelbase option has a load length of 2.5 metres, while the long-wheelbase option comes with an additional 30 centimetres at 2.8 metres.
If you're thinking about using it as a gardening van then you'll definitely be interested in the great accessibility offered by the side-loading door, which can make it that much easier if you're in a location with smaller parking spaces.

Volkswagen Transporter
An excellent medium-sized van choice that is ideal as a gardening van, whether you're a landscaper or a florist. The original Transporter was released in 1950. However, the van as we know it today was first seen in 1990 with the introduction of the Transporter T4. The fact that it is an incredibly reliable vehicle has made it an ideal choice for businesses.
In 2015 the Transporter was given a facelift and the T6 was born, with even more changes introduced in 2019 when the T6.1 was unveiled, though it didn't become available for sale until early 2020. During the update, the T6.1 was given a new interior as well as upgraded power-steering and more improved efficiency.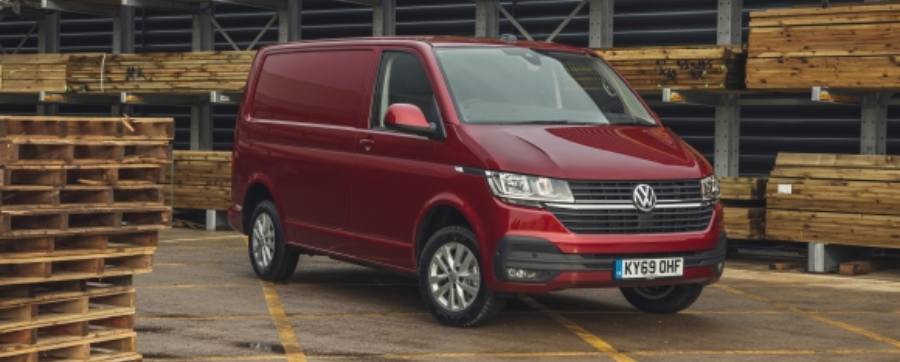 The Volkswagen Transporter T6.1 comes in two different trims, the Startline and the Highline.
Depending on the model you select you get between 713 and 1,309 kg payload. They have a flexible load space and multiple storage options.
In 2021 the Transporter T6.1 was presented with the WhatCar? Award for Best Value for Ownership Costs as well as a gold medal for safety by Euro NCAP.

Ford Ranger
Unlike the other vans on this list so far, the Ford Ranger is a pick-up truck. With three different body styles to choose from you won't be short of options. And to top it off, depending on the option you select, it can turn into a family vehicle when you're not using it for business.
The Ford Ranger is definitely an all-purpose vehicle, which makes it an ideal gardening van.
If you're someone who is looking to transport heavy goods on a regular basis, then the Ranger is a great choice, with a payload of up to 1,252 kg.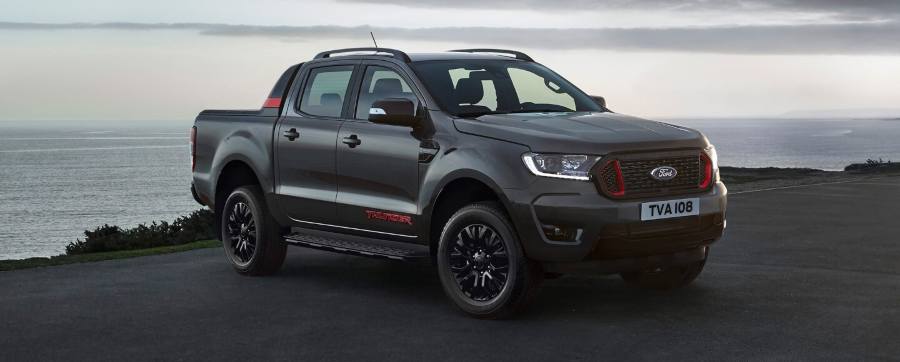 So, what are the three options?
First is the regular cab, this is a two-seater, stripped back, basic with a generous payload thanks to its extended load bed. Every single inch of this vehicle has been designed for practicality.
The second option is the super cab. This has another row of seats so you can fit 4 people in the cab, which makes it ideal when you need to take more people to the job site. Of course, with the additional seats comes a loss of cargo space, which is why the load is a little lower, at 1,197kg.
The final option is the one that is ideal if you want to use the pick-up for other things once the working day is done. The double-cab has all the comfort you'd associate with any other passenger vehicle. Though the load space has been reduced by almost half in comparison with the more basic regular cab option, the payload itself has only dropped a little, so it's still impressive at 1,140 kg.
If you want to maximise the load space when you select the vehicle for your gardening business and have your heart set on a pick-up, then the regular cab is the way to go. Of course, they're all a great choice. Even better, all Ford Ranger builds have the bonus of a whopping 3,500 kg trailer capacity.

Ford Transit
We couldn't finish this article without giving a mention to one of the most popular independent trader vans on the market, the Ford Transit.
This van is an icon that has been on the market since 1965 (just a few years less than the VW Transporter).
It's a very popular van amongst sole traders and large businesses alike due to its practicality, flexibility and generous load space.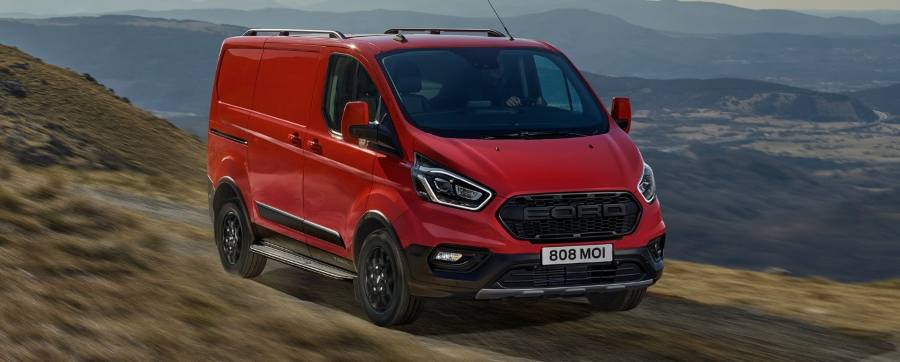 There are so many build options when you take a look at the Transit that going into each one would take a good few hours to read.
If you're a landscaper and need to transport incredibly heavy cargo then this is definitely one of the vehicles you need to consider, with its incredibly versatile payload of up to 2,457 kg (if you select the brand new 5-Tonne model) and a load length of up to 4.2 metres which is definitely long enough to fit a decent amount of equipment.
The fact that there are so many different configurations to choose from makes the Ford Transit a great option as a gardening van for your business.
As you can see, there are many different vans with multiple configurations to choose from when you begin your journey as a gardener, whether domestic or landscape. Before you make your decision on the right van to lease there are many things that you need to consider, from equipment you'll be using to the distance you'll be travelling to visit clients. All of these factors are important when you start looking at a new van for your gardening business. The vans we have mentioned above are just a few of our recommendations, there are many more that will fit your needs and budget and we can always talk you through them when you call.

Fed up with looking for your next vehicle?
Need advice from an experienced Vehicle Specialist on what vehicle is right for you?
Book your FREE consultation now