Review of the Volkswagen Golf Alltrack Diesel Estate
The new Volkswagen Golf Alltrack Diesel Estate is essentially the VW Golf Estate but with the addition of a "go-anywhere, do-anything" attitude of an off-roader. It has a springier suspension than its stablemate, while four-wheel-drive comes as standard. There are a few slight styling differences, too, as VW have made this car look tougher than the Golf.
There are no petrol engines available, which means you're left to choose from either 1.6-litre diesel or a 2.0-litre diesel unit which is offered in two separate power guises. And although this is not a fully-fledged SUV, if you're in the market for a capable off-roader that isn't too beefy but which provides plenty of grip and confidence, the Alltrack has a lot of plus points.
OSV takes a closer look at what it's all about with our Volkswagen Golf Alltrack Estate review.
Overview of the Volkswagen Golf Alltrack Diesel Estate
There are no petrol or hybrid engines on offer, so choice is limited. You do get to choose between automatic and or manual 'boxes, though.
The diesel range starts with the 1.6-litre TDI unit that is good for 108bhp, and which comes wedded to a six-speed manual transmission as standard. It isn't the most performative engine in the range, with VW making fuel economy the priority with this one. As such, you're not going to cover the 0-62mph dash in a better time than 12.1 seconds before maxing out at 116mph. On a full load, it's going to struggle.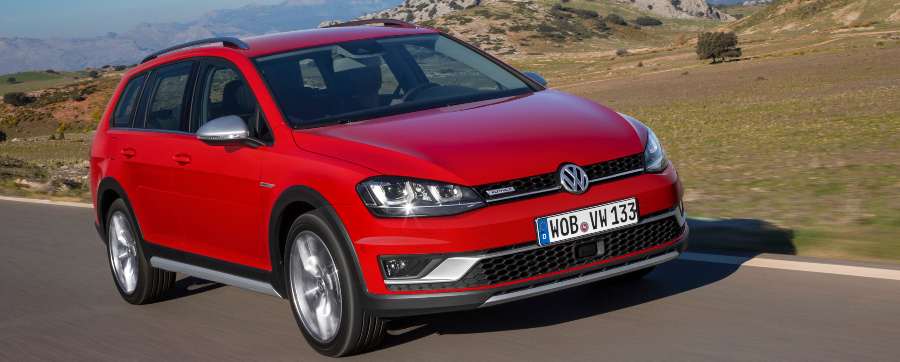 The livelier 2.0-litre TDI diesel engine is available in two guises, 148bhp and 181bhp. The former comes paired with a six-speed manual gearbox as standard, while the latter gets the DSG semi-automatic treatment. The less powerful of the two takes 8.9 seconds to get from rest to 62mph while the 181bhp variant covers the same distance in just 7.8 seconds.
The DSG is a useful gearbox, and takes care of gear changes itself if you prefer. Otherwise, you use the steering column shift paddles to take control yourself. It's a fantastically smooth transmission, but being mated to the £30,000 engine might make you wince. If so, the cheaper 148bhp variant is a solid option and OSV's top pick.
This is an off-road version of an Estate, and these cars typically tend to wallow around bends than the vehicles from which they're derived. This is due to higher suspension, but Volkswagen has done a sterling job at resolving that issue here. The Alltrack is just as composed as the Golf Estate on spaghetti-like country roads, and comfort is very good.
Interior, design and build

If you've ever sat inside the VW Golf Estate, you'll notice an air of familiarity here. The cabin is almost identical to its forefather. There is the Alltrack badging dotted around the place to distinguish the two cars, but that's about all. Thanks to elevated suspension, the ride quality is overall very good, even on our worst road surfaces. If you know you'll be tackling some poor roads frequently; this off-road Estate is a good bet.
The dash is coated with an attractive chrome trim, while high-quality materials are the order of the day throughout the classy cabin.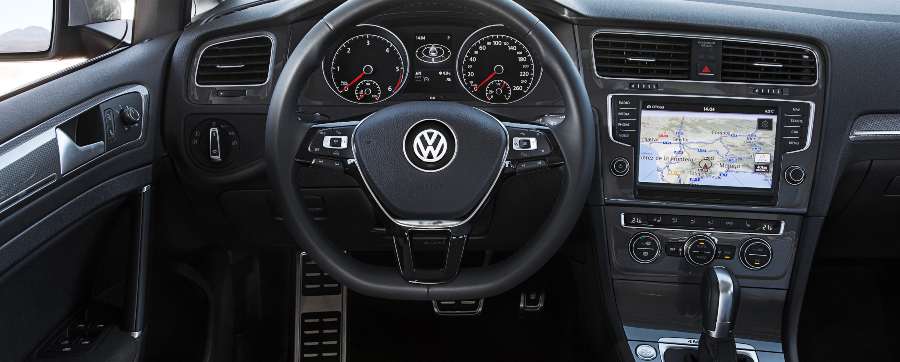 The car from which this one is based is super spacious and practical, so it's no surprise to learnt that the Alltrack is too. Thanks to the introduction of four-wheel-drive and more height, it's actually even more versatile as well. Take it into a muddy park, and you'll find that it barely breaks a sweat. The boot, meanwhile, is impressive and is measured at 605-litres. You can extend it to 1,620-litres by folding the rear seats.
There is plenty of space for four adult occupants, but as well as all the room, the car is also very usable. Thanks to plenty of intelligent features, such as bag hooks, lashing points, a sliding boot cover, and a variable boot floor, it's easy to carry all kinds of luggage along with you. Other handy features include a pair of cup holders, a huge glovebox, and a drawer underneath the passenger seat.
There is only one trim level available, and it's generously equipped. Standard equipment includes a DAB radio, Bluetooth connectivity, satellite navigation, dual-zone climate control, rain sensing wipers, and 17" alloys.
There is a long list of optional extras which could easily bump up the price, and these include 18" Canyon alloys, Dynamic Chassis Control, a Panoramic glass roof, and a Discover Pro Navigation system which comes with a 8" touchscreen.
Safety equipment is excellent, and all Golf Alltrack's get anti-lock brakes, airbags, tyre pressure monitoring, driver tiredness detection, and a pre-crash system.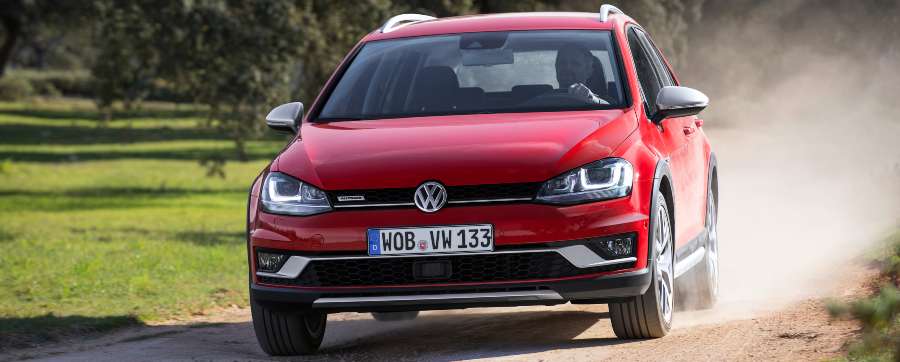 Costs of the Volkswagen Golf Alltrack Diesel Estate
Prices for the new car start out from just over £27,000 and rise to around £31,000 for the most expensive diesel engine. If you want to lease it for three years, you'd be looking at paying somewhere in the region of £300 + VAT and £560 + VAT per month. The exact amount will depend on what you specify.
In terms of running costs, the Alltrack isn't as cheap as the Golf Estate, largely due to the introduction of four-wheel-drive. Still, the numbers are respectable, and the most frugal 1.6-litre TDI diesel unit can achieve returns of around 61mpg.
The 2.0-litre diesel is available in two power guises, with the 148bhp variant good for 59mpg and the 181bhp variant capable of achieving returns of 57.6mpg.
As usual with a Volkswagen, residual values are good, and the Alltrack Diesel Estate holds onto more of its purchase price after three years than most of its rivals. Insurance won't cost a fortune either – the entry level diesel sits in group 10, while the range-topping 184bhp 2.0-litre unit occupies group 20.
The car has come under a bit of fire for its reliability and came 75th out of 200 cars in the reliability category of CarBuyer's Drive Power customer satisfaction survey. A typical 3-year/60,000 mile warranty is offered as standard.
Pros and cons of the Volkswagen Golf Alltrack Diesel Estate
Very practical
This is basically a Golf Estate, so it's just as practical as that car. The 605-litre boot is the same size, leg and headroom is good, while storage space is excellent.
But in fact, the Alltrack is even more practical than the car from which it's derived, thanks to more height and the four-wheel-drive system which comes as standard.
Great ride quality

The Golf was already known for its fantastic ride quality, and this car just had to pick up the baton and run with it. The entry level 1.6-litre diesel engine doesn't offer as much joy as the 2.0-litre unit, but the seats offer lots of comfort, while the soft suspension is a huge advantage.
Sparkling interior
For some, looking exactly like the Golf will be a disappointment. For others, it will be another reason to snap the Alltrack up. Yes, everything is familiar, but this means you get impeccable build-quality, top-notch materials and robust switchgear.
No petrol engine
Frustratingly, there are no petrol or hybrid options in the range. Moreover, there are only two diesel engines available. Choice is dismally limited.
Expensive
The Golf Alltrack Estate is not cheap to buy, especially when compared with some of its rivals. It isn't cheap to run either, with fuel economy of 61mpg the best you're going to get. Compare this with the 67.3mph returned by the Golf, and you might feel a bit short changed.
Volkswagen Golf Alltrack Diesel Estate vs. Nissan Qashqai vs. Skoda Octavia Scout
Before making a buying decision, it's important to see what else is out there. Let's find out how this one fares against its rivals in the comparison section of our Volkswagen Golf Alltrack Estate review.
Volkswagen Golf Alltrack Diesel Estate vs Nissan Qashqai
The second generation Nissan Qashqai has strengthened its position as one of the best  cars in this class. It's evolved in the right way, with improvements including sharper styling, more practicality, and more comfort.
The Qashqai is good fun to drive. It resists body lean well, while the addition of technical features has enhanced its stability. It also comes with Active Ride Control, which minimises the nasty up-and-down motion that usually comes when you drive over bumps and lumps.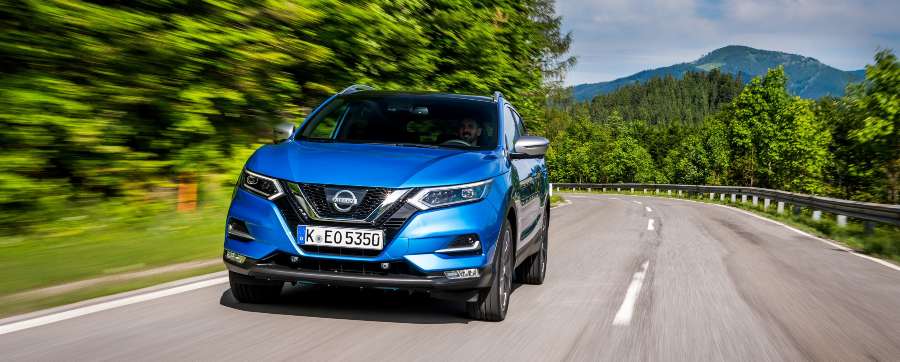 Like the VW, the suspension here is soft enough to offer plenty of comfort in most situations. Unlike the VW, the Qashqai offers a pair of petrol engines to compliment its diesels. A 1.2-litre petrol makes for a good motorway cruiser, while a 1.6-litre DIG-T petrol is uneconomical but performative and can get you from rest to 62mph in 9.1 seconds. There are also two diesel units available, a 1.5-litre and a 1.6-litre. Four-wheel-drive isn't available across the range but comes with the larger 1.6-litre diesel as standard.
The Qashqai is a hefty car, but it's impressively cheap to run. The 1.5-litre diesel knocks spots off the most frugal engine in the Alltrack's range when it comes to fuel economy, returning 74.3mpg. It's also free to tax, and as such makes a lot of sense. The more powerful 1.6-litre diesel can achieve returns of 64.2mpg, while the tiny 1.2-litre petrol engine is good for 50.4mpg.
The interior is solidly built, with lots of soft-touch plastics. The supportive seats are available in a number of different cloth trims, while the elevated height gives you a commanding view of the road. The driver's seat and steering wheel are both adjustable, and we'd argue that practically on the whole is on par with the Golf Alltrack. Head and legroom is good upfront and in the rear, but the fairly small 430-litre boot is a bit of a disappointment and can't compete with the one in the VW.
Price:
VW – £27,000 – £31,000
Nissan – £20,000 – £29,000
Volkswagen Golf Alltrack Diesel Estate vs. Skoda Octavia Scout
The new Skoda Octavia Scout offers plenty of value for money as usual. Based on the 4WD version of the Skoda Octavia Estate, it offers more equipment, more interior space, as well as more powerful engines.
There is a manual 'box available, but you'd have to opt for the 148bhp diesel variant to get your hands on it. The more powerful 181bhp engine comes with an automatic transmission as standard. Both engines are smooth enough, and both are mostly quiet until things get a bit too cold. At which point, they start to rattle.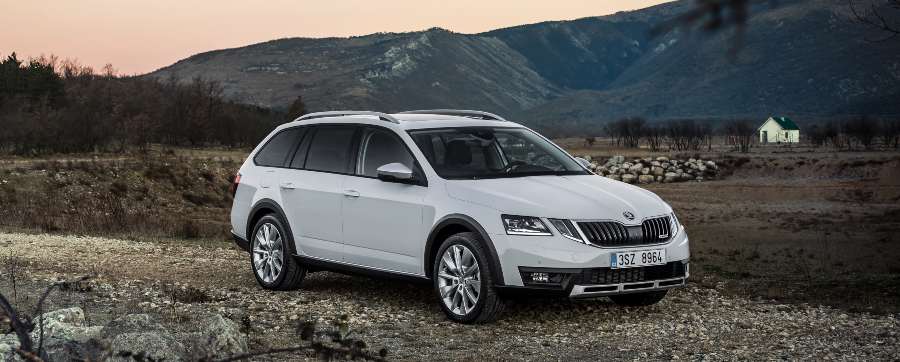 Both engines are fairly quick, with the least powerful of the two able to cover the 0-62mph dash in 9.1 seconds. The 181bhp variant, meanwhile, can cover the same distance in just 7.8 seconds. The suspension setup is clever enough, and the car feels well-planted and comfortable on the road. Body lean on corners is kept to a minimum.
Like with the VW, four-wheel-drive here hinders fuel economy and efficiency. The less powerful engine is only capable of achieving returns of around 58.9mpg at best. While the more powerful 181bhp model returns 56.5mpg.
Inside, the cabin looks almost identical to the one in the standard Octavia Estate. This is not exactly a bad thing, as it means you benefit from a user friendly dashboard, solid build quality, as well as plenty of top-notch materials. Meanwhile, the likes of rear parking sensors, leather seats and cruise control come as standard equipment.
The 610-litre boot can easily rival the Alltrack's, and both are among the best in class. Fold the rear seats down, and you can extend this boot to 1,740-litres of space. Rear passenger room is fantastic, though a pronounced central hump will impede on the middle passenger's comfort. The car is a capable tower and can tow weight of up to 2,000kg.
Price: £25,645.00 – £28,440.00
Verdict of our Volkswagen Alltrack Diesel Estate review
The new Alltrack is a bit of an all-weather general. It's super comfortable, quiet at speed, and offers bags of practicality thanks to an elevated height and extended length. And like many cars across Volkswagen's model range, it sits on the MQB platform which offers lots of versatility. It's like the Golf Estate but more jacked-up.
The only reason OSV can think of for not investing in a Volkswagen Alltrack Diesel Estate is if the Skoda Octavia Scout has caught your eye instead.
When you lease a car with OSV there are no hidden costs, request a call back and we'll find you a finance, lease or purchasing deal designed just for you.