A review of the 2016 Volkswagen Passat Alltrack Estate
The Volkswagen Passat Alltrack Estate is entirely brand new, but the concept – an off-road estate vehicle – is at least thirty years old, and was indeed originated by VW themselves. The previous generation version of this car debuted a technology called Syncro, which is also thirty years old.
Fast forward to 2016, and if you have a tick list for what you expect to see from a top-quality family estate these days, this Passat estate ticks a lot of boxes: It's family friendly, has decent off-road ability, it's practical, and it's big.
Even better, it's the ideal tow car that has more power than a bull.
VW have also managed to transfer the austere styling of the Passat Saloon to the estate, too. OSV takes a closer look at what it's all about with our Volkswagen Passat Alltrack Diesel Estate review.

Overview of the Volkswagen Passat Alltrack Diesel Estate
Most of what's underneath this estate's skin has been borrowed from the Passat saloon, and as such you'll be in for a fairly pleasant driving experience if you decide to give it a whirl. Perhaps the most noticeable difference is that this Alltrack diesel comes with a higher suspension, which means that it rides around 31mm higher than its saloon counterpart. It also means that it offers more comfort.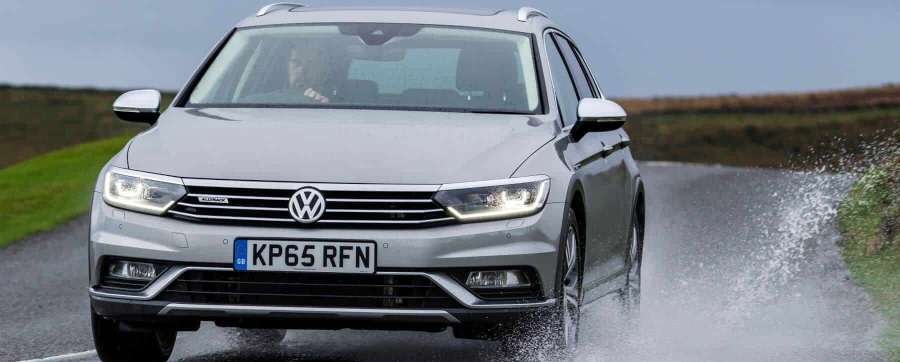 More comfort – but less fun. The Passat saloon edges it when it comes to on the road entertainment, but only slightly. At the same time, this estate comes with a 4WD system that ensures it's a decent off-roader. It's not as good as an actual SUV because it lacks ground clearance, but most families who want to combine the geniality of tame asphalt with the blood and thunder of dirt tracks will be satisfied. We're not talking bear-like power, but it can more than hold its own when things get rough.
As the name suggests, this Alltrack diesel estate can only be paired up with a diesel unit. There are two on offer; both are variants of a 2.0-litre power plant, a 150bhp and an 190bhp. Whichever you choose, you'll experience some real meaty pulling power, and the estate can even be used as a reliable tow car. However, it's worth noting that the 148bhp variant comes wedded to a manual gearbox, while the 187bhp variant comes with an automatic transmission. You can't flip-flop between the two.
There is a gap regarding speed; the less powerful unit takes 9.2 seconds to get from rest to 62mph, while the most powerful engine covers the same sprint in just 8 seconds. If it's pace and power you're looking for, the 187bhp also offers a smooth and relaxing ride. We like it. The 148bhp variant is, of course, cheaper to buy and run.
Interior, design and build
The cabin is a nice place to be and is going to be very familiar if you've already owned a Passat in the past. The major difference is that the seats here are now embroidered with a different logo – the Alltrack logo.
Other than that, you get a well-insulated cabin that protects you from harsh exterior noises, as well as compliant suspension that keeps you comfortable and stable even as you attack some of our worst potholes and cracked roads. As such, taking this car out for lengthy journeys is never going to be something you dread.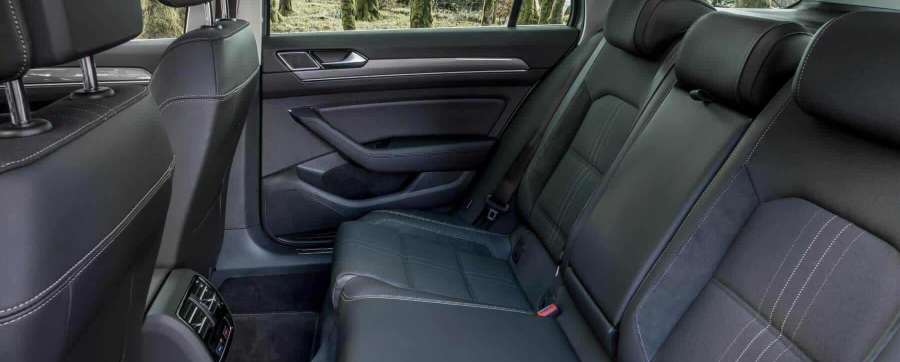 The interior is luxurious – and it's also spacious. The boot is sized at 639-litres with the rear seats up, but this can be extended to 1,769 if you fold those rear seats down. This means the car offers more boot space than its rivals. Head, leg and shoulder room is good both up front and in the back, while you can also tow regularly with the Alltrack diesel estate without any hassle. It has 200kg more tow limit than the saloon, and it also throws in a spare wheel.
There is only a single solitary trim level offered – the Passat 2.0 TDI Alltrack – but standard equipment is very good. Buyers get adaptive cruise control, hill descent assist, sat-nav and electronic differential lock. 18" alloys are also included, as are rear parking sensors and chunky bumpers, while a colour touchscreen forms a key part of the dash. To help with the car's styling, the brand also treat buyers to side sill protection and a neat chrome grill. Kit includes the aforementioned full-size spare wheel, side airbags and Isofix child seat anchor points.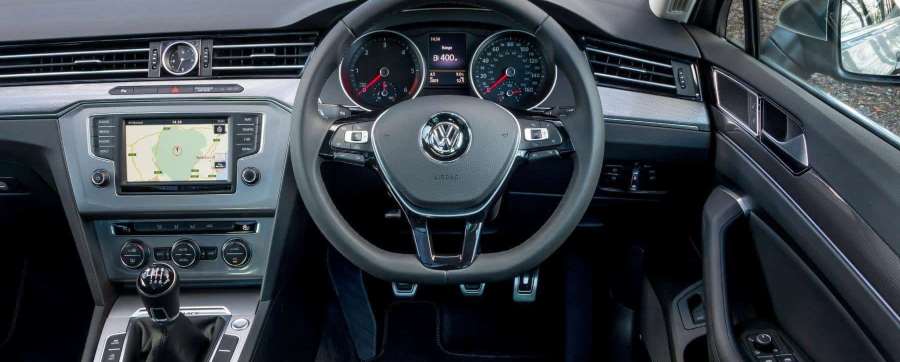 Optional is the Dynamic Chassis Control system which offers three driver settings:
Essentially, Normal offers normal suspension, while Sport offers stiffer suspension.
Four-wheel drive is standard and not optional.
Costs of the Volkswagen Passat Alltrack Diesel Estate
The new Passat Alltrack Estate will cost you between £31,200 and £34,110 to buy outright, which makes it one of the most expensive cars in this class. If you want to lease the vehicle through contract hire for up to 3 years, you'll be looking at £400 + VAT for the base-level variant and upwards of £700 + VAT for the range-topping model.
We'd like to say the steep asking price is offset some way by money-saving running costs, but 4WD is going to hit buyers in the pocket.
This off-road system adds weight and thereby diminishes economy, which results in higher running costs. Improvements have been made, though, and the 2.0-litre TDI unit returns 57.6mpg and emits 130g/km of CO2. If you peg the unit with an automatic transmission, you will see those returns drop to around 54.3mpg. Marginal but noticeable.
Pros and cons of the Volkswagen Passat Alltrack Diesel Estate
It more than holds its own
Put simply; the Passat estate can hold the road like a cruise liner holds the water. It's not an SUV, but this is arguably one of the best estate off-roaders we've come across yet. 4WD is standard and not optional, which means that whichever variant you choose you get extra security and grip, and a lot more pulling power than the saloon can offer. It also comes with an Off-Road button which boosts traction control, while hill descent control is another nifty feature.
The suspension has been beefed up too, which ensures that this car is as rugged as a family car can be, and can more than hold its own on difficult terrain. Think of it as the Passat saloon but with mountain boots on and you're pretty much there.
It's super quiet
A lot hinges on the quietness of a family car these days; if a car is too noisy, it can put a lot of people off. The VW Passat saloon has been praised over the years for its near-silent cabin (until you pack it out with noisy kids, of course), and thankfully this insulation has been transferred to the Alltrack estate.
It's not just quiet, though – it's also supremely comfortable and relaxing, an ambience which is complimented by the luxurious interior. It's not Air Force Once, but it isn't far off.
It makes for an excellent tow car
This is a family car, but it's also a niche car that is aimed primarily at buyers who want to use it as a tow car. You can tow weight up to 2,200kg, which gives it a distinct advantage over its saloon brother. A tow bar is optional, as is the trailer stability assist system.
There is no petrol option
There are only two engines on offer at the moment – and they're both diesels. They're both good performers, but the less powerful of the two can only be mated to a manual stick, and the most powerful can only be mated to an automatic. Flexible this range ain't.
Still, both engines are excellent choices, though we expect the 148bhp unit to be the top seller.
It's pricey
If you've got money to burn and need a large, practical family car that is an excellent tower, you might think the Alltrack Passat represents good value for money. And in a lot of ways it does.
But it's when you start comparing its asking price to rivals that doubts start to creep in. This estate asks for a hefty premium over its saloon counterpart from which it's derived, and it's also more expensive to run. There are also some pricey optional extras, such as Dynamic Chassis Control, that might see you scurrying to the next section to check out what else is on offer …
The Volkswagen Passat Alltrack Diesel Estate vs. Skoda Octavia Scout vs. Audi A4 Allroad
Family-oriented estates that can tow like bulls are not easy to come by, but the ones that fill this niche are all at the top of their game. How does the Alltrack compete against the Skoda Octavia Scout and the Audi A4 Allroad in our Volkswagen Passat Alltrack Diesel Estate review?
Volkswagen Passat Alltrack Diesel Estate vs. Skoda Octavia Scout
The Skoda Octavia Scout we're looking at here is the second generational model – and it's pretty damn cheap. Whereas the Volkswagen is going to cost you a pretty penny, the top of the range Scout asks for less than £29,000 of your hard earned cash.
The Skoda Octavia Scout lacks celebrity, but that's been part of the car's appeal for a long time now. It's reliable, functional, and supremely practical and spacious. However, it isn't as big or as practical as the Passat. Although the VW is more expensive, it does at least justify its asking price as a rugged, well thought out and super useful estate. Whereas the Scout can offer a 610-litre boot with the rear seats up, the Alltrack offers a veritable black hole – 639-litres of space to be exact.
Unlike the VW, the Skoda's 4WD is optional. You might be wondering why anyone wouldn't want 4WD, particularly if you plan on taking it off-road.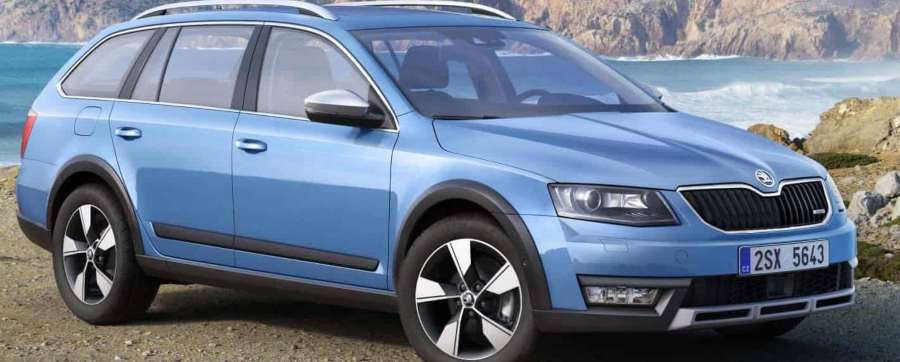 But 4WD adds weight to the car, and this has consequences on running costs. Without 4WD, you can return some decent numbers – 58.9mpg – but if you opt for four-wheel-drive, you will those figures tumble to around the 51.1mpg mark.
The VW is not cheap to run either, and it uses more fuel than the 2WD saloon. Economy has been improved, but the best numbers you'll get come from the 148bhp engine – 57.6mpg on a sensible drive.
Engine choice is limited in both cars, but if you want a proper 4×4, the VW gets the thumbs up.
Volkswagen Passat Alltrack Diesel Estate vs. Audi A4 Allroad Estate
The A4 Allroad Estate was the original SUV-come-wagon that set the early pace in this sector. What it's still got going for it is its premium badge and its state of the art interior that is pure Audi. But what else?
The problem with the Audi is that it's practical, spacious, reliable and decently sized – but it's also got that premium badge and premium pricing that is less of a badge of honour in this sector, and more of a cross to bear. With prices starting out from over £32,000 and rising to £41,000, it's one of the most expensive cars in its class and customers who just want practicality and space might look for something cheaper.
With that said, the A4 Allroad Estate is just as good off-road as the VW. Thanks to 4WD, electronic stability control and more ground clearance it holds its nerve on awkward descents, giving you confidence and security. It's up for a challenge, and it usually always comes out on top.
Equipment levels are good, though there is only more trim level than the Passat.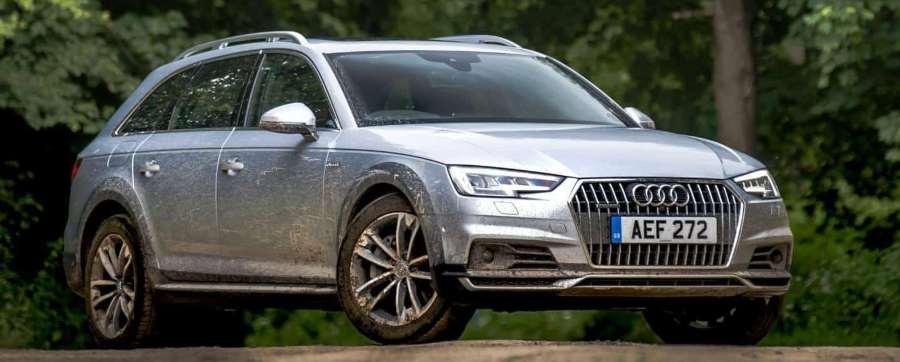 The boot is a lot smaller (just 490-litres with the rear seats down), while choosing this car's interior over the VW's is going to be down to personal preference. They're both forged from top-quality materials, they both keep exterior noise out really well, and they both come with lots of useful storage spaces.
Verdict of our Volkswagen Passat Alltrack Diesel Estate review
This estate plugs a hole in a very niche sector; it's less expensive than the Audi A4 Allroad Estate, and while it's costlier than the Skoda Octavia Scout, it will satisfy the demands of more serious off-road buyers who want power to go along with their comfortable and nice-looking interiors.
It's certainly got its blemishes, such as the limited engine choice and there isn't a massive amount of standard equipment for the price. But, the fact that its boot is one of the biggest in the class, and the car itself makes for a fantastic tow vehicle will please a lot of onlookers.
The Volkswagen Passat Alltrack Diesel Estate might just be what you've been looking for.
Looking for a price?
Fill out the form below with your details, including whether you're looking to lease or buy and we'll give you a call back within 24 hours.
[contact-form-7 id="32576″]
When you lease a car with OSV there are no hidden costs, request a call back and we'll find you a finance, lease or purchasing deal designed just for you.