You have your lease car for quite a while. 1-5 years may not seem that much time, but it's a lot of driving. And, there is a chance that you could end up damaging your lease car because accidents do happen.
So, what happens when you damage a lease car?
When you lease a car, you don't own it. This means you have to keep it in pretty good condition for when you give it back. It's the same as if you lent someone a book or a camera; you'd want them to take care of it. And, the finance house wants you to take care of their car.
But if you damage that car, then you could incur charges.
Of course, there is some leeway. The finance house isn't expecting you to keep it in showroom condition for the length of your contract, that would be silly. So they will allow for something they call fair wear and tear.
We've advised people on this quite a bit since the Company's inception. So, we've written an article explaining what happens if you damage a lease car.
What happens if I damage a lease car?
At the end of your lease contract, your car will undergo an inspection. When this happens depends on your finance house. Some will do it a week before and some will inspect it on the day of collection.
A benefit of having a finance house that inspects it a week before is that if there is anything that needs fixing, you have a week to do so. But, it entirely depends on your finance house.
If they do find that there is damage on the car, they will tell you during the inspection.
Shortly after the car has gone back to the finance house you will receive an invoice for the damage. Which you will have to pay, of course. Unless you want to dispute it, but more on that later.
As I mentioned earlier, there is leeway. Most finance houses have to abide by the BVRLA (British Vehicle Rental and Leasing Association) Fair Wear and Tear guide.
What is the BVRLA fair wear and tear guide?
The BVRLA Fair Wear and Tear guide is the industry standard for fair wear and tear.
It is something that all dealerships, finance houses and brokers must abide by when inspecting cars for collection.
If your vehicle broker is a member of the BVRLA then you will be given the guide at the start of your contract. Keep hold of it, because this is invaluable when it comes to checking your car before inspection.
The Fair Wear and Tear Guide states what is and isn't acceptable in terms of the cars condition when it is returned to the finance house.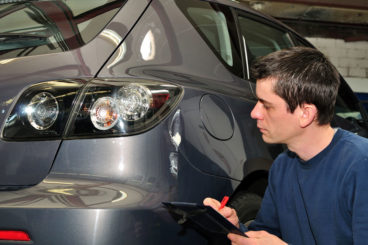 What counts as fair wear and tear?
So, what is allowed and what isn't?
There is a whole booklet dedicated to this, and we aren't going to list everything because we'd be here forever. However, here's a brief overview of some of the things they are looking for. For more information and pictures, refer to your BVRLA Fair Wear and Tear Guide.
Scratches up to 25mm

are acceptable (except where primer or bare metal is showing)

A scratch that

does not interfere with the driver line of sight

Scuffs up to

25mm on alloy wheels

Tyres must meet

UK legal requirements
Light staining

to the driver seat area

Damage to lens but has not broken the glass (and there's also no water ingress
Unrepaired impact damage

An

unclean interior/exterior

(otherwise they can't inspect)

Adhesive residue
Windscreen chip
Wheel damage

– due to kerbing

Abrasions

longer than 25mm

Scratches

over 25mm
Hopefully that has given you a rough idea. If anything, it's reminded you to invest in a tape measure.
How much will the damage charges cost?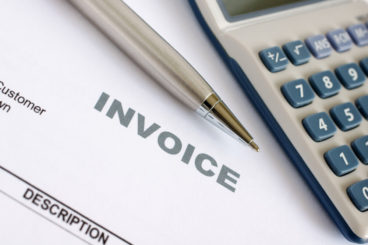 There's no way to tell how much you will get charged for damage. It depends on loads of things, including the manufacturer and what the damage is.
This is why it's important for you to get any damages fixed before you hand the car back. This is because you can shop around a little bit. The finance house, however, won't care how much it costs because they aren't paying for it.
However, you should get it repaired at a manufacturer's garage. If you don't, then it may not meet the manufacturer's guidelines and you could get charged. So, you can go to a third party garage but do so at your own risk.
What should I do if I want to dispute the damage charges?
If you feel like you have been unjustly charged for damages, then you can dispute it.
You need to get in contact with the finance house as soon as possible. Each finance house has their own process, so we can't say exactly what will happen. Some will want you to phone them, others email, and some will want  you to file a formal complaint by post.
You need to see what they are charging you for, and refer to the BVRLA guidelines. If you feel you are within the guidelines, then you have a good chance of getting the charges dropped.
However, if the finance house maintains that they are going to charge you for it, then you can contact the BVRLA. They can help you with conflict resolution, and their decision is final.
How do I avoid damage charges on my lease car?
The best way to avoid getting charged for damage on your lease car is by getting everything repaired before inspection. Also, we recommend taking photos of each panel, wheel and interior before the car is collected. Make sure those pictures have a date and time that coincides with when the car was picked up. This is evidence of no damage, or how bad the damage was before it was picked up.
What I recommend to customers is to look at your car as if you were going to buy it second hand. If there is anything that you would dispute then get it fixed. And be honest, if you would try and get the price reduced then you could end up getting charged. It's better to be safe than sorry.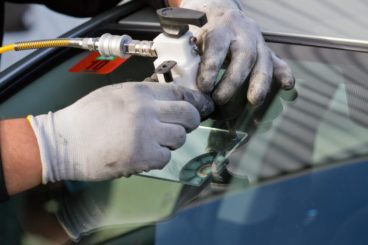 Ultimately, if you damage your lease car you will be charged. Obviously, there is leeway as to what is allowed and what isn't. If you think you have been wrongly charged then you can dispute this. The key is to keep your BVRLA Fair Wear and Tear Guide for reference at all times. It will be invaluable come collection day.

Latest posts by Martin Mitton (see all)