Who repairs a lease car?
With any car comes the requirement of maintaining, servicing and repairing the vehicle. This can bring unexpected costs and can stretch your budget. Leasing can help to control these eventualities. Your car lease doesn't include servicing, maintenance and repair costs unless you opt to purchase a maintenance package. But, your car is covered by a manufacturer's warranty, usually for the duration of your lease. This means those key elements of the vehicle such as the engine, gearbox and some electrics are covered for malfunction. If you plan to lease the car for longer than the warranty period you can purchase an extended warranty to ensure you keep your cover. Any defects or damage that occurs during normal vehicle usage should be rectified as soon as possible. This will ensure that the consequential damage is minimised.
In this article, we'll take you through the process of repairing a lease car, who repairs your car and what you will be responsible for covering the cost of.
What do I do when I need to repair my lease car?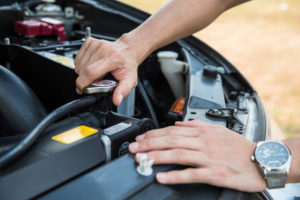 You can take your lease car to any Franchised Dealership of the same marque as your vehicle, some lease companies will allow you to take your car to an independent garage and you should check first, however, if they say its ok it will be your responsibility to ensure they have used genuine franchised parts and they have done the work to manufacturer guidelines, in our opinion not worth the risk This is because the warranty will cover for genuine parts only. Taking your car to a non-approved garage could result in the warranty on your vehicle will be invalid.
If the warranty becomes invalid you are liable to cover the cost of any repairs needed to the vehicle and you may need to pay a penalty to the lease company for loss of warranty and value of the vehicle. So avoiding this instance is a good idea. There are usually franchised dealers located within 20 miles of your location, so it's easy to manage.
The Warranty
Car manufacturers offer a warranty on their vehicles for a set period of time from new. Warranties are usually around 3 years, although some manufacturers such as Kia offer an unrivalled 7-year warranty. The warranty doesn't cover consumables such as:
Brake linings and disc pads

Clutch release bearings

Clutch pressure plates and centre plates

Tires

Wiper blades (wiper rubbers have no warranty owing to their conditions of use)

Seat and backrest covers

Floor coverings

Spark plugs

Batteries for key fobs and alarms

Light bulbs

Shock Absorbers

Adjustments to doors, flaps, boot lids, bonnets, sunroof

Brake adjustment

Clutch adjustment

Headlight adjustment

Steering geometry adjustments

Wheel balancing
This list is not exhaustive for every vehicle manufacturer so it would be worth checking the warranty information from your car manufacturer directly.
Anything that's not covered under the manufacturer's warranty will be your responsibility to repair and maintain for the duration of your lease. In addition to repairing items that have become defective, you'll need to keep up regular services of the vehicle.
Who services a lease car?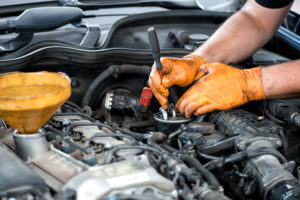 It's important you take the time to ensure your vehicle is properly maintained. This is written into your lease agreement and once again if you fail to meet the service requirements then you would invalidate the warranty. The car requires a service at certain intervals throughout the lease. These will be specified in advance and can be anything from every 6 months to once every 2 years alternating between a full and mini service. Again, the servicing must be carried out by an approved dealership to ensure the warranty remains validated.
Tip: Make sure the service book is stamped at each service. If you don't keep a record of this you could face some large costs at the end of your lease. It's well worth double checking.
Your car will be safer and more economical to run if you maintain it regularly. You can purchase a maintenance package from your lease provider. This will keep the costs of servicing and repairs to consumable parts of the car down to a regular monthly contribution. Consumables are the items which wear out through use like tyres and brakes.
What are the costs of servicing a lease car?
What maintenance should I carry out at home?
To ensure, your lease car is maintained to the best possible standard providing you with a safe and economical vehicle for the duration of your lease we recommend carrying out the following checks yourself weekly.
Tyre pressures

Engine oil level

Windscreen washer fluids

Radiator and coolant levels

Check windscreen for chips and cracks

Operation of the vehicle's lights
TIP: Keep your car keys safely. Always store the spare key in a safe, hidden place. Car thieves will target the keys as it makes the job of stealing a car much easier. Manufacturer's produce vehicles with very high security nowadays so a key is by far the simplest tool to steal the car. Keep your keys out of reach and sight of the letterbox to make it harder for thieves to target you and your car.
How to prevent cosmetic damage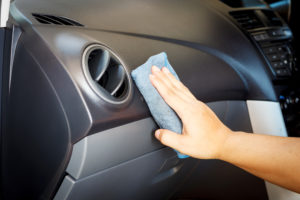 Stone chip damage is inevitable during the course of your lease. You can minimise the effects of stone chip damage by keeping the exterior of the car clean and polishing it regularly. We recommend polishing the vehicle four times a year can significantly reduce the effects of stone chips to the paintwork. Polishing also has the added benefit of creating a protective layer against traffic film and make washing easier.
Any damage to the paintwork of your lease car should be repaired as soon as possible. Preventing corrosion and rust to the area if it has penetrated the base coat of paint.
All franchised dealerships stock touch-up paint pots which are available to purchase for a small fee and match your vehicles paint colour perfectly. If you purchase touch up paint from another provider then you run the risk that the colour will not match properly and highlight the problem areas even more.
TIP: Keep touch up paint in your car glove box so as soon as any damage arises from small scuffs or stone chips they can be rectified quickly without the need to book in to have bodywork repaired.
Ultimately, you are responsible for managing the maintenance and repairs on your lease car. Whether you choose to finance servicing and repairs as they arise or purchase a monthly maintenance package is up to your personal preference. As for the question who repairs a lease car? It always has to be an approved garage.

Latest posts by Rachel Richardson
(see all)